What is a Discord Giveaway Bot?
If you're not a gamer or developer, chances that you've lived your life thus far entirely in the dark about Discord and how it works might be pretty high. Don't worry; this isn't us judging you—quite the contrary.
In this article, we'll give you a crash course on what you need to know about Discord, how it works, and our favorite feature: its giveaway bots!
So, first things first, what on earth is Discord, and where do giveaway bots come in?
In 2015, childhood friends Stan Vishnevskiy and Jason Citron set out to solve a problem they had personal experience with; how to stay connected to friends worldwide while gaming online.
The quest to find an answer to this problem created what we know today as Discord, a platform for people with similar interests worldwide to share and communicate (think WhatsApp, but more intense).
With its complex but efficient technology, Discord uses features like video chat, voice chat, text chat, and screen-sharing to make it easy to game, work, or interact with other users to connect.
A built-in feature of Discord that we're specifically interested in is its giveaway bots. The Discord Giveaway Bots use Artificial Intelligence (AI) to perform various tasks for their users, and running giveaways is one such task.
Are all Discord Giveaway Bots free?
A remarkable feature about Discord is that the platform is mostly free, with only a few paid features, making it even more uncomplicated to use.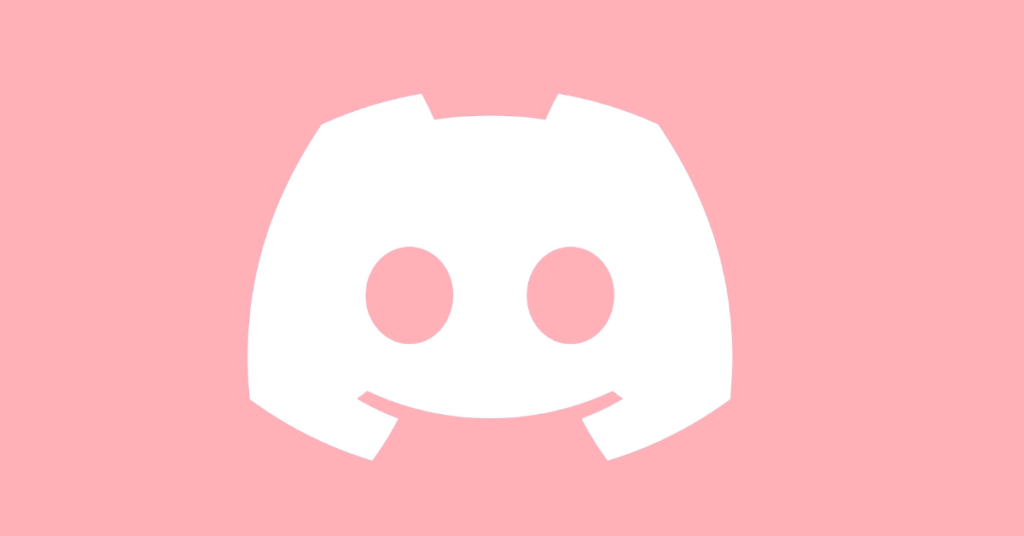 A good number of Discord Giveaway Bots are free to use, and even those that require paid subscriptions provide their free versions with the essential moderator features that most Discord users would need. So, in addition to being convenient to use, it's also cost-effective.
Are Discord Giveaways legit?
We know this question has crossed your mind for a good reason. Knowing who and what to trust online can take time and effort, especially with offers that seem to come too easily. With that in mind, a little skepticism is definitely healthy.
That said, with any online platform, it's essential to be cautious and research before participating in any giveaways on Discord.
Where Discord Giveaway Bots are concerned, most of them are available for free, with great features aimed to ensure you run smooth and successful giveaways on your Discord server. However, some of these bots may require subscription fees for their premium features.
Popular Discord scams
Some of the more popular Discord scams include:
The Free Nitro scam
While Discord is primarily free, it also offers a premium plan with special features for users for a subscription fee. This premium version is called Discord Nitro.
Scammers know that most Discord users would love to get their hands on this Premium plan but would also like to skip the part where they pay. Thus enters the free Nitro scam.
Discord's official website has a thorough article on Nitro scams that you should know.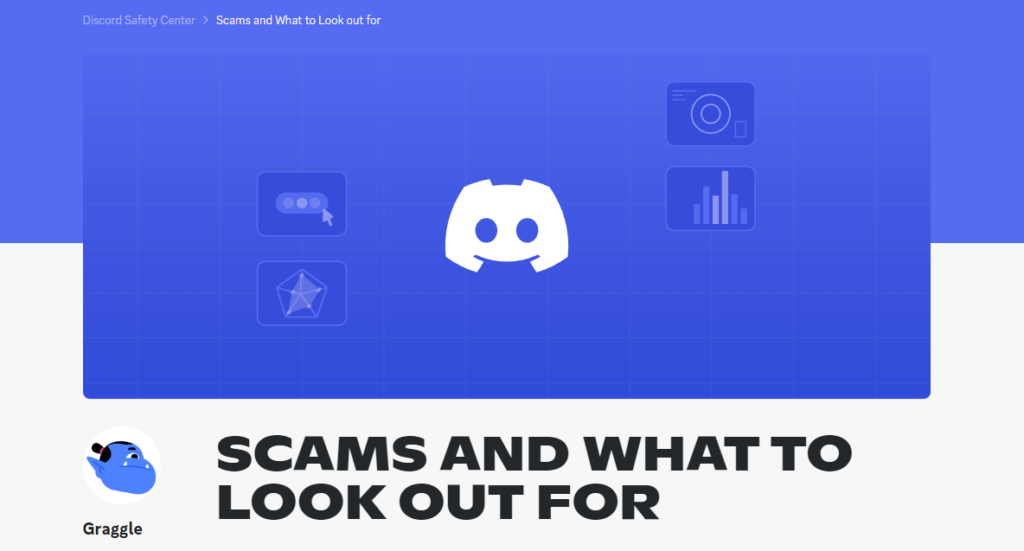 Usually initiated by scammers sending bots to a user's direct message (DM), they offer them the opportunity to win free nitro by simply clicking links or scanning QR codes, which could lead to their accounts being hacked and their information being compromised.
Crypto and NFT scams
Interest in both the Crypto and NFT markets has boomed over the past few years.
Unsurprisingly, they've also created attractive subject matter for scammers to manipulate.

The scam may be to get users to spend money on NFTs with no value or sham crypto investments.
Winning Giveaway scams
Giveaways are very common on Discord, so it's no surprise that they, unfortunately, serve as another con often used by scammers.
Scammers may approach you by congratulating you on winning a giveaway you do not remember participating in and directing you to links enabling you to claim those prizes when these links aim to compromise your account.
3 Tips for Avoiding Discord Scams
Now that you know some of the more common scams on Discord, here are some tips to help you avoid them.
The first tip would be to only participate in giveaways hosted by Discord servers that are tested and trusted. Make sure you research and confirm that the hosts have a history of running giveaways on their servers.
Secondly, don't click on random links willy-nilly. Pay attention to the links you're asked to visit and ensure they're directing you to the pages you intend to visit.
Finally, avoid giveaways or contests requiring you to make payments to claim your prize. Giveaways are typically free and will only require you to pay the organizers if stated prior in its terms.
How do you know if a Discord Giveaway is real?
We also thought it'd be helpful to give you pointers on identifying whether a Discord Giveaway is real.
Our first suggestion is to verify claims that you've won any giveaways from the moderators of the alleged servers hosting such giveaways or even their social media handles if you can find them.
Ensure that the Discord Giveaway Bots notifying you of these contests are legitimate bots with authentic websites from which they could be added to Discord servers.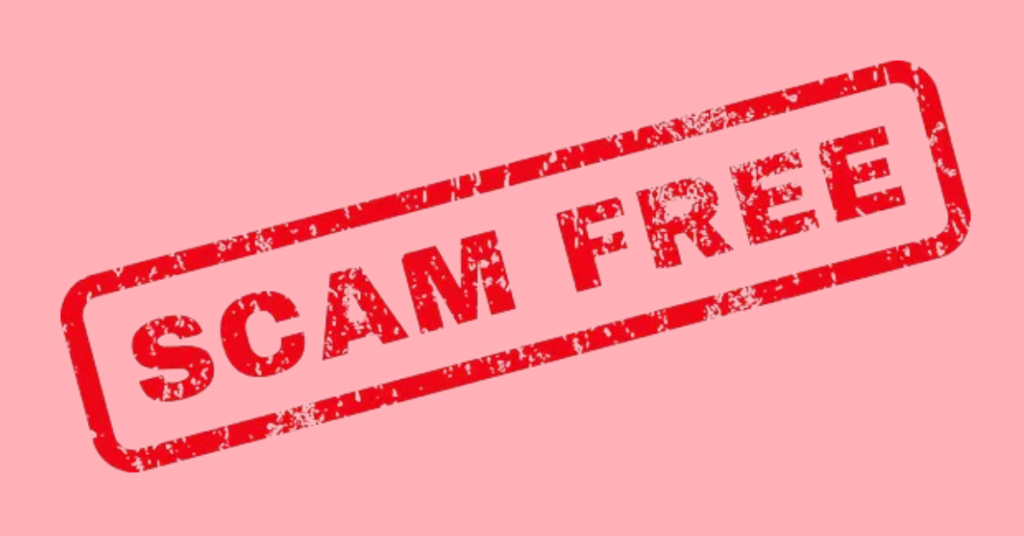 Another trick would be to verify the links you're being asked to click on. You can do this through various link checkers available on the internet.
Also, watch out for spelling errors within the links sent to you.
Finally, setting up your two-factor authentication for your account is always a good idea.
Discord is a wonderful platform, but like all online spaces, it can be used by people with good intentions just as easily as it can be used by people with bad intentions. So it's our responsibility to proceed cautiously and remember that if something seems too good to be true, it's usually because it is.
The Top 5 Giveaway Bots on Discord
Now that you know what Discord is and how its giveaway bots work, allow us to share with you the best giveaway bots anyone planning to run a giveaway on Discord should know!
Discord Giveaway Bots are a great way to engage your server members and reward them for their active participation.
Among the various bots for this purpose, the top 5 include Giveaway Boat, Cinnamon, MEE6, MoE, and Dyno. Each bot has unique features and can easily be set up using the steps provided on their respective websites.
Giveaway Boat
Where giveaway bots on Discord are concerned, Giveaway Boat would definitely top the chart for one of the best giveaway bots out there.
Notable for being a Discord Giveaway Bot with advanced features and a very easy-to-use Dashboard, Giveaway Boat is at the top of our list of recommendations.


You can visit the Giveaway Boat website here.
As far as the pricing goes, Giveaway Boat offers its users 5 versions of its premium subscriptions to choose from:
The first is Premium Tier I, available to subscribers at $3 a month.
Next is the Premium Tier II, available to subscribers at $5 monthly.
The Premium Tier III and IV are available to subscribers at $10 and $15 monthly, respectively.
Finally, the Premium Tier V is available to subscribers at $25 monthly.
Some of our favorite features of Giveaway Boat include the ability to repeat giveaways, customize bots, set the duration of giveaways to up to a year, and even have your server giveaways shown at the top of the giveaways page on the website.
The major pro of using Giveaway Boat to run your giveaway on Discord would be the ease of navigating its extensive features.
The major con of using this Discord Giveaway Bot, however, would be the limit on the number of servers the bot can run giveaways on simultaneously. Users must pay and subscribe to the premium plans to access more servers.
Cinnamon
Cinnamon prides itself on being Discord's most powerful giveaway bot, and with its catalog of impressive features, we're inclined to agree with them!
From its highly customizable nature or enabling instant cash payouts via Unbelievaboat to making editing your giveaways convenient and easy, Cinnamon is the bot for you!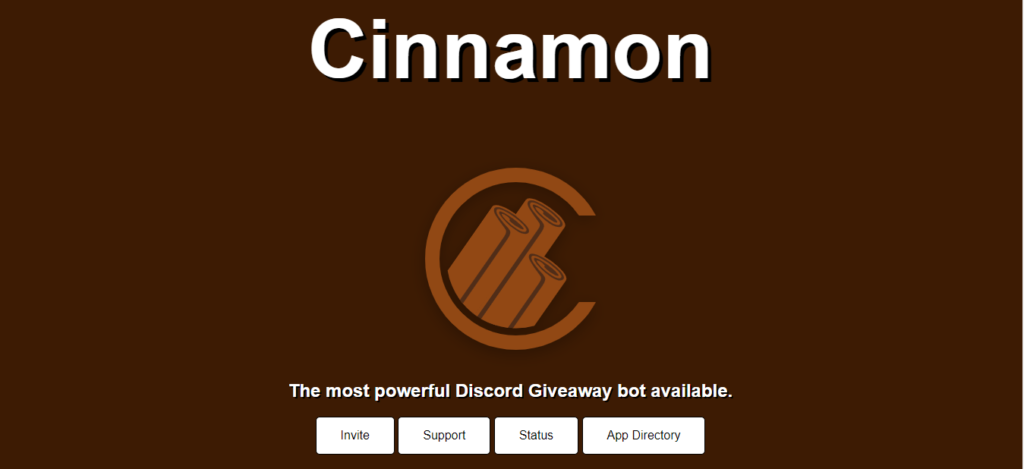 You can find it via the Cinnamon Boat official link.
Cinnamon offers a free version with the essential moderator tools available to users. Still, a membership subscription is required for more exclusive features like having access to 2 or more premium servers.
The rates for these subscriptions vary from $3 to $10 a month, depending on your plan.
One of our favorite features of Cinnamon is automatic rerolls that allow hosts to set a time limit to when prizes can be claimed before a new winner is selected.
Cinnamon also allows you to add a variety of roles you'd like it to perform for you, and it will likely be able to carry them out.
A significant pro worth considering when choosing Cinnamon to run your giveaways is the broad range of tasks it can carry out for you. It definitely makes hosting a giveaway easier.
Like Giveaway Boat, a con of using the Cinnamon giveaway bot could be the limited number of servers it can run giveaways on simultaneously. Its free version only allows for one server at a time. However, users who subscribe to paid memberships aren't as restricted.
MEE6
Another great Discord Giveaway Bot to use for your giveaways is the MEE6, and you can add it directly to your Discord server via the MEE6 official link.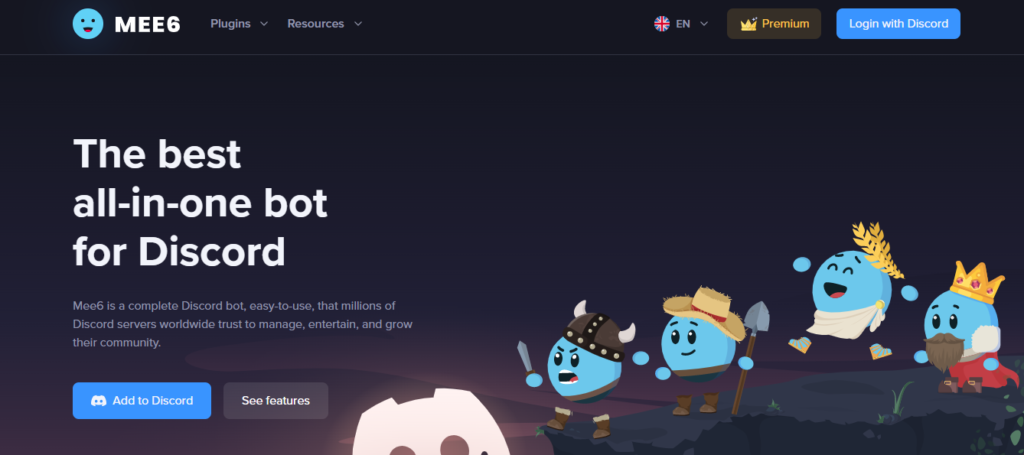 MEE6 has super great features, and a lot of them are available on its free version, but it does have exclusive features only available for a paid subscription
MoE
The fourth Discord Giveaway Bot we'll be recommending to you would be the MoE bot. Known for being the top music bot, MoE offers its users rich quality music through its various commands and multiple music sources like Spotify, YouTube, SoundCloud, and more.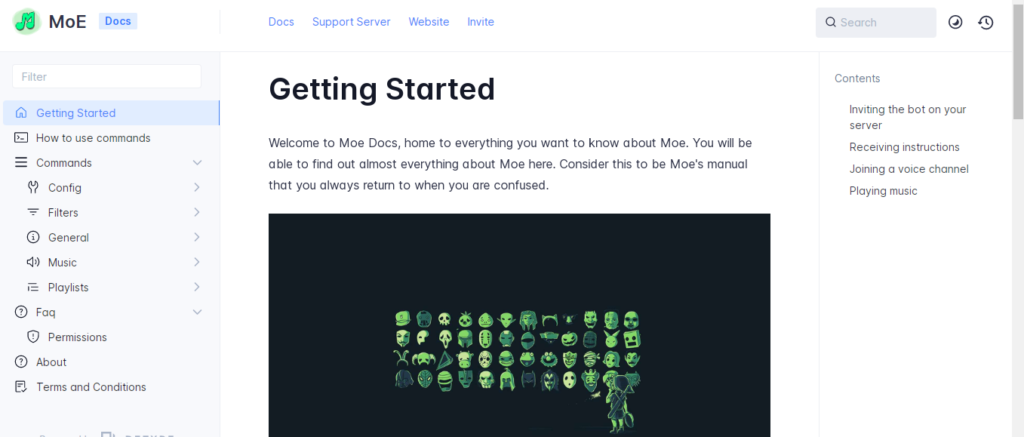 To add it to your Discord server, invite the bot to your server via the MoE bot's official website.
Dyno
The final Discord Giveaway bot we'll recommend to you is the Dyno bot. With its easy-to-use features and highly boasted Dashboard, Dyno would be an excellent option for anyone considering running a giveaway.

Inviting the bot to your Discord server via the official Dyno link would get you started on setting it up for your giveaway.
From the bots we've listed in detail to the ones we gave a light overview of, like MEE6, MoE, and even Dyno, Discord has an assortment of great giveaway bots to choose from, so go ahead and get started on that giveaway you'd like to host!
How to use giveaway bots on Discord
We're sure the whole bot business is starting to sound a little complicated, but don't worry; we promise that getting bots to run your giveaways on Discord is pretty straightforward. All you have to do is visit the official link of the bot you'd like to use and invite it to your Discord server.
Once you authorize your invited bot in your server, create a text channel where you can leave commands, and voila! Your bot is at our service.
Discord Giveaway bots run on commands to carry out your instructions. These special codes help direct your bot to carry out the necessary tasks.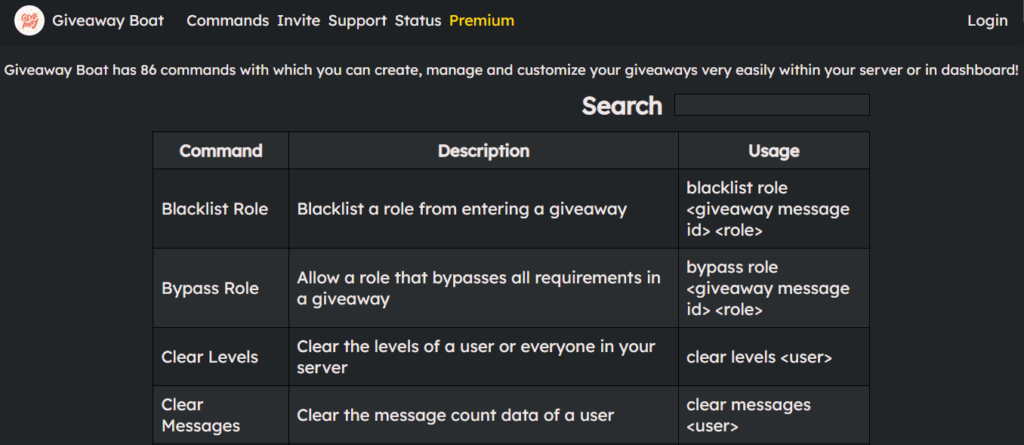 From starting your giveaways, choosing how your winners are selected, and deciding when the giveaway will end, commands let the Discord Giveaway bots know exactly what actions to carry out for you.
How to install Giveaway Boat
To run your giveaways using Giveaway Boat, invite the bot to your Discord server via the official website.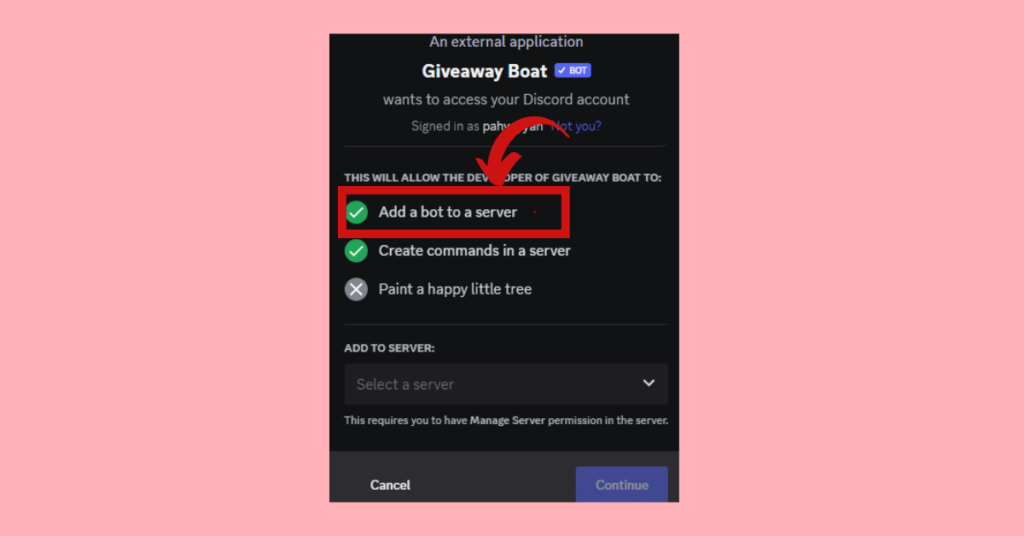 You'll need the command to create a giveaway through Giveaway Boat. Most commands for this bot have the prefix 'g?', 'G?', or '@Giveawaybot.'
Giveaway Boat has a complete list of commands it can carry out on its website, so finding what you need from it shouldn't be difficult.
How to install Cinnamon
To use Cinnamon to run your giveaways, invite it to join your server via its official website.
Commands for this bot are easy to find once you've added them to your server. You could also use the command '/help' to see the list of commands this bot has to offer you.

The prefix for this bot is '/,' so to create a giveaway using Cinnamon, the command would be '/gcreate.'
Setting up giveaway bots on your Discord server is an uncomplicated process. All you need to do is invite the bot to your server and follow the instructions.
7 expert tips to help you win Discord contests
Now, on to the good stuff! We know all this talk about Discord giveaways has got you wondering how to get your hands on some of those prizes.
While we know winning a giveaway on Discord is mostly a thing of luck, especially considering that the giveaway bots randomly pick a winner and you can't really influence that aspect, there are, however, some strategies you can employ to increase your chances and we'd be happy to share them with you.
Here are 7 tips that are sure to help you win your Discord giveaways:
Tip 1: Read and Follow the Instructions
This is the first and most essential tip to winning. Most giveaways have requirements to follow to be a valid contender.

It could be to leave comments under specific posts, follow a specified server, tag people, or even follow them on other social media platforms.r
Whatever it is, you'll need to ensure you carry it out to make you an eligible contestant.
Tip 2: Regular Entry
Another trick to winning giveaways on Discord is entering as many of them as often as possible. Giveaways are a popular concept on Discord, so you won't have any trouble finding a variety of them.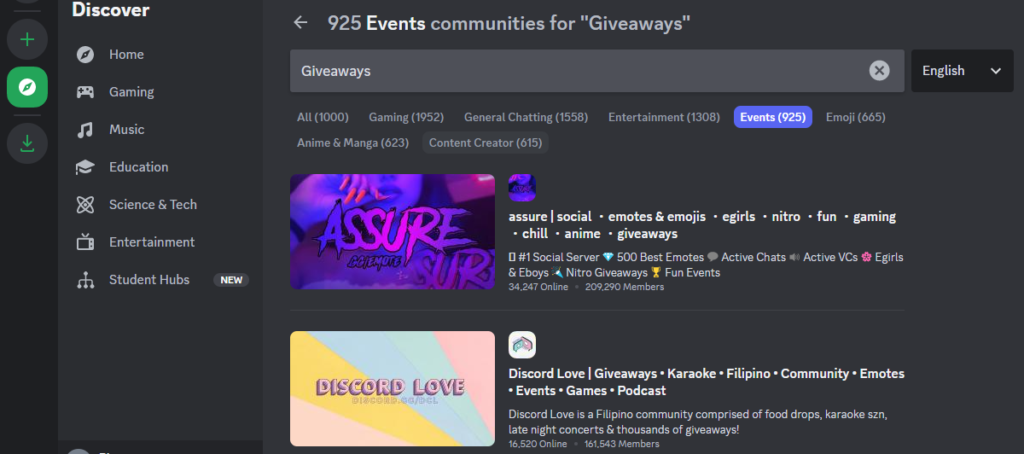 Also, entering them through as many accounts as possible could increase your chances, but make sure it isn't against the contest rules you're entering so you don't get disqualified.
The more giveaways you enter, the more your chances at winning some. So don't be shy; join them all!
Tip3: Join Servers that Regularly Host Giveaways
While entering as many giveaways as possible, it's definitely a good idea to focus on servers that host legitimate giveaways.

This way, you're constantly in the know about giveaways, and you can enter as many as you can, as often as you can.
For a true giveaway lover, finding great giveaways to enter shouldn't be restricted to servers on Discord alone but should include searching other platforms offering cool contests, and a good place to start would be Giveaway Listings' Top 30 list of the best giveaway sites online.
Remember, the more giveaways you find and enter, the higher your chances of winning some.
Tip 4: Enter Early
Some giveaways also have a set time limit, whereas others may end when a particular number of participants have entered. This makes it important to enter as soon as a giveaway is advertised to avoid being too late.
Besides, you know what they say about early birds and worms.
Tip 5: Active Participation
Giveaway hosts often recognize active followers. Sometimes, the point of a giveaway is to encourage and appreciate active participation from followers, so being active would definitely work to your advantage.
Being an active member of the Discord giveaway server could also give you access to useful information concerning when giveaways are to be held and the best ways to win them.
So, communicate with other server members, contribute positively to the server, and, as much as possible, keep track of what's happening.
Tip 6: Join Small Giveaways
As much as we stand behind the phrase "Go big or go home," we'll admit that this time, shooting for smaller giveaways could give you better chances at winning.
This is because the grander the giveaway prize, the higher the stakes. There'll be a lot more people interested in participating in the contests, which in turn increases your competition and reduces your winning odds.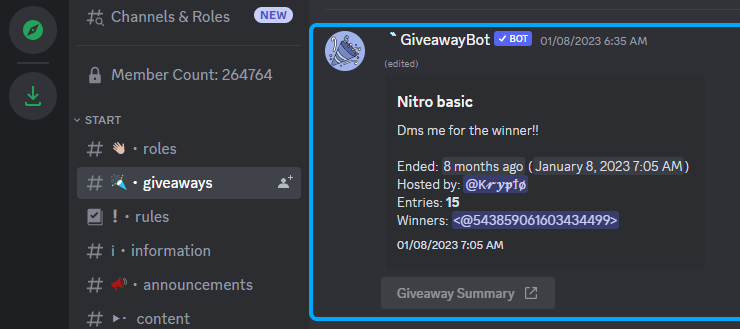 So instead, we recommend going for smaller competitions.
Yes, the prizes may be smaller, but so would the competition, which does wonders for your odds of winning.
Tip 7: Keep the Competition Healthy.
Giveaways aren't private, so there will be other entrants. That makes it essential to keep the competition civil.

Giveaways can be fun and exciting if we remember to keep them respectful. So avoid spamming or harassing other users in the competition, and focus on having a good time!
Discord Giveaway Bots FAQ
Here are the most frequently asked questions about Discord giveaway bots: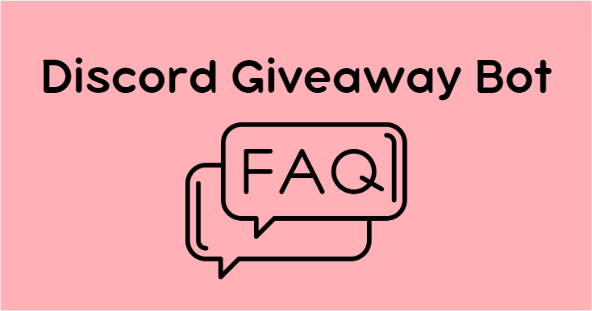 Which is the best Discord Givaway Bot?
Discord has a lot of great bots, and most of them are great for different reasons, so singling one out as being the all-around best might be pretty tricky.
However, we found MEE6 at the top of several ranking lists during our research for the best Discord Giveaway Bot, with Giveaway Boat never too far behind, so we're willing to place our bets on both.
What to give away on Discord?
An excellent idea for a giveaway prize on your Discord server would be gifting your winners free Nitro or Nitro classics.
As we said earlier, Nitro is a big deal to Discord users, so gifting a monthly or yearly subscription to the winner would spell an exciting opportunity for participants.
Another excellent idea would be choosing a giveaway prize related to the theme of your server.

Whatever you decide to give away, ensure it's something your audience would be interested in.
Remember that choosing the right Discord Giveaway Bot is also a big part of running successful giveaways on Discord, so make sure you go through your options and pick the one that's best for you.
What are Discord Giveaway rules?
Each giveaway hosted on Discord will have its own specific rules that participants will be required to follow, so it's essential to pay attention to what they are and to keep from breaking them.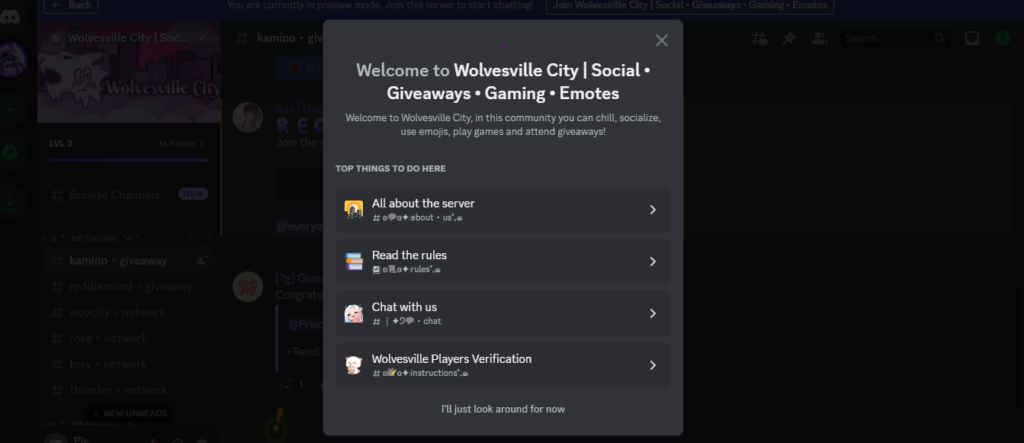 Discord tries its best to maintain a safe and fun environment for its community. So, it specifies general guidelines on its website that show which kinds of behaviors are allowed across all its platforms and which aren't.
Examples include spelling out the kinds of behaviors that are considered bullying and making it known that such would not be allowed.
As a Discord user, these rules are non-negotiable, and disobeying them could spell the end of your time on Discord. So going over their 'Do's and Dont's' before joining would be a good idea.
Are giveaways allowed on Discord?
Yes, we're happy to let you know that giveaways are, in fact, very much supported by the platform.
Giveaways encourage user participation and serve as a way for hosts to appreciate their members.
Discord recognizes that so much so that giveaway bots were enabled on the platform as a way to ease the process of running these giveaways and to provide the best user experiences for all parties involved.
How do you win giveaways on Discord?
We know winning a Discord giveaway would be a super cool experience, so we outlined the best tips to help you achieve them in this article above. If you still need to take notes, scroll up and do just that!
Final thoughts on Discord Giveaway Bots
Discord is a user-friendly platform that makes communication easy and community-building super fun.
The Discord Giveaway Bots are handy tools for creating and running giveaways on the platform. They simplify the process and make giveaways more accessible and enjoyable for everyone involved.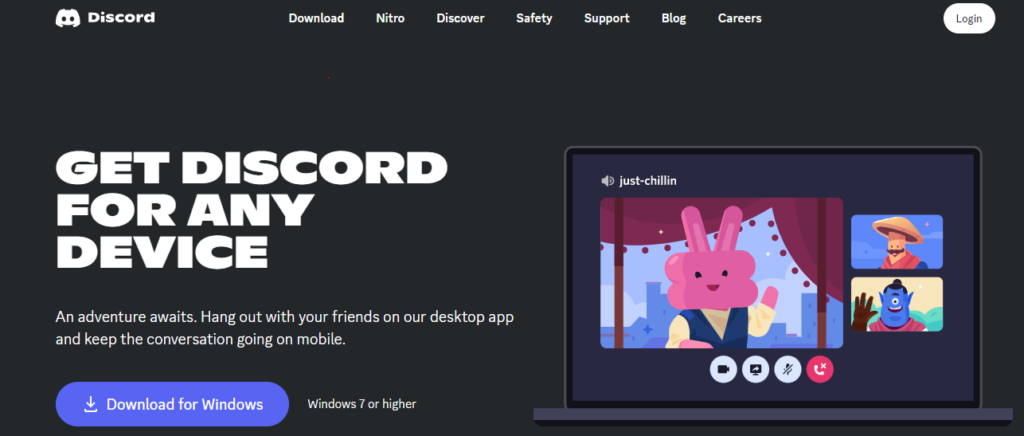 Selecting the right bot for your server is vital for anyone trying to run a successful giveaway. Setting up the right Discord giveaway bot to handle your giveaways creates an engaging and rewarding experience for your server members.
Remember that Discord Giveaway bots also state the rules and guidelines of the contest, and following them ensures a fun and fair experience for all participants, which should always be a top priority for any giveaway host.
Now that you know all you need to know about Discord and its super helpful bots, we wish you the best of luck using your newfound expertise!
Don't forget that you can find the biggest and best giveaways on our website, Giveaway Listing.com, with its regularly updated monthly giveaway lists and exclusive guides on increasing your chances of winning these contests, so make sure you check it out!