Top giveaway sites in 2023
If you're looking for the best giveaway sites, look no further! We have listed the top 30 giveaway sites of 2023 where you can post and win giveaways.
Where can I find the best giveaways?
You will find the best 2023 giveaways in many different places online. There are several categories to look out for:
Giveaway websites
Blogs that host giveaways
Sweepstakes and raffle sites
Sites that host contests and competitions
Social media giveaways (Twitter, Facebook, Instagram, for example)
You will find the best giveaways through those online channels. We will examine this in more detail below.
How can I find the best giveaway sites?
You can find giveaway sites in innumerable ways. Conducting online searches is your best bet for finding the best giveaway sites.
When searching for giveaway listing sites, check the following places:
Web search
Your favorite blogs and brands
Social media (Twitter, Facebook, etc.)
Third-party apps (Gleam, Rafflecoptor, etc.)
Contest and competition sites
Giveaway guides (such as this one!)
You will find sweepstakes, contests, and global giveaway sites, to name a few, by searching in the above ways.
Whether you're entering giveaways or hosting them, you should utilize as many giveaway sites as possible to expand your reach.
Tip: Widen your search by looking for all types of giveaways, whether you'd like to win more prizes or post more giveaways on many platforms!
Which giveaway site is best?
When deciding which giveaway site is best — you get to choose! To help you, we have selected a whole list of 30 sites we think you'll love.
The top 5 from our list are
We have linked handy guides above from Giveaway Listing that we think you'll love. Each giveaway guide will help you to successfully enter or organize giveaways!
Up next, here comes the list of the best giveaway sites!
The top 30 giveaway listing sites
In no particular order, here are 30 of the best giveaway sites of 2023 you will find online.
1. Giveaway Listing
We may be biased, but we think one of the best giveaway listing sites is this one! Giveaway Listing has been going since 2015 and is dedicated to bringing you the best giveaways from across the globe.
We share live giveaways on our website and via many social media channels.
One of our favorite ways to interact with you is with our giveaway guides. We help you run viral giveaways and help you win more prizes!
You can also find live feeds on our giveaway guide pages that list promotions you can enter while reading the guide.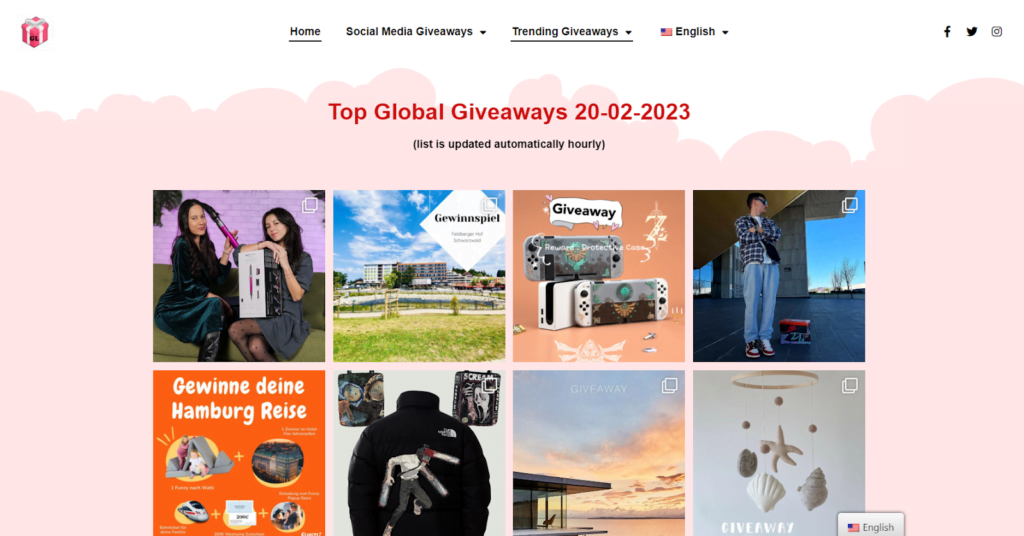 What makes Giveaway Listing unique?
Giveaway Listing is dedicated to international giveaways.
You will find giveaway guides dedicated to participants who want to enter giveaways and win more prizes, and for organizers who want to run successful giveaways.
The website has live feeds of current giveaways, each with an associated guide.
2. Steamy Kitchen
SteamyKitchen.com is one of the largest food blogs in the world, boasting over 8 million pageviews and over 550K users per month.
Steamy Kitchen not only specializes in running a food blog, but they also run extravagant giveaways.
You will find various giveaways on the blog; not all are food-related. Steamy Kitchen often shares Amazon gift card giveaways, for example.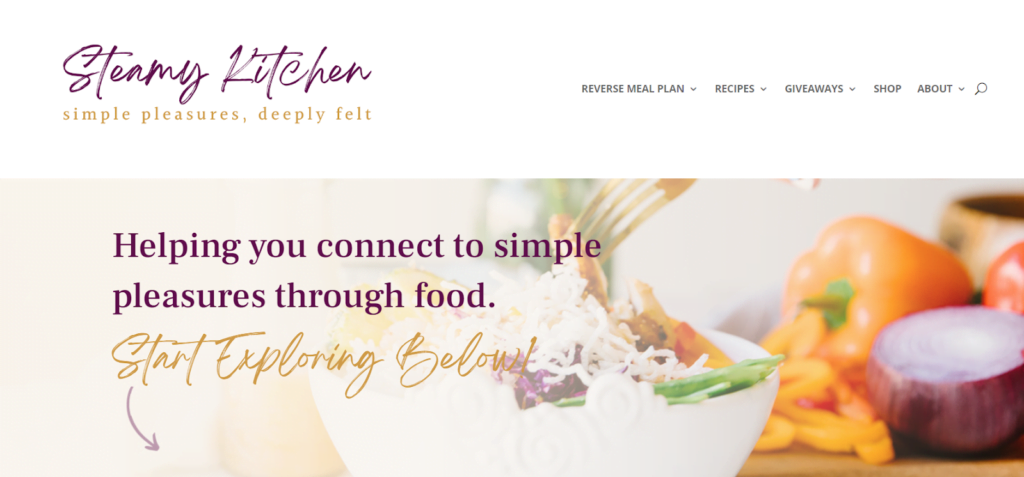 What makes Steamy Kitchen unique?
The brand is a blog site dedicated to food blogs and various giveaways.
They share instant cash giveaways and gift cards from reputable sources.
The website has a VIP giveaways section with more expensive prizes on offer.
3. MrBeast
Since going viral in 2017, MrBeast has been giving cash and expensive prizes to his audience members.
The viral YouTuber wants to help others through his success, and his mission is to open facilities for the homeless.
MrBeast gives away prizes and money to build an audience on Youtube and increase his subscribers. That way, he can reach more people, give away more prizes and change more lives.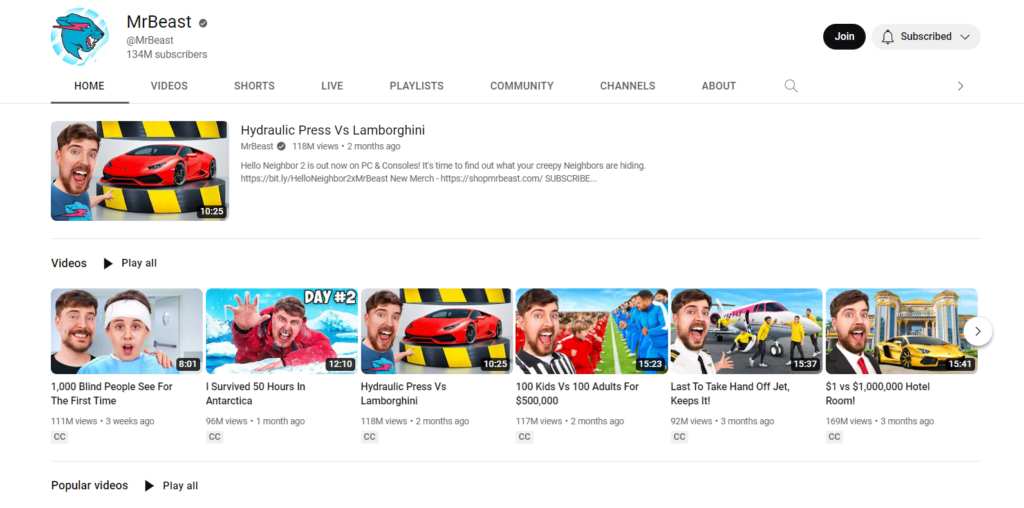 What makes MrBeast unique?
MrBeast holds live giveaways on a YouTube channel and collaborates with his audience.
The giveaway prizes are enormous sums of money or lavish items.
He has millions of subscribers and highly anticipated contests.
You can check the Mr. Beast Giveaway Guide to find 10+ tips on how to win his precious giveaways!
4. Discord
This app is a popular gaming platform aiming to get gamers together to be sociable. Discord is a platform you can use to host a giveaway (and enter them), unlike other gaming platforms.
Giveaways on Discord allow users to engage with their online friends and community while promoting their server.
Due to that perk, more gamers will join their Discord community server, expand their reach and find their giveaways.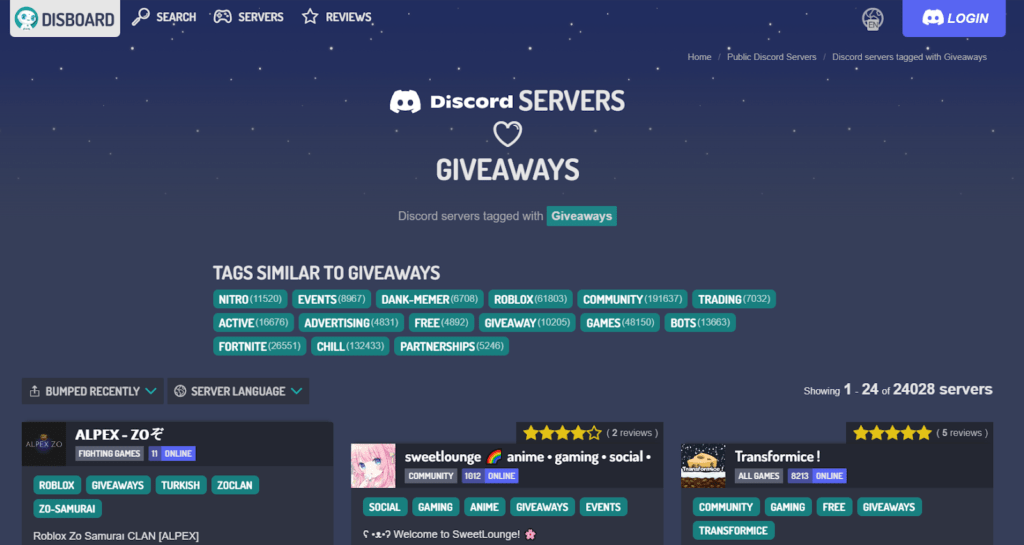 What makes Discord unique?
They specialize in gaming giveaways.
You can find Discord giveaways being shared live on numerous popular gaming sites.
The giveaways are interactive, and gamers can usually host their own.
5. Alienware Arena
If you're a gaming fan, you will love Alienware Arena giveaways.
Alienware is a computer tech brand, and Alienware Arena is their sister company specializing in gaming.
Their giveaways are unique because they share the best of the current high-tech games and giveaways in one. Check out our Alienware Arena guide if you'd like to know more!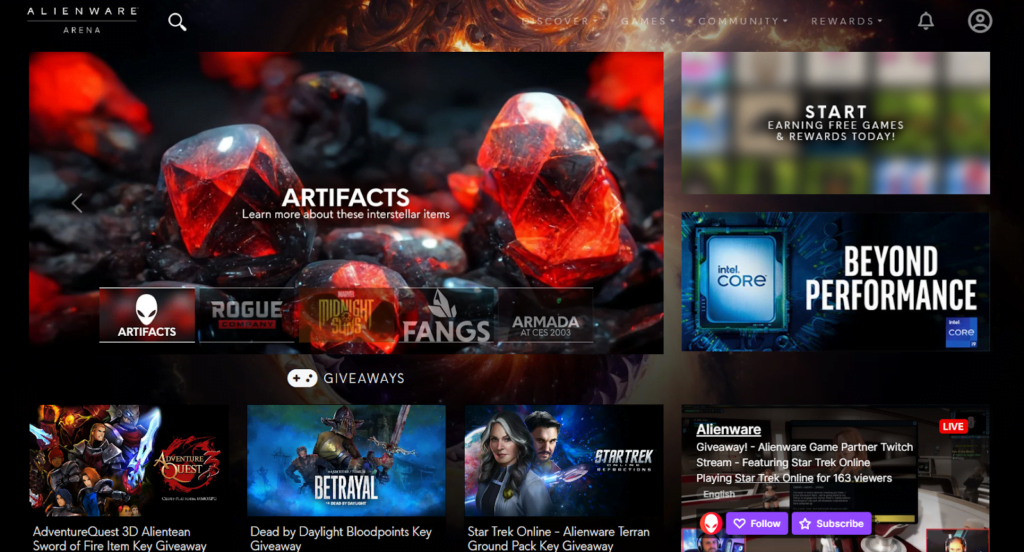 What makes Alienware Arena unique?
They specialize in giveaways for gamers.
You can find their giveaways on numerous popular gaming sites.
Alienware Arena giveaways are interactive, and gamers can win prizes that allow them to customize their Alienware Arena games.
6. PrizeGrab
The PrizeGrab giveaway platform has daily free prizes and regular cash draws. They have given over $2 million worth of prizes to more than 6k winners since 2013.
PrizeGrab wants to create genuine giveaways for entrants to enter daily draws. They offer participants cash prizes via raffles and online contests.
Other prizes include various gift cards for big retailers and popular restaurants. This might be the best place to start if you want free money.
No purchase is necessary to enter their giveaways, and you can sign up for other services with them for free. Another plus point is that you can use the platform on your home computer or mobile device.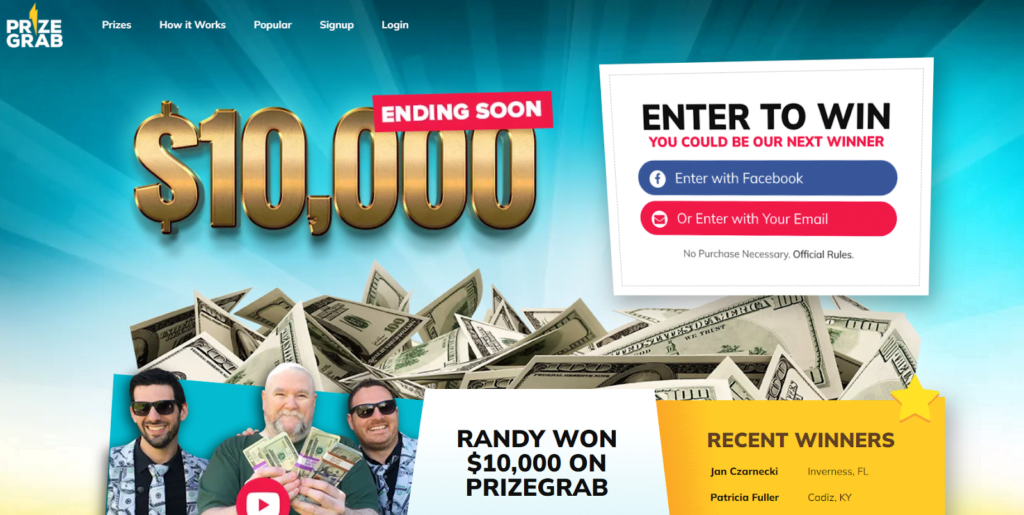 What makes PrizeGrab unique?
They specialize in sharing instant cash giveaways.
The grand prizes are competitive, they are expensive and desirable.
The more you enter PrizeGrab giveaways, the better your chances of winning.
7. Swagbucks
If you enjoy the sound of gift card giveaways and free cash, Swagbucks is a great place to be. If you want online games, you'll find various games to play in your spare time to win cash prizes.
Swagbucks offers you many ways to earn real money! You can play instant win games and take surveys, get cash-back from big retailers, and browse the net for cash.
The site has already given away over $530 million to users. Another plus – they have a referral bonus scheme if your friends and family sign up for the platform!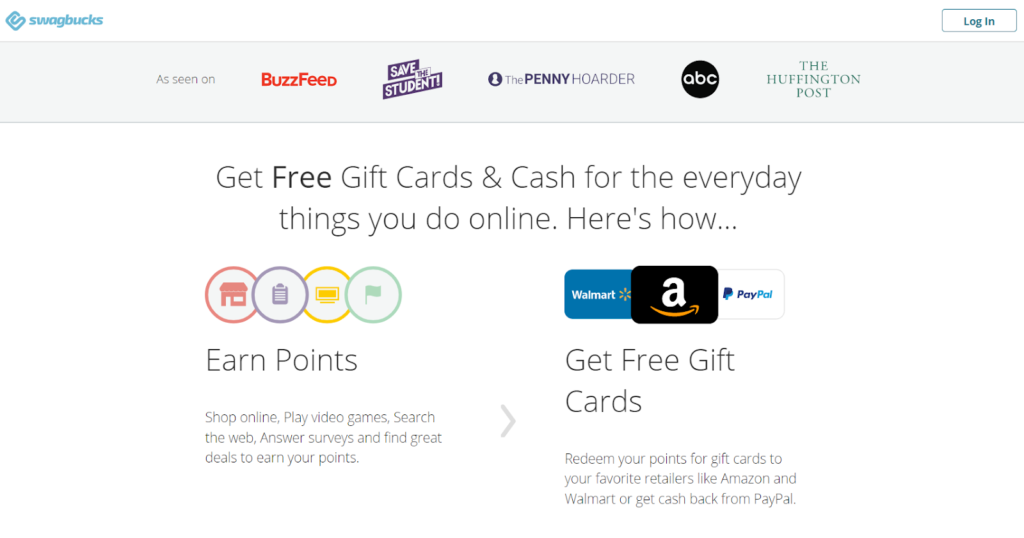 What makes Swagbucks unique?
They specialize in gift cards and cash.
You can easily earn Swagbucks while playing for gift cards or money.
As a member, you can take surveys and go shopping in return for entries or cash.
8. Sweepstakes Bible
Sweepstakes Bible is another popular giveaway site that shares gift card giveaways and cash. However, they also share giveaways with big prizes, such as cars and vacations.
The giveaways are neatly distinguished by themes and ones that are ending soon.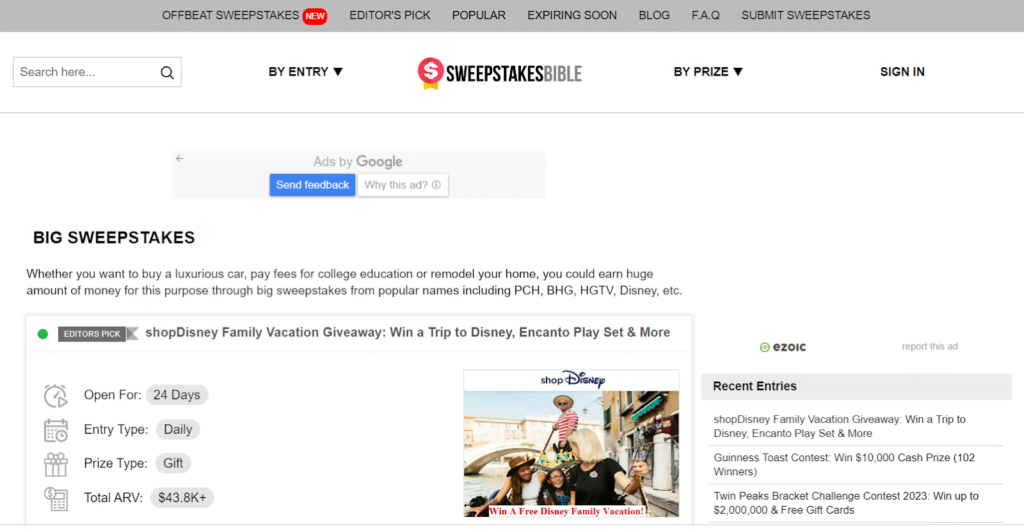 What makes Sweepstakes Bible unique?
They share giveaways from trusted sources with a big prizes category.
You will find a blog on their site with tips about how to save money.
Sweepstakes Bible is a popular site due to the volume of giveaways shared on the site.
9. BigTime Cash
Big Time Cash also lets you exchange your time for cash! As with any instant win giveaway, you maximize your winning chances the more you play.
The site has over 600 games, allowing you to receive tickets in return. These tickets you receive from gaming will enable you to enter regular and reoccurring cash draws for money prizes.
Big Time Cash is free to use, with no hidden costs. Everything is accessible on the site, including entering the draws.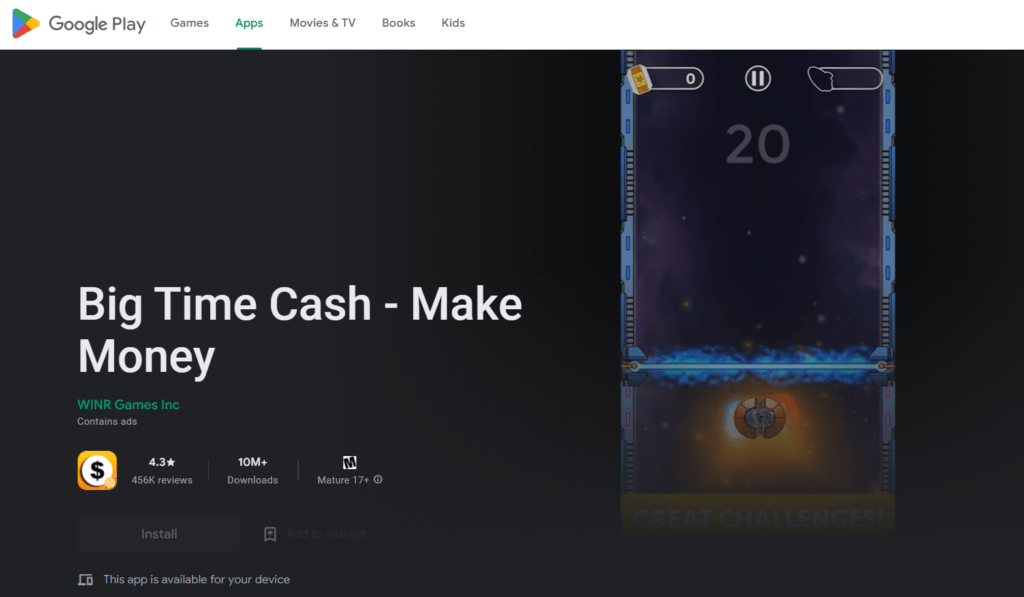 What makes BigTime Cash unique?
You won't have to make any in-app purchases to play a game.
All you have to do is play more games to earn more tickets in return for prizes.
BigTime Cash shares grand prize draws and instant-win games.
10. Gleam
This digital marketing platform allows businesses to build and promote effective online contests and competitions. Alike most giveaway sites, Gleam has a function for organizers to hold giveaways and for participants to enter them.
Organizers can run Gleam sweepstakes and contests through several social media sites. Participants can easily upload media to these sites, which helps photo contests to go viral.
Due to the verification process between Gleam and participants' social media accounts, entering these giveaways is super easy. There are very few steps to follow, making it a much easier and more favorable way for participants to play.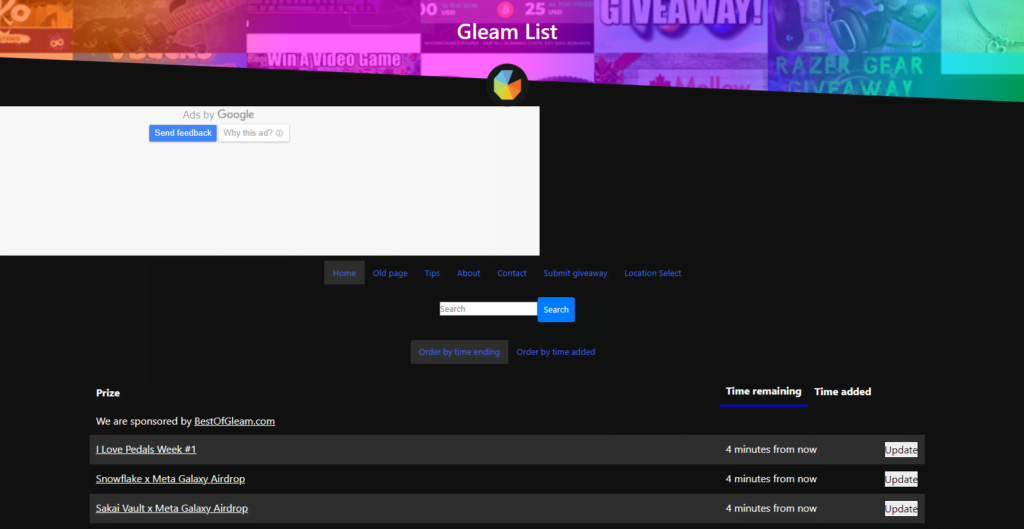 What makes Gleam giveaways unique?
Seamless designs lend themselves to giveaways that are easy to enter.
Gleam hosts various branded giveaways, meaning they have a wide variety on offer.
You can find Gleam giveaways on various giveaway sites listed in one place, such as Gleam List.
11. Overkill
OverKill runs giveaways as well as manufactures hand-built custom PCs.
The brand prides itself on unique PCs and offers its customers a unique experience. The customer can collaborate with the manufacturer while their PC is being built.
Overkill PC giveaways are gaming giveaways where you can win a free laptop and more. They offer a free laptop every month via giveaways hosted on their site.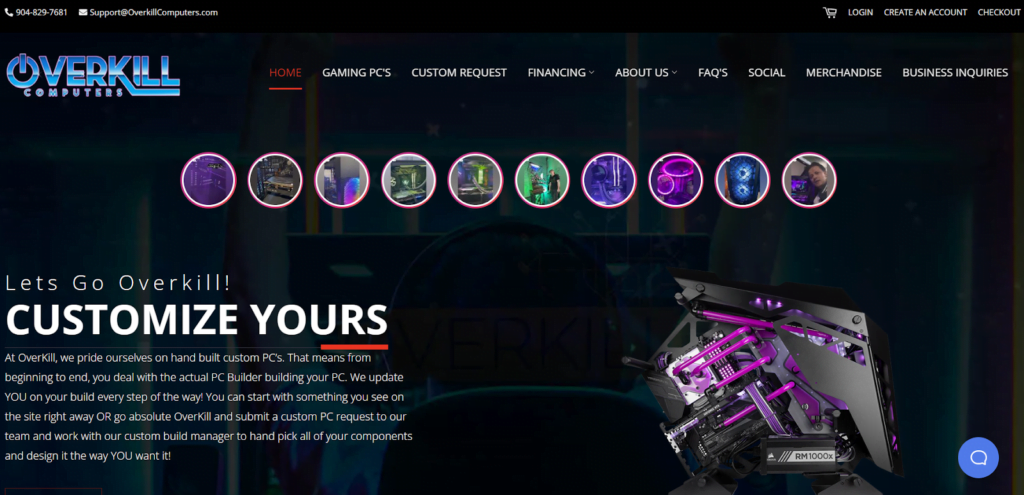 What makes Overkill Giveaways unique?
Overkill giveaways revolve around PC games and gaming gadgets.
Overkill PC prizes are unique and customized.
The brand gives away top-quality laptops and expensive items.
12. Giveaway Base
GiveawayBase collects all types of online giveaways and lists them in one place.
They also organize giveaways for their fans, offering everyone the same chance to win prizes.
The platform also allows giveaway organizers to promote their brands products by way of sponsorship or a paid promotion.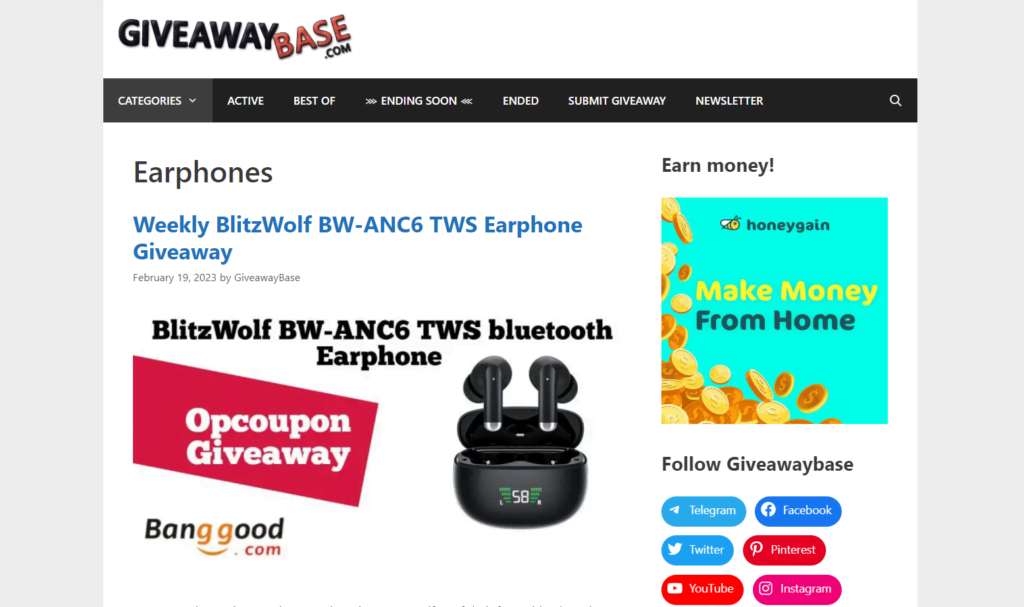 What makes Giveaway Base unique?
They specialize in gadget giveaways.
.You can submit a giveaway for promotion for a $10 submission fee.
You will find gift card giveaways plus a best-of giveaways section on the website.
13. World Giveaways
This international giveaway company is a hosting page for all types of global giveaways.
The site categorizes its giveaways into separate locations, such as worldwide, US & Canada, Europe, AU & NZ, and the UK.
You will mostly find electrical items being given away on their site, such as laptops, mobile phones, and keyboards.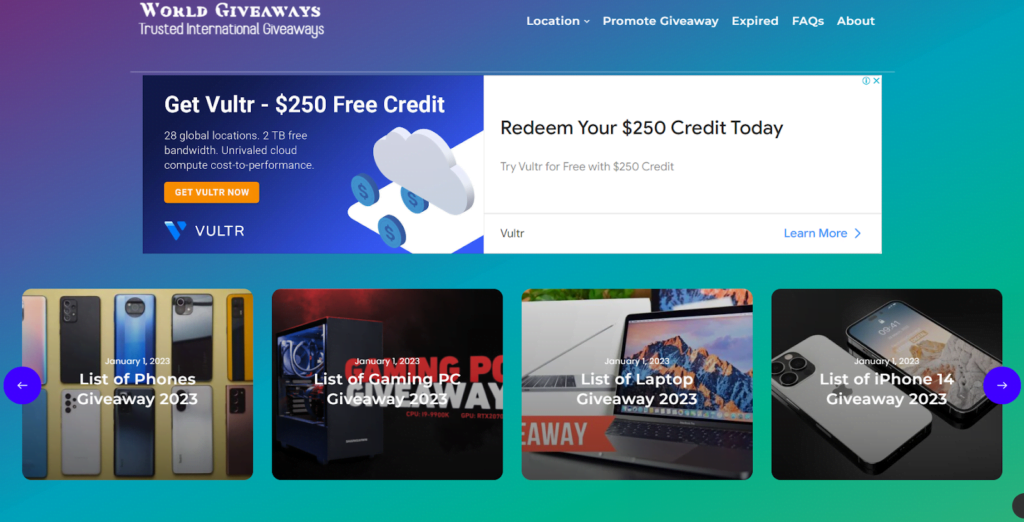 What makes World Giveaways unique?
They specialize in international giveaways.
They share instant cash and gadget giveaways.
The website has a section where companies can request to promote their giveaway.
14. Giveaway Machine
Giveaway Machine allows its users to search for giveaways in location categories such as US, Canada, and worldwide giveaways.
You will find gift cards, electronics, and more types of giveaways.
Giveaway Machine has an option on its site to allow brands to promote their giveaway and boost it via paid options, making their offerings more diverse.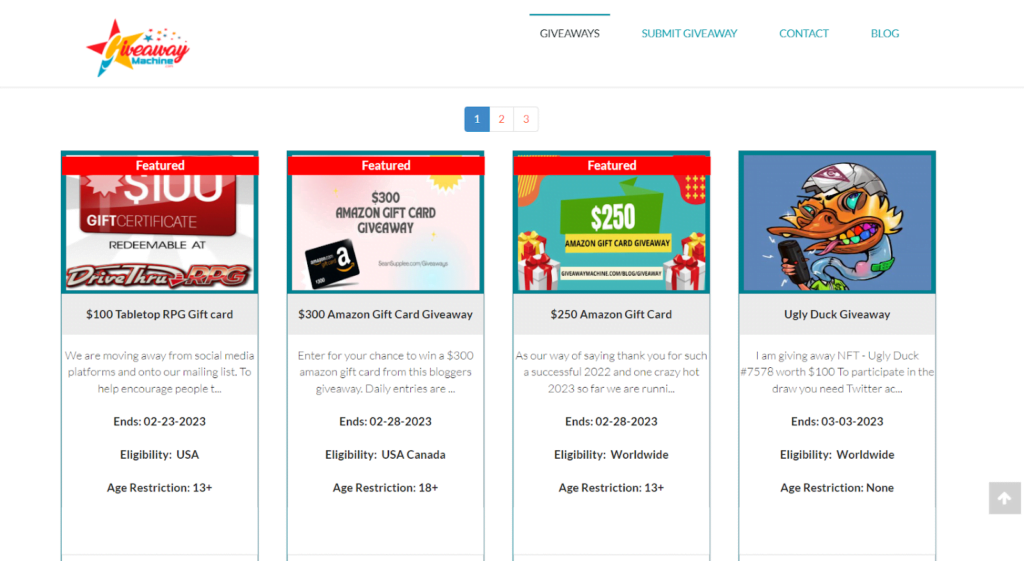 What makes Giveaway Machine unique?
Giveaway Machine shares gift cards plus a wide range of prizes.
The company allows brands to promote their work on the website.
They write a blog with giveaway tips and articles to help you save money.
15. Golf Giveaways
Golf Giveaways share giveaways on Twitter specific to golf, and that's all, perfect for golf and giveaway lovers!
You will find daily updates on their Twitter feed, and they also retweet other giveaway posts, so you get more than a fair share of options to choose from!
You can also ask to post your golf-specific giveaway on their account as they accept requests.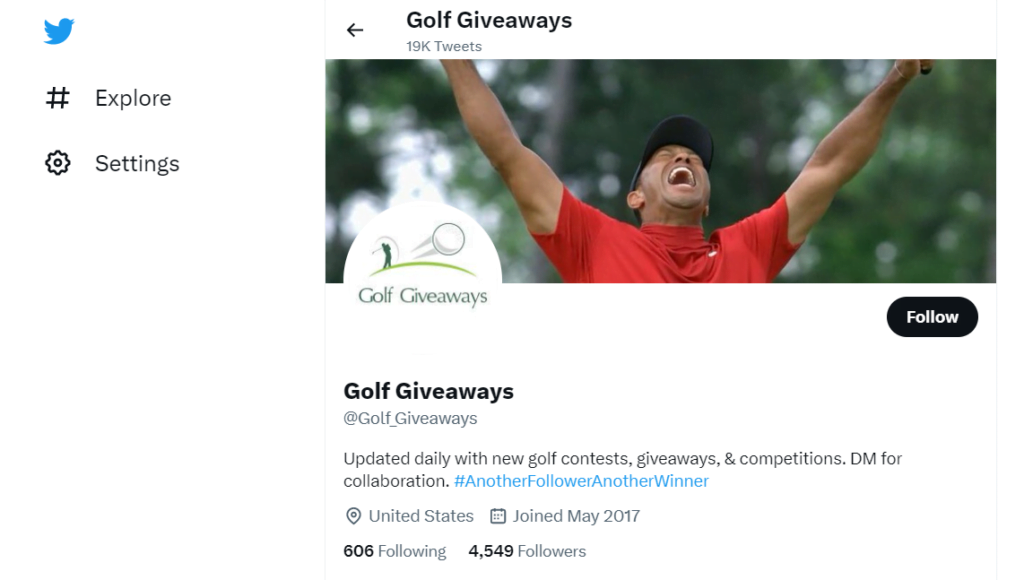 What makes Golf Giveaways unique?
They specialize in golf giveaways.
They retweet other brands' posts and their own tweets.
The brand accepts collaborations from other giveaway organizers.
16. Golf Gear Giveaways
This company also specializes in golf giveaways. Specifically, Golf Gear Giveaways specialize in golfing equipment.
The UK company is unique as it hosts free and ticketed giveaways, such as raffles. The ticketed entry fees start at £0.50, and participants can buy many tickets to enter a giveaway for around £22.
The prizes on offer include choices of drivers, golf heads, and irons, for example. Beneficially for the winner, they often get to choose which prize they would like to win!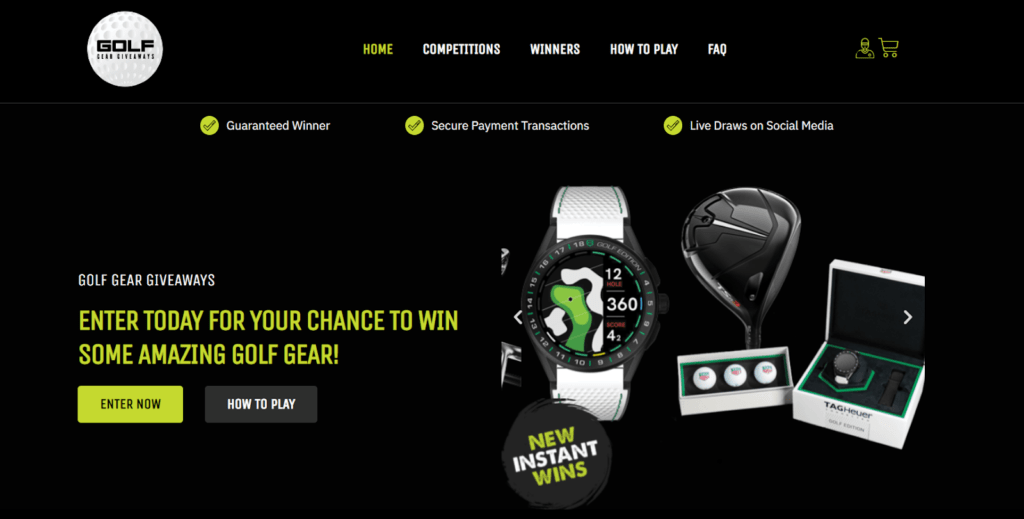 What makes Golf Gear Giveaways unique?
They specialize in golf giveaways.
They host free giveaways and paid entry ones.
Grand prize winners have the option of various prizes.
17. Goodreads
If you love reading, you will love Goodreads giveaways! Goodreads hosts author and publisher giveaways; their books are the grand prize.
To enter, you must sign up for Goodreads and take a few action steps to enter the prize draw. Check out our Goodreads giveaway guide if you'd like to learn more.
Loved by book lovers worldwide, the giveaways specify the country in which you must reside to participate.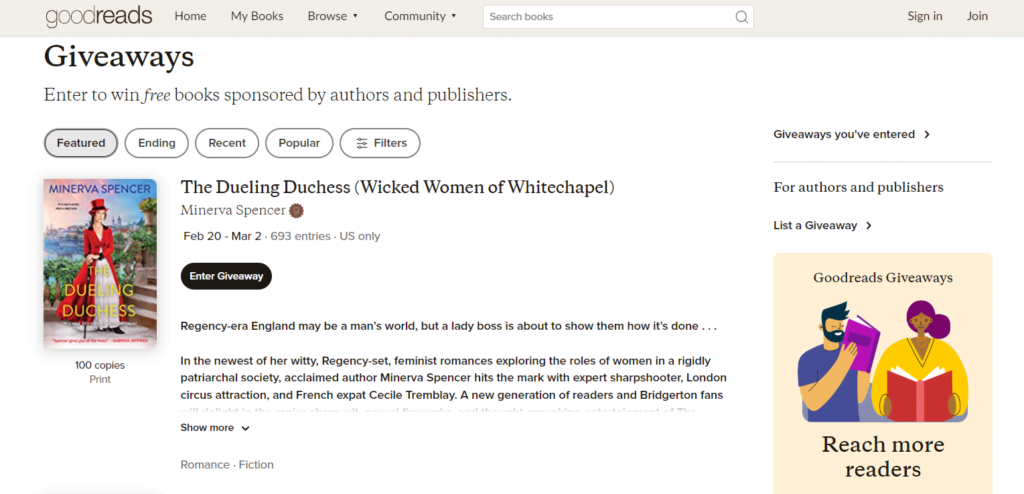 What makes Goodreads Giveaways unique?
They specialize in book giveaways.
Each giveaway lists eligible countries you must reside in to enter.
They offer exclusive prizes by upcoming authors and publishers.
18. Sweepstakes Fanatics
This company specializes in various giveaway types and categorizes them into over 20 categories. They share beauty sweepstakes, cruises, hobbies, toy sweepstakes, and more.
This unique brand uses its website and social media platforms to share its giveaways.
When you use their site, you are given access to various giveaways on many sites and redirection links to those sites.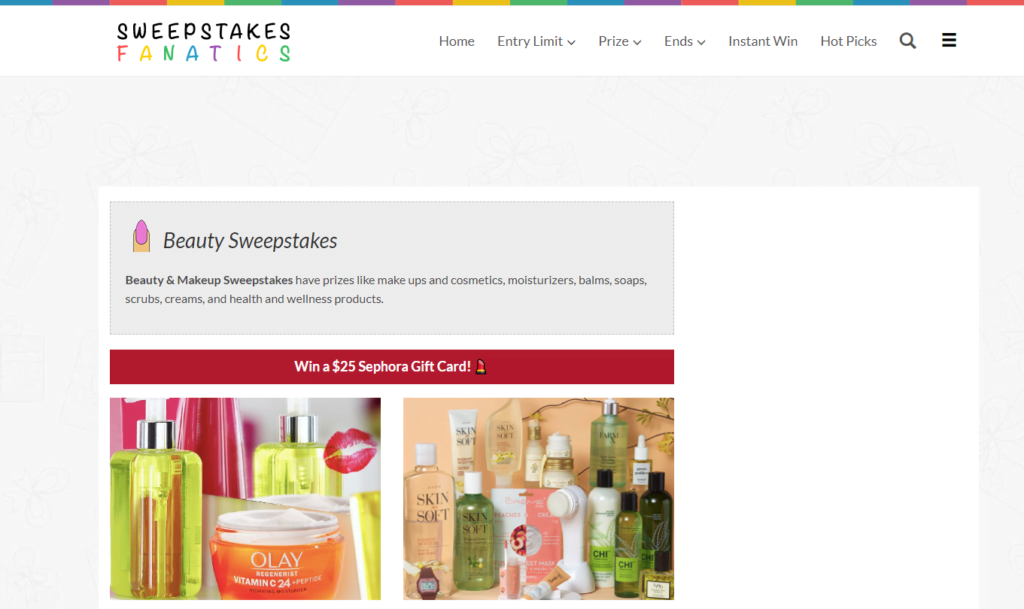 What makes Sweepstakes Fanatics unique?
They share various giveaways and categorize each one.
The company shares its giveaways on Twitter, Instagram, Pinterest, and Facebook and has an exclusive Facebook group.
Their website has a function that lets you see when the giveaways are ending (ending today to ending in 10 days).
19. Ultra Contest
Ultra Contest mainly shares giveaways from trusted brands giving away vehicles, vacations, cash, plus other big prizes, such as sports tickets and electronics.
They have a sleek website design that categorizes the giveaways into neat sections. They also share these giveaways on Facebook, Twitter, and Instagram.
You can see grand prize winners on the site listed on their winner's circle.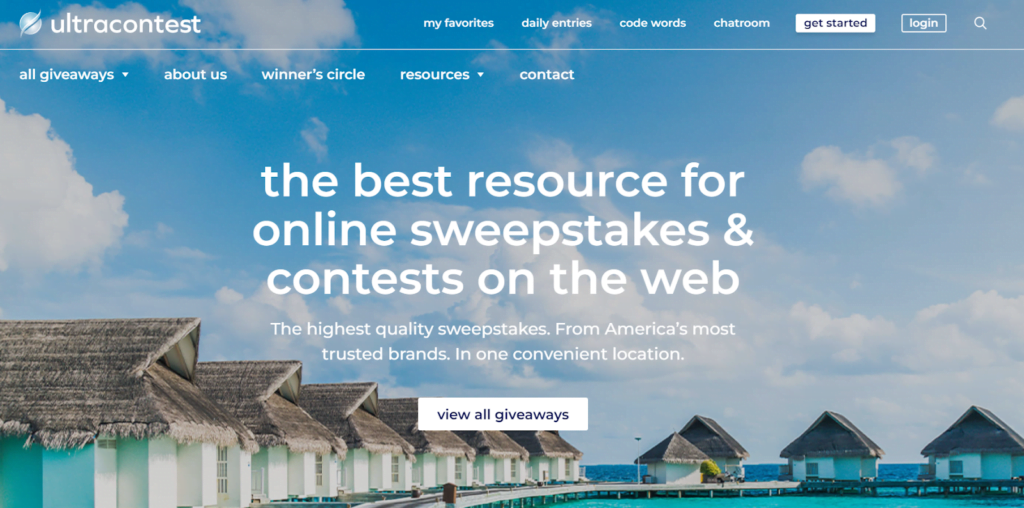 What makes Ultra Contest unique?
They share expensive giveaways and neatly categorize each type.
The company also shares its giveaways on Twitter, Instagram, and Facebook.
Ultra Contest offers a premium paid membership for $3.99 a month that allows you daily entries, a chat room function, and website use without advertisements.
20. Giveaway Monkey
Giveaway Monkey is another popular and legitimate website sharing many contests and giveaways from trusted brands.
The website categorizes giveaways by specific themes. For example, the giveaways are differentiated by beauty, hair, fashion, and travel categories.
There is also an option to promote your giveaways on this site. As a result, you will find various businesses, such as pet sitters, beauty businesses, and artists, promoting their work.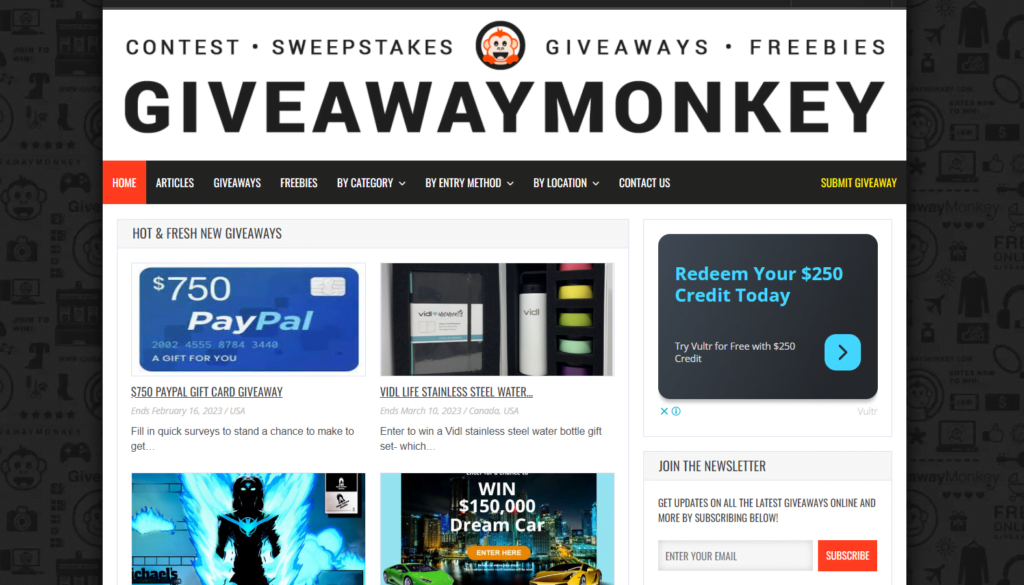 What makes Giveaway Monkey unique?
They list gift cards as part of their giveaway categories.
They differentiate and categorize their giveaways by entry method, including Instagram, King Sumo, Gleam, and Comment Entry.
Giveaway Monkey shares giveaway articles alongside their giveaways.
21. Dream Giveaway
Dream Giveaway has been going since 2007 as a charitable organization conducting sponsored fundraising promotions.
Since then, the brand has delivered millions of dollars to sponsor charities and grant recipients, assisting hospitalized children, veterans, the homeless, people experiencing cancer, victims of natural disasters, and other causes.
Dream Giveaway has an incredible selection of prize cars on offer and specializes in vehicle giveaways.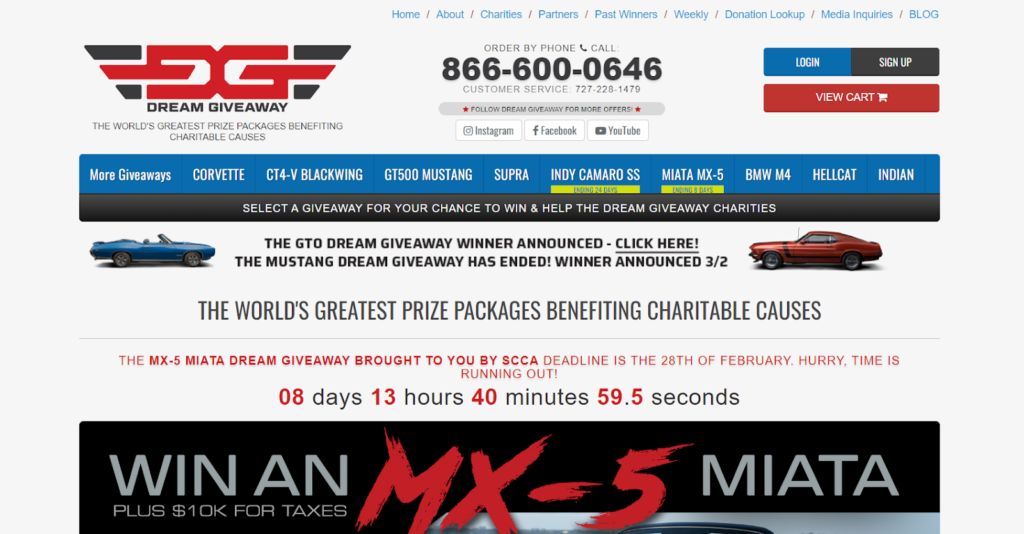 What makes Dream Giveaway unique?
The Dream Giveaway brand is a charitable organization.
They share and host giveaways with unique vehicle grand prizes.
The brand partners with many sponsors.
22. TrueSweepstakes
TrueSweepstakes is a popular site to find sweepstakes and giveaways for free. You can win millions of prizes from legitimate and trusted companies on the website and via their social media, Facebook and Twitter.
TrueSweepstakes, like many other top giveaway sites, is a directory for the best giveaways.
You can also find promo codes on this website, and navigating your way around the site is easy. There is an option to view new giveaways, expiring giveaways, and featured sweepstakes.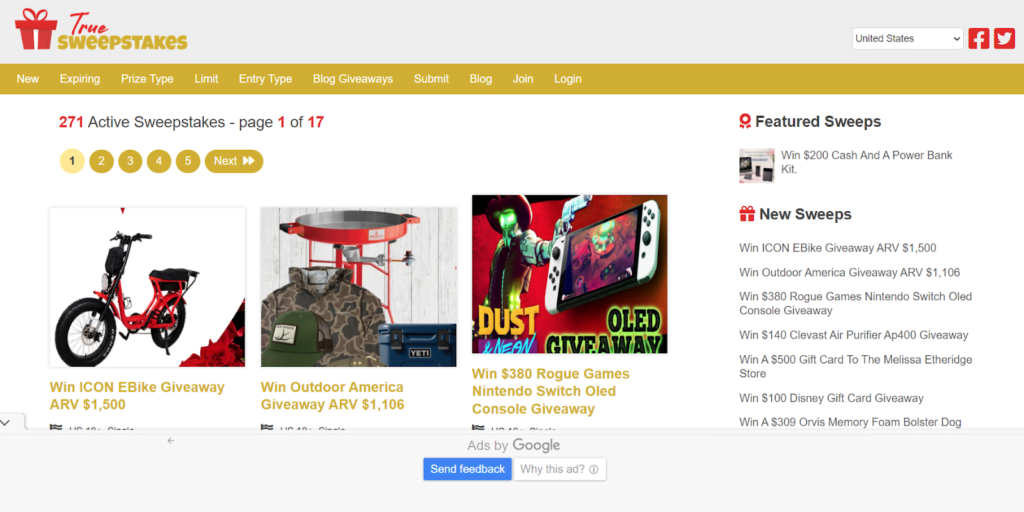 What makes True Sweepstakes unique?
They host giveaways run by various blogs and diverse companies.
They differentiate and categorize their giveaways by entry method, including Sweep Widget, Instagram, Competition, Gleam, and Promo Simple.
True Sweepstakes shares giveaways by their limits (i.e., single entry, daily entry, or monthly entry).
23. Sweepstake.com
Sweepstake.com is another well-known giveaway site that shares some of the best sweepstakes, contests, and giveaways from trusted sources.
The site is updated regularly, so there are always active giveaways to enter. There's something for everyone — all kinds of giveaways, from spa days to computer games.
There are individual sections categorizing new giveaways, expiring giveaways, and different categories to win the best and most lavish prizes daily.
What makes Sweepstakes.com unique?
They have a section dedicated to the top 30 sweepstakes.
New and expiring sweepstakes and categories, such as travel and car giveaways, are clearly outlined.
True Sweepstakes mail a free newsletter to subscribers.
24. Our Free Stuff
Our Free Stuff (formerly Freebies(dot)com) is an exclusive membership website. You can sign up for free and access various freebies, such as samples of products, coupons, and contests.
Exclusive giveaways are part of Our Free Stuff membership. Prizes on offer include free samples and gift cards, and cash.
When you visit the site, you earn ballots (entries) by taking quizzes, completing surveys, and more. Then, you need to use your ballots to win free samples and gift cards.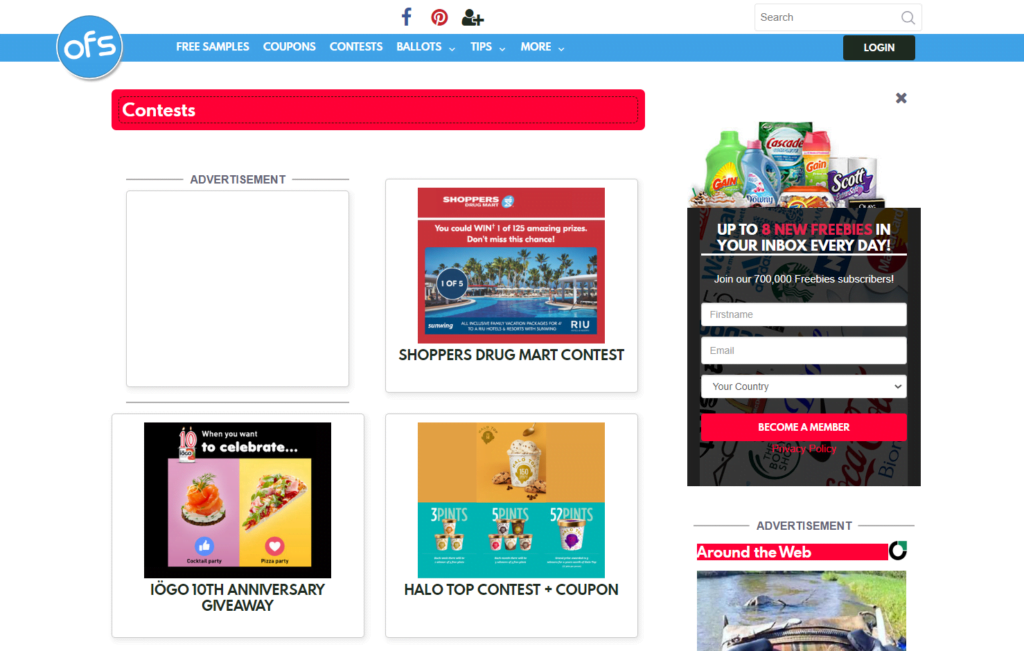 What makes Our Free Stuff unique?
The site is a membership site offering exclusive prizes to its members.
You can get samples and freebies for completing simple tasks on the website and gain entry ballots.
Our Free Site has a tips section sharing random inspirational videos, recipes, and money-saving tips.
25. Freebie Depot
Freebie Depot is another popular hit for free giveaways. You will find many free products, contests, sample products, and giveaways on their website.
Freebie Depot can also email your freebies and giveaways to you. Subscribe to their newsletter with your email address, and you can get freebies delivered daily.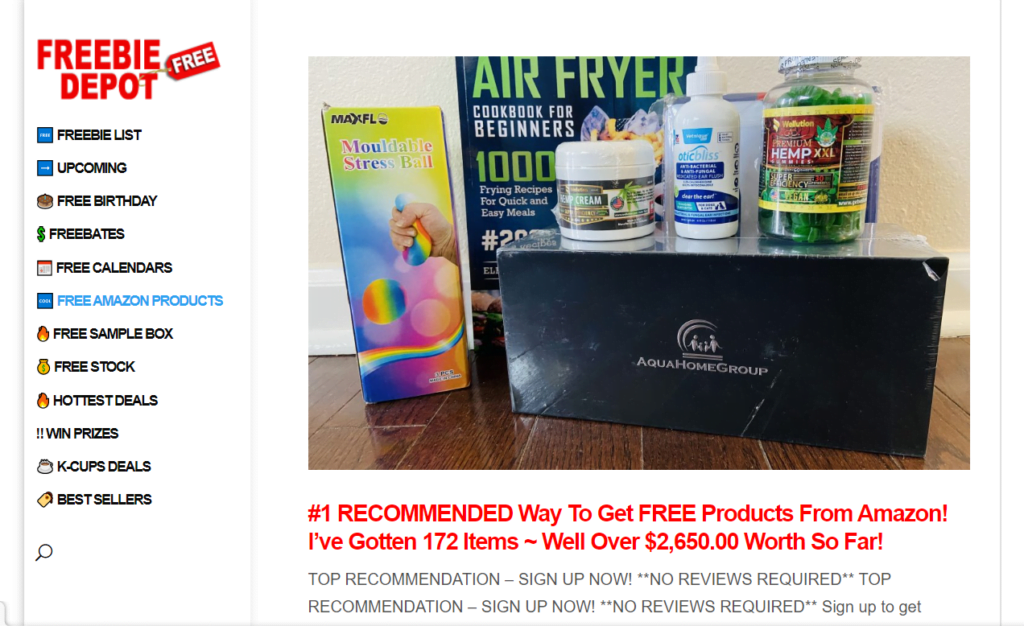 What makes Freebie Depot unique?
The site hosts various giveaways across selected trusted brands.
You can sign up for their newsletter to receive opportunities for daily prizes.
Freebie Depot has a section dedicated to Amazon Freebies.
26. Reddit
Reddit is a popular platform for finding giveaway listings. With over 50 million active users, Reddit ranks among the most popular social networks worldwide.
The platform comprises thousands of subreddits (themed categories). Subreddits are sub-communities within the Reddit community that any registered user can create about a topic of their choice.
Within communities are various giveaway and sweepstake listings. For example, r/giveaways is a subreddit with a considerable following.

If you're interested to learn more about how to enter and win Reddit giveaways read the complete guide here.
What makes Reddit giveaways unique?
Giveaways shared on Reddit are categorized by themes according to the sub-communities they are shared in.
There are thousands of giveaways shared within numerous groups dedicated to giveaways.
You can find all types of giveaways, from Amazon gift cards to PC giveaways from trusted sources.
27. Julie's Freebies
This giveaway platform shares a huge array of giveaways and sweepstakes. The giveaways listing page includes sweepstakes, instant win games, and daily entries.
You can also search the listings by specific lists and categories, mainly those listed above. Next to sweepstakes, you can find a freebies section offering items for totally free.
All you have to do to claim the freebies is follow the link to the freebies sites and enter your details to receive the item!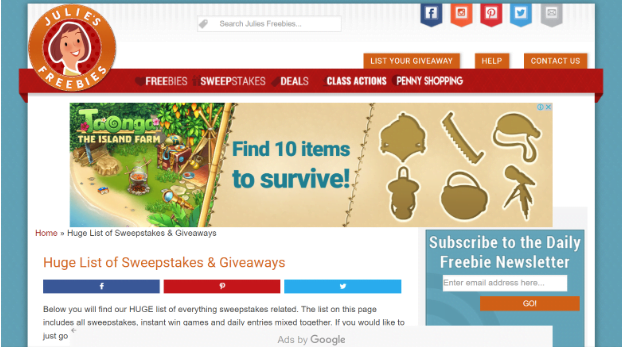 What makes Julie's Freebies unique?
The sweepstakes are listed with a straightforward design and layout.
You can subscribe to a free daily newsletter via the website.
Julie's Freebies shares deals, savings, as well as sweepstakes.
28. Omaze Giveaways
Omaze partners with charities in fundraising events and holds free and donation-based giveaway sweepstakes.
Their popular giveaways offer many prizes, such as cash prizes, properties, tiny homes, or celebrity experiences.
Omaze raises money for charity while offering people the chance to win life-changing prizes and life experiences. They believe that harnessing the power of dreams will change the world.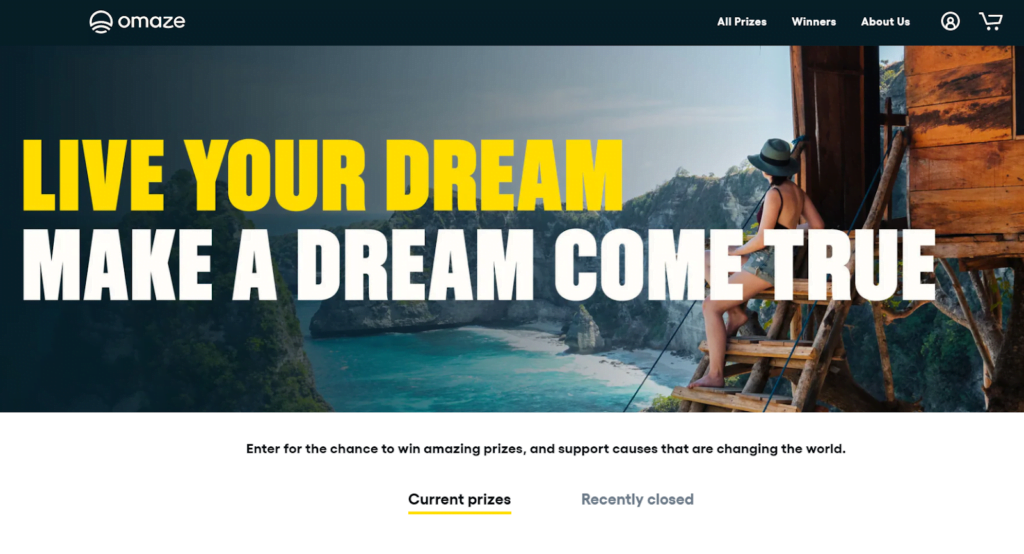 What makes Omaze unique?
Omaze gives away unique experiences and prizes.
Each giveaway prize is valuable and expensive.
The giveaway winners can choose a cash prize instead of a physical one.
29. Contestgirl
Contestgirl was launched in 2006. The sweepstakes and contests shared on the platform are listed by country (US and Canada) and by the number of entries allowed.
Blog giveaways are also separated into their category, while there is also a freebies and samples section.
The website is a bit dated in appearance, but it is easy to navigate and find what you're looking for!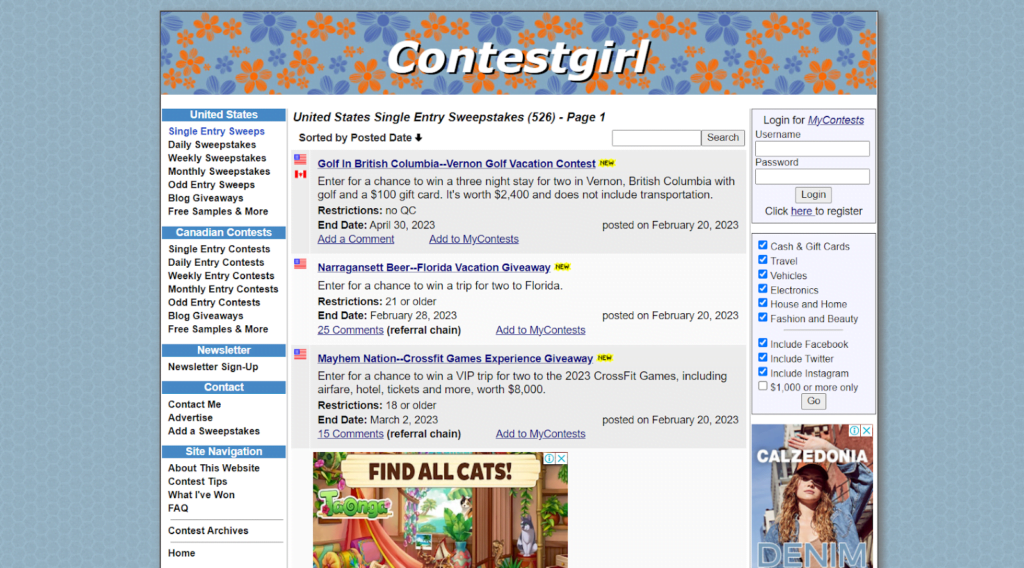 What makes Contestgirl unique?
Giveaways are categorized by country.
The website is easy to navigate and unfussy.
One of the giveaway categories is the number of allowed entries such as daily or weekly.
30. Guitar Gear Giveaways
This giveaway company is the birthchild of two guitar enthusiasts taking their passion for all things guitars to the next level.
They launched their first competition in 2019 and have given prizes to 4000 winners and over £4,000,000 in prizes.
The giveaways are categorized into guitars and basses, pedals and amps, and more!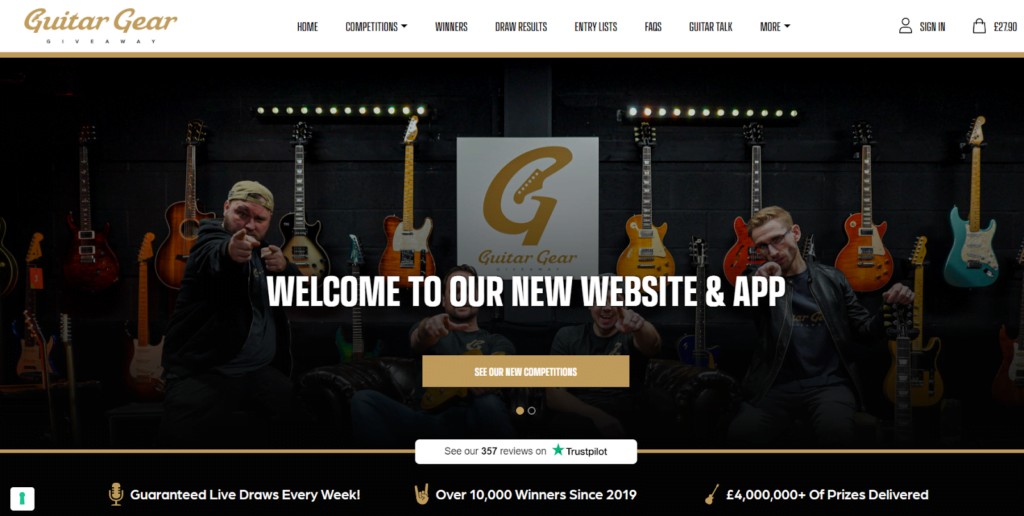 What makes Guitar Gear Giveaways unique?
They specialize in guitar giveaways and are located in the UK.
Giveaway entries are ticketed (from £0.79 per entry up to £20).
Guitar Gear also gives some of its giveaway earnings to charity.
Top 2023 Giveaway sites FAQ
Here comes a list of the most frequently asked questions about the best giveaway sites, including tips for finding the best giveaways.
How do I find legit giveaways?
You should start at Giveaway Listing if you're looking for legit giveaways! We list legit giveaways from trusted sources and list extensive live feeds of social media giveaways and more.
Which app is best for giveaways?
When it comes to giveaway apps, there are many to choose from. Here is our favorite selection:
Instagram
Facebook
Twitter
Pinterest
Reddit
Gleam
Rafflecoptor
What companies have giveaways?
If you're searching for giveaways, it's a great idea to search for your favorite brands on social media and find out if they run giveaways. If they do, you're in luck! If they don't, at least you know you tried!
You will always find companies running giveaways on our website, so feel free to check those out.
Remember, you can return to this guide anytime to search for the top 30 giveaway sites of 2023.
Where can I find free stuff?
You can find some of the best freebie feeds on Reddit. These feeds, also known as communities and groups, are known by specific names.
You can find r/freebie, for example, where giveaways and freebies are regularly posted. For example, you can find groups, such as r/sweepstakes or r/giveaways.
Which social media has the best giveaways?
If you're looking for giveaways on social media, look through our social media guides. We have one for TikTok, Pinterest, Facebook, Instagram, Twitter, YouTube, and Reddit.
Remember, the answer to this is also down to your preference, but we help you to decide based on our research!
Where can I find low-entry competitions?
Low-entry competitions (or low-entry comps) became popularized on Facebook, but you can find them across other social media sites.
For those of you who don't know, low-entry comps mean the contest is easier to enter and held by a smaller brand (therefore, your winning chances are higher)!
What are the best online competition sites?
The best competition sites you can find online from our list are:
PrizeGrab
Swagbucks
BigTime Cash
What's next for giveaway sites in 2023?
You need to watch this space to learn more about your favorite giveaway sites!
As you've seen from our list, you can find hundreds of thousands of giveaway prizes online and many places to share or even host your next giveaway.  We will be back with the latest and best giveaways on Giveaway Listing.
One last tip
Lastly, we have a guide with tips to help you win more prizes! Head to Giveaway Listing, read our 101 Giveaway Tips Guide, and win big in 2023!
You're welcome back to this guide anytime – we will add to it with every new focus we create. We will post all of our popular and trending guides for giveaways on this page, so you don't have to sift through the whole website to find them!
Don't forget to follow us on social media, where we share our current giveaway listings and guides like this!