How Gleam Giveaways changed the rules
You may have come across a few Gleam giveaway articles and wondered what exactly, or who in the world, is Gleam? We'll explain all.
Gleam is a small startup company based in Melbourne, Australia. They're primarily working on building apps to help businesses grow. One facet of that business model is hosting giveaways which have expanded their audience exponentially.
Nowadays, even though it seems that all giveaways online are Gleam giveaways, that wasn't always the case.
How did it get to the point when Gleam became the dominant player in the sweepstakes niche? Our article will cover this and more. In our comprehensive guide for winning Gleam/giveaways, and to give you an introduction to what Gleam does, we will cover the following topics.
What is Gleam?
What is a Gleam giveaway?
How do I enter Gleam giveaways?
7 pro success tips to win a Gleam giveaway
How does a Gleam giveaway work?
What are the benefits of participating in Gleam giveaways?
What are the drawbacks of Gleam giveaways?
Frequently asked questions about Gleam.
Overall, Gleam is a platform that makes running giveaways effective for businesses, while making it easy for customers like us to participate.
Keep reading to learn everything you need to know about Gleam, including what it is, how it works to drawbacks. We'll also cover advanced ways to increase your odds of winning giveaways without investing too much of your time!
Top Gleam Giveways Feed (updates hourly)
This live feed shows the top-rated Gleam giveaways. Feel free to check this page every hour to see the newest, popular giveaways for you to enter.
What is Gleam?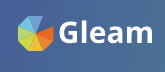 Gleam is a digital marketing platform that allows businesses to build and promote effective online competitions.
Gleam makes it easy for businesses to set up and run giveaways that drive real user engagement.
Gleam sweepstakes, and contests, can be run through several social media sites like Facebook, Twitter, Instagram, and even YouTube. Participants can easily upload media to these sites, so photo contests can go viral on this platform.
Gleam can verify participants' social media accounts, reducing the number of steps it takes to enter, making it much easier and more favorable for participants to get on board.
At the same time, businesses know they are dealing with real people and are getting real engagement value out of their campaigns.
How do you get started with Gleam as a participant?
All you have to do as a participant is sign up with a social media account. That's it!
As soon as you're signed up, you can start entering contests and sweepstakes with only a single click needed to get in.
Gleam also has the ability for participants to refer their friends to contests with custom viral referral links.
This often means that as a participant, you can get more entries by referring your friends. And as a business – your contest, and by extension, your brand, will be shared with more people.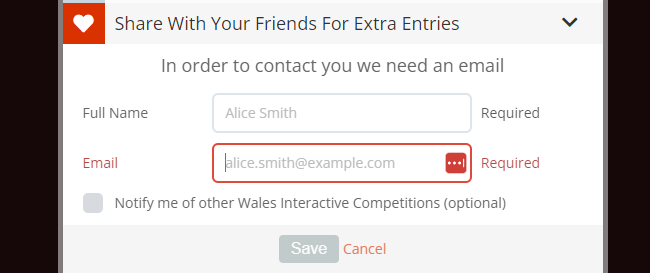 The two types of prize promotions that Gleam hosts are sweepstakes and contests.
The key difference between these promotions is that sweepstakes are luck-based, where winners are chosen at random, whereas contests are skill-based, where winners are selected on merit.
Let's take a closer look at what a Gleam giveaway is.
What is a Gleam giveaway?
Business owners are always on the search for new and innovative ways to promote their products and services, increase brand awareness, and drive more sales.
The rise of digital marketing has imminently provided businesses with a whole host of new opportunities. This allows them to reach a more significant number of people worldwide, all at the click of a button.
Digital marketing, specifically social media, has created new platforms for brands to communicate with and engage current and potential customers in increasingly personal ways.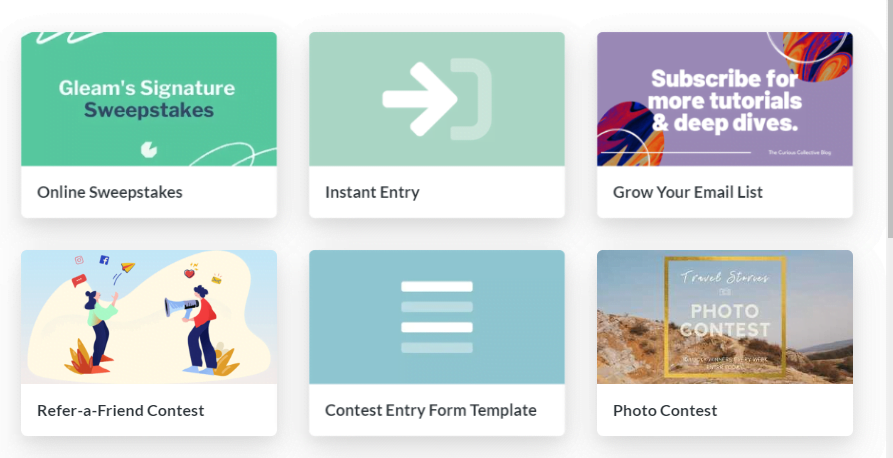 On the flip side, customers are also more aware of companies and often look to the perks for shopping with or supporting them.
One prevalent form of marketing that is incredibly effective in reaching customers is, you guessed it, running online giveaways!
I'm sure as a consumer, at some point in your life, you've entered a contest or two in hopes of winning a prize. Maybe it was a gift certificate, a dinner for two, or a 5-star all-expenses-paid vacation.
The point is – we all love to win free stuff, and for businesses – giveaways are an excellent way to capture the attention of your target audience.
And that is exactly what Gleam Giveaways do!
Gleam giveaways are just as unique as they sound. If you haven't already entered one, let's introduce you to the process of participating in a Gleam giveaway.
How do I enter Gleam giveaways?
It's simple to enter a Gleam giveaway, and we'll run you through the basics of participating in one right now.
First of all, we recommend you check out Gleam(dot)io to see the latest news. Get to know the Gleam website and the scheduled giveaways.
As a participant, when you enter a Gleam contest/giveaway for the first time, you can log in with your name and email address. But once you connect any of your social accounts, Gleam will begin the process of verifying your account to keep your account secure.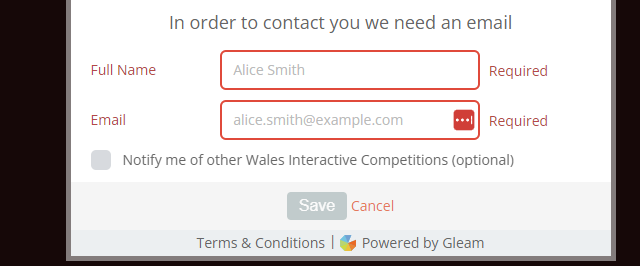 For businesses, you can participate in creating Gleam Giveaways by utilizing the online platform to create customized contests with your own set of entry rules. Scoring systems also make it easier for your customers and audience to enter.
The competition widget is where businesses can communicate with their active pool of participants. It's effectively the interface between the prize and the customers who want to win.
For participants, this is particularly exciting.
Joining a Gleam giveaway can be as simple as finding a giveaway that interests you and entering your name and email address. That's all. Then, wait for the close date to see if you've won.
However, since Gleam giveaways allow businesses to set up a number of different entry options, users also have the opportunity to choose how much work they want to put into any given contest.
For example, a contest may require you to provide your email to sign up, which gets you one ballot. However, you also have the option to share it on your Facebook profile, which gives you another ballot. There is also the other option to refer friends; by doing so, you get 2 additional ballots.
As you can see, all in all, it's simple to participate in Gleam giveaways.
Since there are many ways to enter the varied wealth of Gleam/giveaways and contests being run – it's easier than ever to join and potentially win some awesome prizes!
7 pro success tips to win a Gleam giveaway
As promised, here's our advice for entering Gleam giveaways to get you at a pro level. Using this guide, you'll be on the road to success in winning the prizes you most desire.
1. Use third-party platforms
First, use third-party platforms for a well-rounded view of what's on offer.
For participants entering free Gleam giveaways, an excellent hack for saving time is to find a site or two that compiles a live list of current Gleam giveaways.
For example, the Gleam Giveaways site and the Gleamlist database are two excellent places to find open competitions. These are the most active and regularly updated Gleam/giveaway sites around.
Another great way to stay updated with the latest Gleam giveaways is via social media. Follow Gleam on Facebook and Twitter. Competitions are also posted and shared on their profiles.
2. Focus on what you want to win
Easy, this one is so simple. This tip makes it really fun to become a pro.
One of our favorite tips is to focus on the prizes you really want to win. Who doesn't love adding items to their wish lists?
With that said, it can be tempting to enter every single giveaway you can get your hands on. But to save time and lots of hassle, you should focus on entering the giveaways you're really interested in.
By doing this, you'll also be more determined to win. And once you're in, you should invest some time to complete as many of the ballot entries as you possibly can.
3. Share the contest with friends
Let's get together and – why not make it more fun for yourself by sharing the contest with your friends?
For your chances of winning big, it's also highly recommended that you share the contest with others. You can share the contest on your social media feeds or via messaging services.
Because you receive an extra entry for every share you make, this is an easy way to increase your chances without investing much time.
In fact, the more easy entries you can participate in, the better!
4. Make more entries
Keep hitting that enter button. Well, as many times as you're allowed, of course.
By default, Gleam giveaways award entries to users who have completed at least one action. In some scenarios, businesses may award entries to users for simply logging in.

In some cases, you enter a giveaway via automatic entry. When you login in through a social media account, Gleam can see your social media handle, which allows them to contact you via DMs on social media if you win.
Gleam also offers a unique bonus action type that allows bonus entries for entrants when they come back each day. You may also score additional bonus entries for completing actions depending on the contest.
5. Maximize your odds
Let's get technical. This is a super-level pro tip all about maximizing your odds. The number of people entering a giveaway changes the odds. That's right, your odds for winning depend on the number of people entering the giveaway. How do you calculate that?
Take, for example, if 50 people were to enter the giveaway, your odds are 1 to 49, so the probability you'll win is 1/50. That's 2%. If 5,000 people enter, your odds are 1 to 4,999, your win probability is 1/5000. That's .02%.
If you're playing only to win something, you might want to enter the giveaways with fewer people entering them. Check to find out when the giveaway was posted, how popular it is, and how much competition you're up against.
Also, Gleam automatically uses a genuine random number service to draw winners. This service offers true random numbers to anyone on the internet. This beats the standard pseudo-random number algorithms typically used in computer programs. That means, even though your odds may fluctuate, your chances of winning are the same as the next person entering.
6. Check the giveaway is running in your location
Gleam makes it easy for businesses to run legally-compliant promotions on an international scale. That's good news for us. We get to enter Gleam giveaways all around the world.
There is also a way businesses allow entrants to enter from a specific list of countries, but that means some countries may be excluded from the list.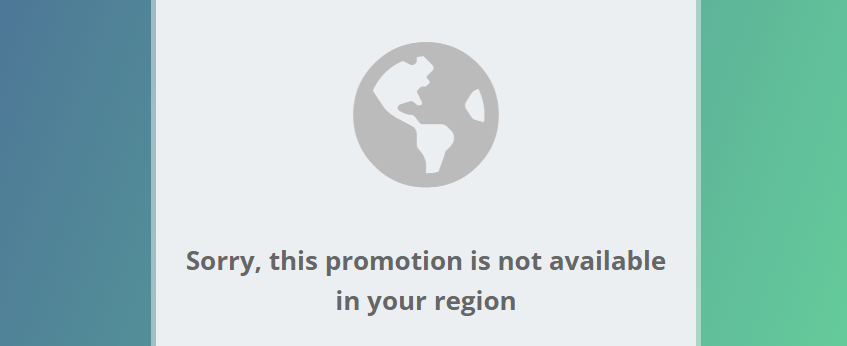 Sometimes you may find that you can enter a giveaway, only to find out afterward that your country is on the exclusion list.
We recommend you always check the entry rules in the giveaway terms and conditions, including where you can enter from.
7. Alternative Method of Entry
Another technical tip, as mentioned by Gleam, check if there's an alternative method for entry. Gleam states that some countries are governed by sweepstakes & promotion laws and anti-lottery laws.
If the giveaway host intends to ask for purchases or donations for their giveaway, they may need to offer an alternate method of entry, or AMOE, for short.
Gleam allows its giveaway hosts to automatically offer AMOE to entrants in any country where a free entry alternative is required by law.
That said, you may find that some giveaways require a purchase or donation for you to complete the tasks required of you, or the "action" necessary to enter the giveaway.
8. Search social media platforms
We suggest you research social media platforms for different Gleam giveaways on offer. You might just find the best one yet when you do a random search to see what you can find.
For one such social media tool, you can find a lot of Gleam activity on Twitter.
Just use the hashtags #gleamgiveaways, or #gleamgiveaway, for example. You will find free Gleam giveaways that way.
Word of warning. Just beware of fraudulent accounts and make sure to check that what you're entering is legit. Complementary to this tip, you should do yourself a favor and search our database.
9. Search Giveaway Listing
It's time for our final tip of the day. Now that we have covered the rest of our pro success tips, we have come back to where we started.
When it comes to winning Gleam giveaways and all things giveaway related, we suggest you start here at GiveawayListing.com.
You will find the best picks for Gleam giveaways on our website and more advice and knowledge from us about what it takes to be a pro-Gleamer.
By getting to know all of the many Gleam giveaways on offer and by entering as many as you can, you will raise your chances of winning a Gleam giveaway. Moreso, by using our guide and database of giveaways, you're set for success.
With all of that said, from actions to accomplish to entries to make, let's find out how a Gleam giveaway works.
How does a Gleam giveaway work?
How can you enter a Gleam giveaway? Keep reading to find out! Follow this step-by-step guide to entering a giveaway via Gleam's website.
Firstly, go to the Gleam website and select the giveaway or contest you want to enter. Typically, all you have to do next is enter your name and email address. You also have the option to click a check box so that you'll never miss another giveaway! At this point, there may be an "action" to follow, from liking a Facebook page or commenting on a post. You need to click "continue" to see more.

Next up, there may be specific prompts to follow to gain your entries. Some of the giveaway entries will take you to a website or social media platform. You must then like or follow the page or answer a simple question. Each time you make an action, you will receive entries for completing the given task.
As you complete these activities, Gleam will automatically keep track of each entry! Each task will earn you between 1–10 entries in the giveaway. The more tasks and actions you complete, the more entries you'll receive.
Bonus tip. Share your referral link with your friends. Each time someone uses your personal referral link to enter the giveaway, you'll earn an additional entry!
Once you complete all of the tasks, you'll receive an email confirmation from Gleam. It will also contain a copy of your referral link. That's handy to keep sharing it.
That's it! It's fun and simple to earn entries and play. It will be even more exciting when the winners are revealed! We hope that's you! As mentioned, the winners are chosen totally at random, so your chances of winning are as high as the next person!
What are the benefits of participating in gleam giveaways?
To continue with our rounded theme for participants and business alike, we will cover the benefits of both creating giveaways on Gleam and entering them.
As a business owner using the platform, there are several benefits to using Gleam.
First and foremost, your business is exposed to a considerable number of potential customers.
This exposure then leads to increased engagement from this pool. For example, one Gleam user was able to drive over 1,000 new followers to his Spotify account, which exposed his music to a brand-new audience.

Another company has used Gleam to run weekly contests, which helped drive over 4 Million meaningful business interactions over the course of two years.
Now, if you're a participant – there are just as many benefits.
The main benefit as an entrant is that it takes very little effort for a potentially significant return.
After all, who doesn't love winning awesome prizes for a 5 to 10 minute time investment on their part?
We know we do! And it gets better.
You can win a variety of highly sought-after prizes ranging from small tech items to 7-night family vacations. That's prizes worth a few hundred to a few thousand.
And as mentioned earlier, it's also incredibly easy to really stack up your odds with the various ballot entry options available. That's the generosity of Gleam giveaways for you.
But let's keep this neutral. While there are tons of benefits to participating in Gleam giveaways, there are, of course, drawbacks. Naturally, every giveaway might have a few disadvantages to contend with.
What are the drawbacks of gleam giveaways?
Again, let's focus on the drawbacks for businesses first, and we will consider those for participants also. Fortunately, we can wipe the sweat from our brows, there aren't many drawbacks.
For businesses, there might be two major drawbacks or deterrents from immediately jumping onto the Gleam giveaways train.
For one, there is a fee associated with using the platform. This means that for smaller businesses or those on a tighter budget, it might make the platform somewhat inaccessible.
Second to that is the fact that you need to commit the time to plan and execute the giveaways. It doesn't matter how easy the platform is to use, you still need a strategy behind your actions.
What about entering the giveaways? What drawbacks are there?
For participants, finding new and exciting giveaways can be more challenging as time goes on. But gladly, that's not a very disappointing drawback. You might just need to take a break in the meantime until more giveaways and contests you want to enter are added.
And it's no secret that if you want to maximize your opportunities for winning something in general, you need to enter into as many draws as possible. So for entrants, you also need to consider the amount of time you're spending on Gleam giveaways.
Also, be aware that many of the giveaways will not be available in your region. Gladly, Gleam makes sure that this is mentioned quite prominently.
Something else to consider is subjective to each person. Giveaways can take up quite a bit of time, especially if you enter via multiple ballot options for each contest.
Another drawback is that some giveaway organizers take a long time to announce their winners. If it takes more than a week, then it's definitely a red flag. An even bigger red flag is when a giveaway prize is exceptionally high. The example giveaway below has both flags and is quite likely a scam, so please be careful when you encounter those.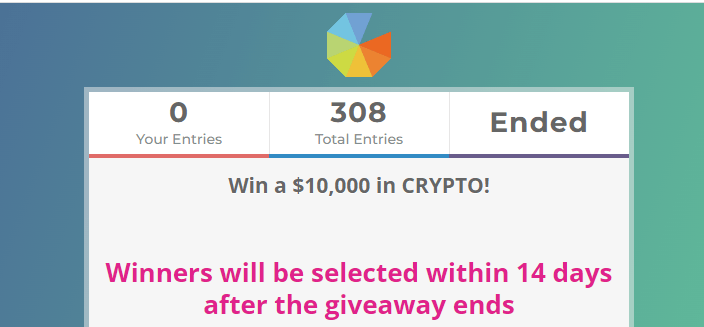 Next up, when it comes to entering Gleam giveaways, we've found the most frequently asked questions to share with you. More importantly, we'll dive right into the answers.
Gleam giveaways/contests frequently asked questions
Do people actually win Gleam giveaways?
We've searched high and low in case there was a catch. We can confirm there really isn't any catch to the giveaways themselves. Yes, we can confirm people actually win Gleam giveaways.

We know by now, Gleam/giveaways are used as marketing tools for the businesses running them. They get real-time exposure in return for your attention.
The giveaways are not fake or fixed either. Gleam verifies that their giveaways are real and have had many lucky and happy winners share their stories of winning online. Gleam quickly nips any fraudulent or suspicious giveaways in the bud.
If the giveaways and clients of the business were found to be fake, Gleam would know about it quickly, and they would be disqualified from using their service.
You might be wondering how the winners find out if they've won. Once a campaign has ended, the campaign host has the responsibility to draw, announce and contact winners on their own accord.
Gleam does not automatically notify winners on behalf of the campaign host or sponsor, but they automatically use Random.org to draw winners.
As noted earlier, random.org offers true random numbers to anyone on the Internet to make the draw fair.
Where are the winners of a competition announced?
That depends on the business running the giveaway or contest. There are a few ways winners tend to be notified.
Email. If you've provided the campaign host with an email address, they will likely contact you through email if you've won. Be sure to check the inbox you used to enter the campaign.
Widget. Once the winners are drawn, the campaign host may choose to announce the winners on the widget, with or without avatars.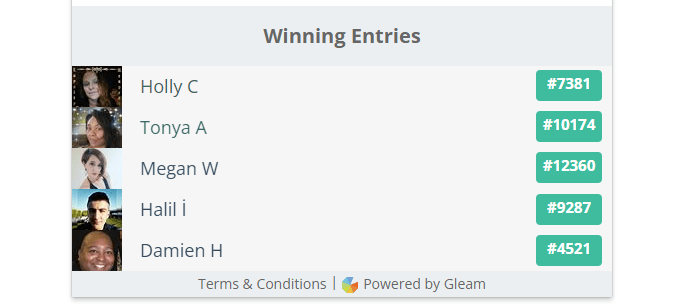 Social Media. The campaign host may post winner announcements on social media or send you a direct message that way. So be sure to check the social media inboxes you used to enter the campaign.
Check Terms & Conditions. You can also refer to the campaign terms & conditions to see how the campaign host has elected to contact winners.
What are invalid entries on Gleam?
You want to ensure you know what invalid entries are so you avoid making them.
When reviewing the "entries/actions" section from the giveaway/contest you entered, you may come across entries marked as invalid.
There typically are a few reasons for this occurring, as follows:
You did not complete the action successfully
Gleam detected suspicious fraud activity
The admin user created a test entry
The action requires validation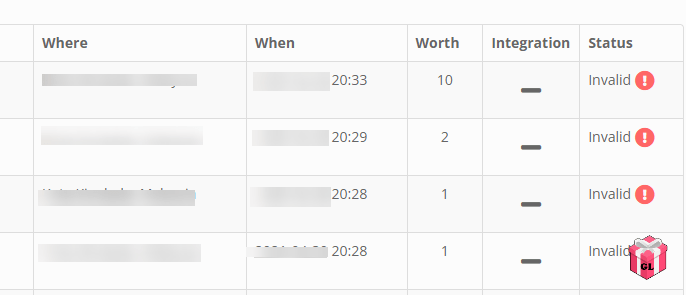 The Gleam platform is technically advanced. It is integrated with APIs & social network integrations that check that you have completed your actions before awarding entries.
This minimizes cheating and unfair entries being made.
This function offers the businesses more qualified data and peace of mind that the actions have been completed.
As an example, you can't complete a Tweet on Twitter action without Twitter letting Gleam know via API that it's been done.
Where possible, Gleam can also provide the business with proof of the completed action.
To make it squeaky clean and super fair, when a winner is picked, the business running the giveaway is able to verify their entries manually before finalizing the draw.
As a participant, you can be sure the giveaways are real, and every entry is counted as precisely as possible.
Are Gleam giveaways free?
The question on everybody's lips. We all want to know, do you have to pay to enter a Gleam giveaway?
The answer to that is no, not all entry methods require payment to enter.
However, take note. If you have been asked to pay in a sweepstake or giveaway campaign, and you reside in a country where "No Purchase Necessary" laws are enforced, remember our friend AMOE? You can claim a free entry alternative through the terms & conditions area.
For businesses, here's the lowdown of what they pay for the Gleam services.
For a Pro Plan, it costs $ 97 /mo.
For a Business Plan, it costs $ 397 /mo.
For a Premium Plan, it costs $ 997 /mo.
All of the above costs are per site.
How do you make money on Gleam?
Let's take, for example, the giveaway hosts – aside from creating marketing revenue through a wider audience, there are other smart ways people can make money on Gleam.
Gleam gives all hosts an opportunity to earn money by referring users who use the platform.

You have to be a paid user for this. When you refer other paid users, you can earn cash credit which can be used on your monthly plans or can be cashed out via PayPal.
To do this, you need to get your referral link. You will find this referral link in the Referrals tab within the User section inside your Gleam account.
You can also deep link your referral link to any internal Gleam page.
One of the great things about Gleam is that they automatically allow you to start earning credit as soon as you run your first Competition or Reward.
Anyone that clicks through on the Gleam branding in the widget will have the ability to earn money. You will receive a payout of 20% of their first purchase when you refer users.
For you participants out there, you're able to earn your money via cash prizes. You have to enter giveaways and contests and sometimes take a few actions to win free cash.
Closing Thoughts
All in all, Gleam is an impressive platform that has transformed the way businesses can market themselves and reach new customers.
For Gleam giveaway participants, this platform has made the thrill of entering a giveaway a simple and seamless experience. And it provides incredible opportunities for customers to connect with their favorite brands in a meaningful and personal way.
In this article, we've covered everything you need to know about Gleam, including what it is, what benefits it offers, what you need to watch out for, and how to increase your odds of winning.
And if you've stuck with us this far – you now have all the knowledge in hand to run successful campaigns of your own or how to join and win more amazing giveaways on the platform.
So with all that said and done, best of luck, Gleamers, you may win big!