2023 Monthly Giveaway Series
Once again, this September, GiveawayListing.com brings you our new Monthly Giveaway Series. Every month in 2023, our loyal users will have a chance to win a $200 (or £200 if the winner is from the UK) Amazon gift card.
The key points for the current September giveaway as of 22-09-2023 are:
Enter for free
International entries allowed
$200/£200 Amazon Gift card cash prize each month.
This current giveaway will end by the end of September 2023.
Winners are announced on this page and our Social media channels.
The giveaway will repeat every month for the entire 2023
More than $2000/£2000 will be given in 2023
Please read the detailed rules to enter below.
Who's the giveaway organizer?
GiveawayListing is the leading international giveaway website, with over 80,000 monthly users as of the time of writing.
Our website offers free giveaway guides, 24/7 worldwide lists, top-trending offers, and discount deals.
How to enter the giveaway?
The basic requirement to enter our giveaways is to subscribe to our email lists. This action will only take a few seconds of your time.
However, you can get many more entries and multiply your chances of winning if you complete the optional tasks:
Come back daily to get bonus entries
Follow our Social Media channels & comment on our posts
Share the contest with all of your social media accounts
Share your feedback with us by answering our questions
Refer your friends to the giveaway
The last step is the most important, granting you the most entries. Sharing is caring, so let your best friends know about this giveaway and our detailed Giveaway Guides that help you maximize your chances of winning any online contest.
All steps to enter are described in detail in the Gleam widget below once you complete your sign up ⬇
Enter Here
Enter this September's Monthly Series Giveaway using this widget:
$200 Monthly Giveaway Series – September 2023
2023 Giveaway Prizes
The Monthly Giveaway Series prizes are $200( or £200 if the winner is from the UK) in Amazon Giftcards, redeemable from the global Amazon.com or Amazon.co.uk website.
Those gift cards can be used to redeem goods from Amazon.com worth up to $200/£200. Please make sure to read Amazon's Gift Cards Terms if you have any questions or issues with your earned gift cards.
According to the latest Amazon terms, your gift card's value does not expire, but we recommend that you redeem your gift cards within the same year that we deliver them to you to avoid any issues.
If you have been chosen as our lucky winner, you will first need to verify your identity and claim your prize in the process explained in the following section.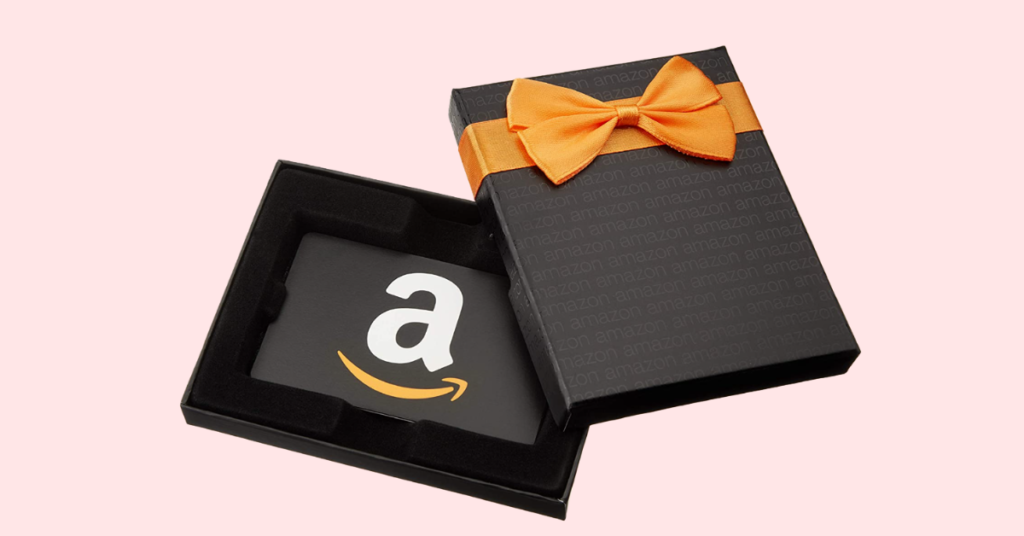 2023 Giveaway Winners
All giveaway winners will be announced in this section here. Don't forget to visit this page frequently to find out if you won the giveaway and claim your prize within 7 days of the announcement. We will not accept winning claims that happen 7 days after the initial winner announcement.
August 2023 Winner: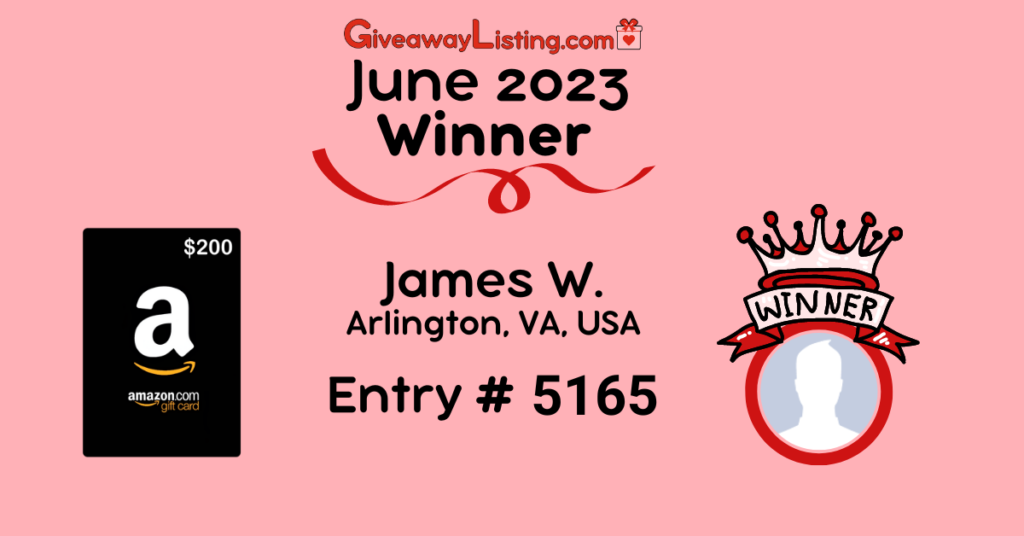 July 2023 Winner: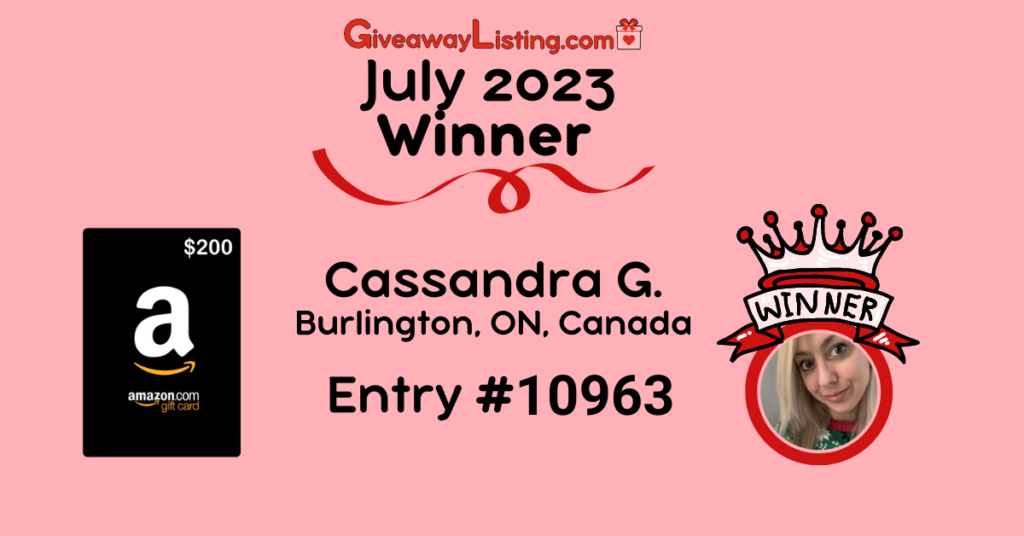 June 2023 Winner: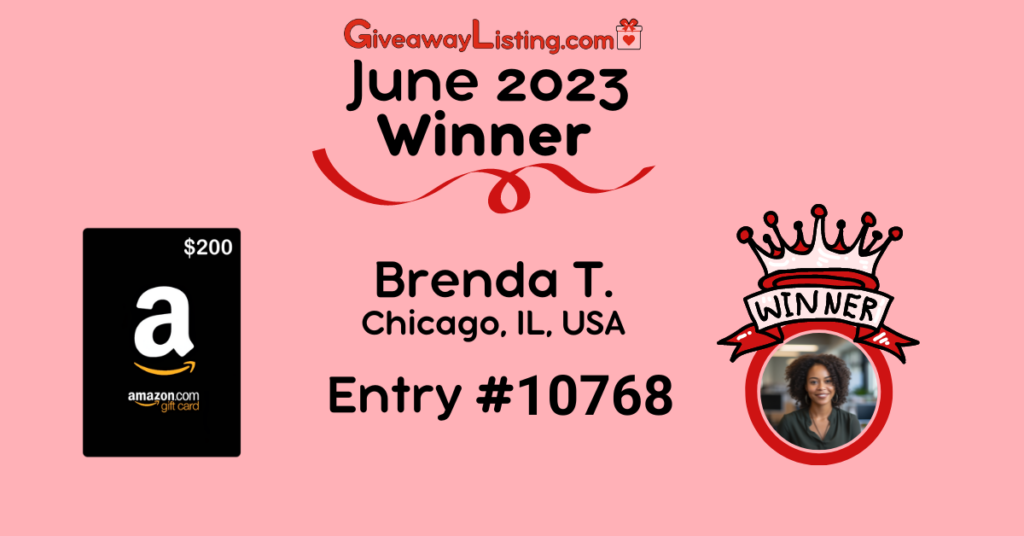 May 2023 Winner: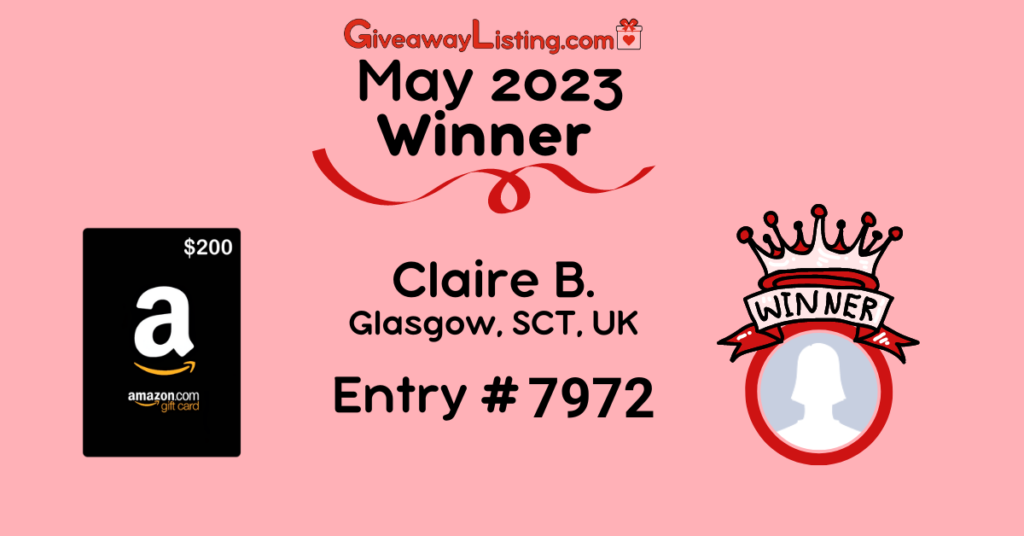 April 2023 Winner: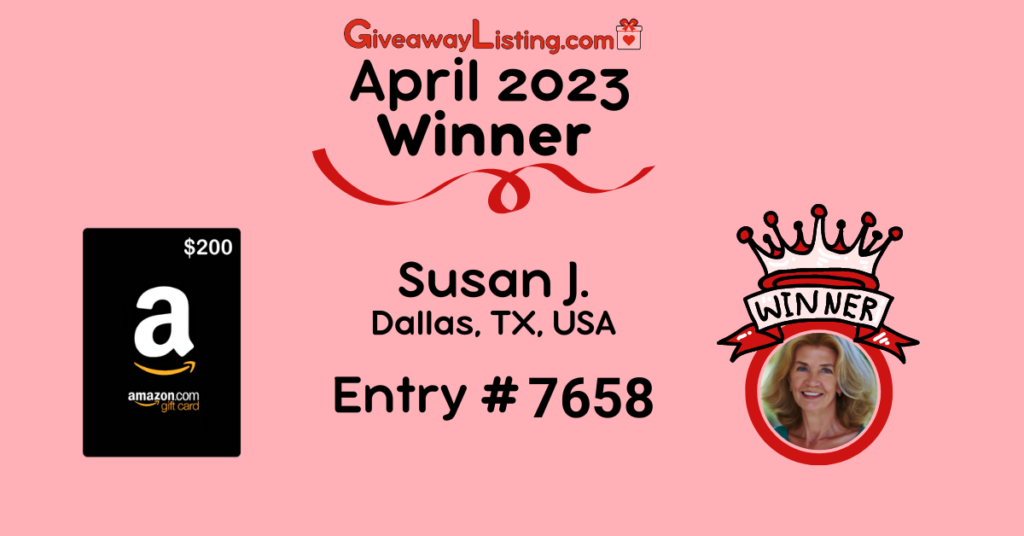 March 2023 Winner: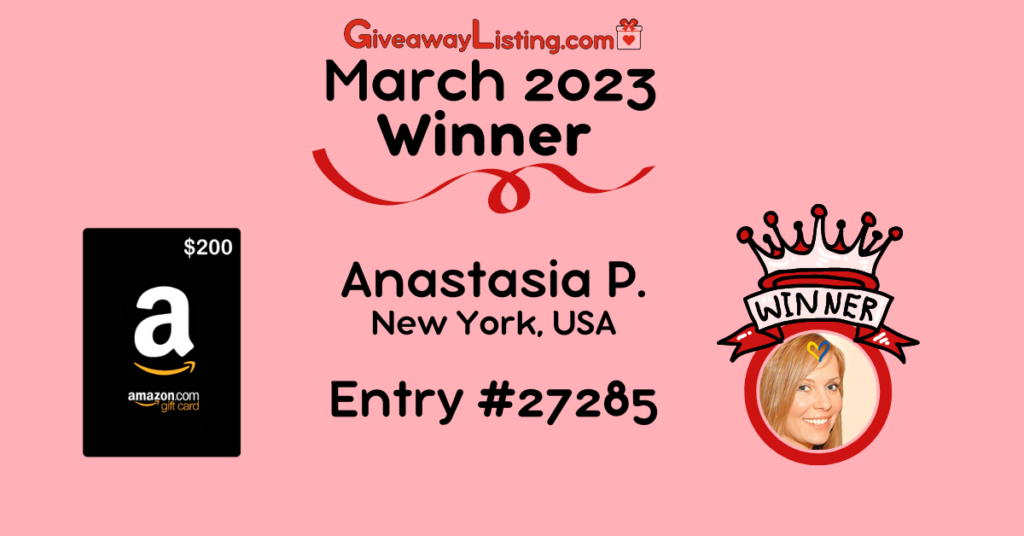 Good luck to all of you!
Claiming your prize

Once each monthly giveaway is over, we will contact the winners via one of the contact ways that they have provided us, such as via email or social media channels. Therefore it is important that you follow us on those accounts and that you have whitelisted our email domain (giveawaylisting.com) so your message doesn't end up in spam. We also suggest you check your spam inbox daily to ensure you read our message and claim your prize before it expires.
As the winner, you can claim your prizes by responding to us within 7 days and by providing the following information:
Your full legal name, country of residence, and personal profile picture. Your profile picture needs to clearly show your face, as it will be used to show other entrants that you are a real person. We will also reveal your first name and the initial of your Surname, but not your full surname, for safety and privacy reasons. We may also reveal your country of residence but no other personal address information. Your privacy and safety is our first priority,
We will also need to verify the email address you used to enter the giveaway, but this information will not be publicly shared.
You are responsible for reviewing all the giveaway terms described in the Gleam widget and at the bottom of this page and agreeing explicitly to the giveaway terms if you participate in the monthly giveaway.
Do not enter this giveaway or any of the GiveawayListing.com Giveaways if you disagree with any of our terms.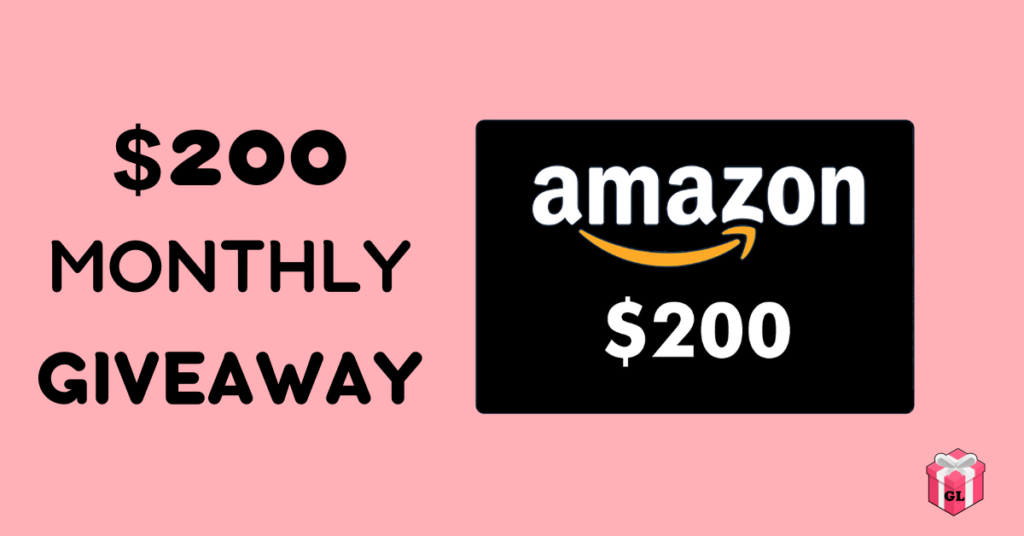 Monthly Giveaway Terms
1. Terms & Definitions: These are the official Terms of GiveawayListing.com's monthly giveaway (also referred to as "contest," "competition," or "sweepstake"). The Terms are made of 25 "rules." Each rule should be deemed a binding contract between you and the giveaway Organizer. "You" refers to you as the "entrant" of the giveaway who agreed to participate by agreeing to the Terms.
To decide to become an entrant, you must first read, understand, comply, accept, and follow the entire list of rules stated in the Terms without exceptions. "Service" refers to the services provided by GiveawayListing.com. The term "user" refers to the user of the Service, regardless of the usage time. "GiveawayListing," "GiveawayListing.com," "organizer," and the "Company" refers to the site GiveawayListing.com and is the legal owner of Sociobright Limited. ." GiveawayListing Email lists," "GiveawayListing Offers," "GiveawayListing Deals," or any other similar naming patterns refer to our email lists that you agree to subscribe to as an entrant of our giveaway,
2. This promotion is not associated with, administered by, or endorsed by Facebook, Instagram, Amazon, or any other company other than Sociobright Limited. By participating in this promotion, you acknowledge a complete release of Facebook, Instagram, Amazon, Sociobright Limited, or any other businesses' employees, investors, stakeholders, and partners.
3. The organizer is GiveawayListing.com, and the site's owner, Sociobright Limited, is based in Makedonias 5, Pafos, Cyprus. 8250
4. The organizer reserves the right to assign the contest to any entity upon explicit written confirmation. When a partner organizes the contest, the Company is completely released of any legal or operational responsibilities associated with the promotion.
5. The competition is open to all adult citizens of all countries unless there's a legal requirement of any legal authority that forbids or limits participation. It is your responsibility to consult your legal authorities and get informed if you are allowed to participate in the contest or any services the organizers provide.
6. No entry fee or purchase is necessary to enter this competition.
7. You agree that by participating in any or all the competition requirements, you are officially entering this competition and to be bound by the terms as stated in this document and all other associated rules placed on the official GiveawayListing.com posts.
8. Only one entry will be accepted per person unless indicated otherwise by the organizers. Multiple entries from the same individual will be disqualified unless explicitly mentioned on the contest terms.
9. Opening entry date is when the official post is shared on the organizer's official corporate social media channels unless indicated otherwise by the organizers.
10. Closing date for entry will be the last day of each calendar month that the contest is announced unless indicated otherwise by the organizers.
11. No responsibility can be accepted for entries not received for technical or non-technical reasons.
12. The rules on how to enter are explained on the official contest post as shown on the official communication channels of the Company, which include the authorized Company's social media accounts or website posts.
13. The organizer reserves the right to change or cancel the competition and these terms and conditions without notice in any unpredictable event, breach of any law/regulation, or any other event outside the organizer's control. The organizer will notify entrants of any changes to the competition as soon as possible.
14. The organizer is not responsible for incorrect prize details provided to any entrant by any third party connected with this competition.
15. The prize is as defined in the giveaway, and no cash or any other alternatives will be offered in exchange. The prizes are not transferable to anyone other than the announced winner. Prizes depend on availability; hence we may substitute any prize with another of the same value with or without notice.
16. Multiple winners may be chosen for each given contest. The winner(s) will be notified by email and/or a message on their social media channels within 14 days of the closing date. Suppose the winner cannot be contacted or does not claim the prize and accept the terms to claim the prize within 7 days of our team's notification (email or DM). In that case, we reserve the right to withdraw the prize from the winner or/and pick a replacement winner or/and declare the prize and contest invalid.
17. The organizer will notify the winner when and how the prize can be retrieved.
18. The organizer's terms of entering, winning, or redeeming the giveaway and its prizes are not a subject of negotiation or discussion.
19. The competition and these terms and conditions will be governed by all relevant National and International laws and jurisdictions.
20. The winner agrees to use their name (first name and initials of their surname), city/country of residence, and personal profile image. The winner also agrees to permit us to use any content related to their entry in the contest for commercial purposes.
21. By entering this competition, an entrant indicates their consent and acceptance of the terms.
22. All entrants agree to let us share, distribute, and edit any content they provide or share on our official social media channels or other communication channels (such as our website). The content we use can be anything the entrant has shared related to the giveaway, including text, images, references, or other related content.
23. Any content provided by the entrants should be genuine and reflect a real user or customer experience. The entrants will be disqualified if it's proven that their reviews were separate from an authentic experience and interaction. If the entrant decides to write a review incentivized by the giveaway, this should be stated in the title of the review.
24. One mandatory action to participate in the giveaway(s) is for the entrant to subscribe to the GiveawayListing.com email list(s). Our email lists have several scopes: marketing, re-marketing, user support, user service, informational newsletters, account settings, privacy information, general requirements, and specific user requests. The entrant to subscribe to our email lists should agree that his email will be used for any of the scopes above or any other reason deemed suitable for GiveawayListing.com. If, for any reason, you decide to unsubscribe from any of our email lists, then all of your data will be deleted from our database, and all your entries for any of our giveaways will become instantly invalid.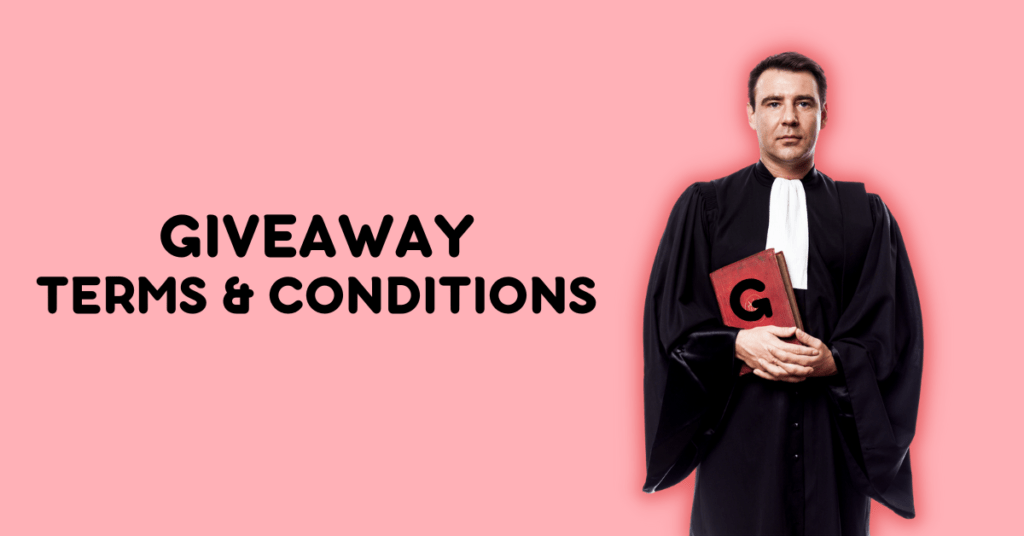 25. The organizer and the giveaway owner retain the right to cancel or amend the contest terms at any given point, with or without notice. However, upon a reasonable effort, any major changes to the giveaway will be communicated through our official website, GiveawayListing.com, or via our social media channels.
New Giveaways – 22-09-2023
If you have any questions, message us on our official social media channels, as listed in the footer below.
If you want to run your giveaway, use our Terms & Conditions Giveaway Template guide.
All future Monthly Giveaway Series giveaways will be announced on this page, so don't forget to come back every month and claim your entries!
Sincerely,
The GiveawayListing Team