Instagram giveaways in 2023
If you've ever used Instagram, you've more than likely seen a giveaway or two airing live online.
Just like regular giveaways, Instagram giveaways are used as a marketing campaign to build a business' audience, get people hyped about new products, and bring in more sales, to name a few. Both small businesses and individual influencers use this marketing tool.
The prizes can range in price and size depending on the giveaway host. Regardless of what is being given away (or what participants are trying to win), Instagram is one of the most popular platforms for finding giveaways.
In short, an Instagram giveaway, or Insta giveaway for short, is a social media contest that is held on the social media platform.
Entering the giveaways is usually quite simple. Participants are typically asked to follow the account of the giveaway host and like or comment on the designated post.
These giveaways don't last forever. When they're gone, they're gone, as they say! The giveaways are limited-time promotions offering lucky entrants the chance to win prizes according to a specified set of criteria. Sounds good, doesn't it!
If your business needs a boost, you might be wondering how to create an Instagram giveaway, and if you'd like to win more giveaways on Instagram, you might be on the hunt for ways to do that. Whether you'd like to run your own Instagram giveaway or enter more of them, this guide will go in-depth for each category.

Instagram giveaway types
This guide will serve those who want to run giveaways and participants who wish to enter them.
1. Giveaway organizers: This section is for businesses and giveaway organizers who want to run their giveaways on Instagram. We will cover how you can use Instagram to grow your following and tips to run a successful contest.
2. Giveaway entrants: This section is for participants who want to enter giveaways on Instagram and maximize their chances of winning a prize. We will cover ways to use the platform to find giveaways.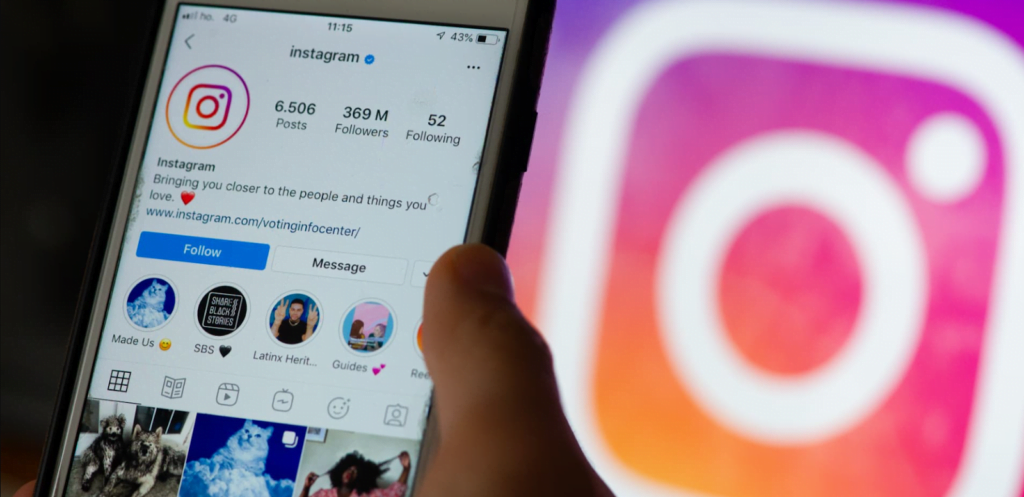 How to run giveaways on Instagram
You might not know where to begin creating your contest with new terminology to learn and so many giveaway types to use.
Getting your promotional tool in front of the right audience can be challenging, especially if you want to bring in the results you need to increase your following.
That's why we will simplify the process and specify the first steps you need to take to run a successful giveaway.
In addition, this section of the guide will cover some of the best Instagram giveaways as real-world examples so you can get inspired to create your own. There will be some cautionary guidelines on avoiding pitfalls.
First, we'll discuss why you should consider running your giveaway on Instagram. We'll review some marketing basics you'll need to use when launching your giveaway.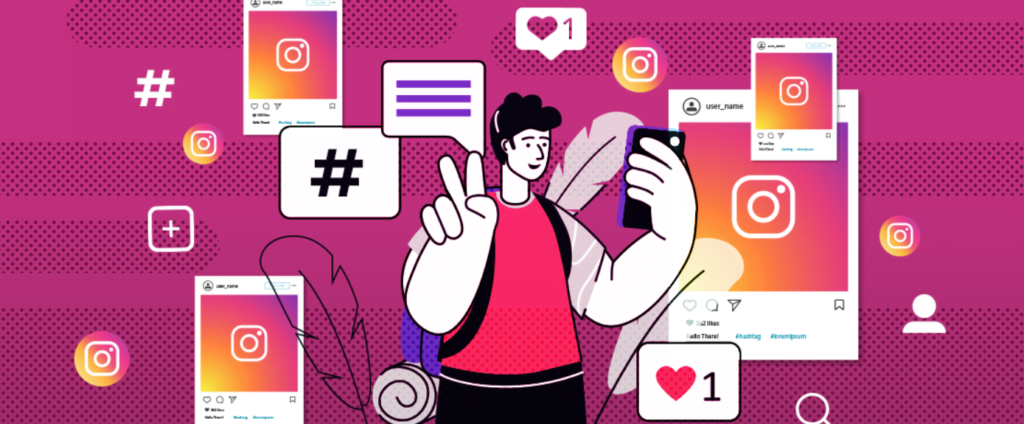 Do giveaways help grow Instagram?
Running a successful Instagram giveaway, contest, or sweepstakes is a great way to widen your audience, create brand awareness, and increase your product sales or services.
In fact, TailWind's statistical research in 2020 found that Instagram contest posts (that include giveaways) get, on average, 3.5 times more likes and 64 times more comments than regular Instagram posts.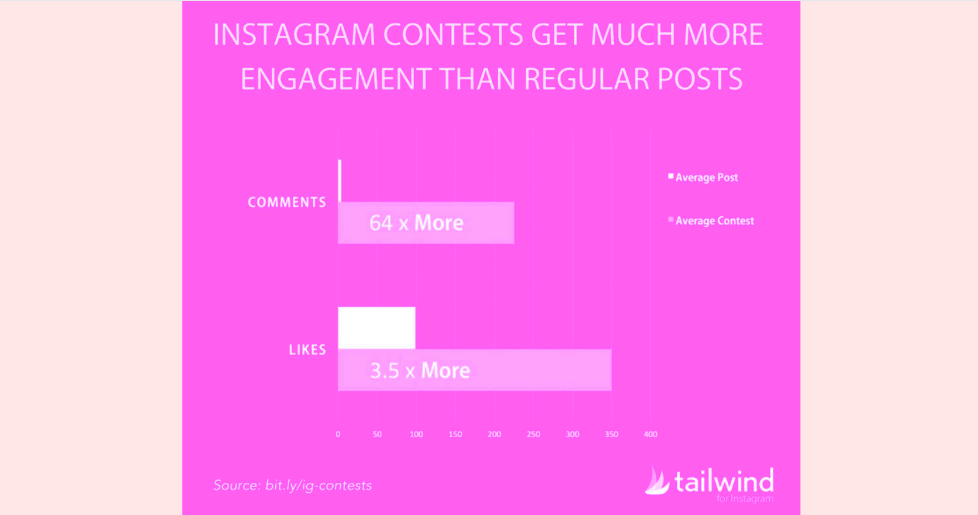 Instagram giveaways clearly provide momentum for growing businesses or for growing your business. Tailwind also noted Instagram accounts that run regular contests grew 70% faster than those that don't.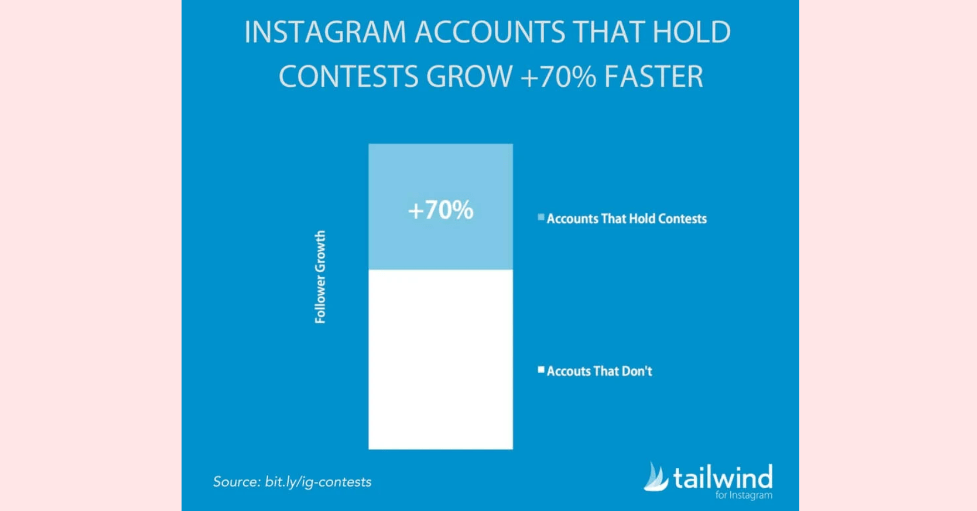 Moreover, 91% of Instagram posts with over 1K comments are associated with a giveaway or contest.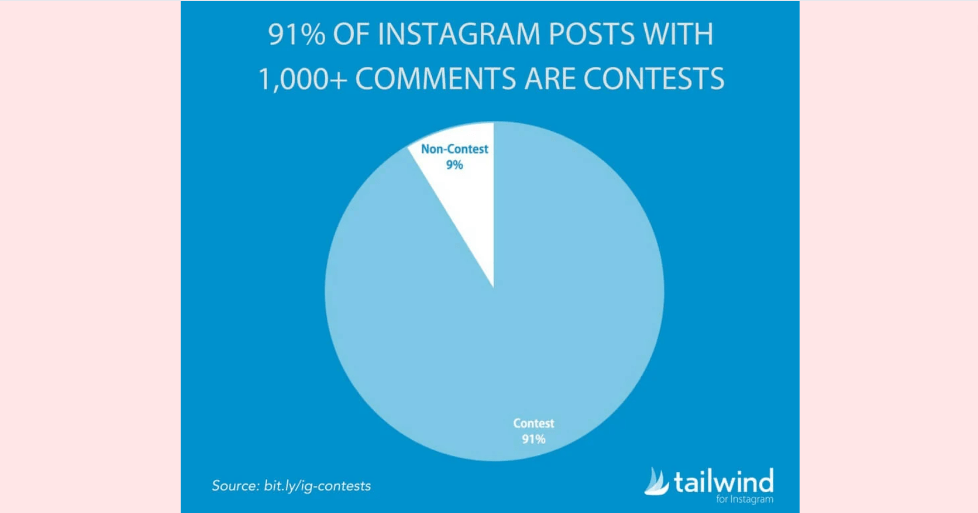 Striking statistics, right? But despite those staggering figures, only 2% of Instagram accounts run contests or giveaways!
What does that mean for you? You have the chance to be in the spotlight, and there's a high likelihood your competition isn't! Even if you have competitors hosting giveaways, there are plenty of entrants to go around. You can try to hold a better giveaway yourself with our help.
When you're considering running a giveaway on Instagram to grow your business, there are two primary reasons to consider this kind of promotion.
You want to grow your Instagram following.
You want your Instagram giveaway post to reach as many people as possible.
With luck, your giveaway should accomplish these two goals. Moreover, goal #1 will be made possible by #2.
In other words, the primary goal of growing your Instagram audience should be accomplished by your secondary goal. You want your giveaway post to lead to greater exposure which will help you grow your Instagram following.
The more people who participate, the better. The more people who enter, the farther your post will be shared. That equals more followers and more shares.
What if you're concerned about giving away free stuff? We understand that.
If this is your first time using a giveaway promotion, you might be unsure about giving away something for free and sacrificing effort for little in return. This is a fair point, but we should look at the bigger picture.
You can see this effort as an investment. You're investing time and money into your business and will see a return on your free giveaway prize. More followers mean more customers or clients.
In one way or other, you have to spend money to grow your audience, and you also have to spend your time. You can choose how much time and money you spend, but you can view the promotion as an investment rather than a loss.
It's worth mentioning while Instagram giveaways can be a great way to boost your engagement, you need to make sure you're compliant with Instagram's rules and regulations.
Here are the official Instagram promotion guidelines. Whether running sweepstakes or a giveaway, you must comply with Instagram's promotion guidelines.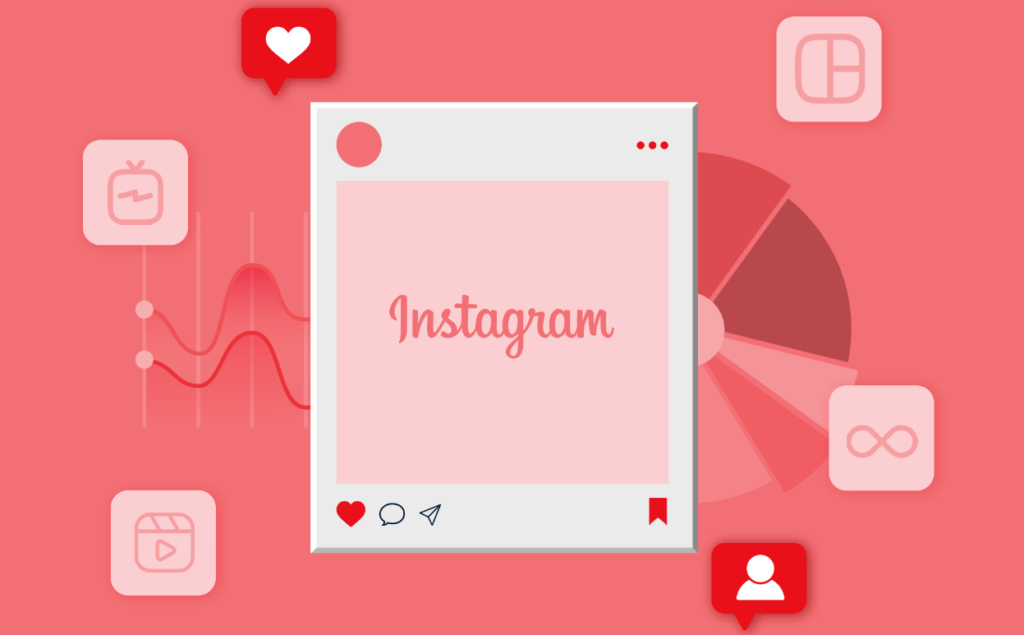 How can I host a giveaway on Instagram?
While hosting a giveaway isn't complicated, an effective Instagram giveaway requires more than a pretty post and a prize.
There are common pitfalls when running your contest, and many first-time giveaway holders have fallen prey to the same mistakes. Failing to execute your giveaway campaign could waste your time and money.
To help you avoid that outcome, we have gathered tips for increasing the success of your giveaway campaigns. First off, you're in the right place to seize a successful opportunity.
Instagram has one of the biggest audiences available on social media. In 2022, a total of 1.440 billion users were using the platform. Twitter has 368 million active users, while Facebook has 2.934 billion.
Those are big numbers, and we all know social media is a growing phenomenon. What's more, you can guarantee people love free stuff.
Giveaways and social media go together hand in hand. Giving away free prizes to your audience on social media is one of the most impactful marketing techniques you can use.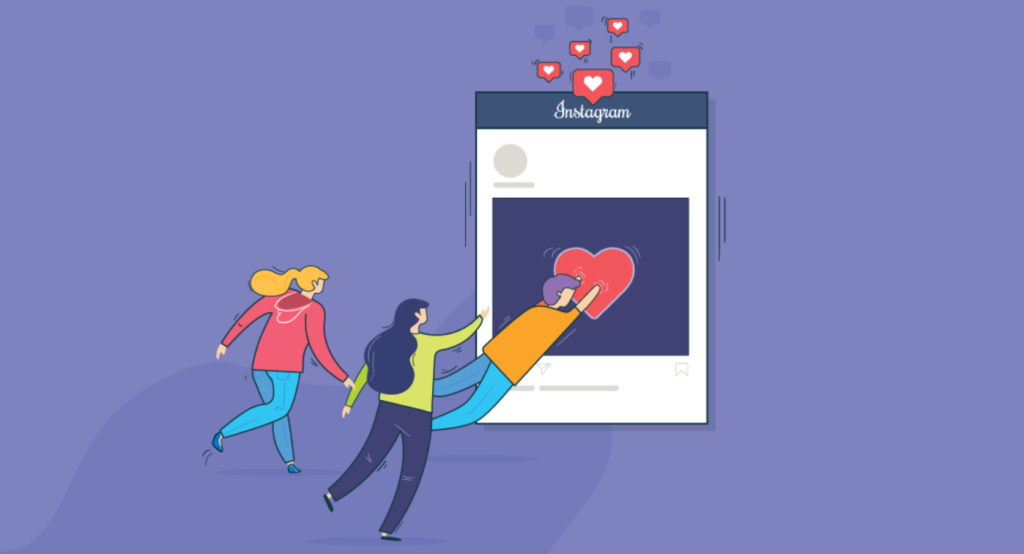 Okay, it's time to build your fanbase and reach new potential customers. So what's next? Now let's help you set up and run your giveaway from start to finish.
Run an Instagram giveaway to grow your audience
Here are 9 steps you need to take to run your Instagram giveaway and grow your business simultaneously. This is what it takes to host a great giveaway.
1. Choose the giveaway prize
Your giveaway prize might be the only reason someone will enter your giveaway, so you want to choose something your audience will love. Whatever prize you're offering will impact your giveaway's performance.
First, your giveaway might not gain traction if the prize doesn't suit your target audience. So when you choose a prize, think about what your ideal customer would like to win.
Here's what you need to consider to pick a great Instagram giveaway prize.
Unique. One way to ensure your giveaway is a success is to give away an exclusive prize or a pre-release item. If your prize is unique, more participants will jump at the chance to enter.
Practical. This does not necessarily mean the prize has to solve problems. Useful prizes have more value as people will use these items. Prizes that will be fit for purpose can motivate your audience to enter your giveaway.
Aligned. Your Instagram giveaway prize should always hold relevance for your audience. You want to run a giveaway that brings in new followers who will be attracted to your other products and services. Hopefully, these new followers will turn into loyal customers.
The following giveaway post clearly indicates the prize to a niche audience in text format and via a photo.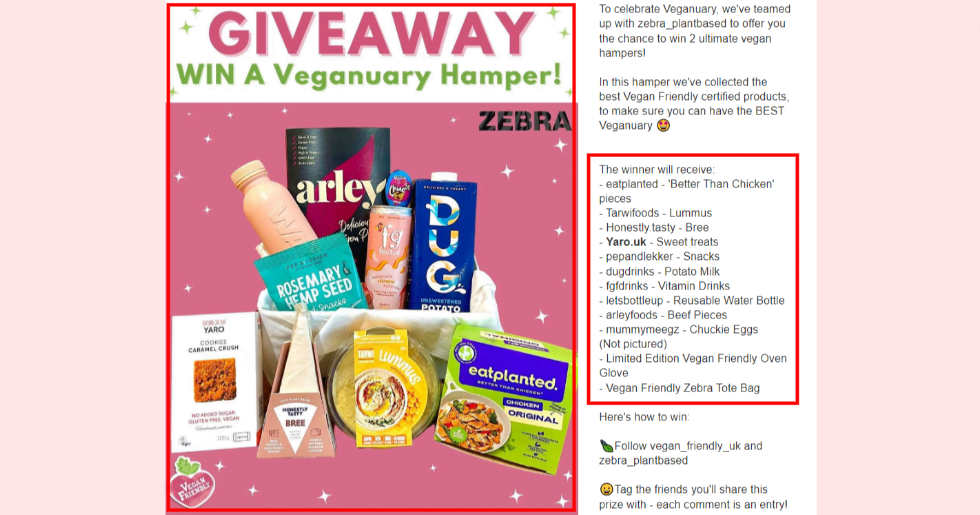 2. Clear giveaway rules
To run an excellent giveaway campaign, you need to clearly outline how it works and how to enter. This isn't only for your sake; you must clearly translate the instructions to your Instagram followers.
If it's not obvious and people don't understand how to enter your giveaway, you'll have fewer entries, leading to missed opportunities. Remember, everyone who enters your giveaway could be a potential new customer.
Here is an Instagram giveaway post with perfectly clear instructions.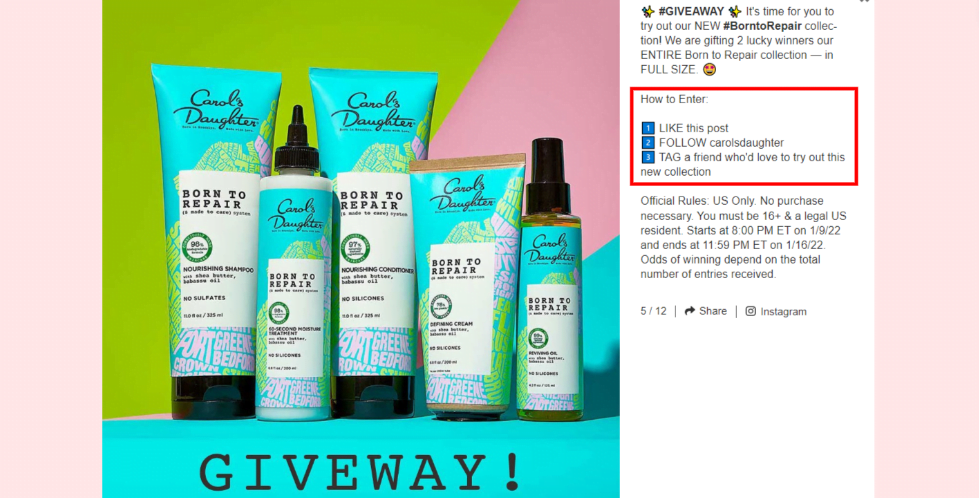 Notice that this post contains unnecessary information and clearly covers the giveaway rules. The instructions are labeled 1 to 3, and they're concise. Underneath the "how to enter" instructions are the official rules.
Lastly, less important information, such as hashtags are provided at the end.
To avoid common pitfalls and to create something visually appealing, share a draft of your post with your colleagues or closest people. If they have questions, use that as a cue to make adjustments before launching your promotion.
3. Use a simple entry method
Most Instagram giveaways are simpler to enter than multiplatform campaigns. There are no external links or long-entry forms to fill out. However, some brands choose this route.
It's possible to host your giveaway on a giveaway platform such as Gleam, and link that to your Instagram post. But, overcomplicated entry processes can result in slow traction, whereas contests that are simple to enter will gain traction much faster.
Another tip: the cheaper your prize, the less your participant should be asked to do to enter your giveaway. For example, reserve asking for user-generated content (UGC), such as video entries, for your expensive prize giveaways.
Here is an example of a giveaway that could be asking too much from participants.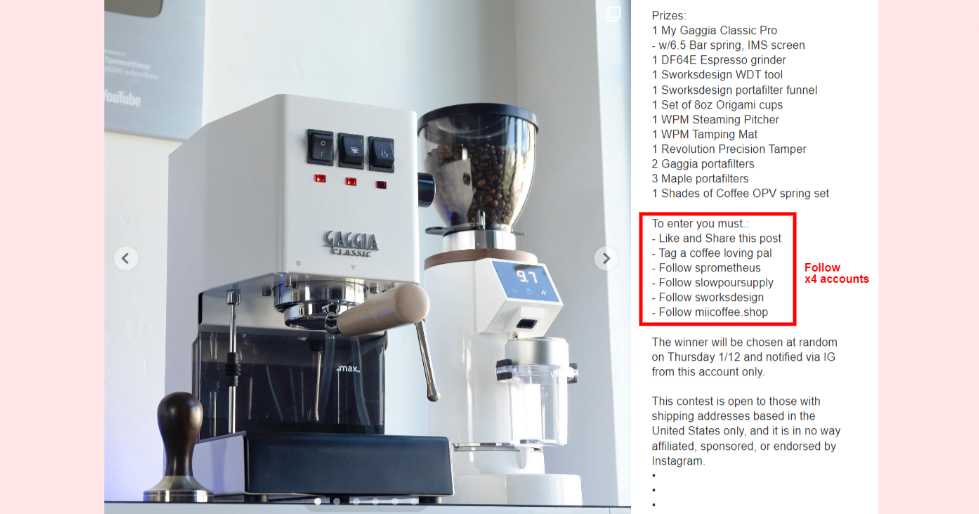 This brand asks for a like, a repost of the giveaway post, tag a coffee-loving friend, and follow four separate accounts. That's a lot of accounts to follow in one go and quite a lot to ask for one giveaway. The only upside to this is that the prize is quite expensive, therefore the extra effort might be worthwhile for the entrant.
Overall and in general, keep the entry method simple.
If you want to ask more from your Instagram audience, you could give them optional actions that aren't mandatory to enter. That way, you'll give them extra chances at winning the prize and add boost engagement through "bonus entries."
4. Focus on your target audience
As noted earlier, one of the significant benefits of Instagram and any marketing on social media is the ability to connect with a vast audience. With that benefit also comes a pitfall. You might build up thousands of leads, only to have none of them interested in your business or products.
See Instagram's advertising guidelines to learn more about targeting your perfect audience. You can get your giveaway to the right audience with a few simple tricks.
Target your people. To target interested entrants in your products, ask them to prove their interest as part of the giveaway's entry process. For example, if you sell gardening equipment, you could ask entrants to tag your account in their posts or stories involving gardening or share their favorite tools in the comments section of your giveaway post.
Eligibility requirements. To filter out users who aren't in your country of business, include your demographic in your rules and only include entrants who are eligible to win due to their location.
Collaborate with related brands. Consider teaming up on a joint giveaway with a brand with audiences whose interests are similar to yours.
Use hashtags wisely. While it's easy to gain followers by using broad Instagram hashtags like #contest or #giveaway to promote your post, you'll draw in people who aren't interested in your brand. To avoid that, use hashtags that are related to your products and industry to target people looking for your product.
Notice the following Instagram giveaway has a good selection of generic and giveaway specific hashtags related to the brand and its product niche.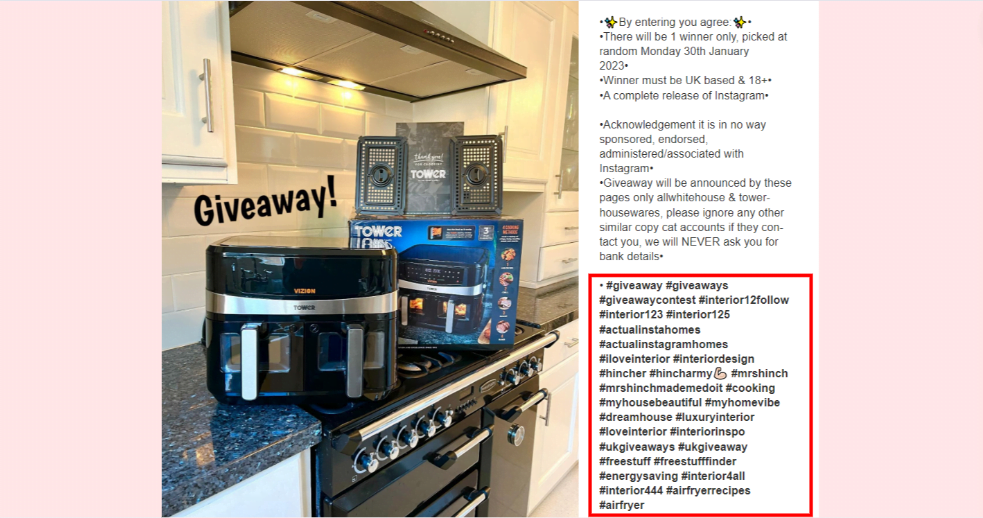 5. Decide on the giveaway duration
The next step is to decide how long your giveaway will last. Consider it from your audience's perspective – this is how long they have to enter your Instagram giveaway. To decide this, there are a few factors to consider.
The size of your following should be taken into account. Running a shorter giveaway may make more sense if you have thousands of followers. You will have a bigger chance of more people entering your contest. Whereas if you have a couple of hundred followers, you will rely on your hashtags to draw in more giveaway entries.
It's also worth remembering your giveaway may drag on if it runs for too long, so find the perfect length of time before you announce your giveaway. A minimum of 1 week and a maximum of 4 weeks is a good benchmark, while 2 weeks is an ideal length of time on average.
Giveaways that last a few days, held by businesses with thousands of followers, tend to be popular. But that's a good choice if you already have a big following.
One last thing: Consider time zones (especially if you have an international audience). Your entrants are likely to be dotted around the world, so be sure you're clear about when the contest deadline ends.
Bonus tip: Post weekly reminders to remind people that the contest is coming to a close. This is also a great way to encourage last-minute entries.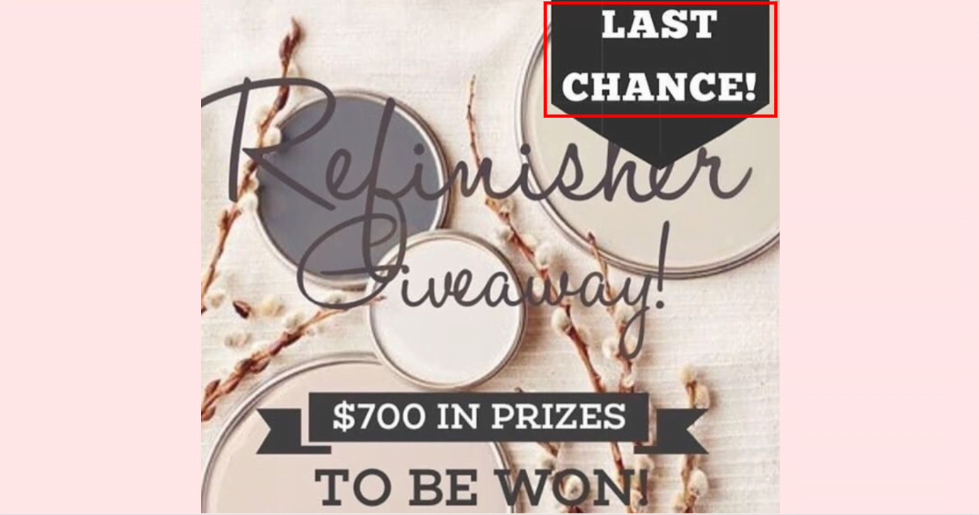 6. Promote your Instagram giveaway
When you launch your giveaway, remember that one announcement isn't enough. For one thing, your audience isn't constantly browsing on Instagram, so they may miss them.
To counteract that, plan on a few promotional posts to get your giveaway to your audience.
Create suspense with a post to announce when the giveaway will start.
Create an announcement post to officially launch the giveaway.
Announce your giveaway with an Instagram story and create one every time you post.
Create a repost of previous posts to remind your followers (and draw in others) to enter your giveaway. This step isn't as important if your giveaway isn't running for long.
Share a final call-to-action post to create urgency a couple of days before your Instagram giveaway ends.
Announce the winner by congratulating them in a post and share an image of your prize.
In addition to using Instagram to share your giveaway, use other digital marketing channels to promote it. You could post to Twitter, Facebook, and any other social media sites you use to drive traffic to your Instagram post.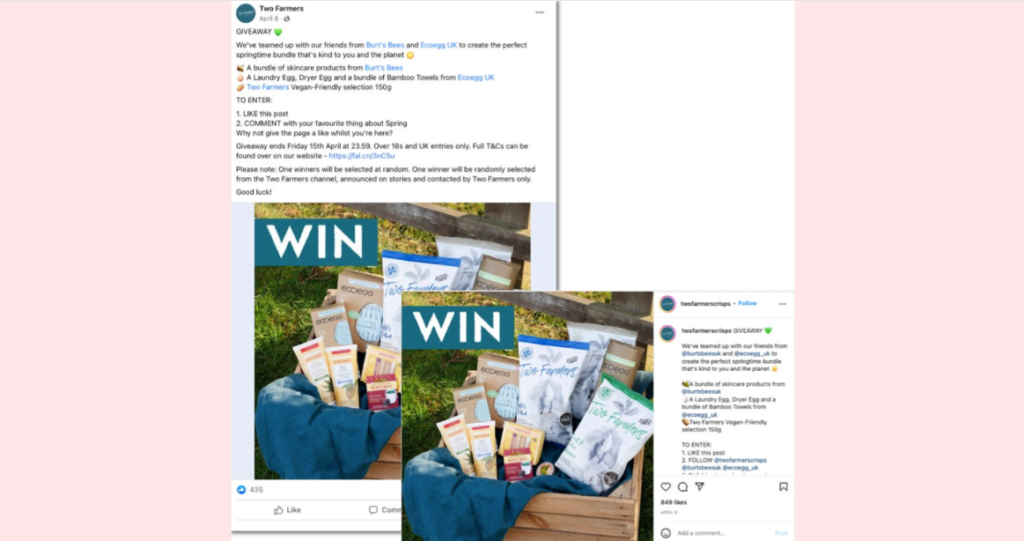 Bonus tip: Write to your subscribers, letting them know your giveaway is taking place.
7. Don't clash with major holidays
Before launching your Instagram giveaway, check the calendar to ensure you're not clashing with any major holidays. There are a few reasons for this.
Some holidays, such as Christmas or New Year's, are when people have the least time to spend on other activities. So if you run a giveaway around major holidays, announce it well in advance.
That said, it's possible to capitalize on a holiday like this. For example, you could use the holiday parallel to your giveaway and create a Christmas-themed giveaway.
If your product (and therefore the prize) is seasonal, consider timing your giveaway posts so that your audience's interest will be piqued. You could help them win a gift for a loved one or for themselves.
8. Set realistic goals
We're going back to the drawing board for this one. We suggest you don't run an Instagram contest without knowing why you are doing it. Instead, set measurable goals you want to achieve for your campaign.
From here, form a simple marketing strategy to determine how you'll achieve those goals. Here are a handful of tips for setting goals for your Instagram giveaway.
Be specific. You want your goal to be aimed at a specific result. For example, to extrapolate on growing your audience, aim to increase your Instagram followers by any amount you decide. That way, you can mark your progress daily and keep aiming toward your goal.
Make them measurable. Following on from being specific, use numbers or percentages to determine your goals. This way, you can measure whether your giveaway underperformed or exceeded your expectations. If your goal is to boost your sales, determine what the giveaway will cost you in time and energy. Use that number as a guide for your goals.
Be realistic. Assuming that your Instagram contest will bring you thousands more followers and hundreds of thousands in sales is a little ambitious if you run a small business. While keeping your eyes on the prize is good, it's wise to set realistic goals and work towards them. You can use what you learn from your first giveaway and raise your bar the second time around.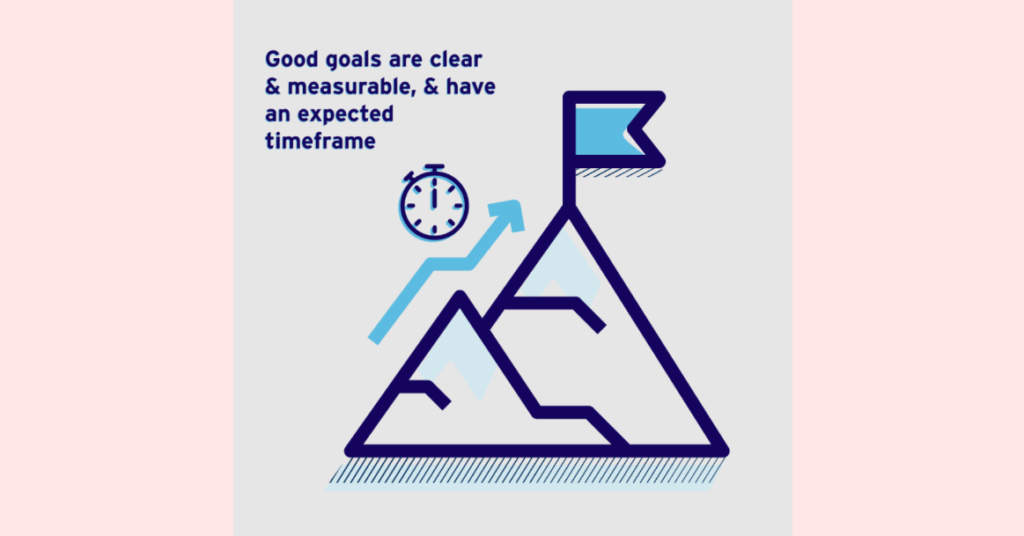 9. Follow up with your audience
Following up with your audience and converting them to customers holds more value than increasing your followers. The overall goal of your giveaway shouldn't only be to draw in new people, but you want to build lasting relationships and loyal customers.
To do this, you should move your following from Instagram and into your sales.
Link in bio. If your realistic and measurable goal is to increase sales, help Instagram users find your shop. Adding bio links to your profile is the best way to do that. Include call-to-actions in your posts, inviting users to click the link in your bio and shop!
Promote your prize. When your Instagram contest ends and you've announced the winner. Remind your audience of where they can buy the prize.
Offer a discount. Consider following up your Instagram giveaway with a "consolation prize" thanking everyone for entering the giveaway. Offer a discount on the prize item for a limited time for all your customers.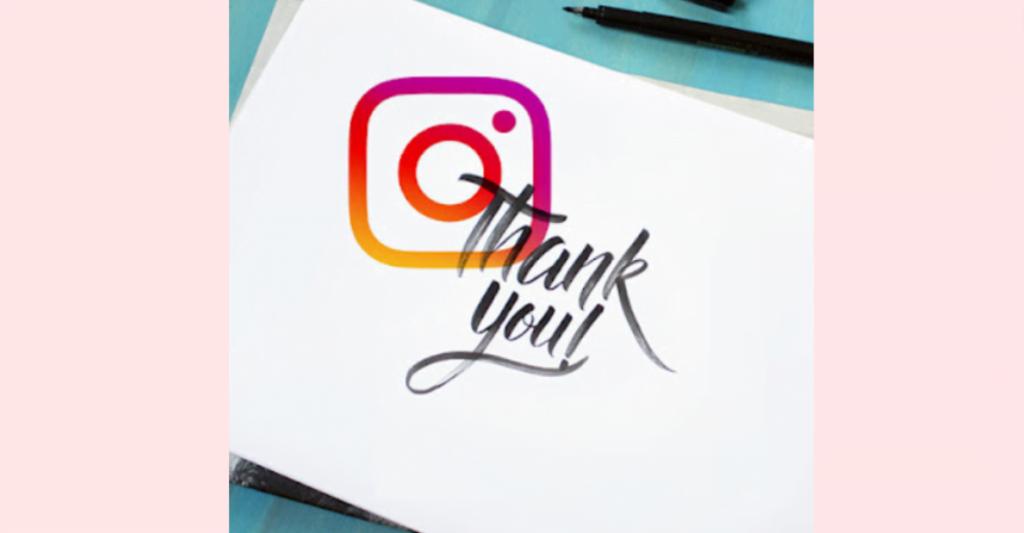 What are the best Instagram giveaway ideas?
Some of the best giveaway types on Instagram are the simplest to enter. Some of these include:
Tag-to-win giveaway
Like-to-win giveaway
Comment-to-win giveaway
Repost-to-win giveaway
Caption-this contest
Photo contest
You will notice that each type of giveaway is made up of its rules to enter.
1. Tag-to-win giveaway. This type of giveaway requires the entrants to tag a certain number of friends. If this idea is coupled with a couple more, it's one of the most effective giveaway ideas.
2. Like-to-win giveaway. As the title suggests, all the entrants must do is like your post. Then, you select the winner from your likes list! However, it's not the best Instagram giveaway idea because it doesn't involve much engagement. So it's best to combine this idea with another one.
3. Comment-to-win giveaway. This type of giveaway requires the entrants to comment about a certain topic. You can also ask them to comment with a particular emoji to enter the giveaway. This is a straightforward idea and can be easily combined with an IG giveaways comment picker.
4. Repost-to-win giveaway. This type asks the entrants to repost to enter the giveaway. Overall, it also performs well as it's so easy to enter and widens your IG reach. You can also ask the entrants to repost your post on their IG stories!
5. Caption-this contest. This type of giveaway requires the entrants to write a caption about an image you've shared. Then, the best caption wins. They can either write the caption in the comments section or repost your post and write it on their caption.
6. Photo contest. This type of giveaway is more time-consuming for the entrant and requires them to post a photo as requested by you. They must tag you as the giveaway organizer in their photo entry, and then you get to select the best one!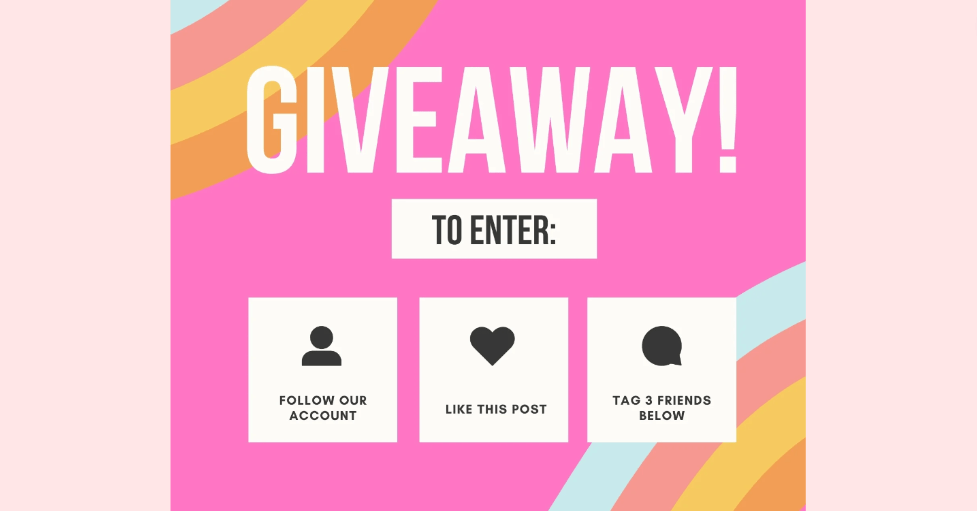 More Instagram giveaway ideas
Here are some more creative giveaway ideas you might like to consider.
Give away a free giveaway prize daily for a week-long promotion.
Give away more than one prize or a selection of inexpensive products in a hamper.
Give a high-value prize to whoever can design a new logo for your company.
Create a contest that includes using your product and sharing a post about it.
Hold a photo contest where fans can submit photos taken with a specific product.
Create a contest where people tag three friends who don't already follow you to win.
Ask your followers to like your post and share your giveaway on their profile.
How can I pick the Instagram giveaway winner?
How you pick your giveaway winner depends on what type of giveaway you hold.
For example:
Reply to win
Photo contest
Design a meme
Hashtag contest
Retweet and follow
Vote to win contest
"Caption this" contest
Tag a friend's account
Subscribe to an email newsletter
You can combine a few of the above entry methods, for example combining #1 and #5. Remember to ask the participants to do less for giveaways with cheaper prizes and ask them to do more for expensive prizes.
For example, #3, "design a meme," will require them to put more effort in, so to reflect that, offer them something special in return.
Dependent on your giveaway type from the above list, you will choose the winner in one of the following ways.
Choose winners;
from replies
from hashtags
from retweets
from manual selection
That said, there are primarily two ways you can choose a winner on Instagram:
1. Manually. You can write down all of the eligible entrant's names in a spreadsheet, then choose a random name from the lot. The downside is that it's a time-consuming process.
2. Automatically. You can choose a winner with an Instagram giveaway picker tool. These tools will help you automate the selection process and save time. These tools include Wishpond, AiGrow, Instagram Random Comment Picker, Easy Promos App, Shortstack, Viral Loops, Vyper, and Gleam. Among those tools, Gleam is our absolute favourite! Read our comprehensive Gleam Review to find out why!

Top Instagram giveaway picker tools
Here's a selection of the tools mentioned above. Remember that the winner selection process should be transparent for your audience should they ask to find out, and make it fair.
One way to choose a winner fairly (and easily) is to use a free Instagram Giveaway Picker tool.
The following tools will help you choose giveaway winners randomly.
Wask. This is an easy tool to use for choosing a winner. To use it, you only need to enter the URL of your Instagram post. It then helps to pull the giveaway comments and find a winning account for your giveaway.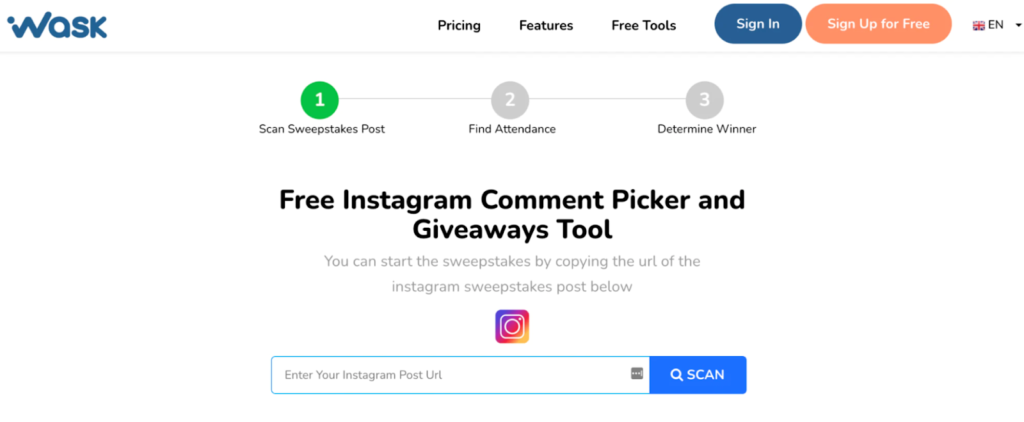 Instagram Comment Picker. The Instagram Comment Picker is a trusted and free tool that selects a random winner from any contest you create.

Wishpond. This picker provides many tools to run and track your social promotions. It can help you to run your contest to grow your audience. You can also choose giveaway templates on this application or create one yourself.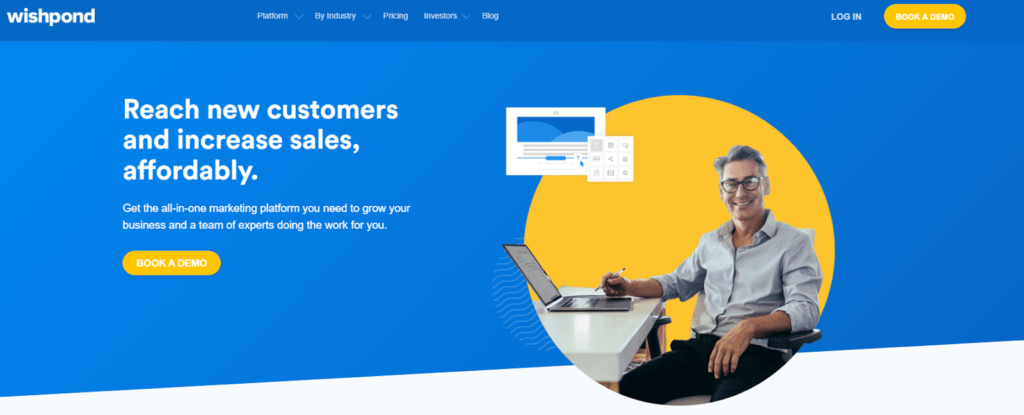 Final thoughts
A successful Instagram giveaway can boost your business reach while being one of your first efforts to increase your sales.
It might seem to only cost you money and time initially, but a high-quality giveaway on Instagram can be worthwhile in the long run.
Hosting a few successful giveaways will help you to meet your attainable marketing goals and make your customers happy. That said, we wish you luck in running your Instagram giveaway!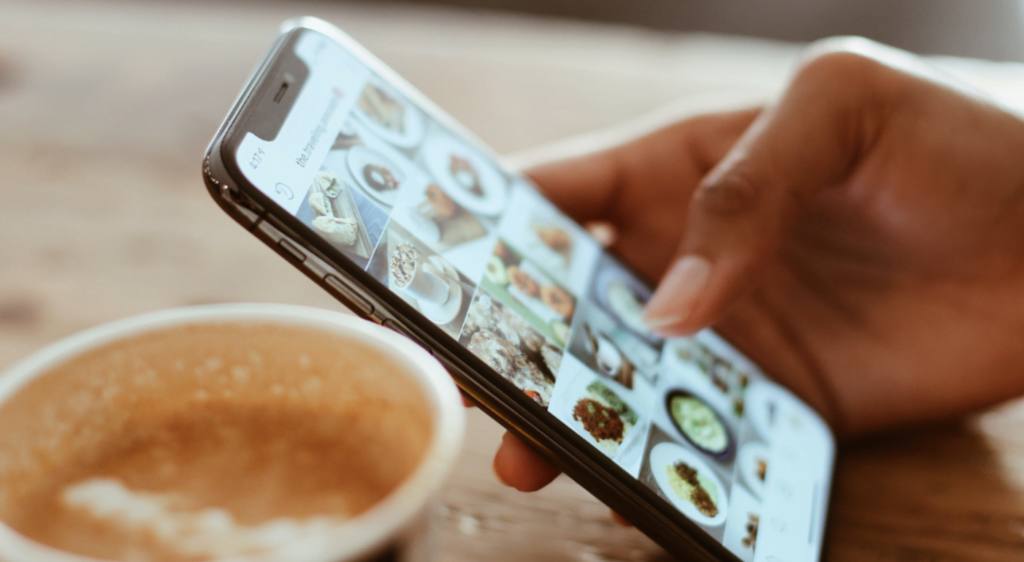 Next up – we will discuss how people can win more prizes on Instagram. Some of the following tips could benefit your business, so if you're interested in discovering more, keep reading.
____________________________________________________________________________
Enter Instagram giveaways and win more prizes
It's easy to enter an Instagram giveaway, but winning is another matter altogether. Everyone wants to win a giveaway, although few know how to maximize their chances of winning.
There is a wide range of prizes on offer and every type of giveaway on Instagram. There are book giveaways, NFT giveaways, and even instant cash giveaways.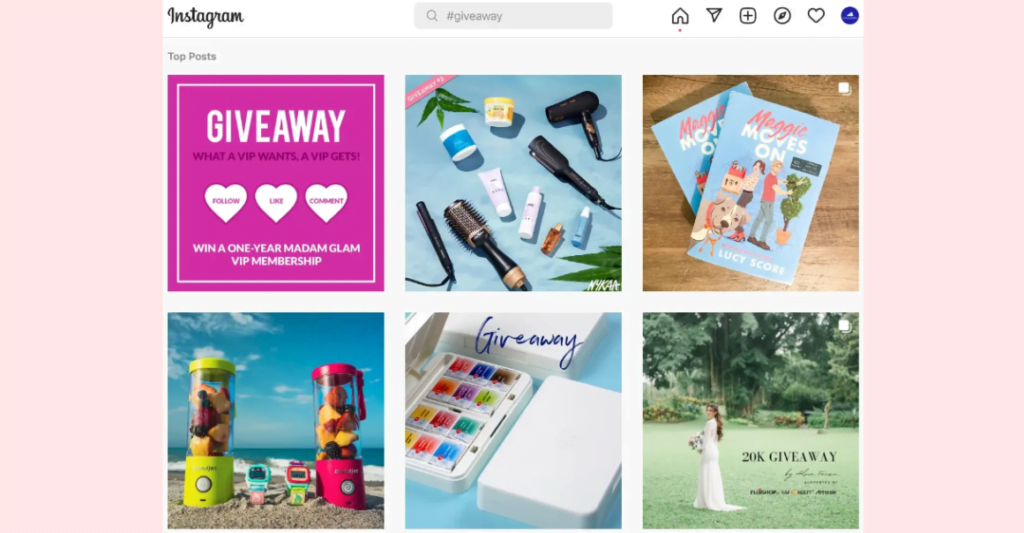 Regarding how they work, Instagram giveaways don't have many secrets. An individual or business will advertise a product (or the prize). Whether it's a physical or a digital item, the entrants will be required to complete action steps to play by the rules.
The giveaway will be shared on the platform via an Instagram post, and there is usually an eye-catching image along with the giveaway rules in a giveaway post.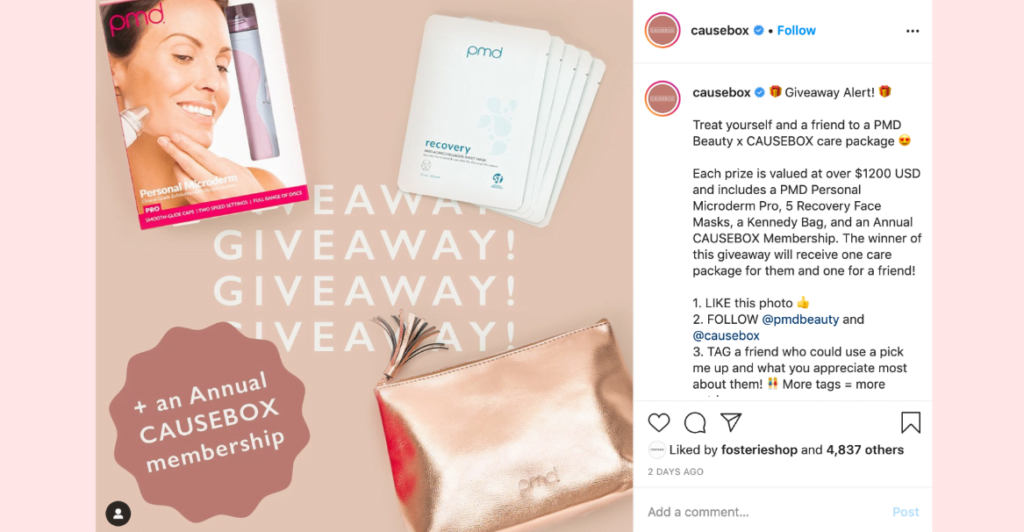 The giveaway image will sometimes include the deadline for the giveaway so that you know when to enter.
If the giveaway host uses a computer-generated (CG) winner-picker, programs such as Wishpond or ShortStack will randomly select the winner based on all the criteria. That's why it's vital to follow all of the giveaway rules to win.
These computer-generated programs draw the winners automatically. To be selected, the lucky winner needs to follow all of the giveaway rules.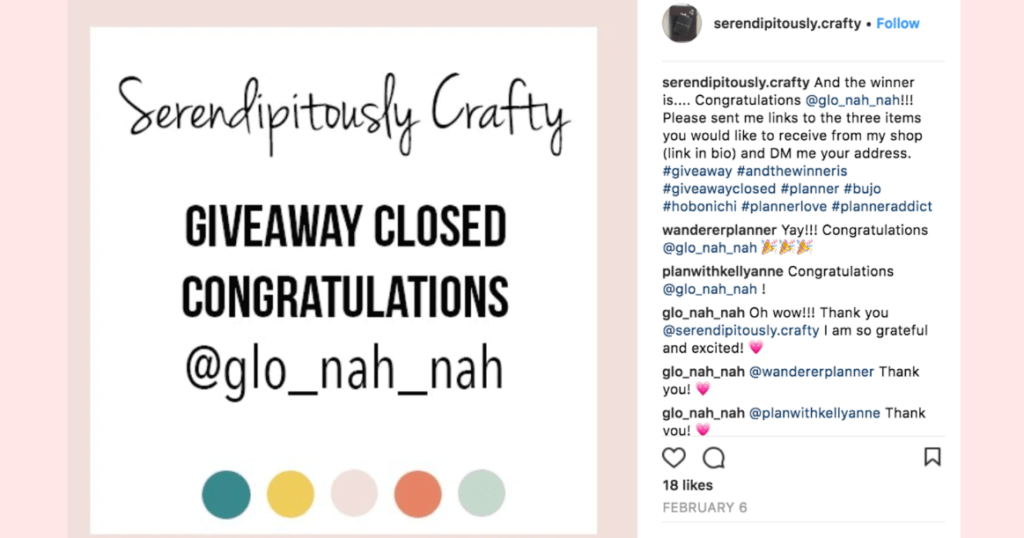 Are Instagram giveaways worth it?
It's easy to find individuals holding giveaways to enter on Instagram, but is it worth it?
Contests and giveaways are commonly found on the platform. They allow the host to grow their audience by attracting more followers. Then, the participants will like the content of the business account, so it works to the host's advantage.
From the business perspective, the main purpose of a giveaway is to promote a particular product or service. Usually, products or services are offered, hoping the entrants become loyal customers.
The good thing about trying to win an Instagram giveaway from a business account is that they tend to be more organized and trustworthy. Business giveaways on Instagram will rarely be fraudulent.
Now, are the giveaways worthwhile from your perspective? Of course, they're worthwhile when it comes to winning, as everybody loves to win something! Instagram giveaways are worth it if you're hellbent on winning something or just playing for fun. It depends on your motives for entering a giveaway.
It's worth mentioning that only entering popular giveaways can be disappointing, as these types of giveaways are competitive. Some people who only enter popular giveaways and don't win might say giveaways aren't worth it. But generally, the bigger the prize, the more competitive it will be.
Signing up for every giveaway doesn't guarantee winning a prize, either. It can be frustrating to enter every giveaway without maximizing your chances, which might lead to zero wins.
Aside from luck being on your side, there are ways you can maximize your chances of winning an Instagram giveaway. We will share essential tips to know.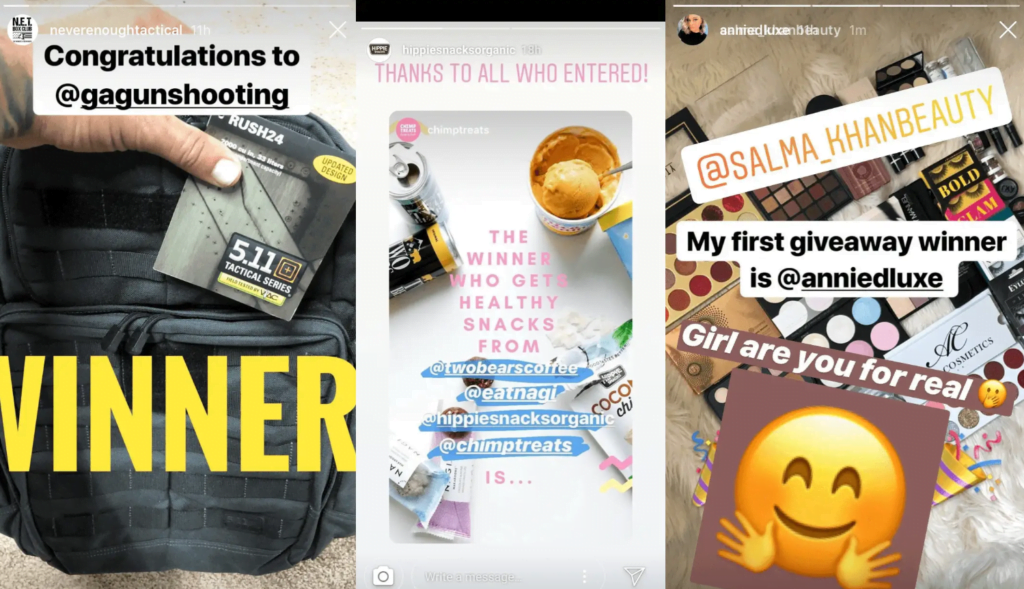 Who knows, you might be the next big Instagram giveaway winner.
How do you find a giveaway on Instagram?
Before you begin entering giveaways, first, you have to know how to find them. As mentioned, many people enter giveaways with prizes they don't care for or don't need. So always begin by searching for giveaways on Instagram that excite you.
There are many ways to search for giveaways on the platform. Alike winning the giveaways, sometimes this also comes down to a bit of luck. You might not be expecting to find a prize, and on your search one shows up unexpectedly.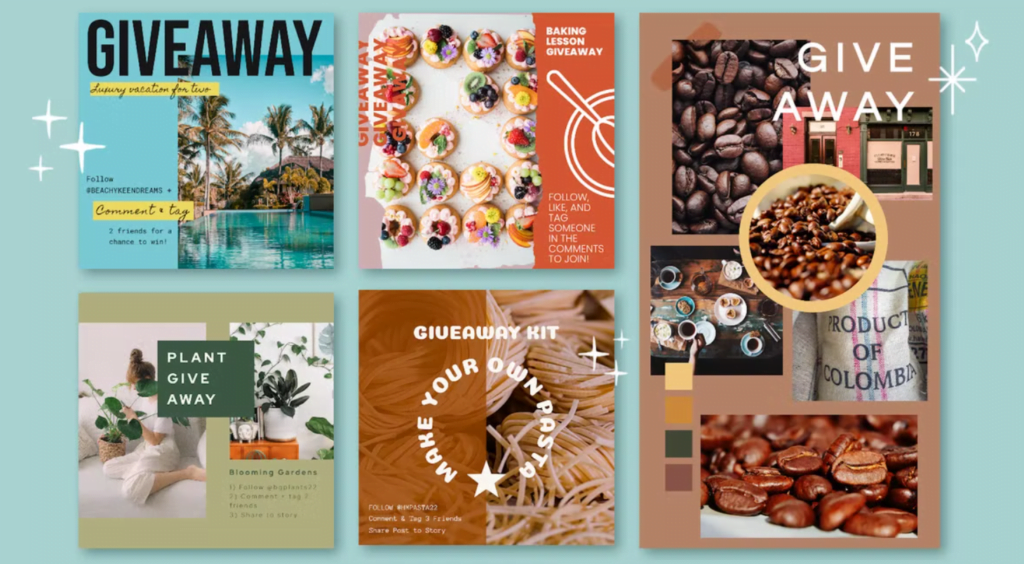 This can work to your advantage because the giveaways that are more tricky to find will typically have only a handful of entries!
Before we get into the top tips for finding more Instagram giveaways to win, here is the easiest way to find giveaways on Instagram right now.
Make relevant searches on Instagram
Using the Instagram search bar, you can search for single hashtags associated with giveaways. You can also search for key phrases, thanks to the introduction of newer search terms in 2020.
Use the following generic hashtag suggestions and think of more creative ones, especially by using them alongside brand names and items you want to win.
For example, #win, #competition, #competitiontime, #instagramcompetition, #sweepstakes (US), #contest (US), #giveaway (international), #giveawayuk (UK), #ukgiveaway (UK), #loopgiveaway (these are popular in US, Canada, and Australia).
Try searching for annual holiday hashtags, such as #HalloweenGiveaway, #ValentinesCompetition, and #ChristmasContest.
Bonus tips: Filter the search results by "recent first."
You can also select "follow" a hashtag. Then, hashtagged posts will automatically appear in your feed. The search will give loads of generic results, but you can easily look out for "win" or "giveaway" on the photos.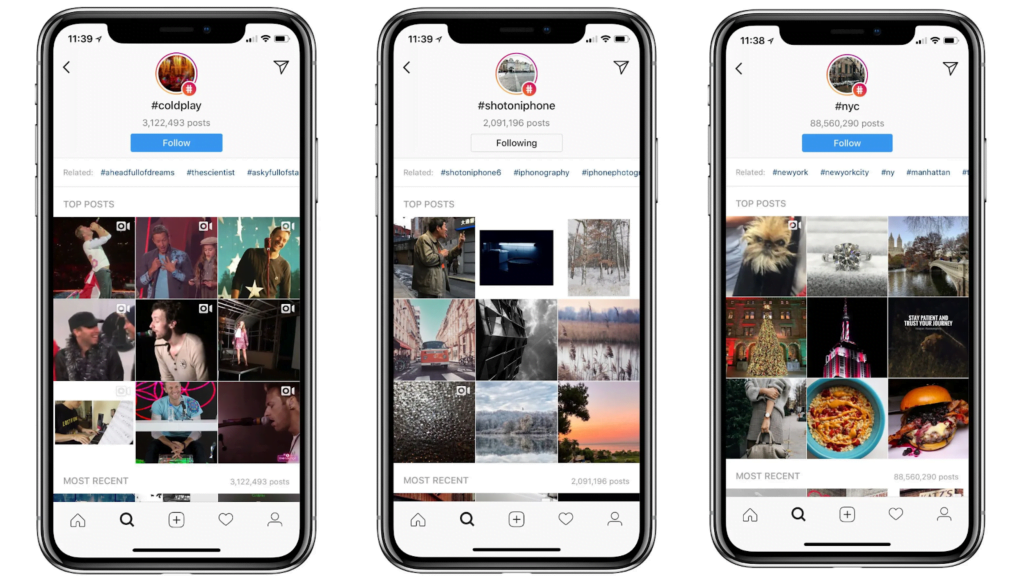 How can I win Instagram giveaways?
Without further ado, we will reveal tips to win more giveaways on Instagram.
If Instagram giveaways are carried out fairly, they should not be biased, and therefore you mostly have to rely on luck to win. However, some very important details will increase the likelihood of winning.
The exception to winning by luck is the competition-based giveaways (where you will be judged for creating a certain type of post).
You will find an array of giveaways requiring you to create original content and easier prize draws, such as following the promotor and liking their post.
You should combine several of the following techniques to find prize promotions on Instagram to get the best results.
9 steps for winning Instagram giveaways
Here are 9 tips to ensure you find and win more prizes on Instagram. These tips will guarantee you don't run the risk of letting a prize slip through your fingers.
1. Narrow your search
To start with, the first tip is a basic one. We emphasize the importance of filtering the giveaways you want to enter and choosing the ones that interest you. Remember, if you register in every single one that appears, you might end up with disappointing results. So don't overdo it and focus on what you want.
Also, don't forget to search for what you want by using hashtags. You can only search for one hashtag at a time. It might seem laborious at first, but it's straightforward once you're in a rhythm. You can find some low-entry giveaways doing this (the least popular ones that may be easier to win!).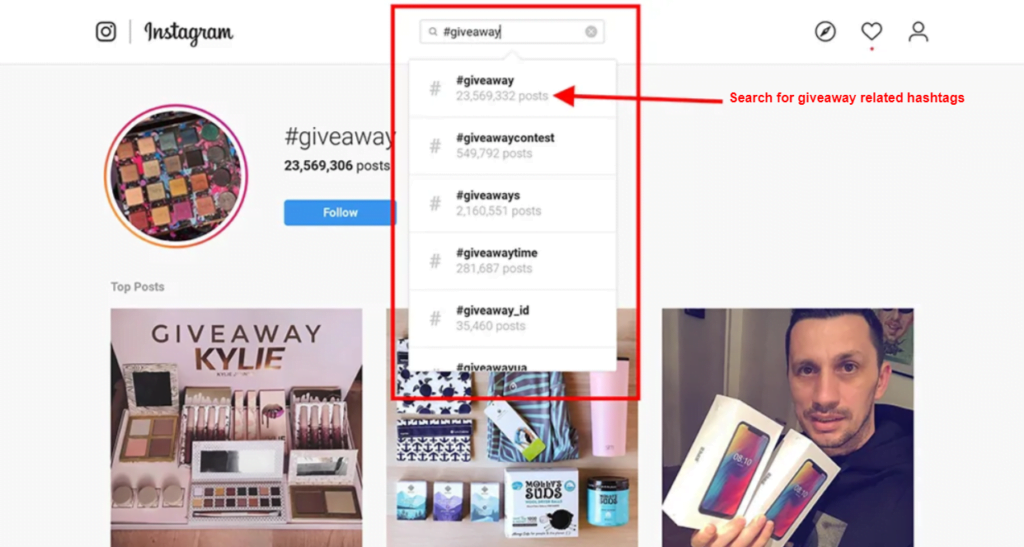 Remember: Follow the hashtags you want to see on your feed and search for giveaway-related hashtags on Instagram's search bar.
2. Be an active fan
If you're following a brand that regularly posts giveaways, we recommend you regularly engage with them on their Instagram page. That way, they'll know you're a fan, and when you enter their competition giveaways, your account name will already be familiar to them.
Pro tip: If you use their services or products, or visit their physical business, tag them in a photo you post to Instagram or a story. Again, this will show them you're a fan, and most companies like to reward their fans and followers with something. When you enter a giveaway, this touch puts you in good stead to win a prize.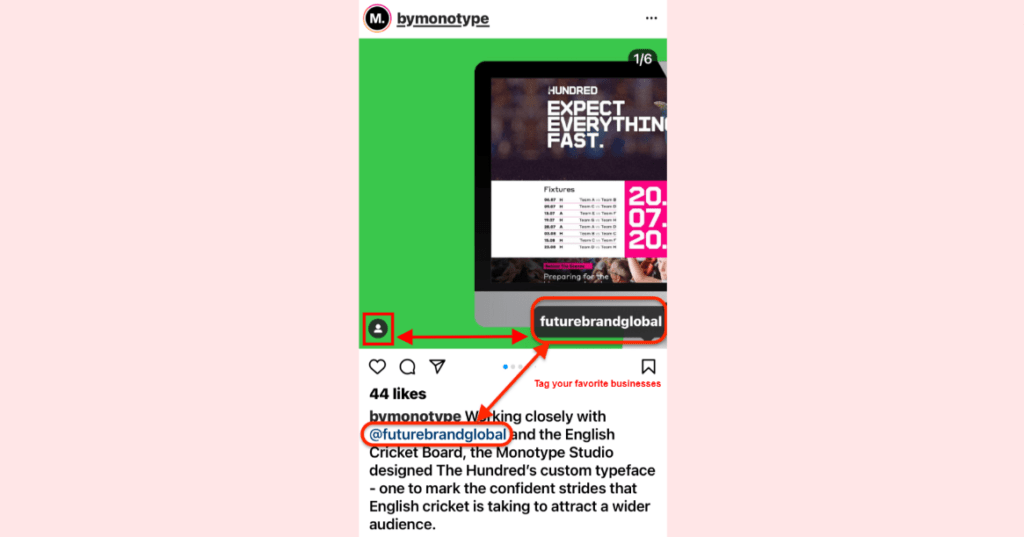 3. Maintain your profile
You want to ensure your Instagram profile account looks good. This is because some promoters might check your profile before deciding if you're a winner. They do this to ensure you're not a spam account or, in cases, they'd like to give the prize to a deserving fan.
To do this, upload a photo and a quirky bio. It's generally recommended not to share too many regram photos simultaneously because original content is preferable.
You can also pin 3 of your favorite posts to the top of your profile – people will see those first when they check out your profile.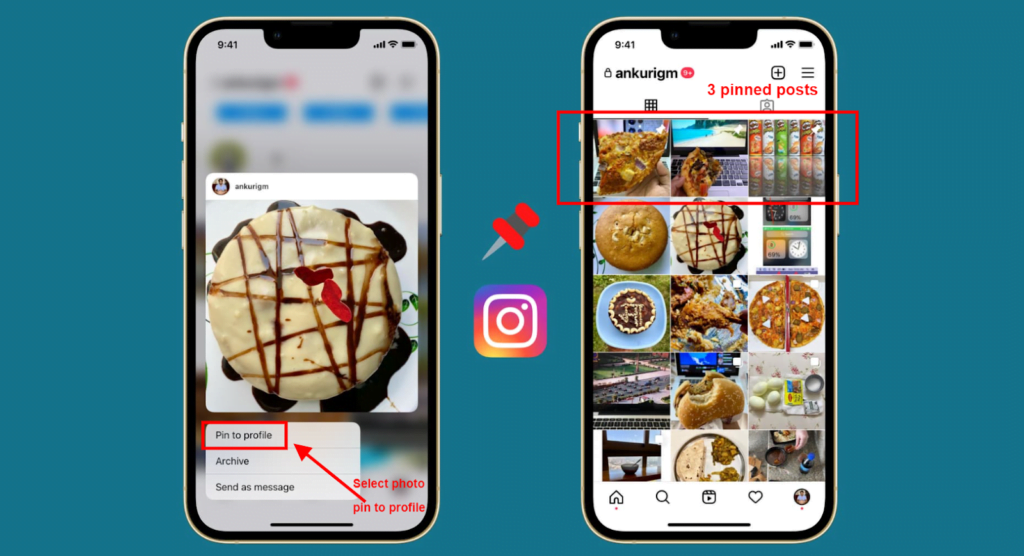 If it calls for it, you might want to share some of your most recent and favorite related photos close to entering giveaways, such as food photos or travel pics.
4. Use Twitter and Google
You will find that most companies tweet about their Instagram accounts, or they will automatically tweet their Instagram content. Finding giveaways on Twitter is usually a win-win situation as some of these giveaways won't be the popular kind with thousands of entrants.
So for that reason, use Twitter's advanced search function. Like you would with Instagram, use the search function to find hashtags with words such as win, competition, giveaway, or prize. When you get the results you're after, select "latest" to see the most recent tweets.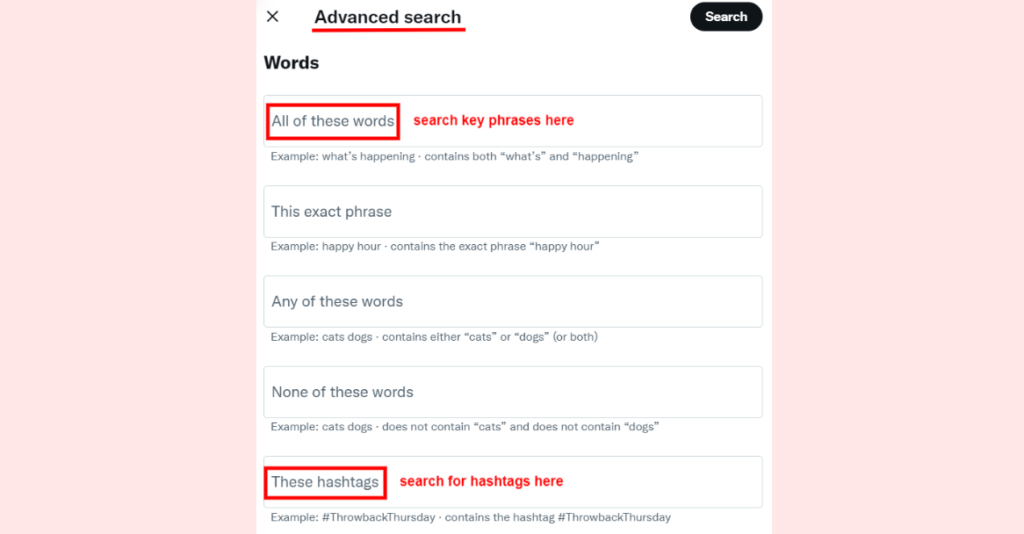 You can also save the search by clicking "more options", then "save search." That way, you can always go back to your preferred search terms in Twitter's search box.
Tweetdeck is also a great tool for making multiple searches. You can also use Google search to find unique giveaways on Instagram.
5. Play by the rules
One of the biggest mistakes people make on Instagram is not paying attention to the giveaway rules. Even if you are selected, you won't win the prize if you don't abide by the rules.
It's important to read the giveaway rules carefully, and if you still have any questions, you can ask the organizer to clarify.
Most giveaways ask the participants to fulfill a series of simple actions, such as:
Like the giveaway post
Share the giveaway post
Tag a specific number of friends
Follow the giveaway host
Comment on the giveaway post
Follow other accounts that are collaborating with the host
But remember that some giveaways may ask you to do many of the above, so it's worth understanding all of the instructions before you enter. The critical component is not to miss any of the details.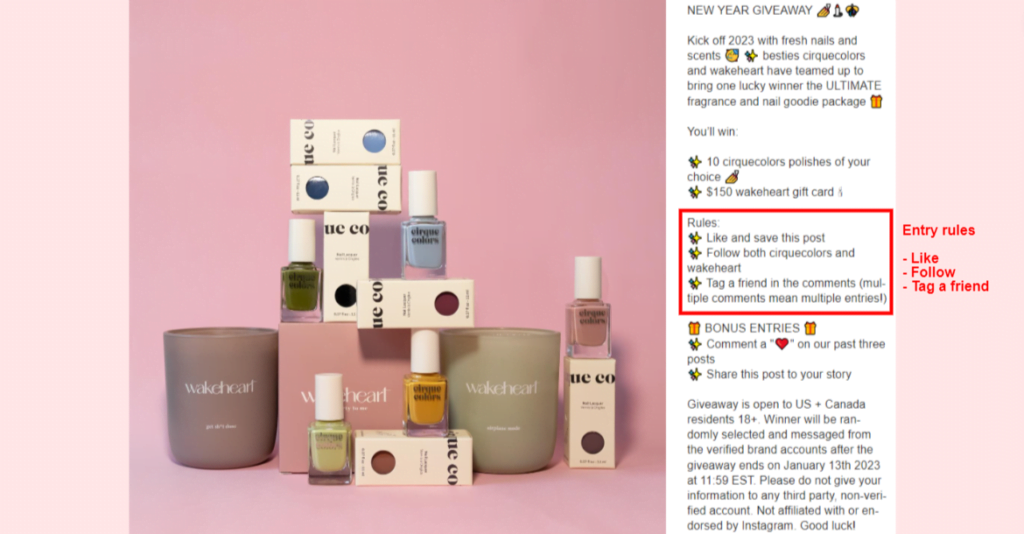 6. Do what is asked
Following the above tip, be careful when playing by the rules. For example, ensure you do what is asked of you and not over that.
Suppose you have to enter the giveaway by tagging x3 friends and commenting on a specific topic on the post. You might forget to comment about the topic on the post, or you might only tag x2 friends. If that's the case, you'll immediately be out of the draw, especially if an automated winner-picker will choose the winner.
In addition, it's not worth tagging more friends than you are asked to tag. If you have to tag 3 friends, don't tag 6! Sounds simple enough, but you'll be out of running by doing too much. Plus, Instagram can deem that activity is suspicious and block your account.
7. Check out your competition
The following tips are especially helpful for competition giveaways. Most giveaway hosts will use generic and branded hashtags (the branded hashtags are the best to use here). Checking out the hashtags they've used is one of the best ways to check out your competition.
Tapping the hashtags, you can see how many entries there are so far. If the giveaway requires you to upload a photo or create a meme, for example, you'll also be able to get ideas for your entry.
What are all of the entries like so far? What can you do to make your entry the best amongst the current competition?
Note: always search for the most recent posts when you follow this tip.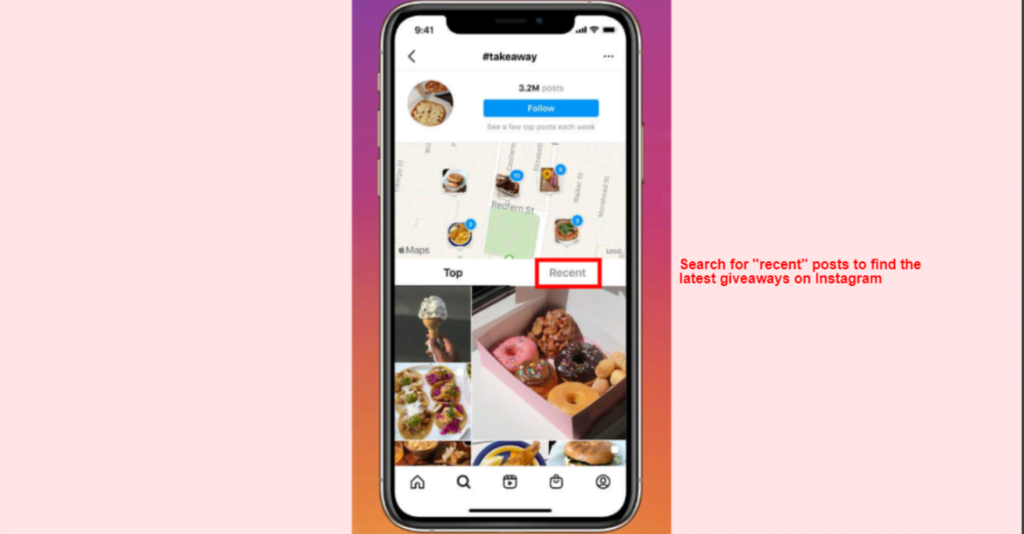 8. Enter as late as possible
When you're planning to enter a giveaway, it can work in your favor to enter as late as possible.
Following on from the last tip, with all social media giveaways, the entries are public so promoters can track them. That means other entrants can copy your photo contest image and wait to see your entries. You could wait a day or two before the deadline to avoid being copied.
When you're feeling organized, save your giveaways to dated collections. That way, you can easily enter the closing date. This also means your entry will be at the top of the recent search results, which is great when many people have entered the giveaway.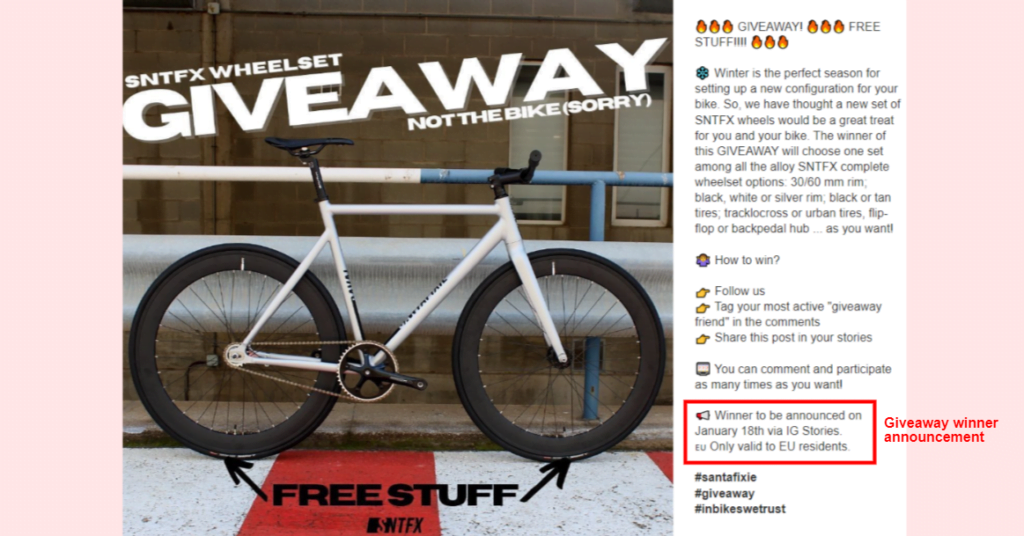 9. Follow giveaway accounts
Following giveaway-specific accounts on Instagram is a great way to find giveaways, such as ours @giveawaylisting.
To find other giveaway accounts and people who regularly share and enter giveaways, click on relevant hashtags in the search bar and tap on entries in the results. After that, tap the account's username.
By doing this, you'll find loads of new giveaway accounts. You'll also see others commenting on photos and can tap to visit their profile. You can follow them or save a link to their account as a browser bookmark.
People who regularly enter and reshare giveaways usually do so via their stories, so make sure to tap and view their stories when you visit their profile.
Top tip: If you follow a business account or a user, you can 'get notifications every time they post. Tap "following" on their profile page, then tap "notifications."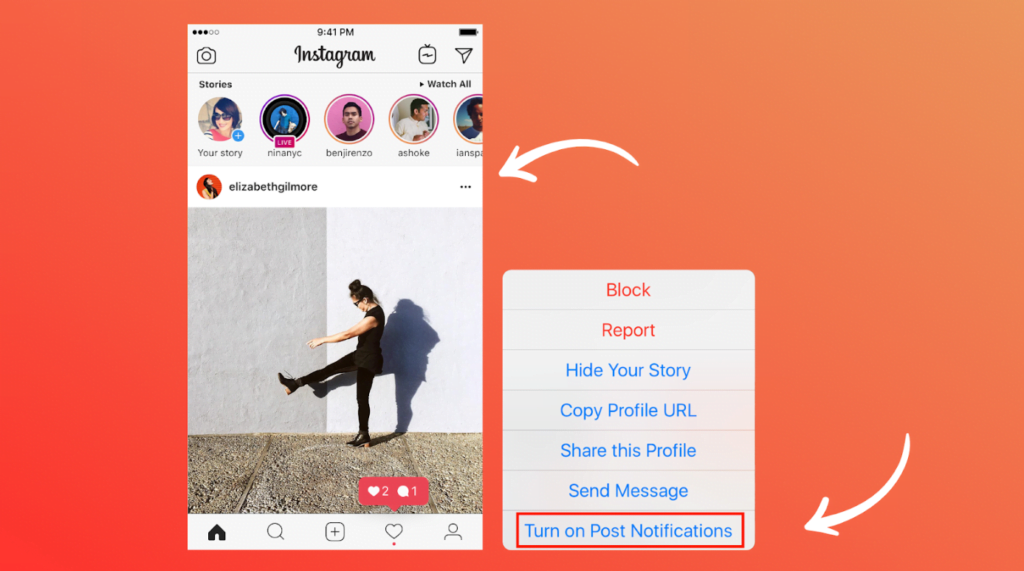 Bonus tip: log in to Instagram as often as possible. You want to check your inbox and activity every day if you're expecting to win prizes. You don't want to miss any prize notifications. If winners are being announced in an Instagram story, you'll only have 24 hours to find out if you've won. So, make sure to check your inbox daily!
Next, we'll cover some of your questions about Instagram giveaways.
Instagram giveaways FAQ
Frequently asked questions about Instagram giveaways.
How do you know if an Instagram giveaway is real?
There are ways to avoid scams when trying to win an Instagram giveaway. As is the case with all social media campaigns, there are always those who want to steal from others.
To avoid getting scammed, take the following basic precautions. These tips will help you identify if the giveaway is real or not.
1. Be cautious of fancy and expensive prizes
2. Enter Instagram giveaways with clear entry instructions
3. Look for previous giveaway posts held by the same host
Be careful if you stumble on an Instagram giveaway with a prize car or a house. You will only find those on trusted sites such as Omaze (they legitimately give away houses). Some grand prizes will be fake and are only intended to stir interest or get your details and run. So, unless it's a trusted company, be wary of these giveaways.
There are giveaways out there that don't always choose the winner fairly. To avoid scams, you can check the instructions for how a winner will be selected and search for the legitimacy of the giveaway holder.
An easy way to identify trusted giveaways is by researching previous giveaways. You can check if the previous giveaways were organized and if any winners received an award.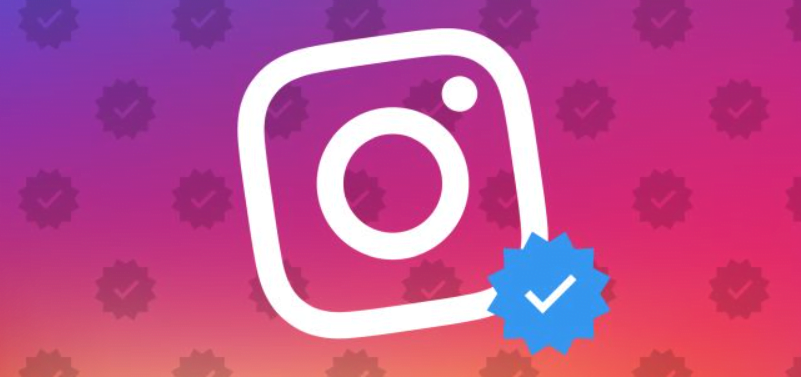 If you follow all these tips, it is possible to win an Instagram giveaway, even with a certain frequency. Don't give up, and keep participating!
Do people win iPhones on Instagram?
Generally speaking, winning an iPhone on Instagram is unheard of. It's more like a scam, to be exact. You will rarely find expensive items such as an iPhone being given away unless the company itself runs it.
In general, iPhone giveaways are usually scams. Social media scams are common, and cyber thieves are still out there trying to get your personal information! There has been a surge of scams on Instagram in recent years. You might have already had strangers tagging you in posts about winning the latest iPhone.
You'll notice something in common with these iPhone giveaways, they're usually random, the giveaway tags you, and the giveaway account looks suspicious. If that's the case, you can bet that the giveaway isn't legitimate.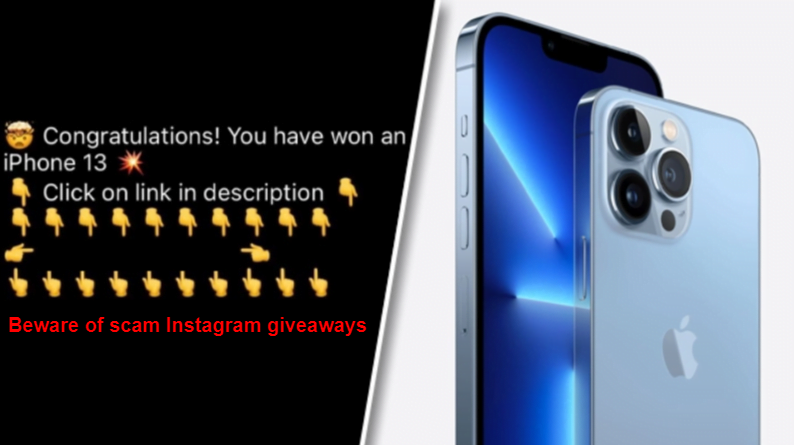 Closing thoughts on Instagram giveaways
As the staggering stats revealed earlier, Instagram giveaways can give you the traction needed to grow your business or give you the ability to win amazing prizes.
There are various Instagram giveaway ideas you can implement now as a small business. As a giveaway goer, there are plenty of giveaways you can enter!
If you'd like to check out the latest IG giveaways right now, check out our live feeds. On our home page, you'll find an updated list of giveaways from Instagram.
Our website also has many more guides about running giveaways, so check those out if you want to learn more about hosting a successful one. To finalize your giveaway ideas, feel free to review this article again at any time.
Good luck with the creation of your giveaway or winning more prizes! Tag us on Instagram if you want to update us with your good news!