Pinterest Giveaways in 2023
In 2022, Pinterest reported a 6% decrease in global monthly active users, but it's hardly lost its appeal.
The social media platform still has an audience of over 430 million global users, averaging almost 1 billion daily video viewings.
With the platform's popularity comes marketing campaigns that are hard to beat. You won't find as many opportunities for giveaways as you can here.
The revenue opportunities for individuals and small businesses are undeniable. Not only that, but Pinterest is perfect for entrants who want to find exciting giveaways to enter.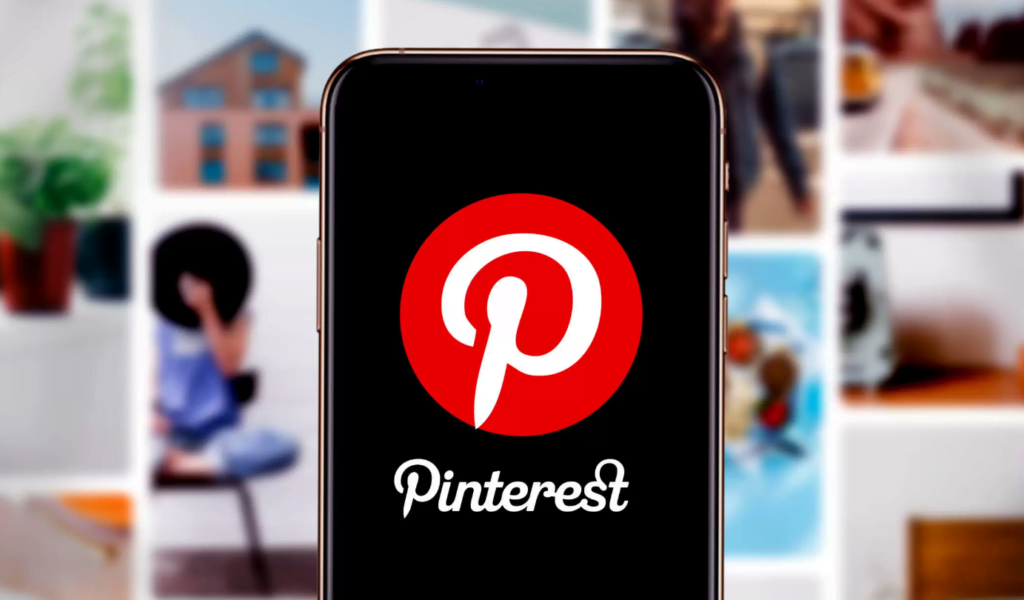 Pinterest giveaway types
This giveaway guide will serve two groups. It's jam-packed with tips for those who want to run giveaways and participants who wish to enter them!
1. Giveaway organizers: The first portion of the guide is for businesses and giveaway organizers who want to run their giveaways on Pinterest. We will help you use Pinterest to host amazing giveaways and make them a success.
2. Giveaway entrants: The second portion of the guide is for participants who want to enter giveaways on Pinterest and maximize their chances of winning a prize. We will examine optimal ways to use the platform to find giveaways.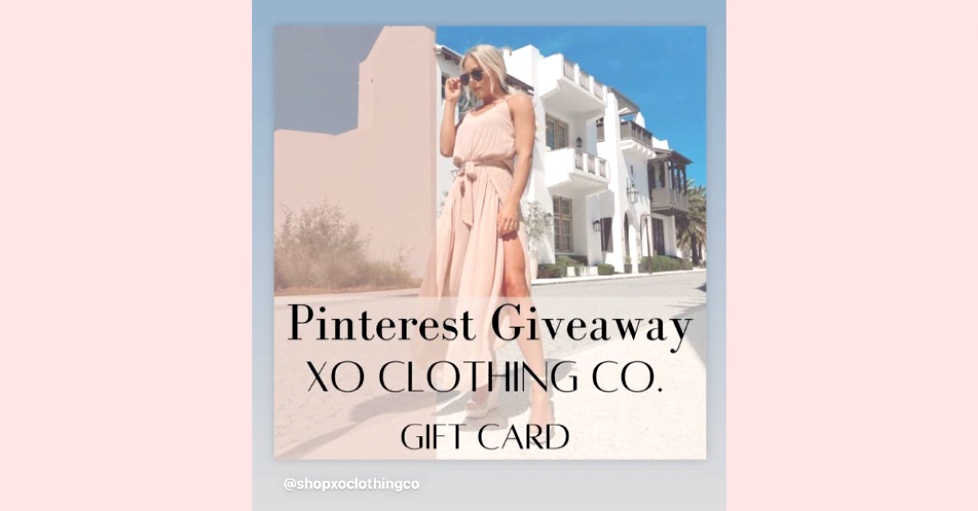 Run giveaways on Pinterest
When it comes to online competitions and promotions, Pinterest is often thought of last and forgotten about in favor of other social media platforms like Twitter, Facebook, and Instagram.
Pinterest doesn't have the same number of active users as these other platforms yet, but over 400 million daily users is a good start, right? That's a lot of potential participants! Pinterest is a fantastic platform for promoting your brand and connecting with your audience.
If you're looking to engage and grow your audience on Pinterest, then running a Pinterest giveaway should be next on your to-do list.
With our guide, running a giveaway has never been easier. To help you get started with a Pinterest giveaway, we will show you the ropes of starting your own. Before that, let's look at why Pinterest giveaways are so effective.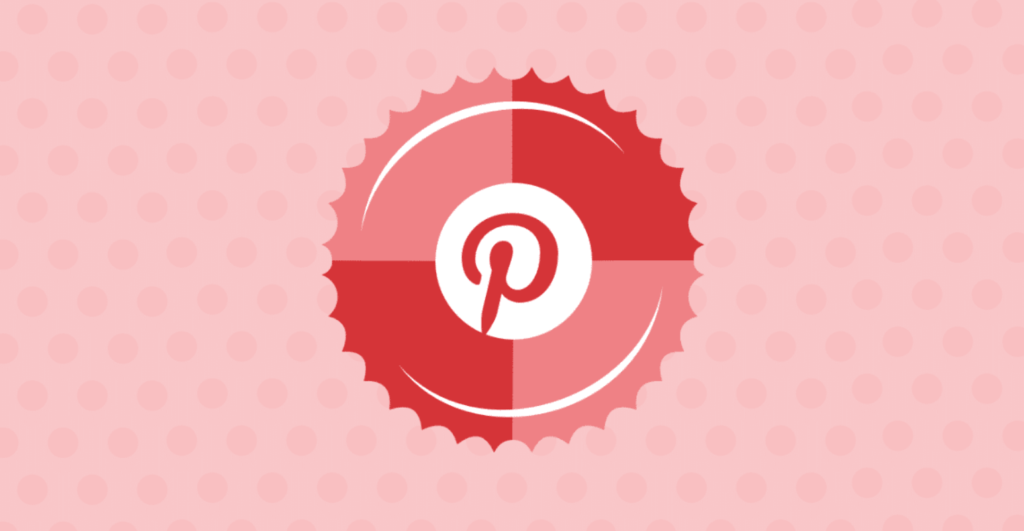 What are the benefits of Pinterest giveaways?
Pinterest is a social media platform where competitions and collaborations are brought to life. You can find thousands of submissions in one sitting, and it's an amazing platform to attract and develop stronger relationships with your audience.
Pinterest's social, collaborative, and colorful atmosphere makes it perfect for online contests. This highlight is especially true if your business deals with anything creative such as cooking and gardening, fashion, or design.
In addition to those advantages, Pinterest giveaways (or contests as they're also known) have several other benefits that highlight how impactful the platform is.
Here's a lowdown of what those benefits are.
Engage a wide audience
Target your ideal customer
Increase brand awareness
Collect user-generated content
Promote your stuff
Engage a wide audience
Pinterest is a site built around creating and sharing curated boards, and users share ideas for all kinds of topics of interest and creative projects. Many creatives use the platform to plan a new venture or design idea.
It's an active site where users engage with media and get involved with content, aside from giveaways. So it shows how easy it would be to involve giveaways on this site, as its audience is used to actively interacting with the site instead of passively.
This involvement has led to Pinterest gathering a highly engaged user base with giveaways and contests! Thus, the participation rates will naturally be higher on this platform.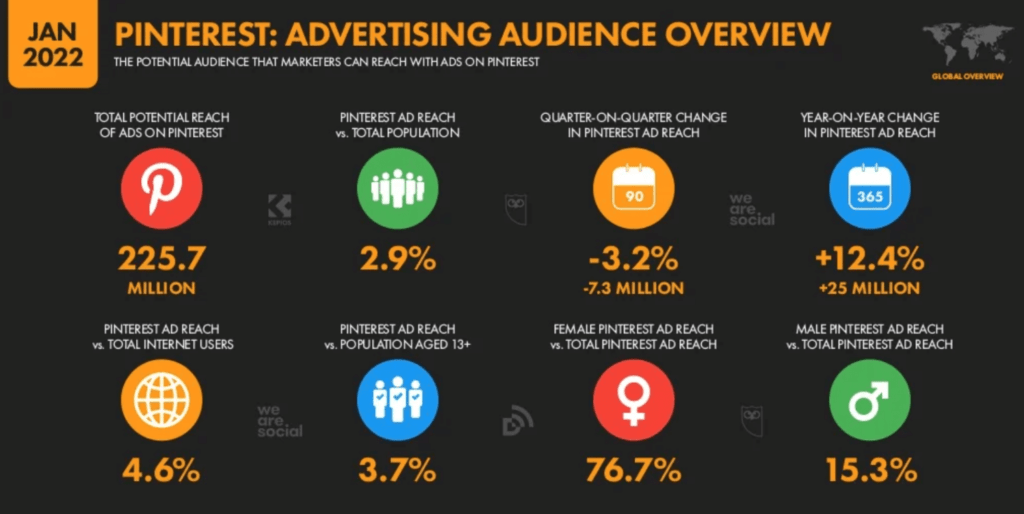 Target your ideal customer
A staggering statistic says approximately 80% of Pinterest users are female. So if you're trying to engage a primarily female audience, Pinterest is for you!
For example, do you sell women's clothing, accessories, and beauty products? Perfect! You likely won't need to aim your products toward a female-led target audience.
Once you run a giveaway, you can let the platform do most of the work. You can make the most of your target audience on Pinterest.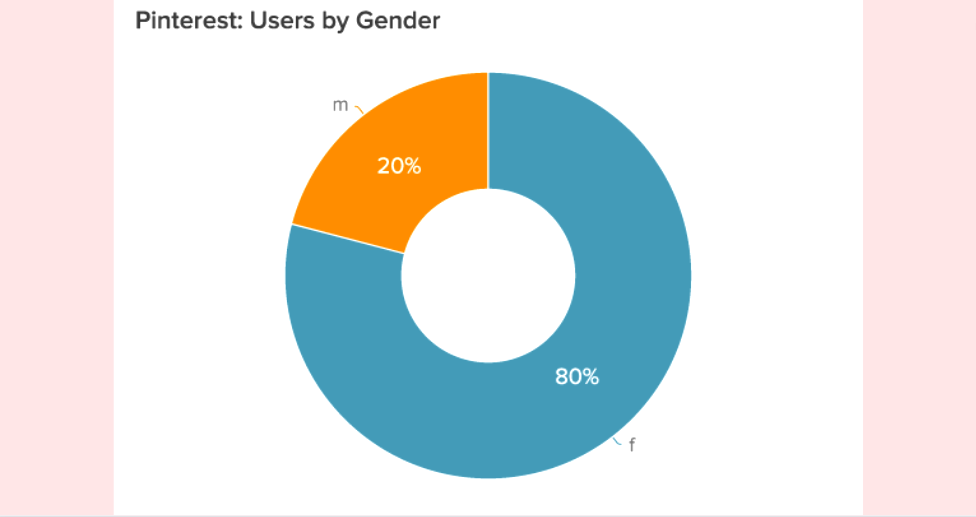 Increase brand awareness
In addition to interacting with your existing audience, Pinterest giveaways can help to welcome new people to your business.
Because Pinterest is a creative lifestyle platform (with an aspirational edge), inspirational brands often attract a large following.
Running giveaways designed to encourage more people to your page is a great way to grow the size of your page.
Your giveaway can be just as effective even if it doesn't feature your products. For example, it can generate brand awareness instead and lead people to your website.
Collect user-generated content
Not only can you generate engagement by running a Pinterest giveaway, but you can also ask your audience to submit "user-generated content" (or UGC).
UGC is a powerful and engaging marketing tool from which any business can benefit. But how does it work?
First, ask your audience to submit content to you in exchange for something. For example, ask the entrants to submit pins as a part of your giveaway (we'll cover this later).
Doing this will generate high-quality UGC while engaging your audience simultaneously.
Promote your stuff
Pinterest giveaways are the perfect opportunity to promote a particular offering or event (or anything you want to promote).
Suppose you're launching a new product line or offering discounts. Your giveaway can be a cost-effective way to amplify your promotional reach, and Pinterest can help expose your promotion to a wider audience.
Pinterest giveaways are a great way to achieve several objectives at once, as you can grow your audience while simultaneously bringing in more sales.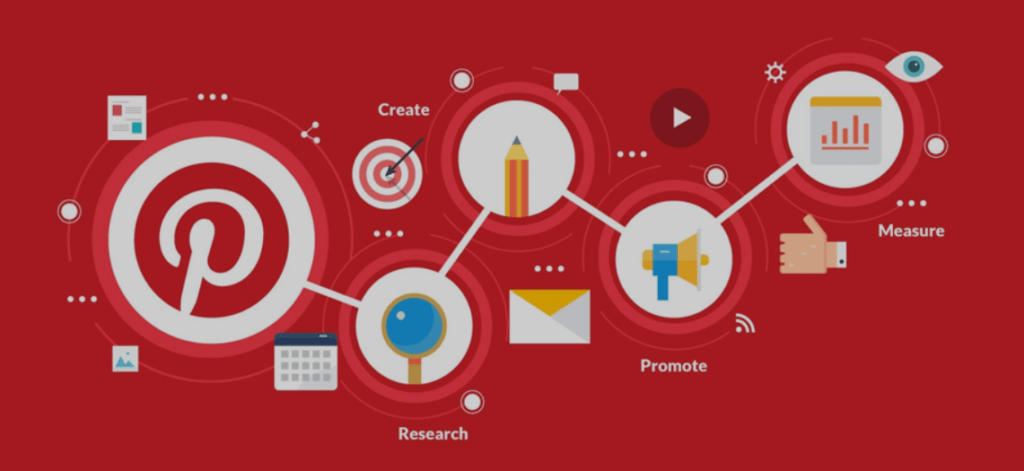 How do I do a Pinterest giveaway?
Running your first Pinterest giveaway may take some getting used to, but it will soon be a breeze – especially with the help from this section of our guide.
First, you need to know the rules and set up your giveaway.
Set up your giveaway
We have noted the types of giveaways you can run on Pinterest (in the next section). That's to say, when you do a giveaway on Pinterest, as a priority, you need to decide what type you want to do!
Create giveaway rules
Next, when you run a giveaway, you must include your terms and conditions or rules.
The rules will tell users exactly what to expect from your promotional campaign and give them guidelines to follow.
Here is what we recommend including in your rules and terms and conditions:
Your business information (your name and any website links)
Giveaway deadline (when submissions close and when you will announce a winner).
Eligibility rules of who can enter (age, location, and any other restrictions.).
The instructions on how people can enter.
How you will select and inform the winner.
The prize details (including the number of prizes and description).
Details of how the prize will be delivered.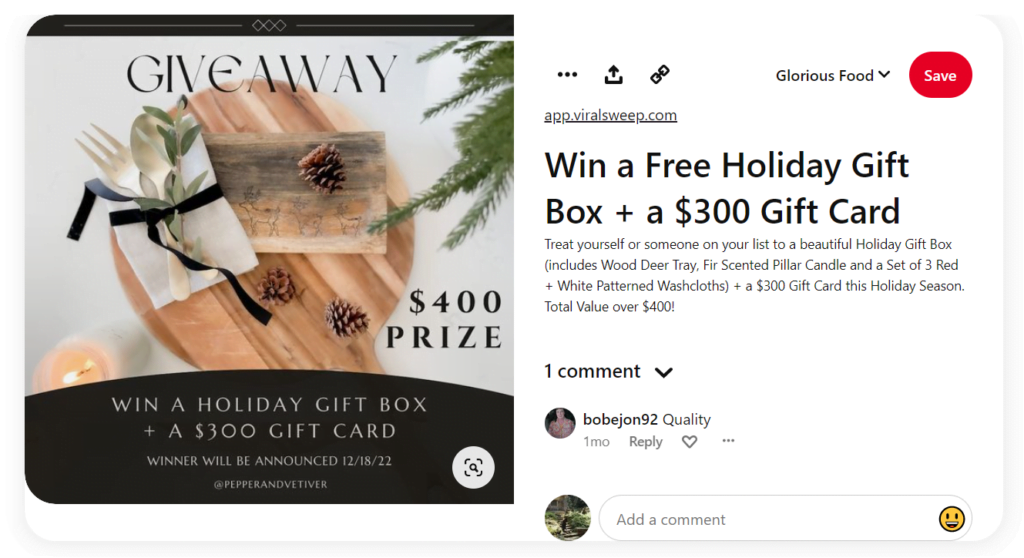 Choose your duration
When setting up your giveaway, you must decide how long you want it to run. There's no one-size-fits-all answer to this question, and your decision will be influenced by what type of contest you're running and how big your following is.
Don't sweat it. We recommend you keep your giveaway running for somewhere between 1 to 3 weeks.
A contest that runs for a month or more might drag on and won't create an incentive for your audience to enter immediately.
You want to give enough time for new audiences to find you and for your existing audience to enter comfortably. This timeframe will be especially important if you're giving away a valuable prize or if you have a small following and need extra time to build momentum.
Choose your prize
The prize will attract your entrants – it's center stage for your giveaway. This prize will drive the actions entrants will take on Pinterest, so pick a good prize!
The prize should attract your ideal target audience, so make it something that will draw them in.
Generic gifts will bring in users who aren't interested in your products, so you want to pick something for your potential future customers.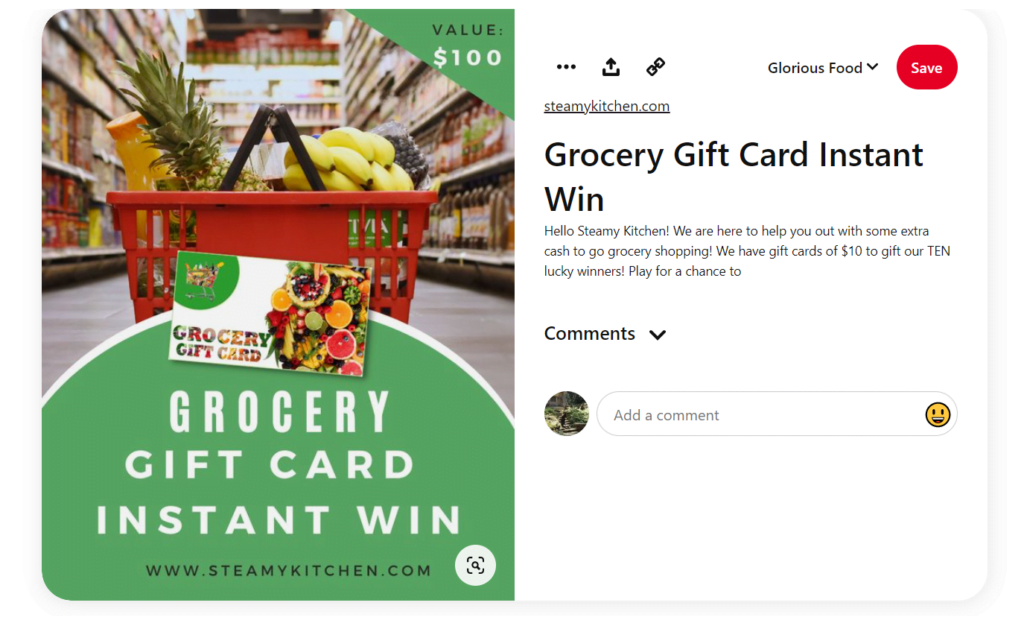 In addition to offering a relevant prize, you also want to ensure that the prize you offer is sufficiently valuable. The more your entrants need to do, the more they should get in return.
You can easily encourage entries by offering a high-value prize, especially when asking them to take high-effort actions.
Promote your giveaway
Once you set up your giveaway, you'll be ready to run it. Remember, you must promote your campaign to get as many entries as possible! If this step is properly done, it can lead to loads of entries and further brand awareness.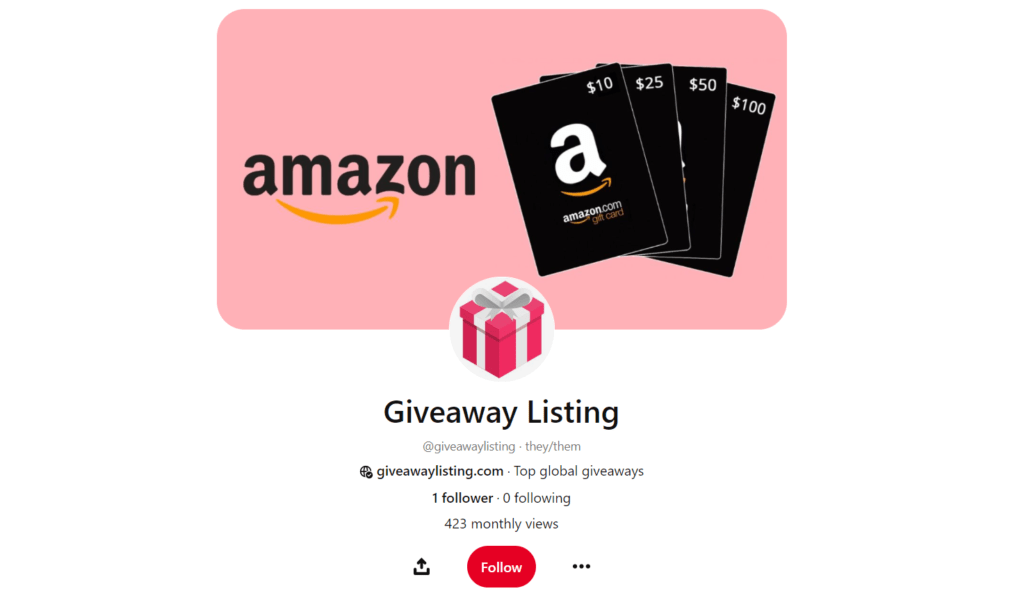 Next, we'll examine Pinterest giveaway types to help you get started.
What are the best Pinterest giveaway ideas?
There are many different types of giveaways you can run on Pinterest.
If you want to run an effective marketing campaign, you must pick the giveaway type that's right for you. Your overall marketing objectives should determine the type of giveaway you run.
Ask yourself some questions. Are you trying to grow your audience or engage existing followers? Are you hoping to promote a specific product or generate feedback about your business?
Whatever your goals, there's a type of Pinterest giveaway for you. We will give you 7 ideas to help you ask more useful questions and to run a successful giveaway.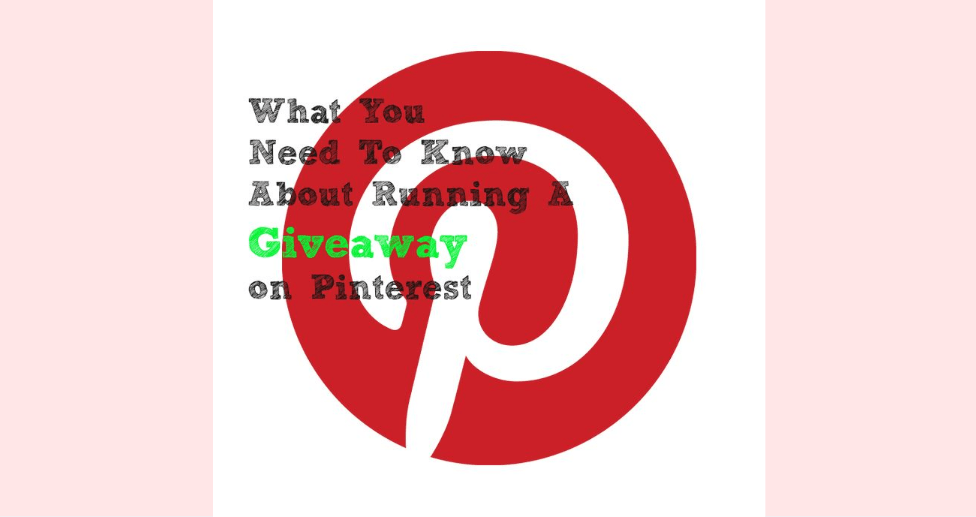 Ideas for a successful Pinterest giveaway
Here are 7 ideas for you to implement right now to help you run a successful Pinterest giveaway.
1. Direct giveaway
The first idea for you to consider is to run a contest directly on Pinterest. These simple giveaways allow users to enter the campaign directly from the site without submitting any additional personal details and information.
These direct giveaways generally have low barriers to entry and are easy to participate in.
One downside to these contests is that you miss out on collecting identifiable information about your users, such as email addresses.
These giveaways are better suited for short-term campaigns rather than long-term commitments. Short-term giveaways provide instant gratification as opposed to slow-build revenue and growth.
The following Pinterest ideas will help you drum up interest and gain more instant engagement for your giveaways.
2. Pin to Win
The easiest Pinterest contest you can run is a "Pin to Win" giveaway. These simple contests only require users to repin the images of their choice from a selection you provide to enter the giveaway.
These giveaways are excellent promotional tools that encourage your audience to display your content on their account. They can also provide valuable feedback if you evaluate which images your audience prefers.
If you do decide to run this type of giveaway, keep it in mind you have to give users a range of image options and allow them to choose based on their preferences.
The easiest way to make this easy is to dedicate a new Pinterest board to your giveaway and fill it with images for the entrants to choose from.
If you use only one image, get them to repin that with a contest-specific hashtag (to make it simpler for you to find entries).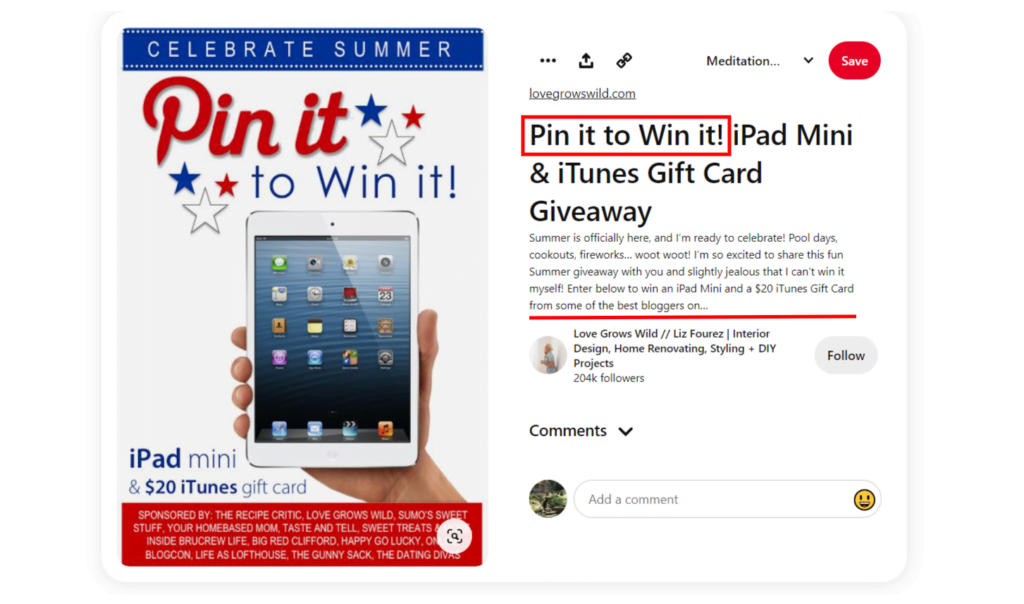 Another way to do this is to ask your users to repin multiple images. First, ask them to create a board on their account, name it the giveaway hashtag, and repin all of the images they choose to the board.
3. Create a Pinterest Board
This type of giveaway is very similar to Pin to Win, except instead of using your images on their board, you will ask them to create a board with any images they choose! However, the images should still follow a theme that you outline.
You could use a couple of your images, as some entrants might find this option tricky. If the images aren't what you expected, you could always pick your winners based on effort and merit.
The main function of these giveaways is to develop relationships with your audience, and they can also enhance your word-of-mouth marketing.
However, these giveaways require extra effort on the user's behalf, so you should reward that with a great prize.
Due to the extra effort needed, you will probably get fewer entries for this type of contest, so it's important to offer something valuable and promote the giveaway more to maximize participation.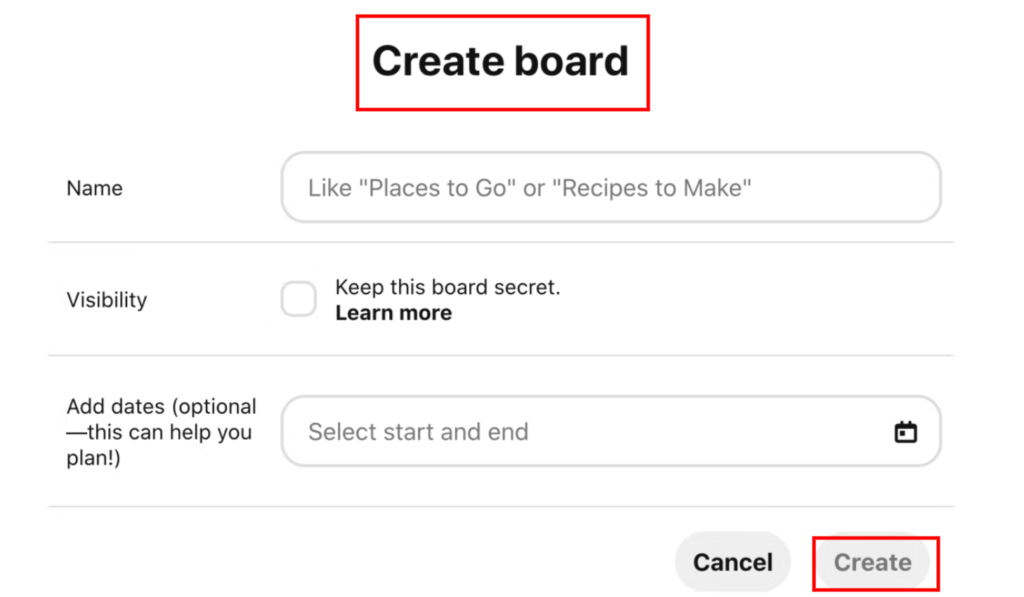 4. User-Generated Content
Another great way to collect and share user-generated content is by asking users to pin images following specific guidelines with a contest-specific hashtag.
Suppose you're a gardening company. You could use this giveaway type to obtain photos of what your audience has grown with your products. If you sell art materials, you could collect images of what people have created with your products.
You have to choose a winner based on effort and merit for this giveaway, and you can use the photo as promotional material afterward.
By asking for high-quality images, you will make your giveaway more engaging and competitive, and this can leave you with better UGC.
Bonus tip: To maximize the content you receive, run this giveaway across all your social platforms, not just Pinterest.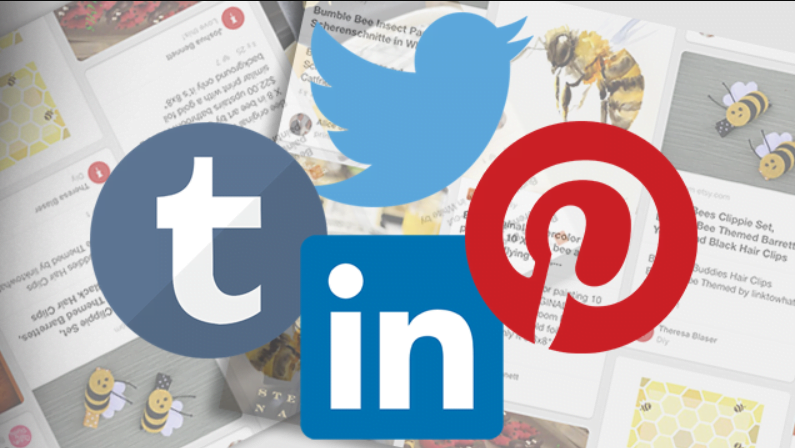 5. Feedback contests
These giveaway types are straightforward to run. They simply require users to comment (or provide feedback) on an image for a chance to win.
Pinterest giveaways like this are an excellent way to engage users while acquiring valuable feedback, hence the name!
You can use this giveaway to ask any questions you'd like answered by your audience. Such as asking them what their favorite products are or what they hope to see next from your brand. That way, you'll have inspiration for the direction you take next.
These seamless contests are all great ways to engage your audience, attract attention and promote your brand, but they aren't without limitations.
As mentioned earlier, these giveaway types won't allow you to collect email addresses or run many actions simultaneously. If you want to enjoy several benefits from your giveaway in one, you should consider running the next type of giveaway.
6. In-App giveaway
The most impactful type of giveaway you can run to incentivize many actions at once and drive Pinterest engagement is an In-App one.
For example, Gleam's Competitions App allows you to do everything seamlessly. You can design your giveaway, promote it, and advertise it on the site.
Check out our Gleam giveaway guide if you want to know more about using the app to host super successful giveaways.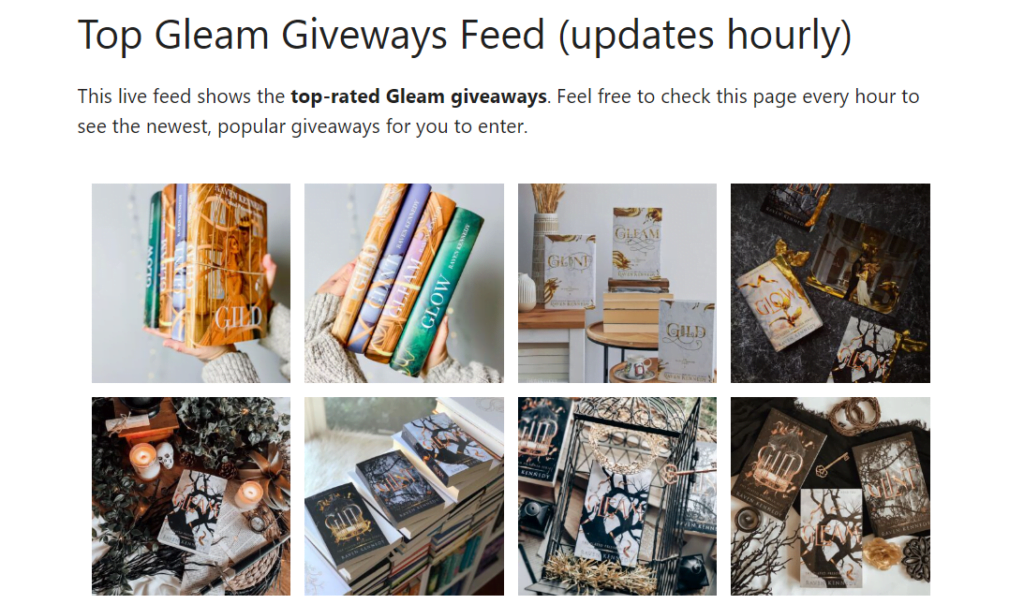 Running an In-App giveaway with Gleam isn't as straightforward as the others, but it's worthwhile.
Users will be required to follow the link you share and leave Pinterest. They will then need to enter their email address or other details and complete a set of actions.
It's not straightforward, but it doesn't prevent people from entering a giveaway. Especially not if the giveaway means winning an amazing prize.
7. Visit on Pinterest
As we mentioned earlier, your giveaway will allow you to drive Pinterest page visits, helping you grow your audience.
Users can enter your giveaway by visiting your Pinterest page from the whole web and not only Pinterest, so make your giveaway searchable online.
Use SEO and hashtags to help people find your giveaway. If your Pinterest page is full of engaging content, the visitors you attract will likely want to return for more.
As covered earlier, you can ask the entrants to do some of the following actions to win your giveaway.
Select a pin
Select a board
Other social media actions
Subscribe to a mailing list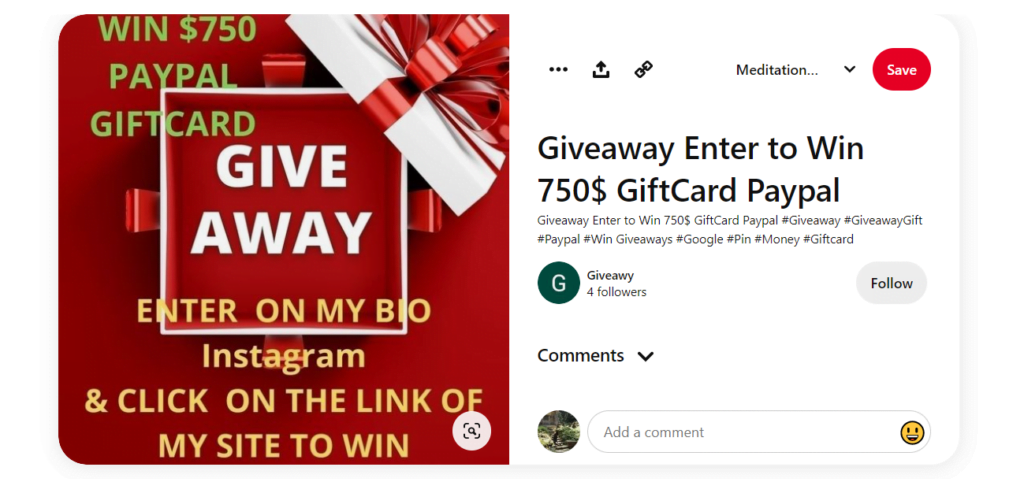 The above list is also a small selection of the actions available on Gleam. When running a Pinterest giveaway, using an in-app tool can be very helpful.
Now it's time to check out some of your burning questions and answers about holding giveaways on Pinterest.
Pinterest giveaways FAQ
Here are some of your most frequently asked questions about Pinterest giveaways.
What are Pinterest's giveaway rules?
Before getting started on Pinterest, you need to know their Contest Guidelines. Knowing the impact a Pinterest contest can have, you should ensure you get the most out of them by knowing the rules.
Familiarising yourself with the platform's community guidelines, which we provided above, is essential. For now, here's a brief overview:
You cannot allow more than one entry per person for your Pinterest giveaway.
When running a 'Pin to Win' giveaway, you must give people the ability to choose from a selection of images to pin. You cannot ask the entrants to pin one specific image.
Avoid using the platform for spamming your giveaway. Don't repeatedly post the same content or ask users to do the same.
Pinterest requires you to post relevant content to relevant boards. You need to avoid posting about your giveaway on a board that has nothing to do with it.
Do not state that Pinterest sponsors your giveaway.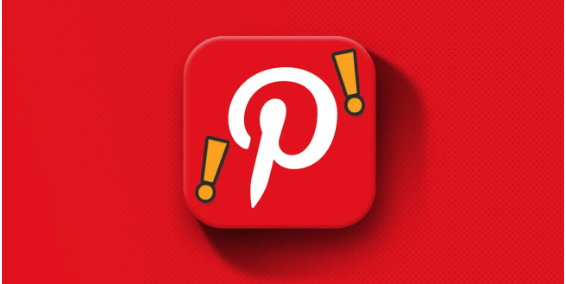 How can I make money on Pinterest without selling?
Did you know you can earn money on Pinterest? Technically, you can. As a small business, your possibilities are endless. We'll briefly cover how you could add this to your promotional activity alongside your giveaways.
Earning money on the site is easier if you are an influencer or blogger, or make sales online, although there are several ways to make money on Pinterest. Which method works best depends on your business and your strategy.
For online or product-sales businesses, you can catch the eye of customers on Pinterest in the research phase of your business. A whopping 85% of pinners (Pinterest users) say the platform is the first place they go to start a new project! Therefore, they're potentially looking for your products, and it's the perfect platform to showcase your products and drive sales.
Another way to earn money on Pinterest is to let shoppers purchase directly on the platform. Pinterest is the perfect place to drive traffic and sales for brands with an online shop.
It's simple, just use your pins (posts) on the platform to showcase your products and direct them with a link to your website and relevant product. You can also use Pinterest's shopping tool so people can purchase directly on the app!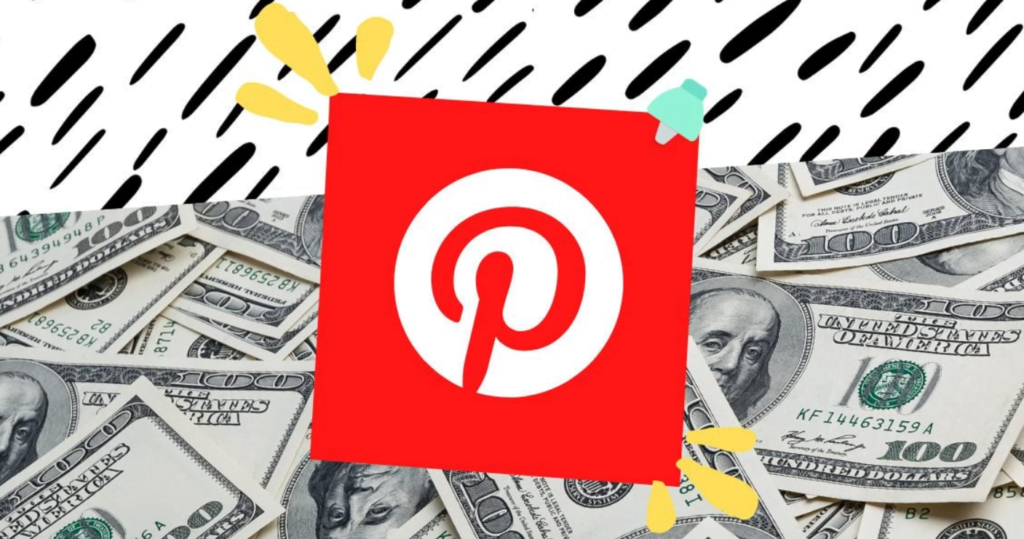 You can also make money on Pinterest by driving traffic to your website if you're an influencer and blogger.
It helps to think of Pinterest as another search engine, like Google, to maximize your reach. Combine SEO strategies with exciting posts to help pinners find your content, leading to clicks on your website.
With all of the above, why not combine your giveaway in the mix? All you need to do is link your giveaway alongside the above to maximize what you gain from your presence on the platform.
Those are a few ways you can make money on Pinterest right now.
Closing thoughts
Using Pinterest to host your next giveaway is a great way to meet your marketing goals, whatever they may be. If you're on the platform already or not, you're now ready to make a start on your first Pinterest giveaway. Good luck!
You're welcome to tag us on Pinterest @GiveawayListing, where we share a selection of the latest giveaways. By tagging us, you will expand your reach! Who knows, maybe your giveaway will be on the next live feed on Giveaway Listing's website.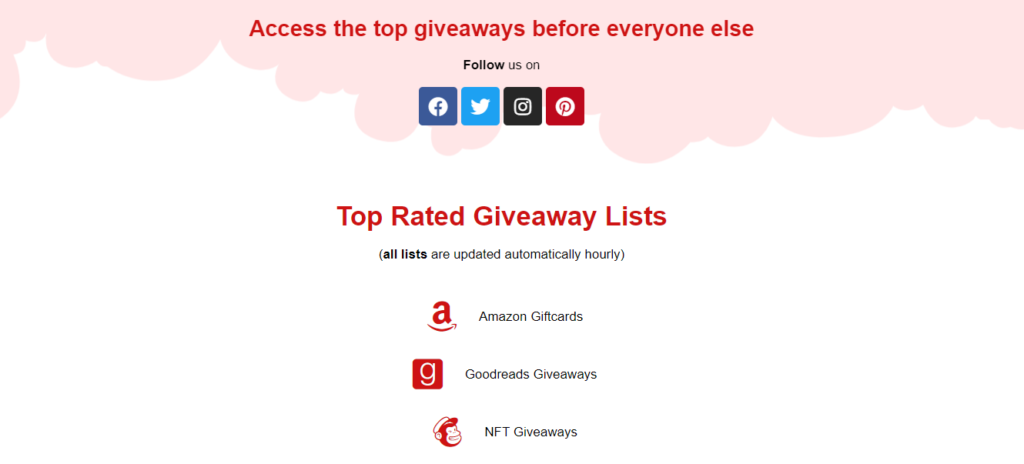 ____________________________________________________________________________
Enter Pinterest giveaways
You might use Pinterest to enter giveaways, but you might end up doing more than that! Just a word of warning, browsing on there can be addictive. Pinners easily spend hours on there.
Creating boards is one of the biggest lures to spending hours on the platform. Boards are full of images and information based on the creator's topic.
Thousands of boards on Pinterest are dedicated to various topics, such as comedy, animals, gardening, and even giveaways.
You will also find that some of those topic boards will have giveaways posted inside of them. For example, a board all about animals containing animal-based giveaways.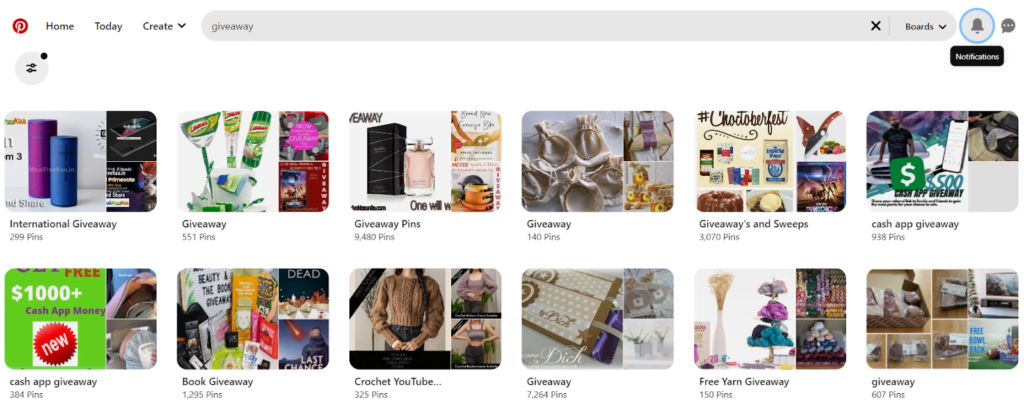 With that many giveaways to enter, we will first introduce you to the basics. Then, we'll help you find and win more Pinterest giveaways, which are sometimes known as contests.
What is a Pinterest contest?
A Pinterest contest is essentially a giveaway held on the site. There are many types of contests to choose from (we'll reveal what those are further on in this guide).
Pinterest's mission is to connect everyone through what they find interesting! It's one of the fastest-growing social media sites and does more than connect people.
The site helps users to collate useful information about upcoming projects or inspirational ideas, such as DIY and craft projects. Due to that aspect of the platform, crafty and arty giveaways are really popular on the site for all of the creatives out there.
No matter the giveaway prize, the popularity of Pinterest now means an increase in brands running promotions on the site. That's great news for everyone who wants to enter contests!
Pinterest contests are one of the most preferred ways to enter a competition for creatives, as they're fun and inspiring.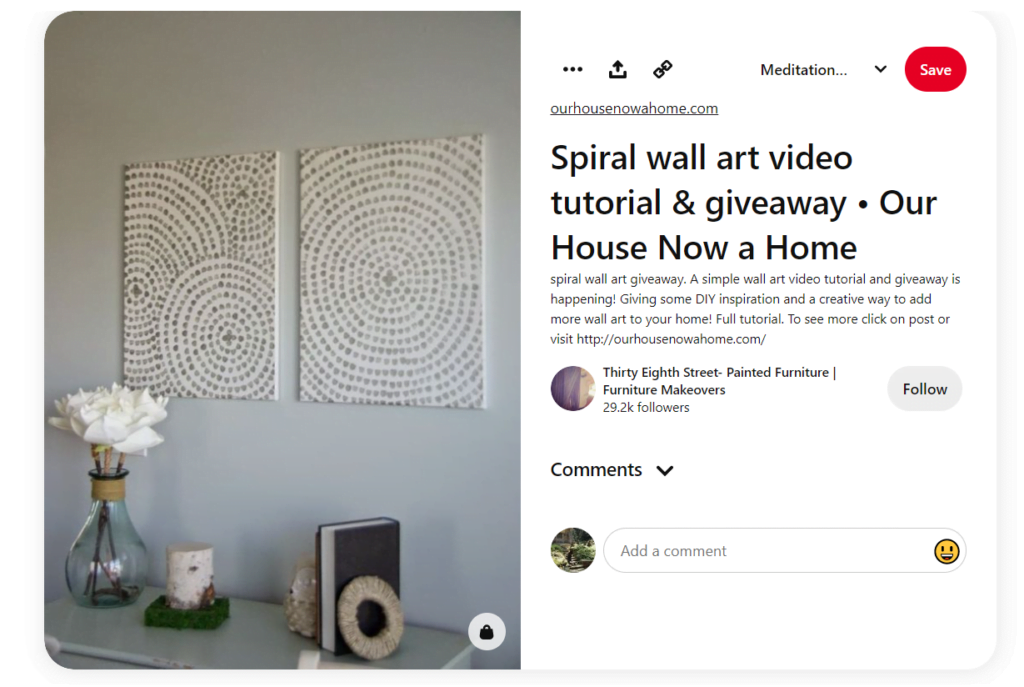 It can be time-consuming to enter Pinterest contests, but if you enjoy beautiful imagery, they make a nice change from laborious tasks such as filling in forms! Even if you're no budding artist, some Pinterest contests only require one or two action steps. So simple, anyone could enter!
If you're already a fan of Pinterest or not, you might learn some winning tips throughout this guide. So get ready to find out how to find giveaways on the site.
How can I find a Pinterest giveaway?
First, when answering this question, we have to ask you one! Do you have a Pinterest account? If not, we suggest you do – you can't make the most out of the platform unless you have one.
So to sign up to Pinterest, first you must enter your name, email address, and age, then follow the next steps to create your account. You must choose a username and upload a profile photo and short bio. Anything will do. You can be as creative and colorful as you want with your profile.
Next up, it's worth mentioning how you find a giveaway on Pinterest depends on the type you want to enter, but it's largely down to knowing what search terms to use.
There are only a few different styles of giveaways on Pinterest, but we bet more will be invented with the influx of influencers using the platform.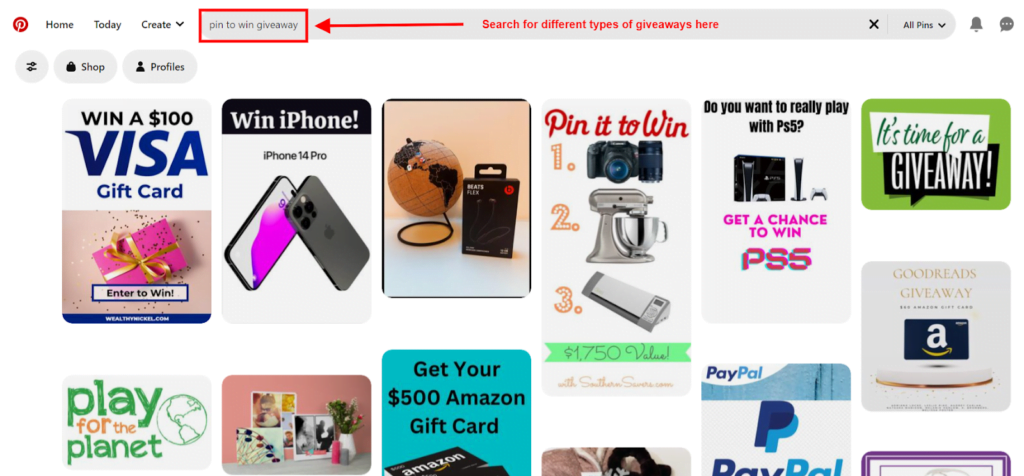 Like most social media giveaways, such as Facebook or Instagram, Pinterest giveaways are often creative contests. If the giveaway isn't driven by one simple action, winners may be asked to select images and pin them to a brand's board.
Then the winner will be chosen randomly or by the number of likes or repins the image gets!
You might not need to sign up to Pinterest for some giveaways, but that's very rare! The case when you won't need an account is if the promoter asks you to send a photo to them via another platform, which they will then add to Pinterest.
As a golden rule, Pinterest giveaways take place on the site. If you have other questions about how the platform works, you can always find out more on their Help page.
Next up are the types of giveaways you can enter. When you're finding giveaways, this step is crucial!
Enter Pinterest giveaways
Here are 7 tips you might not know about giveaways on Pinterest. Hopefully, these will help you find more giveaways!
1. Create boards
Tip number 1, you might be asked to create a board with a certain theme by giveaway promotors. These giveaways don't have a name but go by search terms such as 'create your own board.'
To enter these giveaways, you must pin certain items from the business' boards or website to your boards.
So for this, we recommend you have a selection of boards ready to go! The prettier your boards are, the better.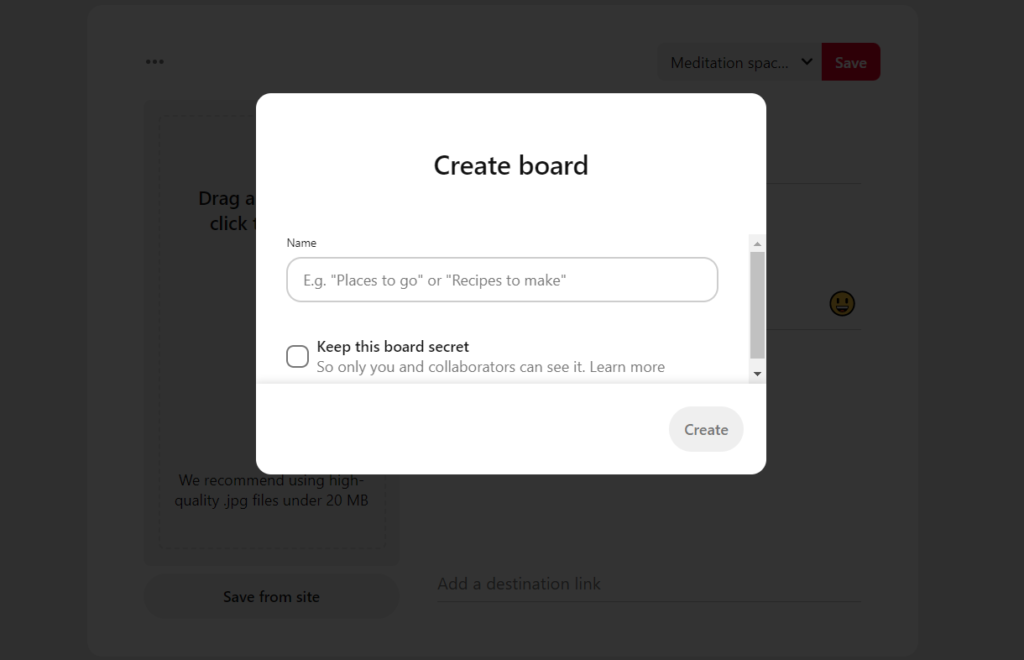 You should use relevant images that complement the brands you love. That way, your board will make their images look good, putting you in good stead to win when the giveaway is judged.
All you have to do to create a pin is to select an image and choose "upload image" into a Pinterest board. The giveaway entries are tracked by the board names or the giveaway hashtag used in its description.
2. Follow more boards
Another way to get yourself ready for more giveaways is to follow more Pinterest boards, especially from brands you love. With that action, you'll be given access to contribute to a promoter's board.
When you follow a board, the creator automatically adds you as a contributor. So when they run a giveaway, you'll be given access to upload a pin as an entry to a giveaway.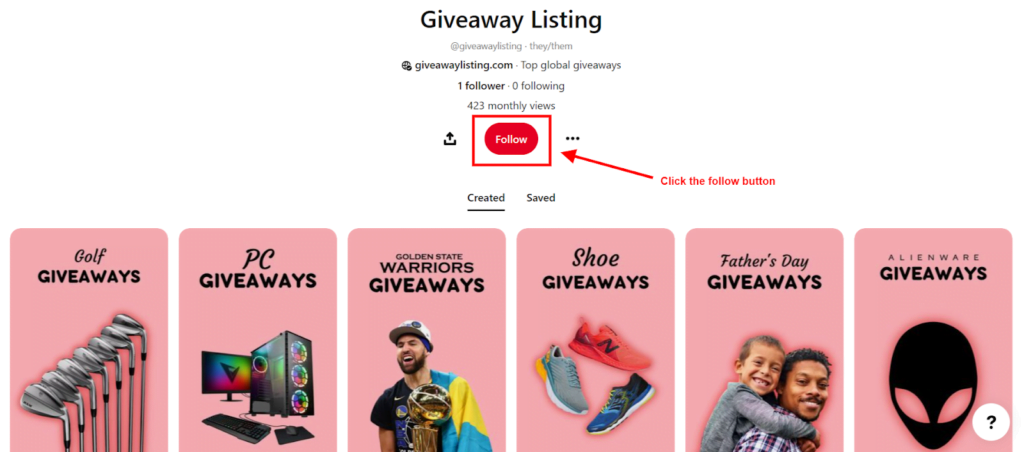 Bonus step: by the way, if you're finding it hard to keep up with the terminology, pins are images (or videos) that you can add to boards on Pinterest. You can add them from other sites or upload them from your computer.
To add an image from your computer, choose 'add' from the top right of your Pinterest page account, then paste in the URL of the website your image is on.
Bonus tip: download a 'pin it' button to make it easy for you to add images to your boards from your browser toolbar.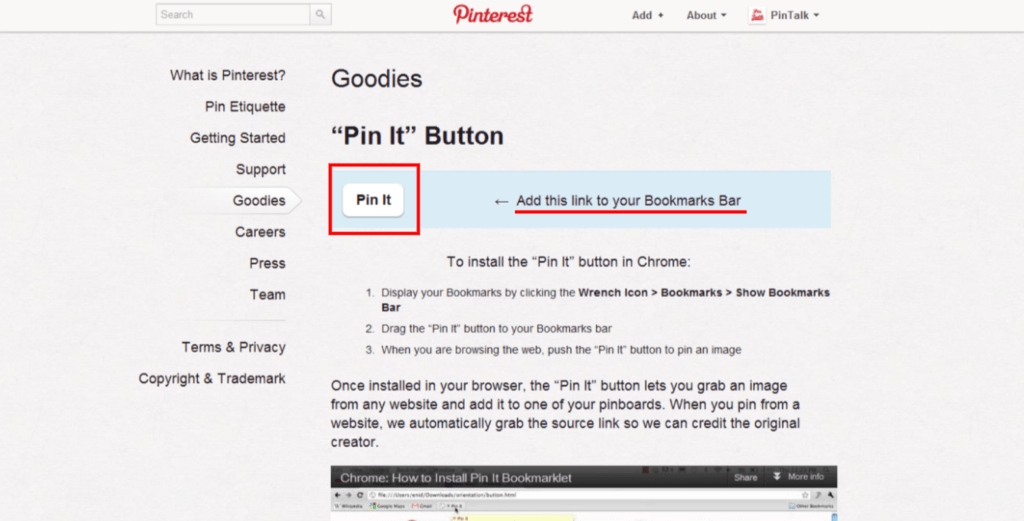 3. Repin giveaways
These giveaways are commonly known as Twitter-style 'follow and repin' contests. That's because they're similar to Twitter's retweet giveaways. They're quite boring to enter, but they are straightforward.
A giveaway holder will ask you to follow a particular board (or all of their boards) and then repin a specific giveaway image to one of your boards.
Winners of these giveaways are chosen at random. Much like Twitter's rules, if you spot a repinned photo on your friend's board, make sure you repin from the original board, not theirs!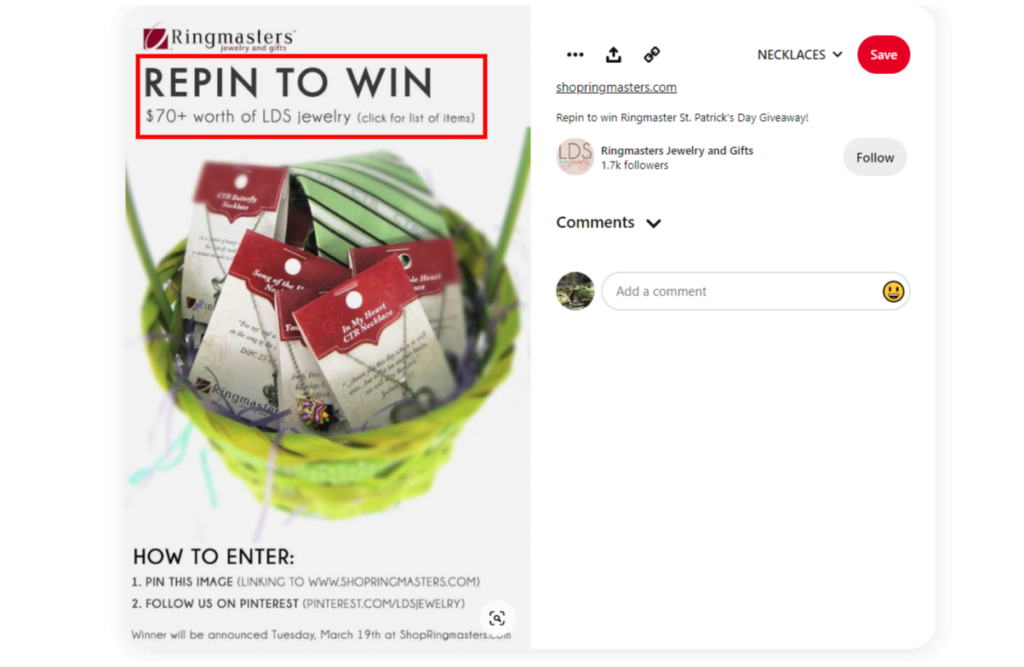 Take a look at where your friend (or competition!) repinned the image from, and choose that. If you repin someone else's entry, that won't count.
4. Voting giveaways
These giveaways are similar to those you can find on other social media channels! The benefit is they are simple to enter, but the downside is that they're not all that fun.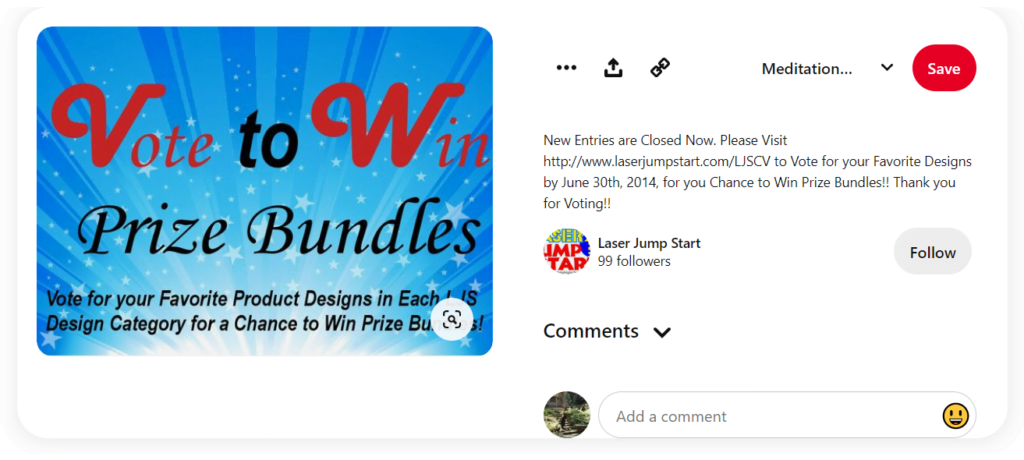 You can consider these giveaways based on popularity because the most popular one wins. The winner is the person who creates the content that gets the most repins or likes.
These giveaways can be interrupted by fake accounts taking all the winnings, as it's easy to create other accounts to vote for your entry.
Bonus tip: ask your friends to vote for you! It's not against any rules to ask for support for your giveaway entry, so share the link on your social media channels or email it to friends.
5. Know the rules
One issue with Pinterest giveaways is that the entry rules are typically on the giveaway image. The issue is that they easily get lost amongst the entries on the promoter's board, so the rules aren't easy to find.
Some promoters pin the giveaway description as their board 'cover,' meaning it's always accessible and easy to find! If not, you may need to hunt for the main giveaway image to find the rules.
Failing that, some promoters link the full terms and conditions and rules on an external website. You should check carefully before you enter, as many Pinterest giveaways are only open to US residents.
Bonus tip: You can find Pinterest giveaways by doing a Twitter search and entering a search term such as 'Pinterest win competition' or 'Pinterest giveaways' by searching on Google.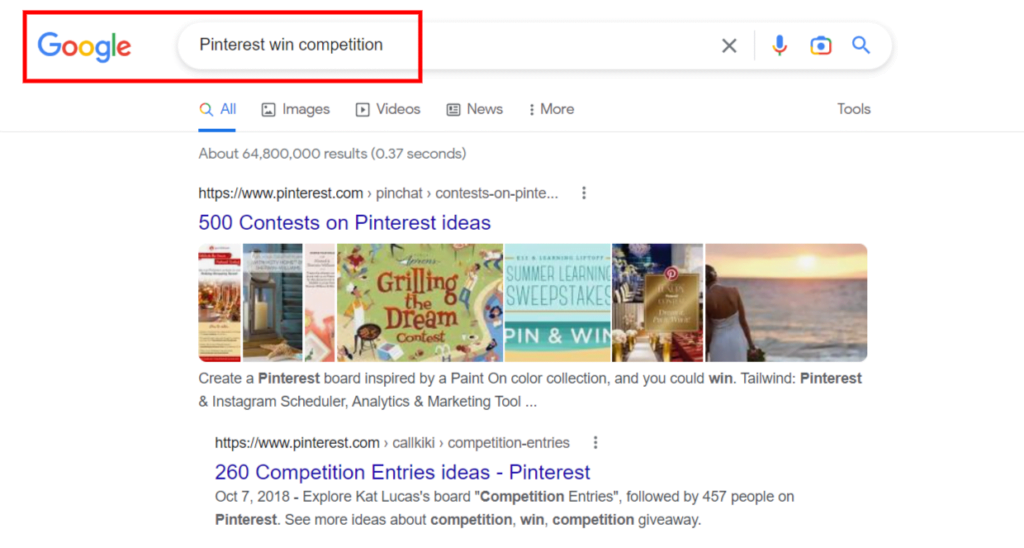 You can find all kinds of giveaways online using the search term 'Pinterest.'
6. Check if you've won
Another tip to ensure you get the most out of Pinterest giveaways is to check if you've won! This step is sometimes up to you, as promoters might not manage to contact the winners.
The reason for this is there isn't a messaging function on Pinterest. Suppose you entered a repin giveaway, they may comment with an '@ mention' to let you know you've won, but they will also need to follow one of your boards to do so. It isn't as straightforward as dropping you a message!
For contests where you need to create a mood board, you may need to email them a link to your entry. This entry method makes an easy case, as you will receive an email if you've won. And if you're a board contributor, they will likely comment on your entry to let you know you've won.
7. Giveaway Listing
The final step to ensure you find and win more prizes on Pinterest, follow us there! You can find the latest giveaways available from us on the platform @giveawaylisting. Not only are we on Pinterest, but you will also find live giveaway feeds across all of our social media channels and our website.
Giveaway Listing's website and live feeds of global giveaways
To find more giveaway accounts and people who regularly share giveaways, click on relevant hashtags in the search bar and tap on the results. By doing this, you'll find people sharing more giveaways. You can follow them or save a link to their account as a browser bookmark.
People who regularly enter and reshare giveaways usually do so via their social media stories, so make sure to tap and view their stories when you visit their profile!
What companies are running Pinterest giveaways?
You will find every kind of business and brand running Pinterest giveaways.
We recommend searching for your favorite brands and products on the platform and then searching for giveaways among their posts! You might also find that these brands will post on their other social media platforms, so we recommend you stay updated with those.
Following your favorite brands across all social media channels ensures you'll always be available to catch their latest giveaways.
As far as Pinterest goes, including our giveaway account, here are a few accounts dedicated to sharing giveaways.
Vast Giveaways are dedicated to gaming giveaways and sharing everything related to games. Tip: if you're a gaming giveaway fan – check out our PC giveaways guide.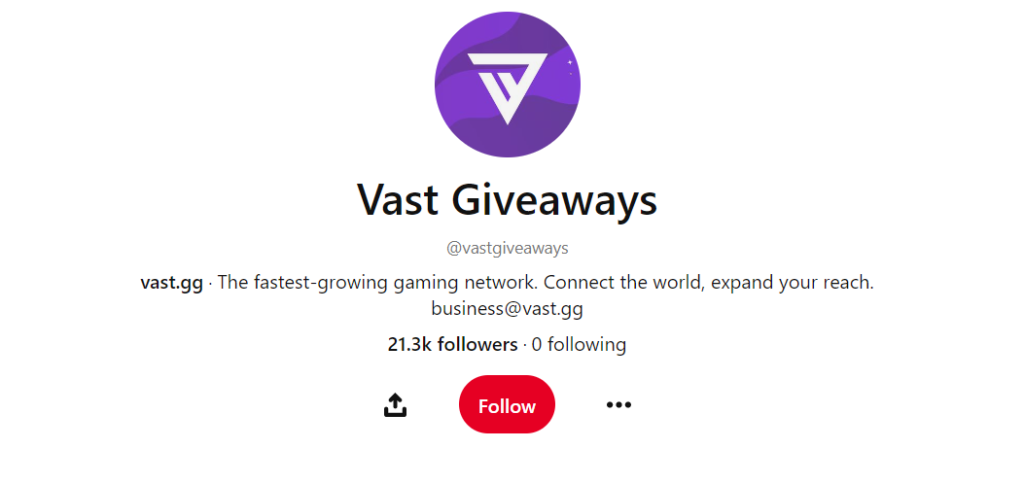 Homeschool Giveaways and Freebies offer weekly giveaways and subscriber-only freebies on Pinterest.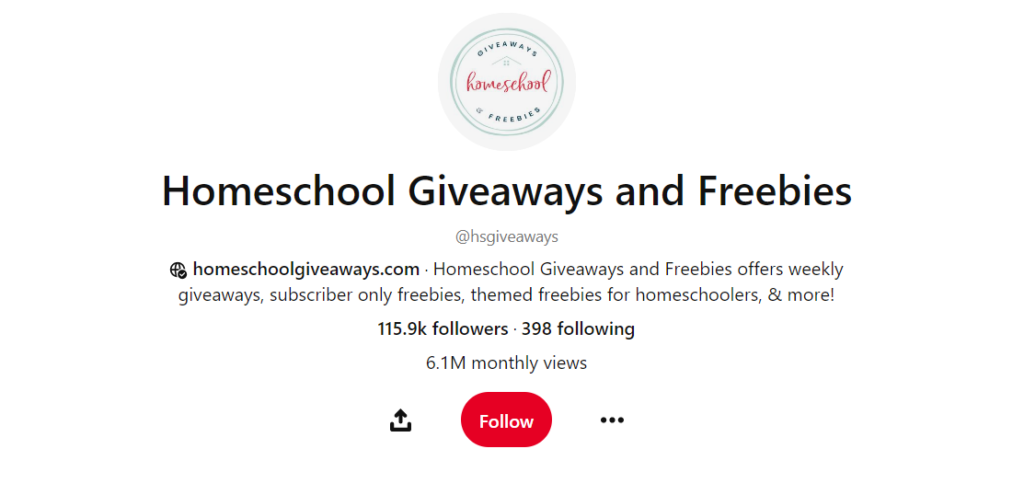 Giveaway Promote is a business that specializes in promoting other brands' giveaways.
Pinterest giveaways FAQ
Here are a couple of your most frequently asked questions about Pinterest giveaways.
What are Pinterest wedding giveaways?
Wedding giveaways on Pinterest are what they sound like – giveaways dedicated to weddings!
However, there seems to be a catch with these Pinterest boards, and you have to scour them to find anything worthwhile.
Most giveaway pins and boards dedicated to wedding giveaways comprise ideas related to weddings, but not so many giveaways. Further to that, the boards are helping giveaway holders get more ideas for wedding-themed giveaways, not for entrants.
What are Pinterest raffle giveaways?
Raffle giveaways on Pinterest are standard contests and giveaways you can find on any platform. These giveaways are searchable with the search term 'raffle giveaways.'
To find something worthwhile, you must search through hundreds of raffle giveaways like the above search term 'wedding giveaways.' Instead, you're better off searching on Giveaway Listing's dedicated giveaway Pinterest boards!
When searching for raffle giveaways, you can find products such as this diaper raffle game with a link to buy it. Again, this product is to help others hold giveaways, more than being suited for people wanting to enter giveaways.

Final tip: Check out Giveaway Listing for giveaways listed neatly in one place on Pinterest.
Don't forget to follow us on Pinterest!
Pinterest giveaways takehome
Pinterest might have experienced a slight decrease in active users in recent years. However, the platform still hosts top giveaways and allows brands to unabashedly promote their work.
Not only will you find giveaways you can enter directly on the site, but you will find other giveaways that direct you to other platforms, such as those on Giveaway Listing.
There is a diverse selection of contests to enter on Pinterest and over 400 million global users to share in the fun.
If you enjoyed this global giveaways guide, you should check the guides on GiveawayListing.com. Not only do we showcase hundreds of giveaways, but we create giveaway guides for our audience, like this one!
Let us know if there's anything you'd like to see next. Follow us on Facebook, Instagram, Pinterest, and Twitter for more giveaways and guides. See you next time!