Win TikTok giveaways in 2023
TikTok is the world's leading destination for sharing short videos via mobile. Their mission, according to TikTok, is to inspire creativity and bring joy.
Among the creative and joyful 15-second videos are challenge crazes, competitions, contests, and giveaways. All of these craze-y video giveaways are a big hit on the site!
Launched from Chinese headquarters in 2016, the app had approximately 1 billion global daily active users (as of early 2022). That's a shedload of TikTok videos and TikTok giveaways.
Despite political pressure to operate in certain places and its controversy, it continues to gain popularity. The viral and addictive nature of the platform looks to be driving its growth.
If you're not yet on TikTok, maybe you want to be! You might be looking for more giveaways to enter, and you've caught onto the craze-y hype train. Like the NY Times says, TikTok will change how your social media works — even if you're avoiding it.
There is never a time you won't find giveaways on TikTok! So if you'd like to get in on the action and know how to win giveaways on the platform, you've come to the right place!
We'll discuss everything TikTok related and how you can enter and win giveaways. Moreover, we'll help you maximize your winning chances!
Due to the sheer volume of people using the app and entering giveaways, you're up against a lot of competition. That's why we will help you get acquainted with the ground rules first. You can't enter and win giveaways without first understanding the basics.
By the way, we also have a TikTok giveaway guide specially dedicated to brands wanting to run viral TikTok giveaways. Check out our TikTok giveaways guide if you want to run a giveaway on the platform instead!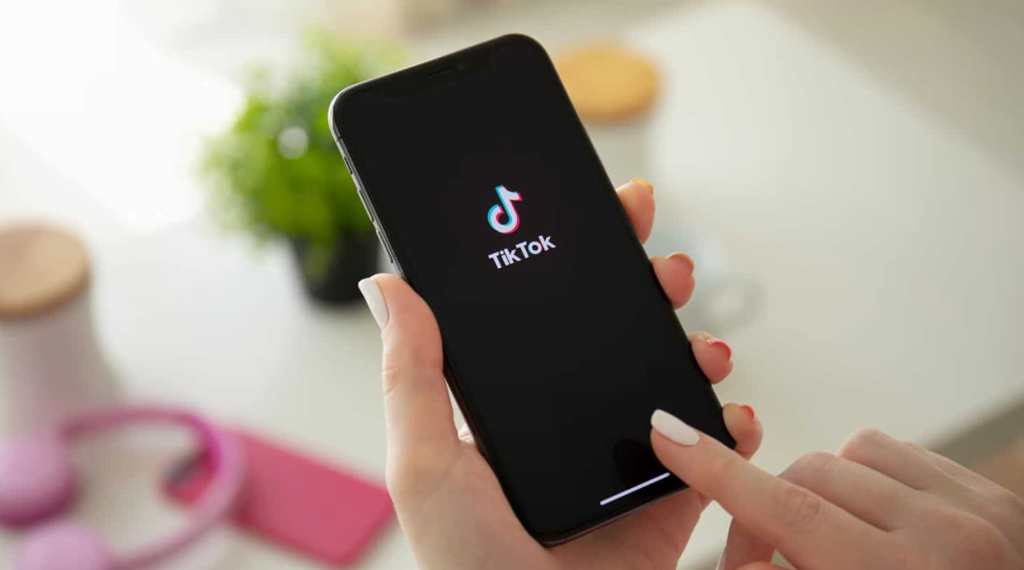 What is a TikTok giveaway?
Maybe you've heard the buzz surrounding TikTok and its hundreds of thousands of giveaways. TikTok giveaways, by their very nature, are usually viral ones.
You'd be right to think TikTok and its trends have impressed the social media world, as they boast over 3 billion downloads and counting. With that figure in mind, the odds are high that you could win a giveaway or two.
Back to basics, TikTok giveaways are hosted via a TikTok account or a third-party app on the social media platform by a brand, influencer, or anyone who wants to hold one!
As a giveaway participant, you don't need to worry about the fine details, but you'll find that bigger brands will host lavish giveaways while influencers might not. You'll also find that some giveaways are held by regular Joes, like your neighbors, just for fun.
That's not to say the smaller influencer giveaways aren't worth entering – in fact, there is less competition for those, so it's a great idea to enter those.
It's worth mentioning that the lavish giveaways may include using other apps to host the giveaways and offer expensive prizes. As bigger brands have a bigger budget, their giveaways may have more swag, but the functionality will be practically the same compared to other giveaways.
The smaller branded giveaways are down-to-earth. Still, their prize offerings may be out of this world! OK, back to reality, TikTok giveaways allow entrants like you to win prizes.
There are literally hundreds of thousands of prizes to be won on the site. They're all free prizes. You just need to spend your time to win them.
Let's help you get there by discussing and dissecting how TikTok giveaways work.

How do TikTok giveaways work?
We know what TikTok giveaways are, but how do they work? You might be wondering, how can I enter TikTok giveaways?
Whether you've just dipped a toe into the platform or dived head first, you will soon discover that giveaways on TikTok are easier to enter than they may initially seem.
The platform is pretty straightforward to navigate, but we'll cover some tips to help you squeeze the most out of the site.
The best thing about most giveaways on TikTok is how easy it is to enter them!
How do I enter TikTok giveaways?
How you enter a TikTok giveaway depends on the type of giveaway you enter. You will commonly find the following types on the platform, and each type might describe the entry method.
Standard giveaways (like, comment, share). To enter standard giveaways, you usually have to like, share and comment on the post. You might also be asked to tag a friend (or a few).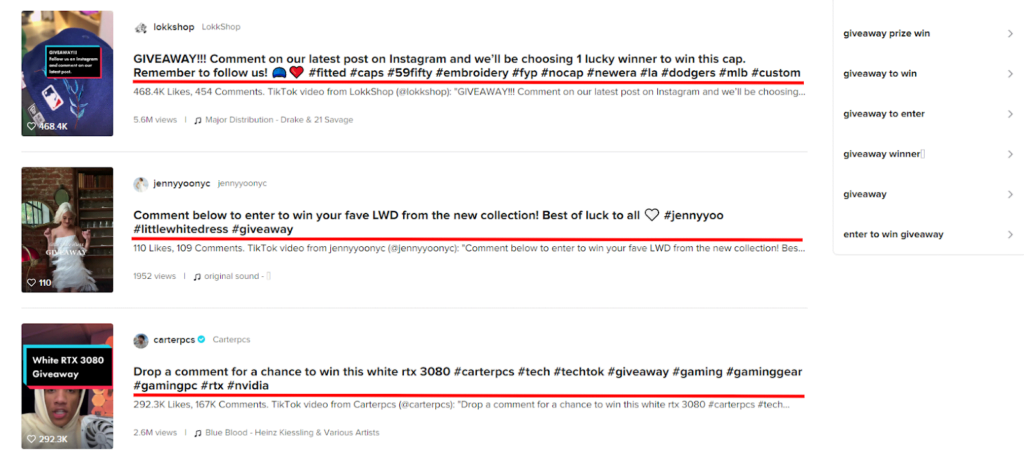 Challenges and contests
TikTok challenges are similar to contests. They're essentially giveaways, but you will compete against other participants while you get judged on your entries.
Challenges and contests have a "challenge" aspect to the giveaway and require a competition entry. For example, you might be asked to create a video as your entry submission, which you must submit to the giveaway host.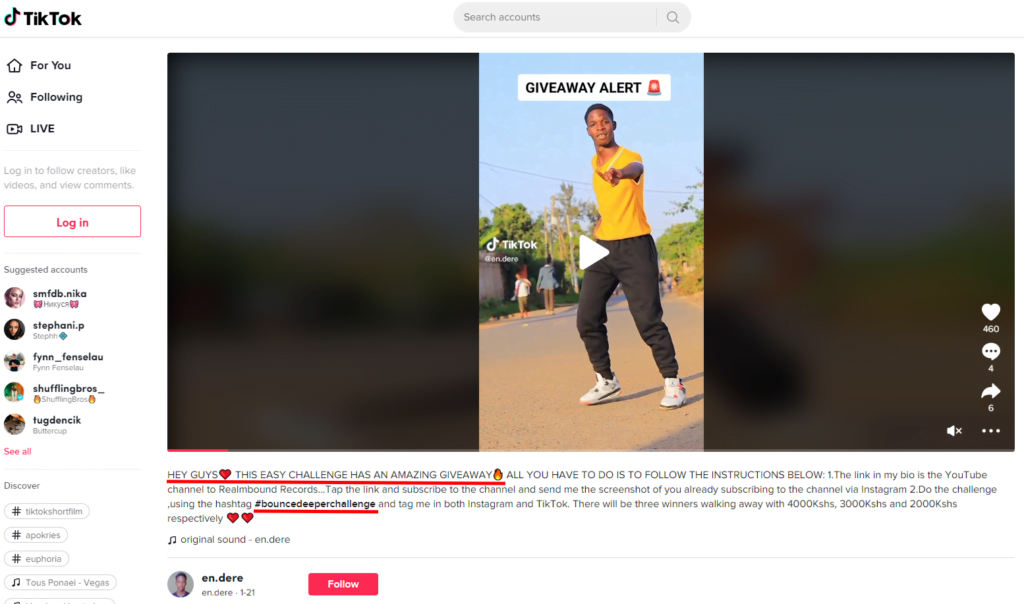 Live giveaways
TikTok live giveaways are precisely that. They are giveaways that are hosted live on the air.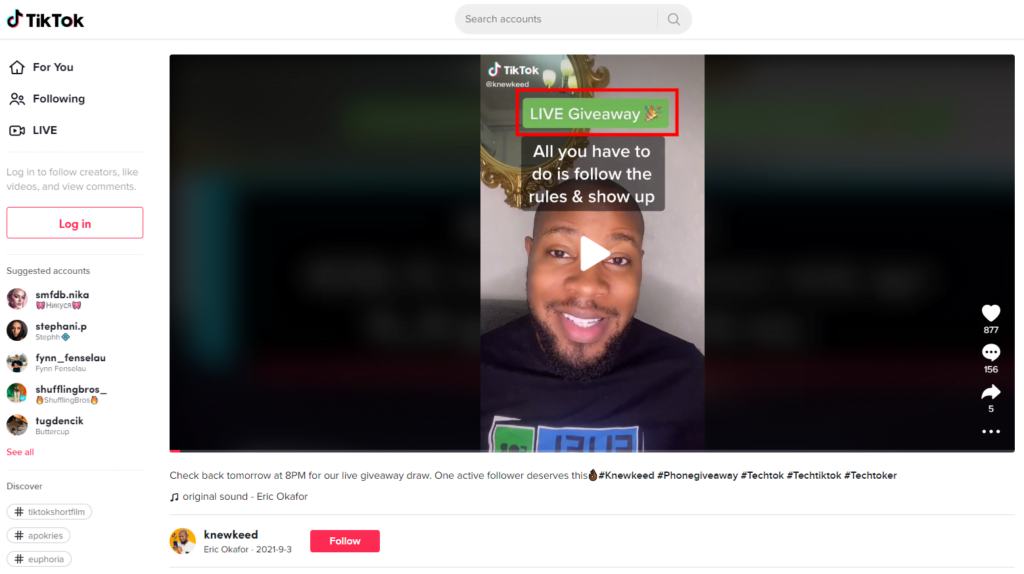 Bonus tip: Winning TikTok giveaways are straightforward when you know how to enter them. However, you need patience, and luck needs to be on your side!
There are a few secrets to consider when you are entering TikTok giveaways. Before discussing how to win the giveaways, let's examine why you might not win.
Obstacles to winning TikTok giveaways
There are 3 main reasons why people don't win TikTok giveaways, especially when the giveaway host uses "bots" to host the giveaway and pick the winners.
The predominant reasons people don't win are
They failed to play by the giveaway rules.
Their TikTok profile is not optimized.
Luck wasn't on their side.
Play by the rules
Most giveaways have instructions on entering to help you play by their rules.
For example, all you have to do is to like the post and follow certain accounts, comment on a post, or tag friends. You will be automatically disqualified if you don't follow all of the actions you're asked to do.
Another mistake people make is trying to do more than is asked of them! For example, if the host instructs explicitly to like the post and tag three friends, you should only tag three. Don't add or subtract from what they've specified.
Optimize your account
This tip is especially helpful for the giveaways you enter hosted using third-party apps.
TikTok optimization involves getting your account to a certain standard so it will be noticed and not ignored by the giveaway bot or tool.
The bots are programmed to look for certain things in the profile of every account that enters a giveaway. Your profile needs to have a bio description and a photo and essentially not look suspicious.
You don't have to have your location switched on to use TikTok. However, you should switch it on for location-based giveaways! You want to do this because the giveaway host can ask the bot to search through the selected accounts' locations. If your location is switched off, you won't get chosen.
Get lucky
If luck hasn't been on your side, you need to be persistent. Enter the giveaways as often as you're allowed, and enter more to maximize your winning chances.
Now we get how the giveaways work, and we're set to enter them. Let's tackle how you can win!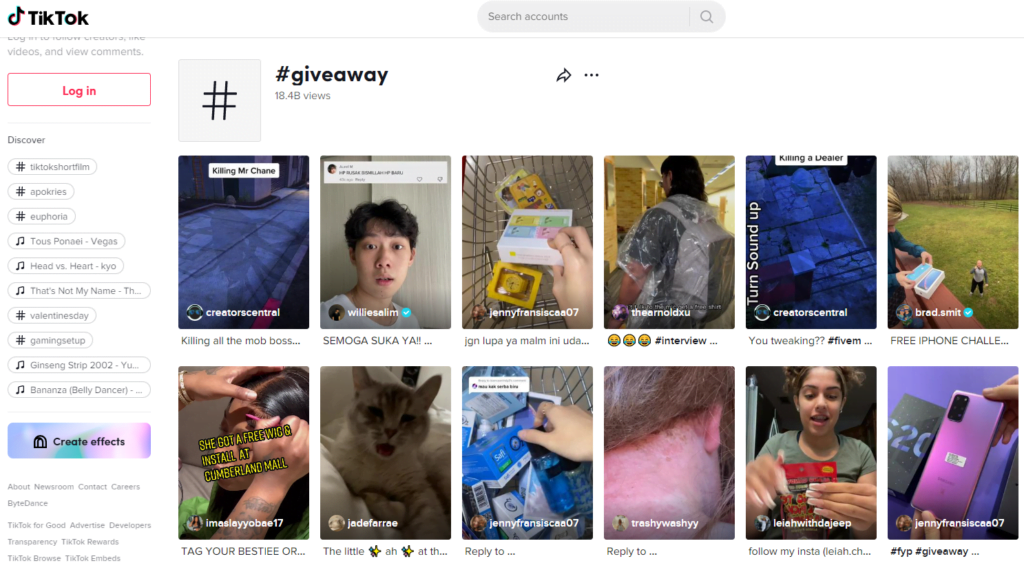 How can I win a TikTok giveaway?
Winning TikTok giveaways isn't as easy as entering them! So the following sections will examine how to win giveaways on TikTok.
Most giveaways run by reputable companies will make their winner selection process a fair one. In other words, the giveaway shouldn't be rigged, but you mostly have to rely on luck to win. However, some action steps can increase your chances of winning.
The exception to winning by luck is when your talent contest entry is judged, and you compete with others. To win those giveaways, you're relying on your talent!
You will find various giveaways on TikTok that require you to create original content for them!
Some accounts will ask for more than one action to enter the giveaway, which gives you a more significant chance of winning (such as following an account and commenting on a video to win).
Next on the agenda, we have the steps you can take to ensure you optimize your chances of winning a giveaway!
Win TikTok giveaways in 7 steps
Here is our selection of action steps to take to win TikTok giveaways. With these 7 steps, you'll know how to maximize your chances of winning a prize!
1. Define your search
When searching for TikTok giveaways, you should narrow and define your search with hashtags. Use the discover and search functions to search relevant hashtags!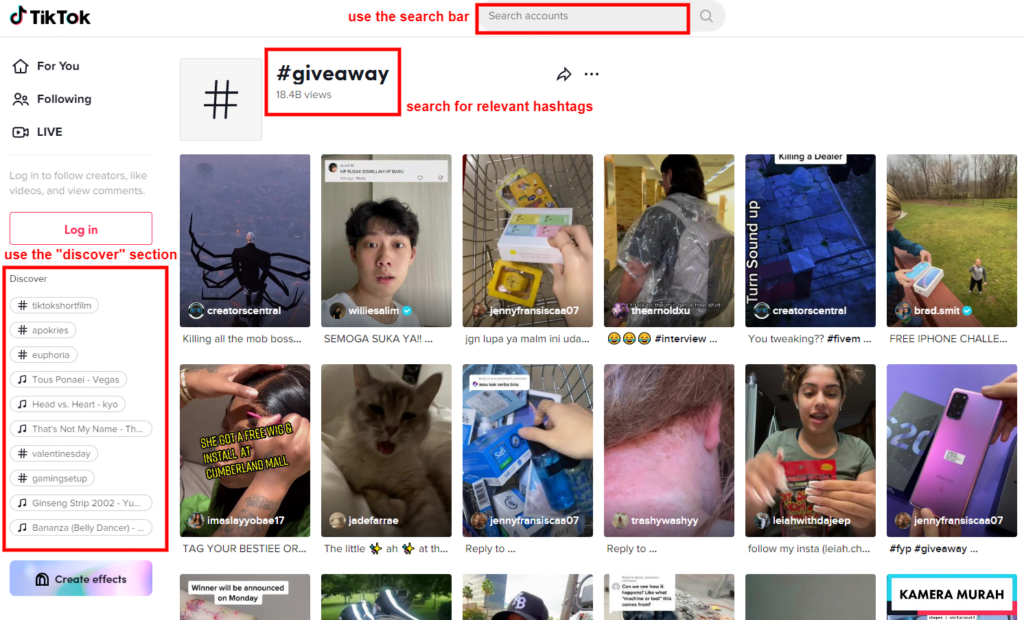 This action will take the stress off searching for giveaway accounts and following just about anyone. The hashtags on TikTok work across all types of posts and through comments and hashtags. You can search through numerous posts at once!
After this point, you can click on any hashtag you desire to get redirected to its feed. There you will find a selection of giveaway posts related to that hashtag.
To avoid forgetting what hashtags you're having success with, you can save all of your favorites. Whatever pages and hashtags you follow will automatically appear in your live feed.
Note: Every hashtag on TikTok has a unique URL!
2. Enter various giveaways
An excellent way to increase your chances of winning more prizes on TikTok is to enter more giveaways. Don't limit yourself to one type, and enter various giveaways instead!
Some giveaways require a straightforward entry action, such as liking a post or entering your email address on a third-party platform. As mentioned, there are other giveaways where you have to show off your skills to enter, such as video challenges and contests.
One added benefit of entering the contests is that most people will skip the effort it takes to enter them completely! That means there's less competition which means you have a higher chance of winning.
Tip: if you enter similar types of giveaways by certain brands, you may want to have a selection of videos saved on your phone and ready to go! You can use this folder to save all of the content you could potentially and exclusively use for giveaway entries.
Bonus tip: To go that extra step, when you enter a comment-to-win giveaway, you might want to add a video or a GIF to help your comment stand out! If the winner is selected manually, your comment is bound to get noticed!
3. Know your odds
It's important to calculate your odds when you're entering giveaways. In the mainstream market, thousands of entrants will compete for one prize!
Some TikTok sweepstakes get upward of hundreds of thousands of entries! To win a competitive giveaway or one with many entries, you must have a game plan for winning.
If you would like to avoid trying your luck with larger giveaways, you could stick to entering giveaways by brands with fewer followers and hope people don't discover them via the hashtags. Fewer followers mean you have a greater chance of winning the giveaway!
Another advantage for you is that most TikTok giveaways are advertised directly on the site instead of being shared elsewhere, so you have a greater chance of winning.
Tip: Look at a brand or influencer's number of "likes" on their accounts and posts to find out roughly how many people you will compete against.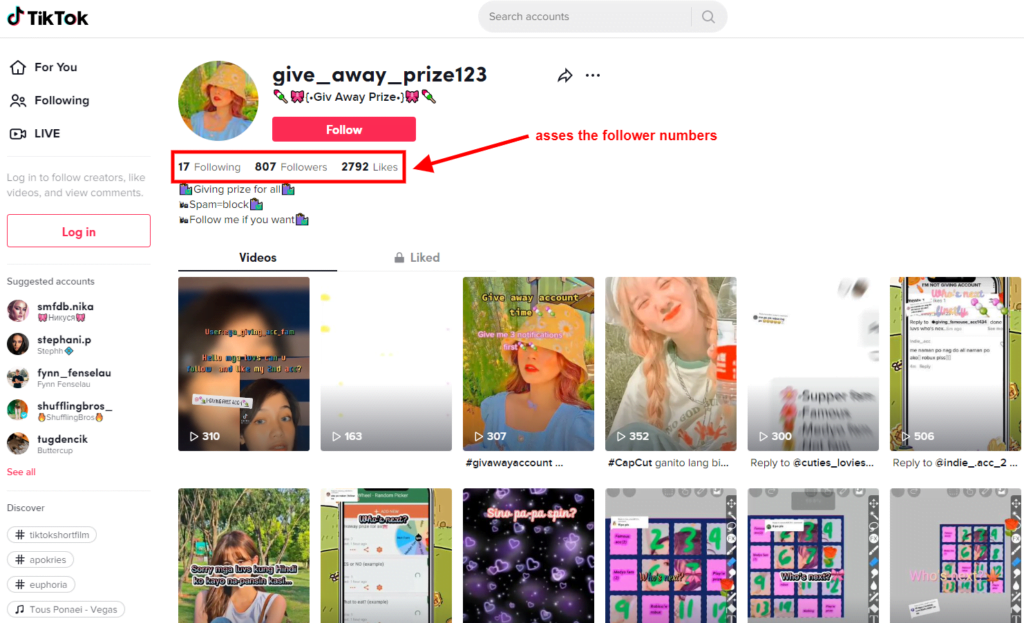 If a company has under 5K fans, you can assume that not everyone will enter. Your odds are far greater with that company than one with 300K fans!
4. TikTok giveaway accounts
To find several TikTok giveaways listed in one place, look for accounts dedicated to sharing sweeps and giveaways. You can find accounts such as Giveaway Palace re-sharing giveaways on the app.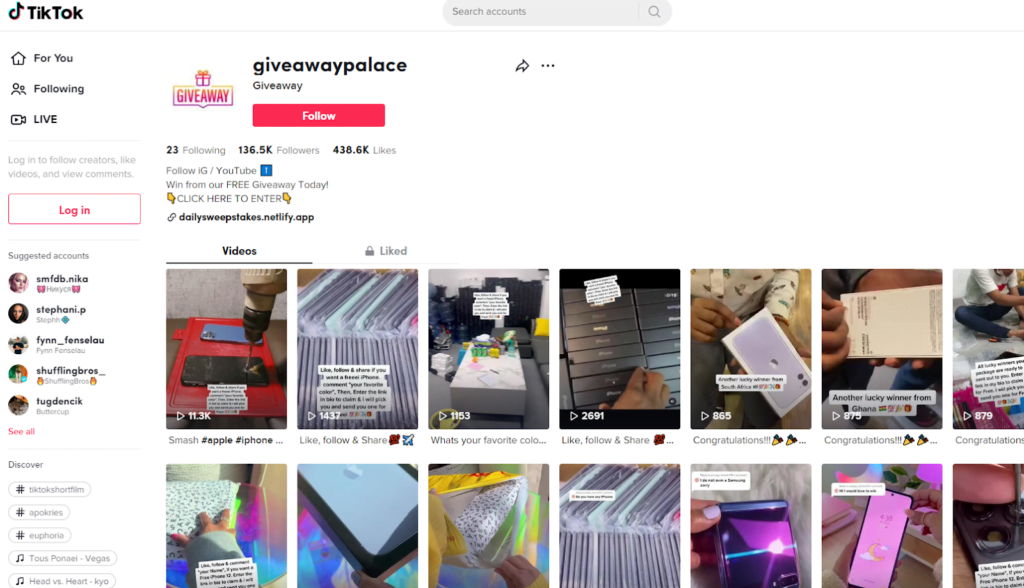 This group has over 130K members, and you will find daily giveaway posts there. However, be warned that some of the giveaways they share might not be advisable to enter, so do check them out before entering!
Some giveaways on TikTok might be disappointing, as you might find quite a few scams in your search! Wherever free stuff is being given away, you can bet opportunists are out to take advantage of people's sensitive information.
Once you have found legit giveaway accounts, browse them at your leisure and follow them to ensure they appear in your feed when using the app.
Tip: Each giveaway has a different entry method with different rules. Make sure you read the terms for each giveaway and contest you enter. You want to make sure your votes count!
5. Optimize your profile
To follow this step, you want to give your TikTok account a makeover. If you enter a talent contest or challenge giveaway, the judge (giveaway host/s) might view your account before deciding if you're a winner, so make it look good!
Choose a fun and friendly profile photo, and write an interesting bio to go that extra mile and make your profile stand out.
More than anything, you don't want your account to look like a fraudulent unused account! If the promoter manually chooses the winner, it will help your entry stand out!
Tip: Because challenge contest winners are rarely chosen randomly, we recommend you comment on a giveaway post even if the contest does not require it. That way, you'll stand out even more when the giveaway is closing. Your name will be on the top of the giveaway host's mind.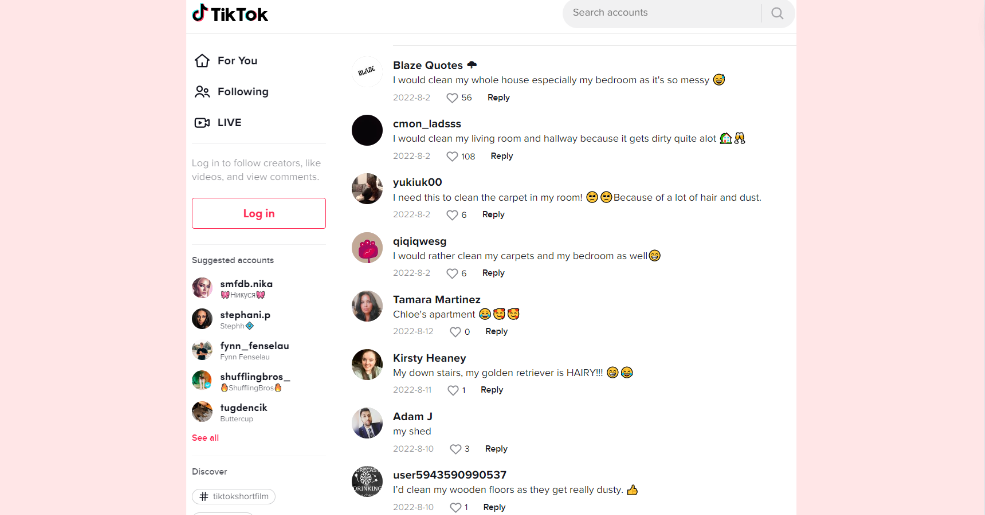 6. Make a late entry
This suggestion is especially helpful for contest and challenge giveaways. Entering a giveaway as late as possible for contests means your entry will be at the top of the pile.
In the meantime, before entering, write a comment on the giveaway post and interact with the giveaway host so that they know who you are.
When you send them your giveaway entry, you will have already introduced yourself to them, putting you in good stead to be remembered!
Tip: Don't forget to note all giveaways you have entered if you enter more than once. We recommend saving them all on TikTok.
When you do that, make sure you know when each one ends! You don't want to confuse the giveaway deadlines!
7. Giveaway Listing
The final step to ensuring you win more prizes on TikTok is to check out our website!
You can find the latest giveaways available at Giveaway Listing. Not only there, but you will also find live giveaway feeds across all of our social media channels: Facebook, Instagram, Twitter, and Pinterest.
To find the giveaways you're particularly interested in, check out each giveaway guide that interests you. For example, clicking on the NFT giveaways guide will take you to the guide. You can then find a live feed showing popular NFT giveaways on Instagram.
Our feeds are updated every hour, and you will find the newest top-rated giveaways. This list is filtered to provide the most accurate results.
So, our TikTok giveaway guides will contain all of the latest TikTok giveaways for you to enter!
Final tip: don't sit on promotions! Act fast because most standard giveaways on TikTok don't last very long.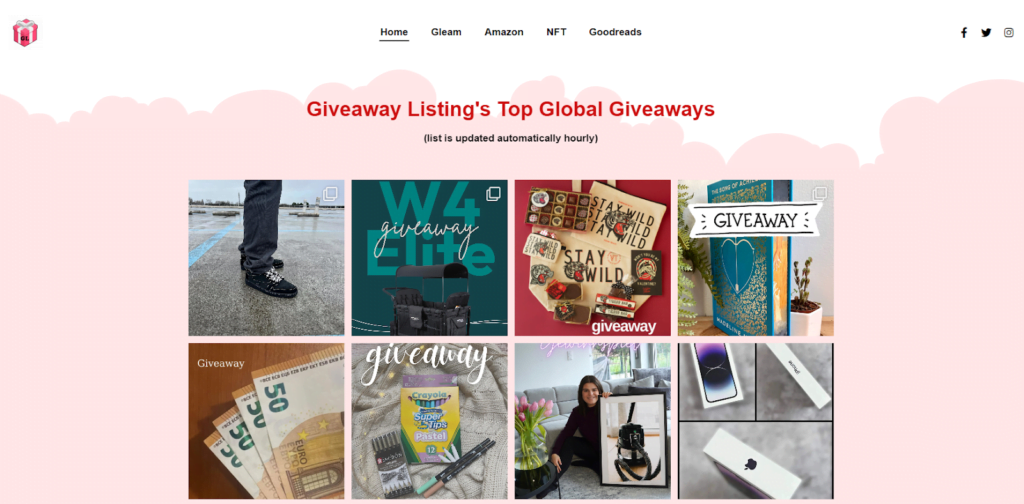 What prizes can I win on TikTok?
You can win all kinds of prizes on TikTok! The number of giveaways and various brands hosting the giveaways means that the prizes are just as varied.
Overall, the brands generally hosting giveaways on TikTok are beauty brands, various influencers, and fashion companies. The prizes are just about anything the giveaway hosts are selling! It's worth discovering if your favorite brands are holding giveaways on TikTok.
To find out, just search on the "discover" section of the platform and get typing! You will find many giveaways being shared via the app when searching through the discover function.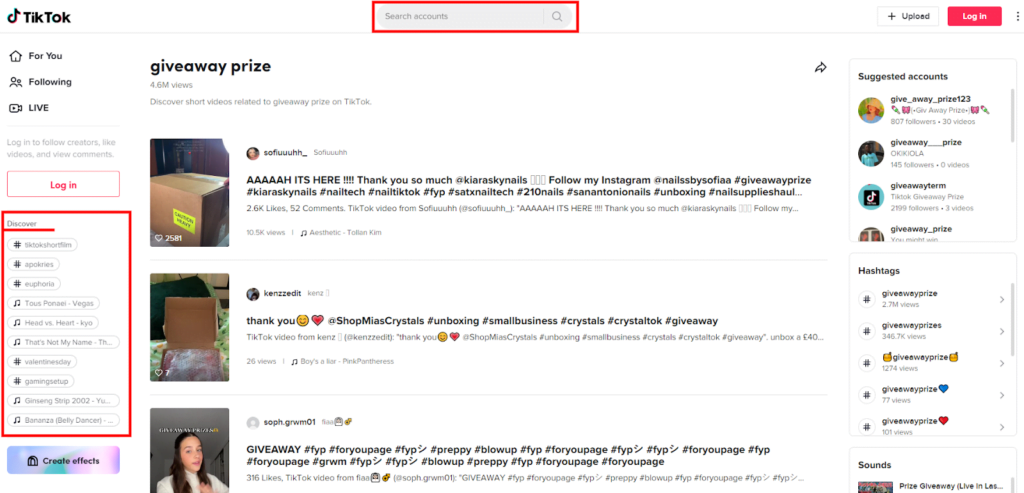 At a glance, the latest giveaway prizes that are top and trending on TikTok include:
Crystals
Beauty products
Nail extensions
Water bottles
Craft items
Clothing and t-shirts
Various gift cards
By the way, if you love free Amazon gift cards, you will love our Amazon giveaways guide.
Earn Rewards on TikTok
Did you know you can earn Rewards on TikTok? TikTok Rewards are a token of appreciation from TikTok to their global community of users.
You can earn TikTok Rewards when you invite a friend to join the platform. You can start earning rewards when your friend creates a profile and uses your invitation code.
If your friend goes to the activity page on TikTok, they can participate in watching video tasks, and you earn more TikTok Rewards!
Watch out, such activities are usually time sensitive. They must watch the videos within the specified time period for both of you to be eligible to earn rewards.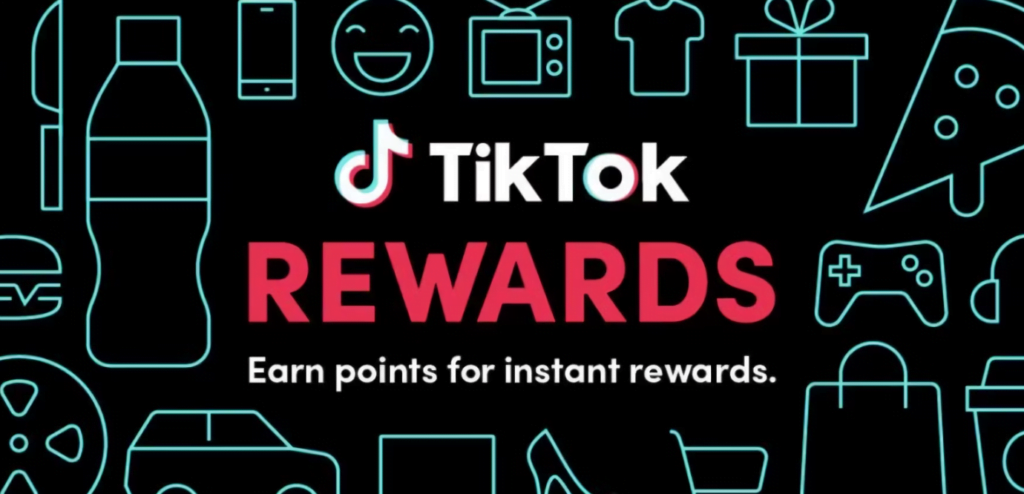 Win TikTok giveaways 2023 FAQ
Here are frequently asked TikTok giveaway questions and our answers!
Are there any giveaway accounts on TikTok?
There are many giveaway accounts on TikTok, but be aware that many don't always share relevant posts.
Some of these users trick people into following them by suggesting they're a giveaway account, but their sole intention isn't to provide you with giveaways.
You can find giveaway accounts by searching "suggested accounts" after you've searched for giveaways on the search bar. Just beware, you might be trawling through accounts that aren't relevant to what you're looking for.
What is a TikTok live giveaway?
A live TikTok giveaway is exactly that! It's a giveaway that happens live on the platform.
You, as a participant, can watch the business or individual hosting the giveaway and usually have to enter it while it's streaming live on air.
To check out live giveaways, just search for the "live" section on the app and search for giveaways in the search bar.
TikTok live videos allow everyone to interact in real time. You have to be aged 16 years and over to launch live streams and over 18 years to send and receive gifts (such as prizes) during a live stream.
What are TikTok raffles?
TikTok raffles are a type of contest and giveaway on TikTok. The only difference compared with standard giveaways is that raffles tend to be super easy to enter (and run – for the host).
Some of the largest companies capture their audience's attention with raffle giveaways.
As an entrant, you typically just need to show up and comment on the video post! After that, the host will draw a winner from the entrant's names. Sometimes, they may have an app with a casino-like function that lets them select the winner randomly and electronically.
TikTok hosts all types of giveaways on the platform, and raffles are just one of them.
What are TikTok challenges?
TikTok challenges are similar to contests (essentially giveaways) with a "challenge" aspect and require a competition entry.
For example, you might be asked to create a video as your entry submission where you perform the challenge that the host has outlined.
The challenge might be anything from a dance challenge to singing or sports! It really depends on the host and what they're selling. If the challenge isn't a contest, then it may only be a challenge without a giveaway aspect.
Most brands create branded hashtag challenges. To enter, you're usually asked to use their giveaway hashtag with your video entry that showcases a specific action, like the ones we mentioned above.
How can I find the best TikTok giveaways?
Finding the best TikTok giveaways is no easy feat. While thousands of giveaways are being hosted on the platform, what you think is the best comes down to personal preference.
Using the search function is your best bet while using the app. Using Google and other social media sites is another way to find what you're looking for, although it's not as effective.
We may be biased, but we would say you'll find the best TikTok giveaway listings on Giveaway Listing!
We have a whole selection of live feeds and regularly updated giveaway lists for you to browse. Whether you're looking for TikTok giveaways or otherwise, our lists contain top-rated international giveaways.
A final word on TikTok giveaways 2023
So that's it! Now you know more about how to win TikTok giveaways, it's time to enter more of them and hopefully win more!
Do you need any more help from us? Let us know if you do! Follow us, and feel free to contact us on our social channels: Facebook, Instagram, Twitter, and Pinterest.
Now you know, TikTok's algorithms help you find the best viral giveaways while using the site, and we've discovered that its users' actions drive the platform's content.
The popularity of the giveaways is fuelled by billions of people sharing videos and the creation of hashtags, contests, and challenges – it's no wonder that giveaways are so popular on the site.
Once you're using the platform and entering the thousands of giveaways, you'll also direct the flow of what's trending.
Speaking of trending, we have thousands of live giveaways regularly updated across all our channels and website. We recommend you check us out at Giveaway Listing to see the latest.
And by the way, if you need help winning other social media giveaways, we have made giveaway guides for Facebook and Instagram, to name two. More than that, you will find many more giveaway guides on our site!
Until next time, good luck, and let us know how you get on!