Festival giveaways overview
If you've been to a music festival, you know the experience can be an ecstatic one. The shared love for music brings people together. Thousands of us are uplifted and connected at once.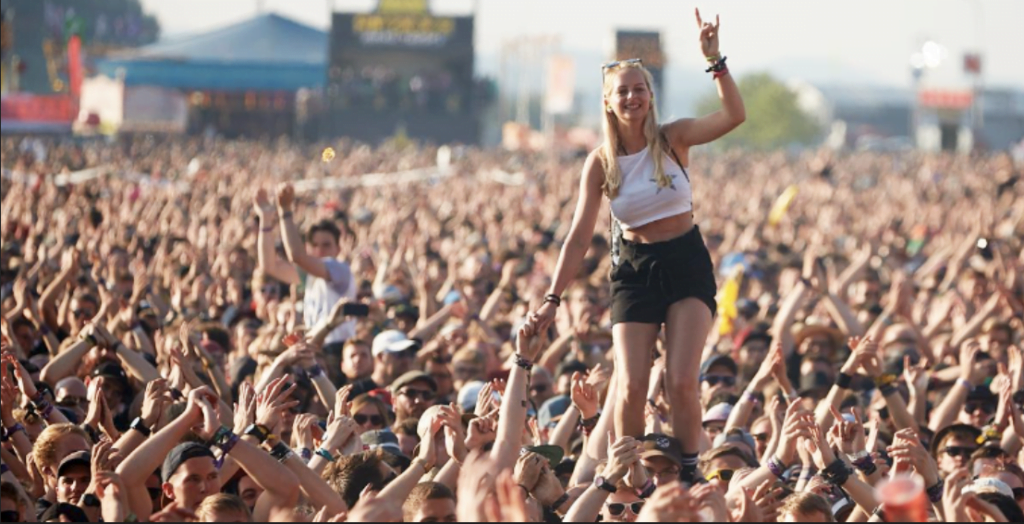 What's more, with the evolution of business models and advertising aimed to enhance that, comes new and exciting ways for brands to attract more fans like us.
The power of music and the thrill of giveaways combined create a new feel-good kind of buzz. So it goes without saying, festival giveaways are all the rage and there's much to rave about!
In this jam-packed article all about festivals and giveaways, we will highlight how you can find the best festival giveaways to enter.
What is a festival giveaway?
Festival giveaways are an invaluable marketing tool for festival promotors and artists while also being a big hit with music fans.
Music lovers are priceless to musicians and artists – without fans and connection, the show couldn't go on.
Festival giveaways allow festival promotors to expand their reach and draw in new festival-goers while promoting artists who hit the stage.
Fans are rewarded with tickets to performances, festival merch and custom prizes.
These promotional freebies help to create excitement as the festival draws near and enhances the fan experience. As if the free stuff wasn't selling it already.
We're sold. Where can we find these giveaways?
Where can I find festival giveaways?
The answer to this isn't straightforward, but it is plentiful. There's no shortage of festival giveaways and places to find festival giveaways.
It's worth studying our article as we've compiled creative ways you can find the best festival giveaways.
Here is a snapshot of how and where you can find festival giveaways. We'll explain all in our tips guide for finding the best festival/giveaways.
1. Research online
2. Festival websites
3. Social media
4. Forums
5. The lineup act's websites
6. Official sponsors
7. Use our database.
Whichever music festival you have your eyes on, follow our step by step guide to find the top hit giveaways and the best picks of the bunch.
7 top tips to find the best festival giveaways
1. Choose the festivals you want to enter

To narrow things down, especially as there are so many festivals to enter, we suggest starting by picking exactly where you want to head.
By being this picky, you will also guarantee you'll be dedicated to what it takes to master the giveaway and determined to win.
Choosing specific giveaways allows you to narrow a list of 100+ giveaways right down to 10. That way, the task at hand won't be so overwhelming.
From this point, you want to find out if the festival is holding an official giveaway or if you need to make other plans. Read on to find out what the different options entail.
2. Go to each festival's website
Once you have your list handy, go to each festival's website and find out if they're holding official giveaways.
If there is a search bar, use the search function to type the terms "giveaways," "contests," or "sweepstakes" remember that sometimes giveaways go by different names.
Hunt around to see what you can find on each website. If you found giveaways being promoted – great! You're set to start entering some of those. But what if you don't find any listed?
You'll find some festivals do, and some festivals don't hold giveaways. What can you do if you don't find an official giveaway?
3. Alternative search on social media
Step number three – try an alternative search. Still using your list, try your hand at making a search on social media to find giveaways associated with the festival.
You might find campaigns and promotions being run by affiliated brands or some random unofficial giveaways altogether.
You never know, but whichever kind you find, do what you can to make sure it's not a scam.
For example, Twitter, Instagram, Facebook and Discord will have various hashtags you can use to find giveaways. Just type the festival name and the search terms listed above to see what you can find.
4. Alternative search on forums
Alongside searching on social media, another popular tool for finding the best giveaways is often overlooked.
Forums and community sites list tons of giveaways from various businesses together in one place. Plus, the community aspect is helpful when it comes to checking the legitimacy of the giveaways.
The forum organizers should be doing regular checks for fraudulent activity, but the forum members will also do what they can to help one another and flag possible scam giveaways.
Reddit and Reddit/giveaways are just one example you could look through today to find festival/giveaways.
5. Check out the festival lineup and the band's websites
Let's get back to official giveaways. One great tip for finding unique festival giveaways is to check out the festival lineup's acts and find out if they're holding giveaways for the festival.
For example, the band Offspring played Rock in Rio in 2022, and held an event giveaway for a meet & greet opportunity at the festival.
You're mastering the festival giveaways now. Not only are you finding exactly what festivals you want to go to, but you're also finding ways to meet your favorite musicians!
There's another top tip coming up similar to this one, you just have to know where to search.
6. Check out the official sponsors of the festival
If you're lucky, you'll find the official sponsors of festivals holding giveaways. You might be in with the chance to attend a festival you love for free!
Take for example Vodaphone and Rock in Rio. Ten years ago, Vodaphone sponsored Rock in Rio and gave away free tickets – you can see more about that here.
But today, you'll find Vodaphone is sponsoring the British Summer Time festival. Here's their press release. Vodafone is offering customers an exciting opportunity to win tickets to BST in Hyde Park, London, through its VeryMe Rewards program.
In previous years, BST was sponsored by Fender and they held collaborative giveaways. So you see, take note of the festivals you want to enter and the current sponsors of each – find out if they're holding giveaways!
7. Search our database
This is one definite way you can stay informed about the best festival giveaways in the world.
Giveaway Listing is dedicated to finding the best festivals/giveaways and sharing them with you. As more is announced, you can be sure we'll be on the case. There are more festival giveaways than we can cover in this article, so you can be sure we'll be back with more.
As this guide suggests, search our database for relevant articles about festival giveaways of your choice. We will upload more festival giveaways as they happen. Stay tuned to Giveaway Listing.
Now you know all about finding the best music festival free giveaways, you're set to start doing just that!
But hold your horses and hold onto your hats, we're about to give you an overview of some of the biggest festivals in the world.
What's more, we're giving you an overview of some of the biggest festivals in the world's giveaways. The giveaways are pretty huge too.
Which is the largest festival in the world?
Carnival in Rio de Janeiro (Carnaval do Rio de Janeiro in Portuguese) is the world's biggest festival and might even top the records as its wildest party. Held every year before lent, Carnival is considered the biggest festival in the world which hosts two million visitors on the streets per day.
The Rio Carnival may be the largest and most renowned celebration in Brazil. Not only that, but it's also considered "the greatest show on Earth." In total, the event attracts around 5 million people each year, with a half-million of those visitors traveling to Rio to join the party.
This festival and amazing spectacle is filled with dancing, singing, and samba music. Unlike most of the music festivals we've listed here, Carnival is a celebration of culture that includes music. It had to make the list.
When it comes to official giveaways, does Carnival hold them? No, unfortunately, it doesn't hold its own giveaways. Moreover, the Rio Carnival organizers have tried to put an end to unofficial sponsors stealing the limelight.
It's typical for large events and music festivals such as Carnival to be victims of ambush marketing. Considered an advertising tactic, ambush marketing is a ploy used by companies to appear as an official sponsor of the event so the public ends up associating the brand with the event.
It goes without saying this type of advertising isn't "above board" like most forms of giveaway advertising we know and love.
Let's take a look at the biggest festivals in the world that do run their own giveaways and where you can enter!
What are the biggest festivals on the planet?
The best music festivals this planet has to offer aren't necessarily the biggest in size, but popularity says something.
If a music festival can attract millions of people every year, it must be worth looking into! Plus, do these festivals hold giveaways and does that attract more followers? Let's find out.
Here we've listed 7 of the world's biggest festivals, with information about their giveaways below, so you can find out if you'd like to enter any.
In no particular order:
Electric Daisy Carnival (Las Vegas, USA)
Coachella (California, USA)
Tomorrowland (Flanders, Belgium)
Lollapalooza (Chicago, USA)
Summerfest (Wisconsin, USA)
Creamfields (Cheshire, UK)
Essence
Here are a bunch of other music festivals which aren't currently hosting official giveaways, but even so, they are some of the biggest festivals in the world.
New Orleans Jazz Fest (NOLA, USA)
Glastonbury (Somerset, UK)
Sziget (Budapest, Hungary)
Rock In Rio (Rio de Janeiro, Brazil)
Woodstock (Czaplinek, Poland)
Mawazine (Rabat, Morocco)
Red Rocks (Denver, CO)
What are the best music festival giveaways?
1. Electric Daisy Carnival
This festival is a classic rave festival and one of the biggest electronic dance music festivals in the world. Held in Las Vegas, it's one of the largest festivals outside of Europe, with trap, bounce, trance, techno, bass, house, hard-style, and more genres of music.
EDC started as an underground festival that rose to fame in 2014 with the Sundance Film Festival documentary EDC 2013: Under The Electric Sky, which was based on the event.
Also held in Puerto Rico, Mexico, and New York City, its headliners have included DJs such as Armin van Buuren, Yellow Claw, Dimitri Vegas & Like Mike.
The best part, EDC runs amazing giveaways! If you head to their website, you're given an option to "sign up for the insomniac newsletter", you can find that here. By doing so, you'll get access to exclusive ticket presale codes, festival announcements, new music releases, contests, and giveaways.
2. Coachella
Arguably one of the world's most talked about music festivals, Coachella, held in Indio, California, is also one of the most profitable, grossing $94.2 million in 2016.
A popular festival for the alternative and indie scene, boasting headliners including Radiohead, Lady Gaga, and Kendrick Lamar. Coachella headlines big acts drawing in a bigger crowd.
Coachella also runs official giveaways and sweepstakes on its website. Currently available are VIP passes, ferris wheel vouchers, food vouchers, wristbands, and gift vouchers for festival merchandise.
Their VIP For Life pass to the festival, beginning in 2023, might be the biggest giveaway win you've ever had. The pass is valued at $999 per year and will allow you VIP entry annually for as long as the festival is running. Read more about it here.
3. Tomorrowland
Tomorrowland has exploded in recent years in the music festival scene. The festival includes a diverse range of music genres, from pop, and hip-hop, to dance and techno, house, and EDM.
This unique festival, based in Boom, Flanders (Belgium), comprises amazing lineups and unique offerings for the dance and music lover community. You can find both exciting upcoming musicians and renowned artists here.
Much like traditional festivals, Tomorrowland Music Festival is held in peak summer months, and as any evolving festival should, they hold their own giveaways. Specifically, TMF runs its own NFT giveaways, mixing both traditional ways and cutting-edge together.
This summer in 2023, Tomorrowland is set to release NFT to coincide with the festival, with a space online dedicated to NFT giveaways. You can enter and find out more about NFT on their website. If you'd like to know more about NFTs, check out our articles about NFT giveaways!
The festival organizers are looking to create an experience for fans worldwide that hasn't been done before. The introduction of Tomorrowland NFT is one of their many unique offerings which is expanding its reach as one of the biggest festivals in the world.
4. Lollapalooza
Lollapalooza is held in the heart of summer in July, based in Chicago, Illinois. It's not one of the oldest music festivals we've listed, but it sure is one of the biggest. It was initially scheduled to be a farewell tour of Perry Farrell, but it has become a regular music event ever since.
Lollapalooza Chicago has hosted hundreds of much-loved artists since its inception. Its previous lineups featured versatile acts such as Nine Inch Nails, Cypress Hill, SZA, Ice Cube, Red Hot Chili Peppers, Amy Winehouse, Daft Punk, and Sinead O'Connor. What's not to love about a diverse music festival? You can watch a pop act in the morning and go to a rave at night. Perfection.
What's even more exciting are the Lollapalooza giveaways. You can subscribe to their email list today to become a part of them.
Being a member of the Lollapalooza email list gives you some sweet perks all throughout the year. You'll be updated about exclusive deals, official after shows, contests, artist giveaways, and much more! You can sign up here.
5. Summerfest
Summerfest festival is one of the biggest festivals in the USA, but it's also one of the cheapest. Drawing crowds to Milwaukee, Wisconsin, the deposit for an all-access day ticket costs $20.
Summerfest also spans for the longest time, held over three consecutive weekends, it hosts over 800 acts and more than 800,000 music lovers.
The festival has seen the likes of Paul McCartney, Red Hot Chili Peppers, Pink and Bob Dylan, with next year's lineup already featuring Zac Brown Band.
Currently celebrating its 55th year of stomping festivals, Summerfest also gives back to its fans with prize giveaways. Currently up for grabs are pairs of tickets to a show of your choice for the 2023 season at the BMO Harris Pavilion or the American Family Insurance Amphitheater.
The prize shows include the likes of $uicideboy$, Alice in Chains & Breaking Benjamin, Pitbull with Iggy Azalea, and Tenacious D, to name a few! You'll find all of the giveaway rules on their website. Check it out here. You'll also find patrons who perform actions are able to enter the festival for free! More details can be found on Summerfest's website.
6. Creamfields North
Creamfields North is one of the most popular electronic music festivals in the world. It has a rich history and has hosted some of the biggest electronic music artists the world has seen.
To name a handful of much-loved acts – Fatboy Slim, Calvin Harris, Amelie Lens, Tiesto, Black Coffee, Solardo, Adam Beyer, Carl Cox, and Armin van Buuren have all taken to its stage.
Based in the United Kingdom, Creamfields North takes place in Daresbury, Cheshire in August. It's good to see an official festival giveaway on another side of the world.
Creamfields collaborated with EDM (Electronic Dance Music) this year to bring you the chance to win festival tickets and a bonus prize, the accommodation was covered. Even though this year's event has passed, you can try your luck for next year. Check out EDM for more.
7. Essence
The Essence Festival, also known as "the party with a purpose" and locally referred to as the Essence Fest, is an annual music festival that started in New Orleans, Louisiana in 1995.
The Essence Festival was initially formed as a one-time event to celebrate the 25th anniversary of a magazine that goes by the same name.
The magazine is aimed primarily towards African-American women, and the festival soon became the biggest African-American music and culture event in the US.
Essence Festival also runs annual giveaways, shared directly on their website. Use the search bar to find all the upcoming giveaways here.
Not in the USA?
As our list suggests, fans in Europe don't have as many official festival giveaways happening locally to them. Instead, festival giveaways are largely popular in the US.
While there aren't as many official giveaways for music festivals outside of the USA, you may find unofficial giveaways all around the world.
But, before you start searching for unofficial giveaways, we have more ideas to find official giveaways affiliated with the music festivals themselves.
Don't forget to take notes and use all of our top tips above to master festival/giveaways. Remember, if you don't get a chance to win free festival tickets, you might find other giveaway prizes on offer.
If you'd like to attend one of these festivals without free tickets, we've covered how much you can expect to pay.
How much does it cost to enter them?
The ticket prices for the biggest music festivals on the planet vary dramatically. From tickets ranging as low as $60 to $50,000!
We've listed the prices for those that hold giveaways – in case you can't wait to start packing for them!
Electric Daisy Carnival
The deposit for EDC tickets is $20 with the ticket prices ranging from $559 (general admission + passes) to $779 (VIP passes) and above.
Coachella
General admission tickets are $599 each and VIP tickets are $1,249 each, subject to change.
Tomorrowland Music Festival
Currently, Tomorrowland costs anywhere from $262 to $50,000! For most, the average range of a trip to Tomorrowland 2023 will cost anywhere between $1,500 and $7,000.
Lollapalooza
General access, general access plus and VIP tickets currently start at $350, $700, and $1600, respectively, plus fees.
Summerfest
Multi-day passes start at $60 and a 6-day pass starts at $105. You can choose which 6 days you want to visit Summerfest – the pass represents a $150 value. To enter Amphitheater shows you must purchase a separate American Family Insurance Amphitheater ticket.
Creamfields North
Ticket prices vary depending on what option you choose. For Friday or Saturday, the cost is £85, which excludes the booking fee. A day ticket, with no camping for both Friday and Saturday, costs £170.
The Essence Festival
Usually, a standard single-day ticket can cost you around $120. At the same time, a standard three-day ticket can cost you around $250, and VIP tickets cost more.
Frequently asked questions about the best festival/giveaways
Here are the answers to most popular FAQs related to festival giveaways
What festivals regularly hold giveaways?
We've done the hard work for you to find out what festivals regularly hold giveaways.
Not only that, we've pieced together more information you'll want to keep in mind on your festival giveaway search.
The 7 festivals we listed above regularly hold music festival free giveaways. That's good news for us, we're in with the chance to win prizes annually.
With that said, festivals can get canceled and organizers can change the structure of a festival in one beat. You'll want to keep your eye on your favorite festivals for that reason.
To find more regular festivals, use our database. As you'll find out, if a festival is holding a giveaway one year and it's a success, they'll likely hold giveaways the following year.
Most festivals are running annual giveaways. Due to festival giveaways being so popular, you won't be disappointed to find out, they're usually a smash hit year after year and run consecutively.
We'll now recap how you can enter a festival giveaway, minus some of those technical details in our guide.
How can I enter a festival giveaway?
As numerous festival giveaways are going on, there are equally a vast number of ways to enter the giveaways associated with a festival.
As we covered earlier in our top tips, there are plenty of ways to find the best giveaways. And while finding the best giveaways, you'll find our advice on how to enter.
In our guide, we shared some official and unofficial sweepstakes, contests and giveaways. Each one will have different methods of entry.
Some festival giveaways require you to make one action to enter their giveaway such as sharing a post on social media, whereas some require barely a thing! Just entering your name and email address and a simple click of a button may do.
With each – you will find the rules for entering on their website by checking out their official terms and conditions. With all – check out if subscribing to the festival's newsletter gets you exclusive access to giveaway announcements.
Now that we know the various ways to enter, you could also try to win free tickets.
How can I get free giveaway tickets to a festival?
As this article highlights, from festivals giving away free tickets to unofficial sweepstakes, there are many ways you can try to win free giveaway tickets to a festival.
When using this guide to figure out which giveaway option you'd like to choose, we recommend always prioritizing the giveaways that are officially associated with a festival.
That way, you know the giveaway is trustworthy and can be held accountable should anything go wrong. With tons of festivals to choose from and many more marketing campaigns to boot, you'll find more giveaways than it's possible to enter! Using our guide, you can get creative when searching for free giveaway tickets.
And there's more to come. When new festival/giveaways are announced with free tickets on offer, Giveaway Listing will share the latest.
Aside from free tickets, there's more you can win – take a look at what we found out next.
What can you win in a festival giveaway?
From official to unofficial giveaways, if it's not free tickets to a show or a VIP experience, you can guarantee merchandise prizes will be on offer.
Some of that merch will include t-shirts, can coolers, water bottles, sunglasses, drawstring bags, glasses and cups, keychains, lanyards, or glowsticks to rave with!
Personalized merchandise is the perfect festival swag for festival organizers to gift their fans. Some of the hottest festivals are held in summer, so what better way to celebrate than giveaway prizes that music lovers can bring to the festival!
Some of the prizes are as practical as they are useful. For example, water bottles help to minimize plastic waste and remind fans to use refilled water stations in the festival. And when the festival is over, they have a keepsake and get to reuse the bottle.
Thoughtful festival giveaways unite music fans worldwide and make them feel more connected to the artists they love.
If you're an artist or organization reading this – you may want to get involved in promotional giveaways if you haven't already.
A final word about festival giveaways
We hope that's satiated your desire for all things related to music festivals and giveaways. As we've found out here, music festivals aren't going out of style any time soon.
We all have a common interest in awesome giveaways and a shared love for music. Due to that passion found across the globe, there's much more on offer than we could cover in one article and much more to come.
Giveaway Listing is dedicated to finding the best festival/giveaways and sharing them with you. As more is announced, you can be sure we'll be on the case.
If you want to see more about the best festival giveaways, stay tuned.