What are the best giveaway statistics of 2023?
Ever wondered what are some of the most intriguing giveaway facts? In this article, we will compare giveaway statistics from Facebook, Instagram, Twitter, Reddit, Tiktok, YouTube, Pinterest, and the whole world wide web!
These are some exciting giveaway statistics as of September.
Key giveaway statistics of 2023
620 Million giveaway related results on Google
More than 150,000 new giveaways are posted on Social Media every day
St. Helena is the country with the most interest in giveaways worldwide
Instagram is the most popular giveaway platform, with more than 5.5 Million hashtags
The first half of 2023 has more than 45% higher interest in giveaways than the second half
Giveaway tweets have, on average, 1350% higher engagement on Twitter
As of 22-09-2023, TikTok #giveaway hashtags have over 12.1 Billion views.

Global Giveaway Statistics
Giveaway search volumes are typically much higher in the first 6 months of every year, including 2023, as evidenced by the 12-month report from Google Trends.

There are 69,000 global monthly searches for "giveaways" on Google, while giveaway terms for social media keywords have much less interest. This is typically due to giveaways being searched directly within social media platforms instead of on search engines.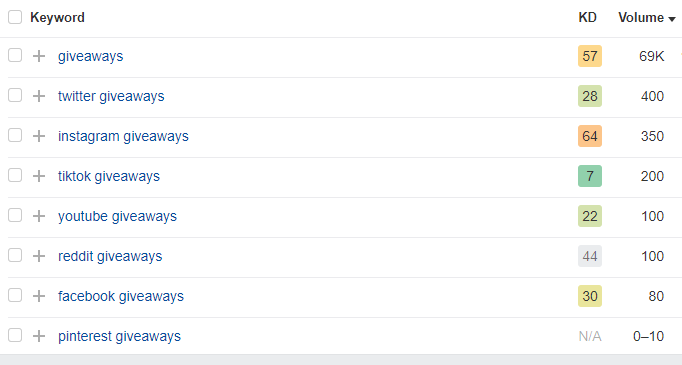 St. Helena is by a large margin the country which is more involved in giveaways and sweepstakes for the last 5 years and keeps its position in 2023.
This year, Togo and the Philippines take the second and third positions, respectively.
The complete list is as follows:
St Helena
Togo
Philippines
Nigeria
United Kingdom
Uganda
New Zealand
Estonia
United States
Ireland
North Macedonia
Australia
Canada
Ghana
Trinidad & Tobago
Bahrain
South Africa
United Arab Emirates
Norway
Singapore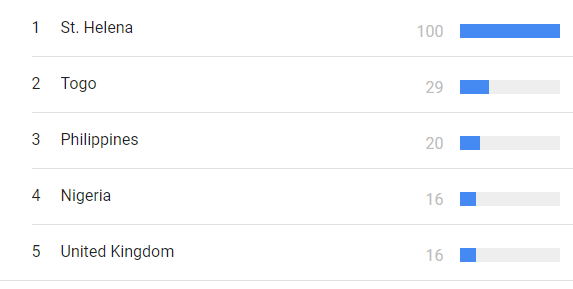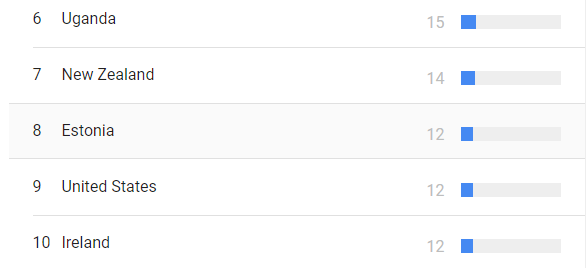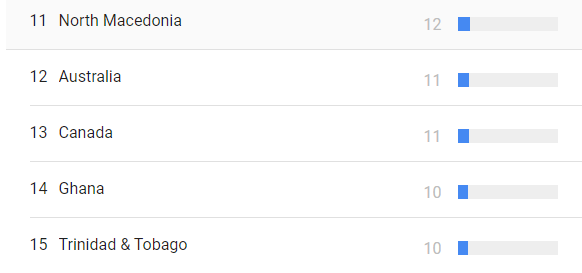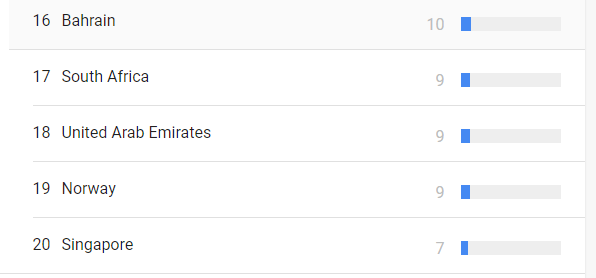 Social Media Giveaway Facts & Stats
What about giveaways on social media? You will likely be surprised to see how popular giveaways are on most prominent social media platforms.
Facebook Giveaway Statistics
There are more than 5,500,000 giveaways and sweepstakes on Facebook

There are more than 360,000 giveaway groups (most of which are inactive)
The biggest giveaway group is based in the UK and has over 338,000 thousand member

Here's the Google trends comparison of the top 5 giveaway platforms for the last 12 months. It's a hard battle, but in general, Instagram giveaways have been trending consistently higher than all of its main competitors
Facebook and Twitter giveaways, however, have seen a rather steep increase in interest in the last 1 month.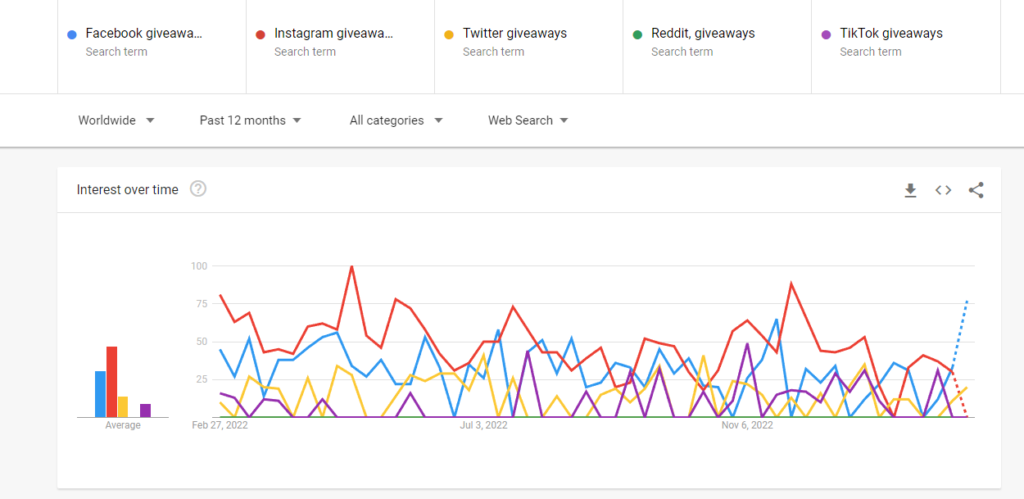 For Facebook, the top 5 countries that show interest in their giveaways are:
United Kingdom
Canada
United States
Australia
South Africa

The most popular related queries are:
giveaways on Facebook
giveaway
dream car giveaways
dream car giveaways Facebook
Instagram

Instagram Giveaway Statistics
For Instagram, the top 5 countries that show interest in their giveaways are:
Australia
South Africa
Mexico
India
Canada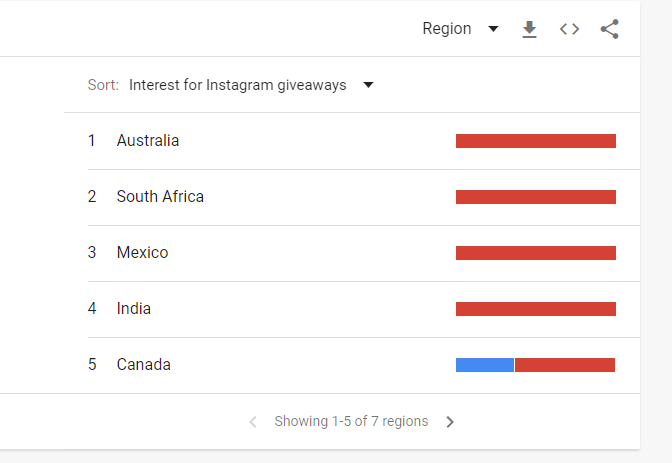 The most popular related queries are:
giveaways on Instagram
giveaway
Instagram giveaway
free Instagram giveaways
how to win Instagram giveaways

Twitter Giveaway Statistics
Twitter has a more similar list to Facebook, as the top 5 countries that show interest in Twitter giveaways are:
United States
United Kingdom
Australia
South Africa
Canada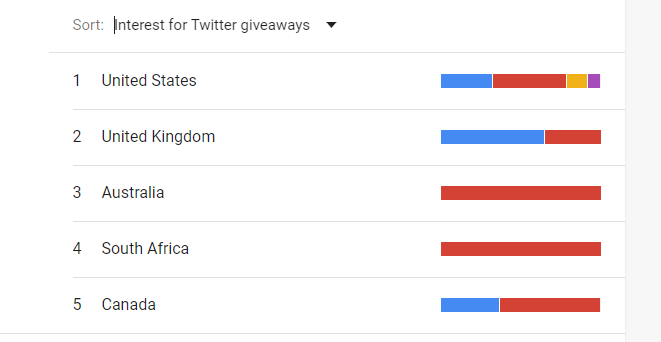 Reddit Giveaway Statistics
For Reddit, the top 5 countries that show interest in their giveaways are:
United Kingdom
Canada
South Africa
Canada
United States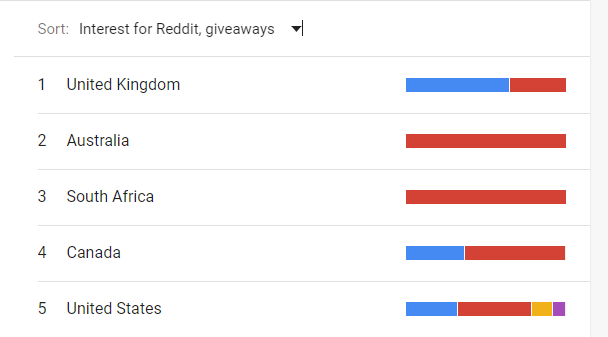 Tiktok Giveaway Statistics
For TikTok, the top 5 countries that show interest in their giveaways are:
United States
United Kingdom
Australia
South Africa
Canada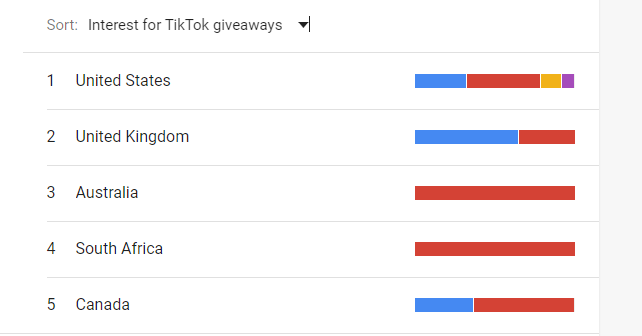 YouTube Giveaway Statistics
For YouTube, the most popular related queries are:
dream car giveaways
youtube tv
how to win giveaways on youtube
are youtube giveaways real

Do giveaways increase followers?
It's undeniable that giveaways increase follower numbers on social media. Your follower numbers will extend to the number of hits your websites get, and we want to increase both.
This section will cover which social media platforms can accelerate your brand's growth this year.
Reddit follower statistics in 2023
As of 2023, Reddit was ranked the 16th most popular social media platform. Its users affectionately call the site "the front page of the internet"!
With that in mind, the platform is one of the best places to run a successful giveaway. Reddit has approximately 52 million daily active users and an estimated $10 billion valuation.
Your Reddit giveaway could be headed for success with so many users on the site. It's worth heading to Giveaway Listing to discover how to create your first Reddit giveaway.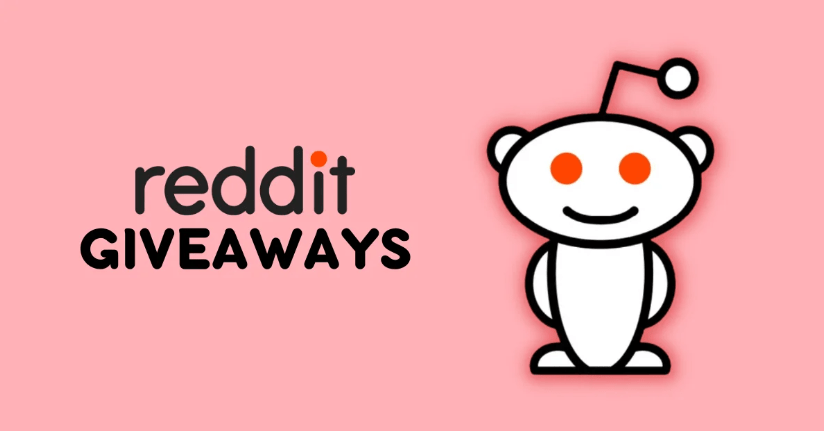 Twitter follower statistics in 2023
Twitter is among the longest-standing members and one of the most popular social media sites. It sees over 326 million active users on the platform monthly and approximately 368 million active users overall!
With the platform's popularity came the invention of Twitter giveaways and the upward trend of giveaways going viral. Twitter giveaways' popularity has helped increase follower numbers for thousands of accounts and brands.
Using Twitter for a giveaway is much easier than you might think. Keep reading to find out how to run (and enter) a Twitter giveaway.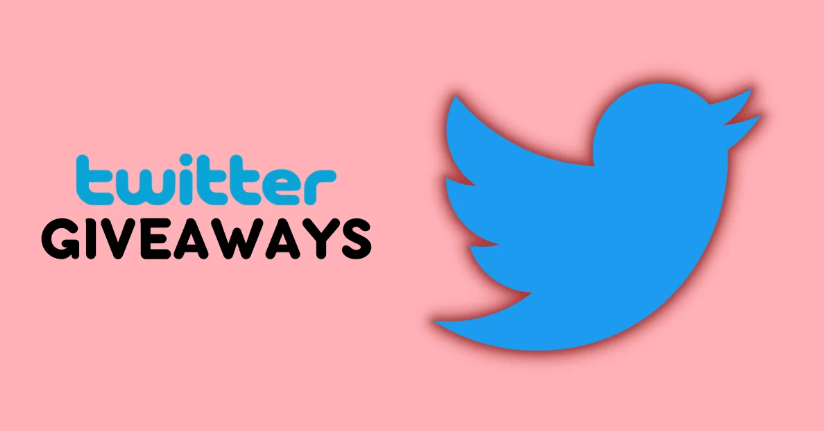 Instagram follower statistics in 2023
Instagram has one of the largest audiences on social media. In 2023, a total of 1.440 billion users were using the platform!
In 2020, TailWind found that Instagram giveaway posts get 64 times more comments and 3.5 times more likes than standard posts on Instagram. They also recorded that Instagram accounts that run regular giveaways grew 70% faster than those that don't. 91% of Instagram posts with over 1,000 comments were associated with a giveaway! 
Those are some striking statistics, right? Despite those staggering figures, only 2% of Instagram accounts run giveaways! That's good news for you and your brand's following, as you could be in the spotlight while there's a high likelihood that your competition isn't!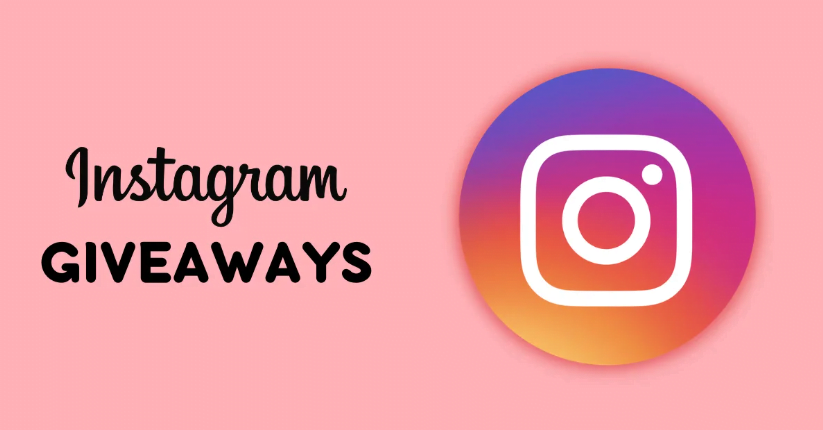 TikTok follower statistics in 2023
TikTok has outdone itself by gaining over 3 billion downloads and counting. The invention of endless scrolls and constant streams has gained many TikTokers an excessive amount of followers.
You can quickly grow your TikTok following with a giveaway. Moreover, you can make it a viral TikTok giveaway with our help.
Due to the exchange of videos on this insanely popular platform and the number of people in the audience, TikTok is the perfect place to increase your follower numbers! We have written a guide for creating TikTok giveaways and a separate one about how to win them.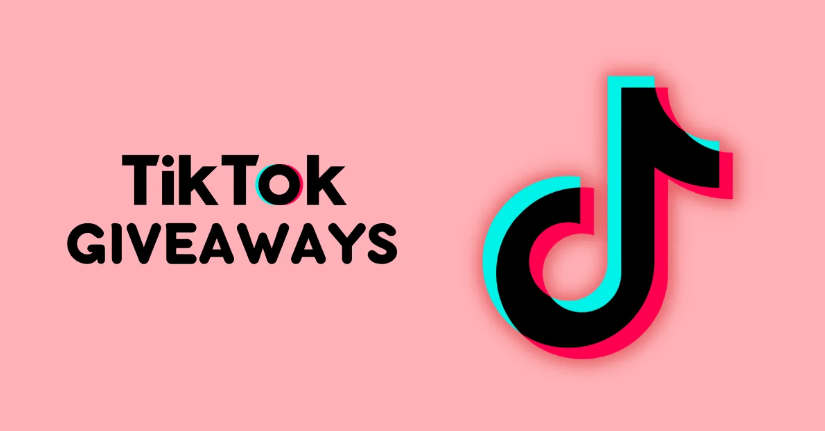 Facebook follower statistics in 2023
Facebook is the most used social media network globally, with approximately 2.93 billion monthly active users (as of the last quarter of 2023).
Specifically, one single promotional giveaway on Facebook brings a business an average of 34% new followers! Within that figure, over three-quarters of the shares are made on Facebook.
American businesses spend approximately $17 billion on product giveaways every year. That just goes to show that giveaways are worth a fair buck!
When used strategically, a Facebook giveaway can boost your business' performance and sales while bringing in more followers.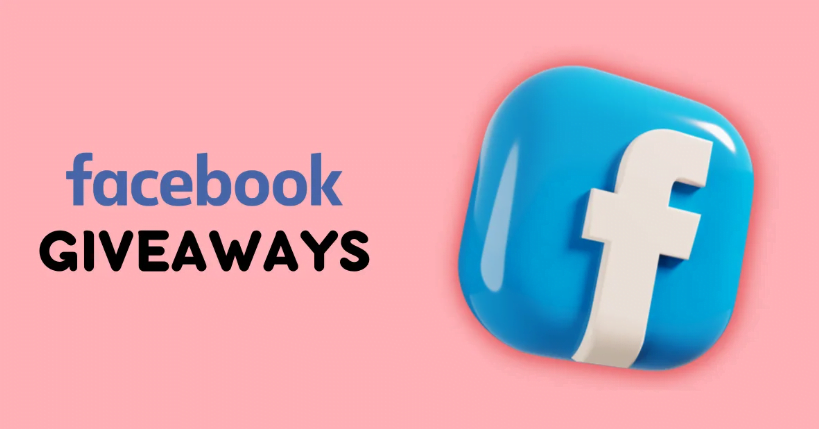 YouTube follower statistics in 2023
With over 2.5 billion active users (as of 2023), YouTube is the world's second-biggest social media platform. The only platform to have more active users is Facebook (2.9 billion).
There are more than 4 billion active social media users worldwide, meaning more than 54% of them access YouTube.
That's a lot of potential YouTube giveaway entrants and many more followers and website hits!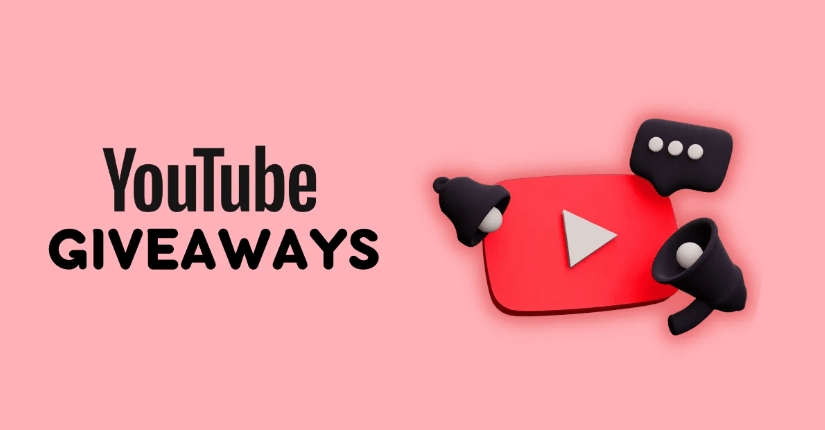 Pinterest follower statistics in 2023
Pinterest reported a 6% decrease in global monthly active users in 2023, but it's still among the best platforms.
The social media platform still has an audience of over 430 million global users and averages almost 1 billion daily video viewings!
Pinterest's platform is set up perfectly for giveaways, and this site has many opportunities to boost your marketing goals.
Whether you're an influencer or run a small business, you will find that Pinterest might increase your followers. Remember, you want to turn those followers into sales.
Tip: don't forget to list your website and other links underneath your Pinterest name so people know where to find your products and services.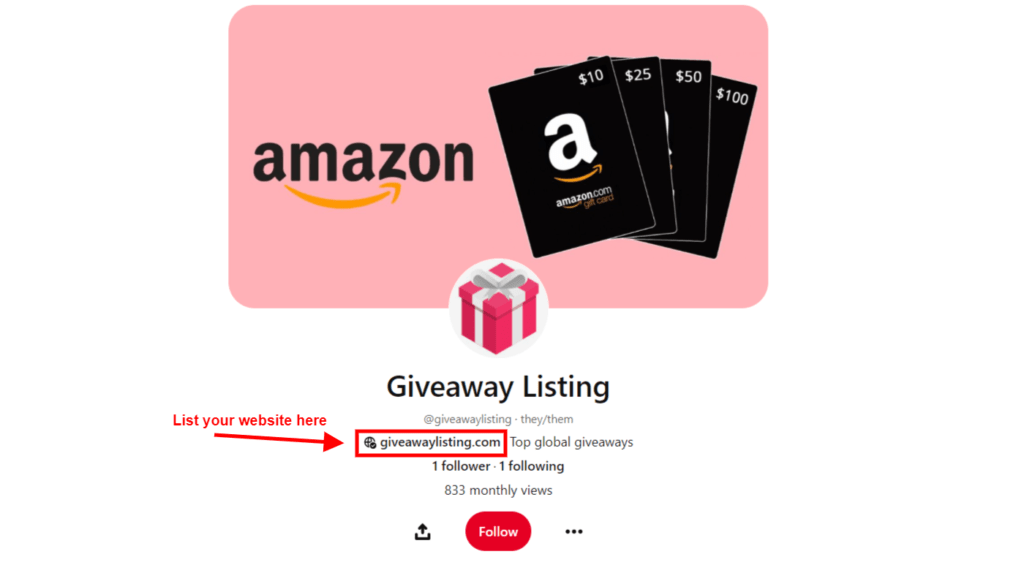 How do I run a giveaway on social media?
Social media giveaways are one guaranteed way to grow your social media accounts. You can benefit from driving traffic to your website and reaching your marketing goals simultaneously.
Whether you sell products or services, a social media giveaway can help your target audience find your business.
Social media giveaways are one of our favorite ways to engage with brands on social media, as they are an interactive experience. You will find various social media giveaway listings on our accounts and live feeds on our website.
How you run a social media giveaway depends on your chosen platform — they all share similarities but have some key differences. The differences are primarily found throughout their official guidelines and sometimes depend on your location.
Knowing the specific rules of each platform will guarantee you give your promotion the best chance to be as effective as possible. Even one wrong move could set your giveaway back a notch.
It's worth mentioning here that social media rules are in effect anywhere you are in the world, so no one is exempt from using the platform within its guidelines.
Check out our Giveaway Terms And Conditions Guide to learn about the official social media guidelines.
A final word on giveaway statistics
Giveaways remain extremely popular in 2023, having millions of users engaging with them on social media or on websites.
A social media giveaway can bring your account and website more follower numbers and potential customers, regardless of the platform you use to host your giveaway.
It's worth investing some time and money into giving back to your audience with a giveaway, even if generosity is your prime motive. Your generosity always comes back to you!
So that's it for the impressive giveaway statistics of September 2023. You can come back to this page shortly as we update our statistics on a monthly basis.