HGTV sweepstakes in 2023
If you're seeking relatable stories, entertainment, and aspirational home and lifestyle content, HGTV is for you. HGTV (Home & Garden Television) is an American television channel owned by Warner Bros. Discovery, as noted by Wikipedia.
HGTV provides a top cable network to 77 million US households and a popular website that attracts an average of 9.6 million people monthly.
They have a social footprint of 28 million, with a self-titled monthly magazine publication that reaches more than one million readers. You will also find exclusive collections of home-oriented products through their consumer products line.
The channel is a reality show related to home improvement and real estate. Not only that, in 1997, the creation of the annual sweepstakes called HGTV Dream Home Giveaway was born.
Affectionately known as HGTV sweepstakes, it's estimated that 82.2% of households with television received HGTV in 2015. That's approximately 95,628,000 American households!
That means there are many potential grand prize winners, with only one grand prize to compete for. In this guide to HGTV sweepstakes, we aim to help you enter and win the sweep!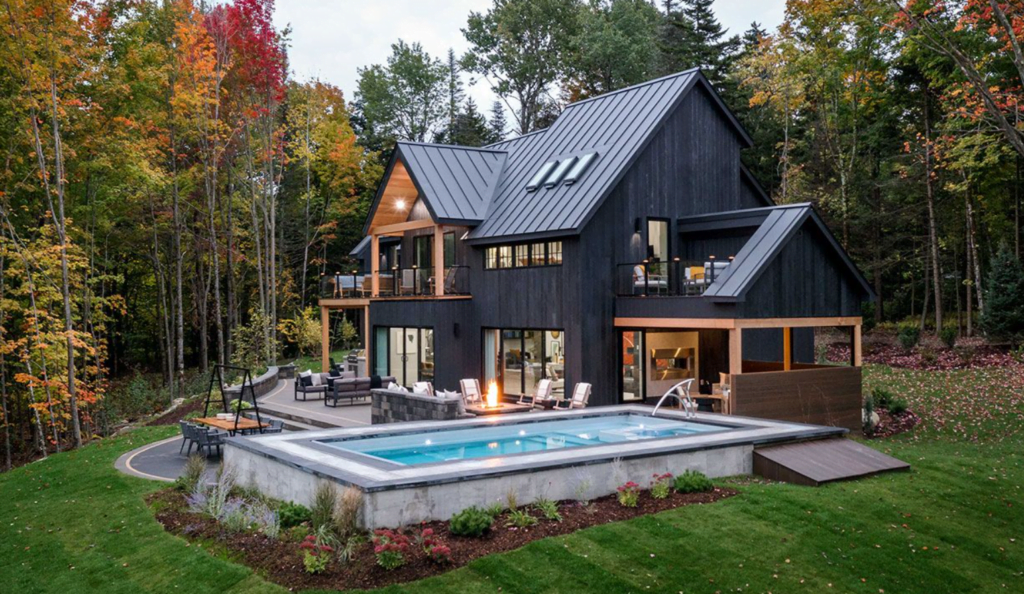 What are HGTV sweepstakes?
HGTV broadcasts amazing home transformations with real estate and renovation experts to inspire viewers to dream big.
HGTV Dream Home Giveaway is a sweepstake that has run successfully every year since 1997 and has provided many winners with dream homes.
HGTV uses a special TV series, Dream Home, to showcase an impressive new home that their experts have built, then they give it away to one lucky contestant.
Since its conception in '97, the sweepstake has become one of America's biggest and most popular giveaways.
The network also launched two adjacent sweepstakes, the cutting-edge HGTV Smart Home sweepstakes in 2008 (formerly Green Home) and the HGTV Urban Oasis sweepstakes in 2010, giving away homes with killer city skyline views.
Its sister network, known as DIY, offers another kind of sweep known as the Ultimate Retreat giveaway, formerly called Blog Cabin.
Its audience can interact with other home improvement enthusiasts with their social media channels such as Pinterest, Twitter, Instagram, Facebook, and TikTok.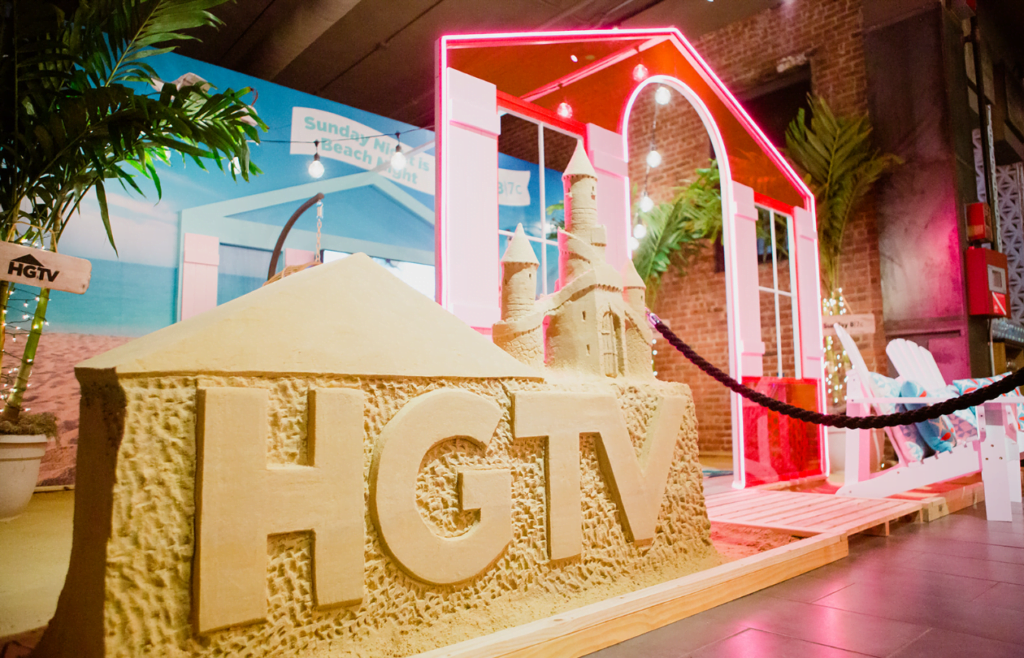 How do you get on the HGTV home giveaway?
You have to be the winner of the HGTV home giveaway to go live on air! For this, you will need to enter the giveaway first!
Typically, Dream Home sweeps are open to entries for a period of seven weeks, during which time you can enter twice daily for a chance to win.
You need to enter the giveaway every day for your chance to win the grand-prize package, usually worth a few million dollars. We will let you know where to enter in this guide, so stay tuned.
Our first tip to begin the giveaway entry process is to look for an announcement toward the end of each year to find out when the HGTV giveaway starts!
The giveaway rules can change yearly, but here are some of our top tips on the way it usually works.
1. Entry is open to United States residents, and you must be at least 21 years old.
2. You're allowed to enter the draw every day, and sometimes you're allowed to rack up extra entries for activities such as entering through partner websites and referring friends.
Bonus tip: Check the rules every year in case of changes to the rules!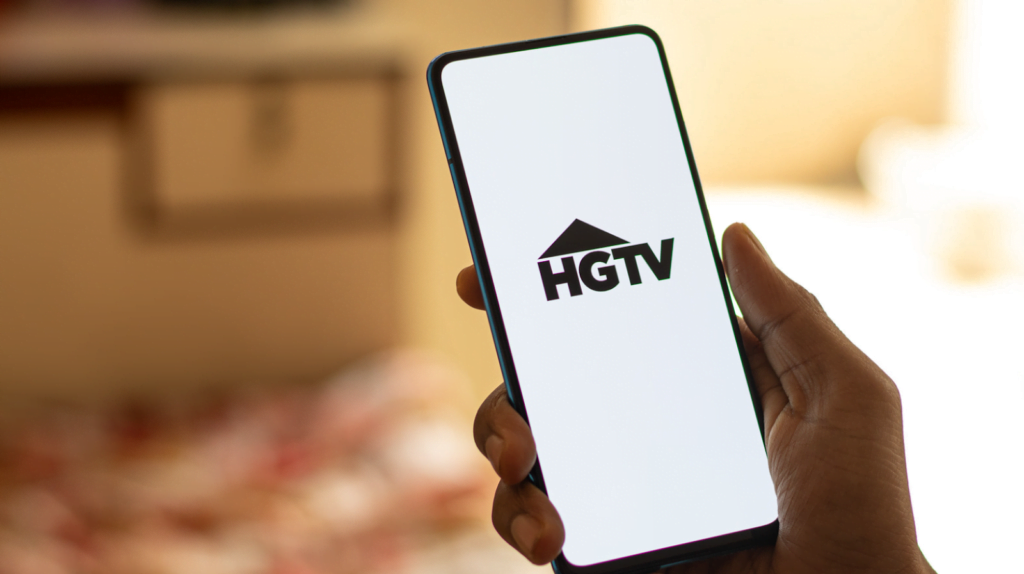 3. As well as the online entry form, you can also enter the HGTV giveaway by mail, and unlike the online application process, you can enter as frequently as you want via post.
Tip: It might seem too good to be true to get more entries by mail, and in some ways, it may be! Some websites have reported this as a loophole to be manipulated, but this option has disadvantages.
The main downside to applying via post is the cost of sending your entries, so you might want to set a budget for this.
Bonus tip: Some people choose to help their entries stand out by decorating their envelopes. However, this doesn't guarantee that you'll win!
HGTV showcased several beautifully decorated envelopes they received in a blog post from their 2016 winner draw. Unfortunately, they didn't disclose whether one of them was the winner!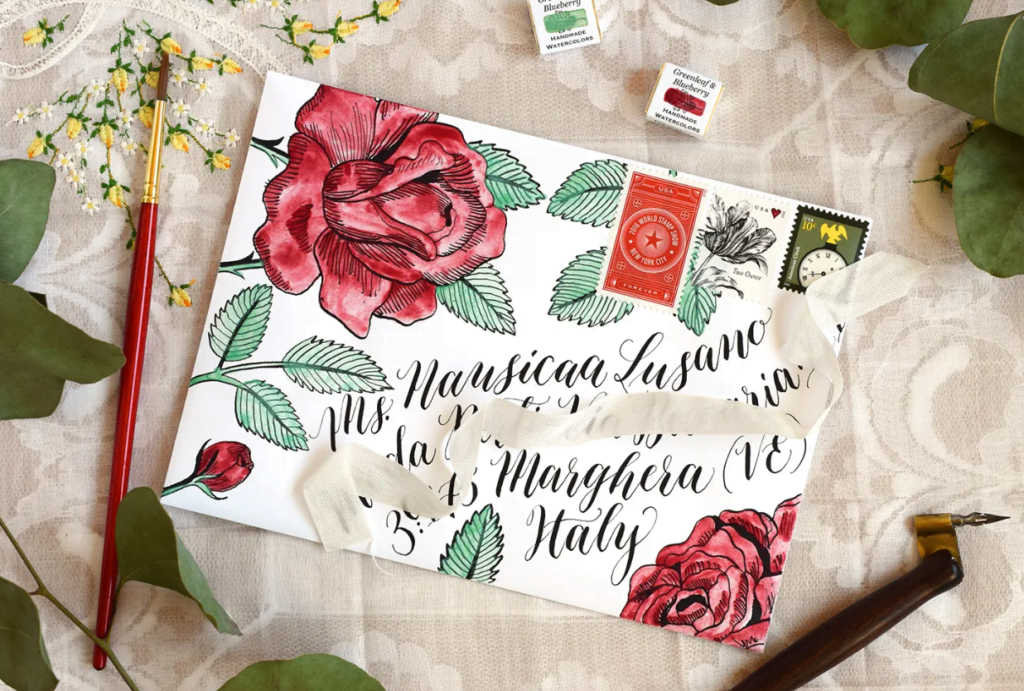 It's easy to enter HGTV dream home giveaways, but winning it is another matter altogether! We aim to help you win the grand prize with the next steps.
Win the HGTV sweepstakes in 5 steps
Here are 5 steps to help you enter and maximize your chances of winning the HGTV sweepstakes! 
1. Follow HGTV
You should follow HGTV on Instagram and Facebook, as that's where they frequently make announcements about their giveaways!
2. Subscribe to HGTV
You can sign up to receive email reminders from HGTV. These reminders will ensure you don't miss your chance to enter the HGTV dream home giveaways.
3. Apply on HGTV
All you need to do to apply for the dream home giveaway is to fill out the official entry form! For the full official rules and prize disclosures and to enter, visit the official website.
You will be asked for your details, including your full name, email address, phone number, address, and date of birth. Visit the HGTV website to find out more.
4. Enter daily!
Once you've signed up, you can enter the giveaway daily to win the grand prize. Enter once daily at HGTV.com and once at FoodNetwork.com.
5. Eligibility requirements
You must be a US resident to enter this giveaway. If you're located elsewhere in the world, the websites will inform you you're not eligible to enter.
Bonus tip: Tune into HGTV's channel to stay updated about their giveaways! You can watch HGTV HD on channel 229.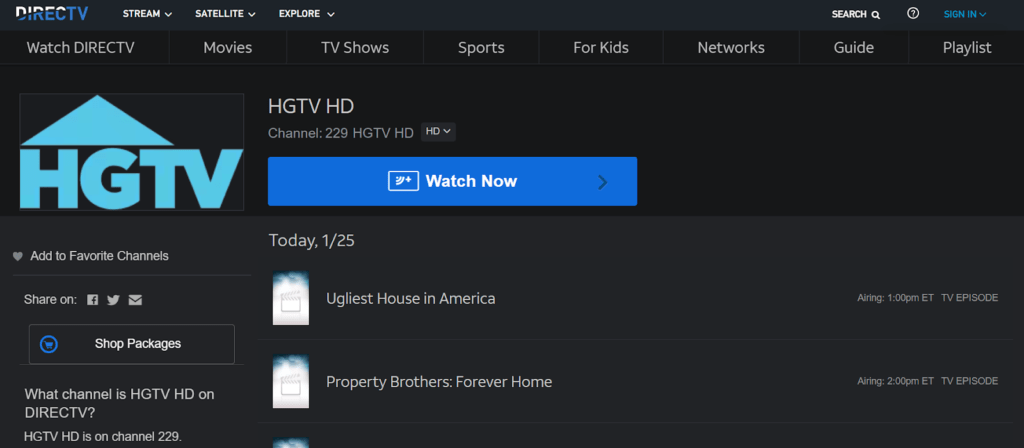 Now, let's find out what you will win with our help!
What are the prizes for the HGTV Dream Home?
The next question has to reveal what exactly you will receive as the next Dream Home winner!
Not only do Dream Home winners receive an incredible house prize, but they also receive a whole prize package, including cash, a vehicle, and more amazing prizes. The grand total of all prizes is between two and three million dollars.
Each year's sweepstakes winner receives the house, plus all its contents, such as the furnishings, artwork, and everything inside their new home.
In addition, some additional prizes are included, such as dream homes for pets or boats for waterfront properties. Whatever the prizes, the value usually reaches at least two million dollars.
In recent years, winners have been given the option of choosing a generous cash prize instead of their dream home.
If the winner doesn't choose the house, they receive the aforementioned additional prizes instead, but HGTV retains the rights to the home. Usually, HGTV will then sell the home to a private bidder.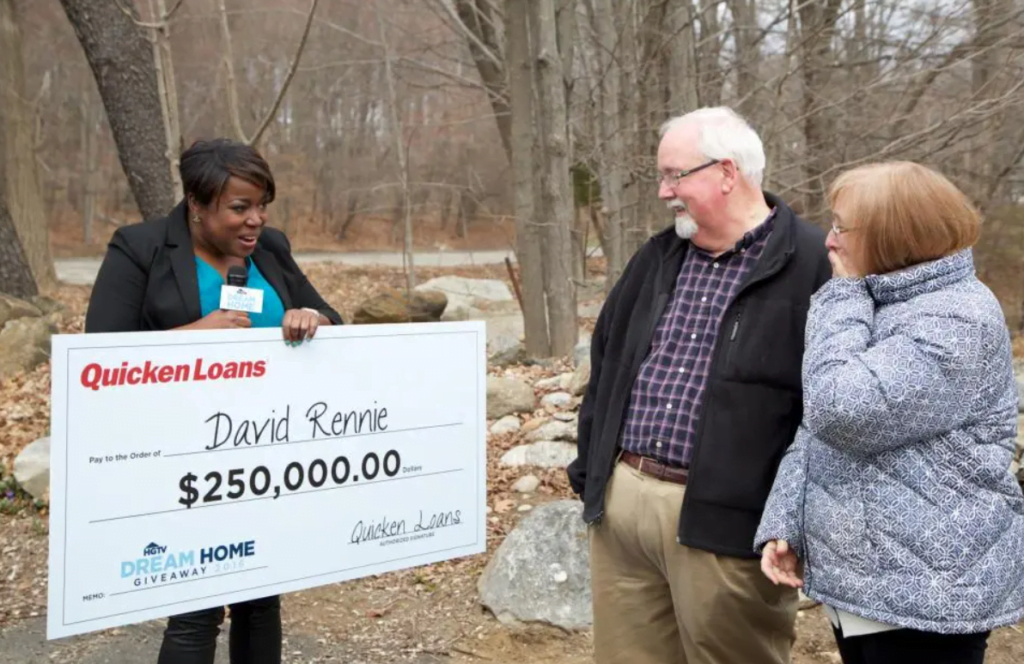 How does HGTV notify winners?
One of the main questions on every entrant's mind is, how will you know if you've won? Well, this is a fun part of the process and could have you live on the air!
HGTV typically ambushes their winners aiming to surprise them! The channel recruits family and friends to help set up a surprise where they announce and film the winner's reaction.
If you're curious to see more about the winner selection process and how HGTV selects a winner among millions of online and mail entries, you can find out more on HGTV's winner announcement page (so long as you're in the US).
Out of millions of entries, just one grand prize winner will be selected randomly out of all eligible entries HGTV received during the promotion period.
Winners will also be contacted via phone or email! Within five days of issuance, the winner must return an affidavit of eligibility to HGTV, a non-disclosure agreement, and a release of liability and publicity to claim the prize.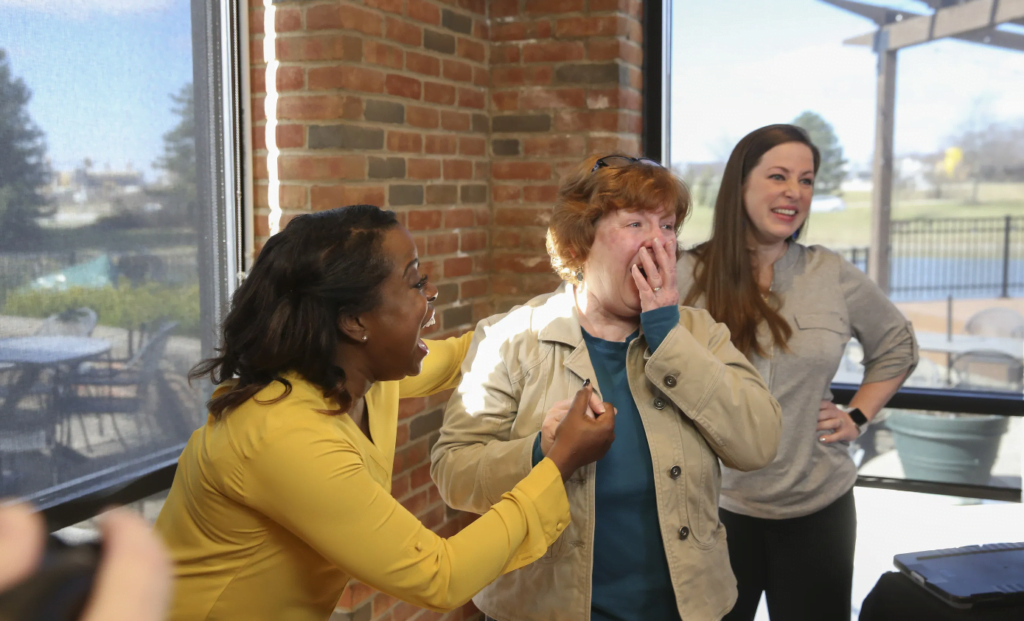 Can you sell the HGTV house if you win?
It's worth mentioning that even if you win the HGTV dream home, you likely won't end up living in it!
It's disappointing to win the dreamy HGTV home only to discover that you probably won't take up residence in it and its luxurious surroundings. But why don't all winners live in their new homes, you ask?
While the luxurious and lavish designs entice prospective new homeowners, most dream homes are impractical for families or individuals to live in.
Many of the dream homes are too large for most individuals and families, with disadvantageously high taxes, utility bills, and other costs to pay for.
In particular, the taxes on the grand prize worth millions of dollars prevent some people from accepting the prize.
When it became obvious that sweepstakes winners could not move into or keep their new homes, HGTV began offering its winners a cash option instead.
To answer the question, yes, you can sell your dream home if you win it.
Most winners either opt for the cash option or sell the houses (typically back to HGTV's dream home builders, but rarely selling it at full value).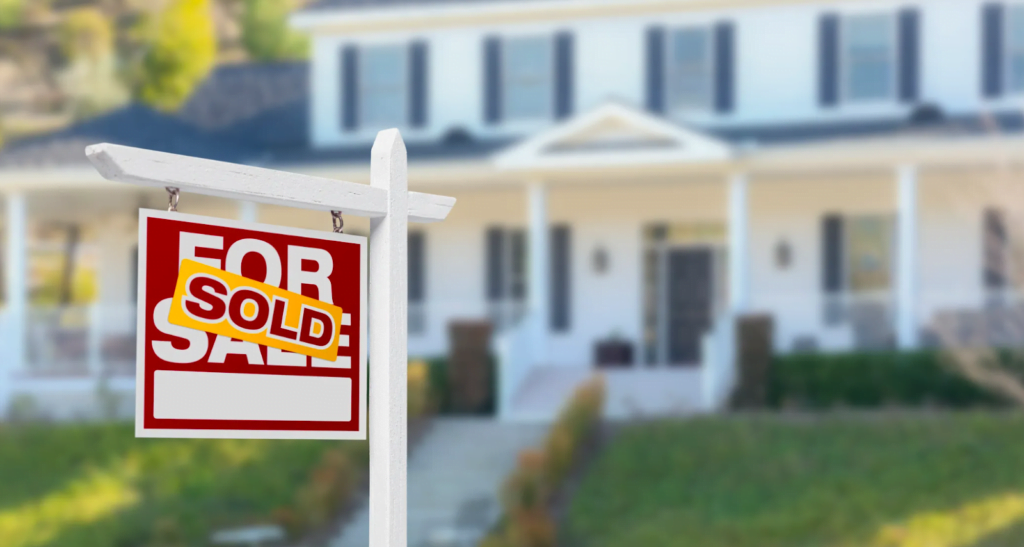 Approximately 30% of people actually lived in their homes for more than a year (as of 2018). The vast majority took the cash alternative or sold the house within a year of winning.
In the past, HGTV has been criticized for giving away a prize that most winners can't afford to keep. However, HGTV and the Scripps Network (its parent company) gives away several homes each year, many of which are more affordable.
Even if you can't keep the grand prize, it's still worth trying to win as you could receive additional prizes, the cash option, or make a sale.
One lucky winner in 2005, Don Cruz, decided to sell his home but had an amazing experience when he owned it and made lifelong friends there.
If you accept the fact that you will sell the house or take a cash option, you can instead walk away with thousands of dollars in prizes, plus the experience of a lifetime.
HGTV sweepstakes FAQ
Here are some of the most frequently talked about HGTV sweepstakes questions and our answers!
Are HGTV giveaways real?
Yes, they're real! But some say they're too good to be true, as the prizes come with high taxes.
HGTV's experts scour America yearly for the right setting to build the latest Dream Home. Once the house is fully constructed, HGTV offers it as a prize for their giveaways.
Why can't I enter the HGTV sweepstakes?
You might find that ad blockers prevent you from entering the HGTV sweepstakes! To rectify that, turn the function for ad blocking off to successfully enter the sweepstake.
On another note, you may want to visit the rules and regulations information page to ensure you are eligible to enter.
If you try to re-enter after you realize what you did wrong and still can't, try to clear your browser's cache and cookies and submit the form again.
Do you get paid to be on HGTV?
Put plainly, you don't get paid to be on HGTV.
While HGTV doesn't address payment in their application process, they do note that homeowners must have a renovation budget of $100,000. This requirement has grown as it used to be $50,000 and then $75,000.
How many people enter the HGTV giveaway?
HGTV's annual sweepstakes began in 1997 with a house being given away in Jackson Hole, Wyoming. Every year since its beginning, one lucky winner is chosen out of millions of entries.
In 1998, there were 2.5 million entries; in 2016, there were approximately 127 million entries! It's still going strong and growing. In 2022 there were 142 million entries.
What is the cash prize for HGTV's dream home?
Grand prize winners of the HGTV dream home (taking place in 2023) will have the option of receiving $750,000 in cash (which is the "cash option").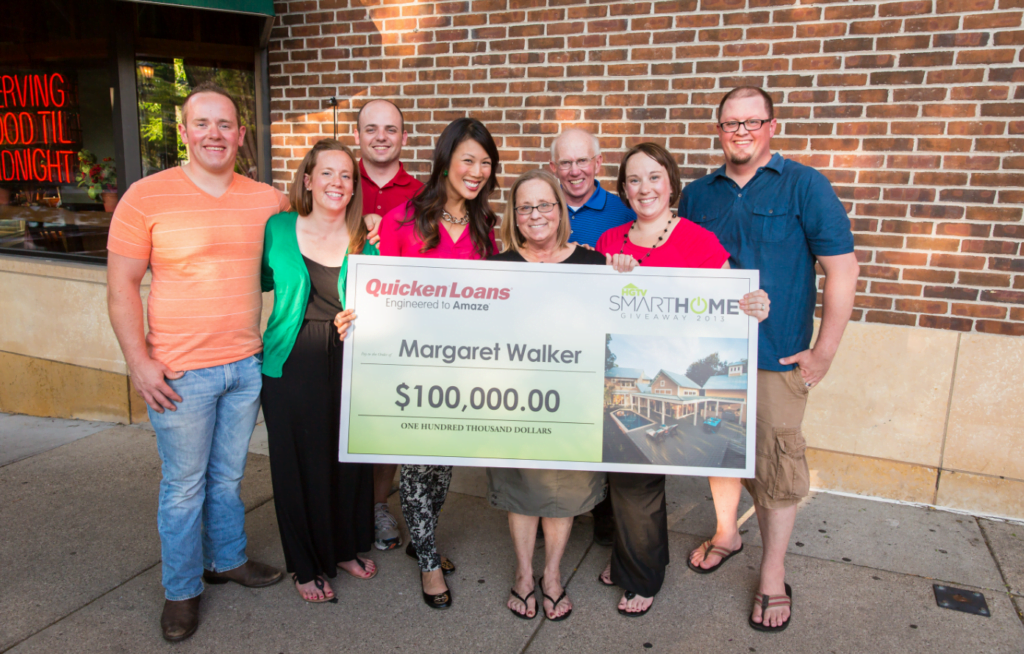 Final thoughts on HGTV sweepstakes
HGTV giveaways are one surefire way to get a one-in-a-lifetime experience, whether you decide to keep your new giveaway home prize or not.
As you've just learned, there's not only one HGTV grand prize to win but many additional prizes to be won. And if you love free giveaway prizes, we think you'll love our live giveaway feeds on Giveaway Listing.
If you enjoyed this giveaway guide, we think you will love our Omaze giveaways guide. Also, check us out on social media, where you will find the latest regularly updated giveaway lists!