How Nitro giveaways are changing the game
Discord Nitro and Nitro Basic are subscriptions that unlock new perks on Discord. These paid memberships give people access to Nitro stickers, a custom Discord number tag, animated avatars, custom emojis, server enhancements, and more.
Nitro subscription service unlocks features across the Discord platform. According to Discord, they want to give fans more ways to have fun, express themselves and get the best quality settings they have to offer.
Founders Stan Vishnevskiy and Jason Citron have shared a love of video games since childhood and grew up cherishing the connections that formed while playing them.
For that reason, Discord was birthed to help people communicate with friends worldwide and connect while playing games online. They want to help people find belonging in their lives through the platform they've created, according to Discord and Wikipedia.
Nitro giveaways and giving Nitro gifts increase the fan experience on Discord. This guide will cover the latest about Discord giveaways and ways to get your hands on free Nitro.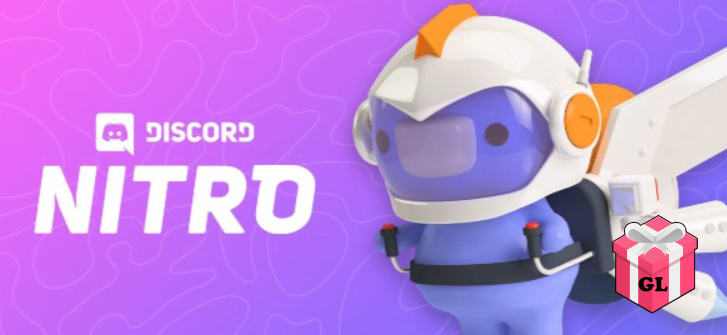 What is a Nitro giveaway?
Nitro giveaways offer fans the chance to win and unlock more services with that Nitro. You can win access to previously locked features. For example, you may be able to use a custom emoji anywhere, upload bigger files, set a custom video background, and more.
You can also win free games that you can add to your library. You have custom emoji support and can use them across the servers you've joined. When your Nitro subscription ends, you lose access to the perks.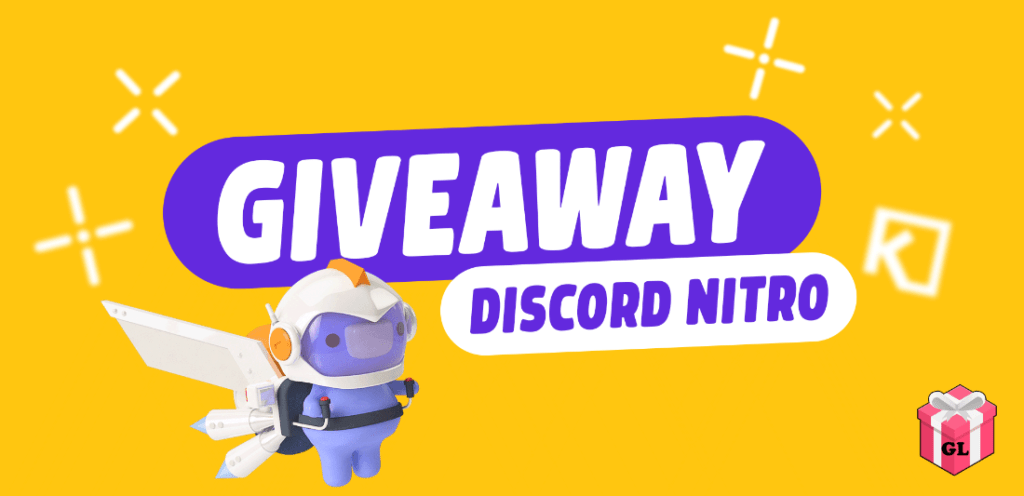 How does Nitro giveaway work?
How a Nitro giveaway works depends on the type of giveaway you are entering. Let's examine some free Nitro giveaway options before we cover more ways to get free Nitro.
Nitro gift giveaways
On Discord, the official way to get free nitro is by receiving a Nitro gift, as stated by the company. You can find out more in the support section on Discord.
When asked if it's possible to get free Nitro from a bot or a giveaway on Discord, they reply that the only official way to get free Nitro is through a code you receive that can be redeemed under Gift Inventory in your account or if a gift is sent to you in chat.
If you're already logged into your account on the browser or desktop version of the Discord app, you can easily claim a gift!
How to receive your gift:
If you've received a gift link in a DM or server in Discord, you can accept the gift by clicking the "Accept" button.
A pop-up will ask you to confirm acceptance of the gift – press the "I accept" button to apply the gift to your Discord account.
After accepting the gift, the subscription will be directly applied to your Discord account, and you'll receive confirmation.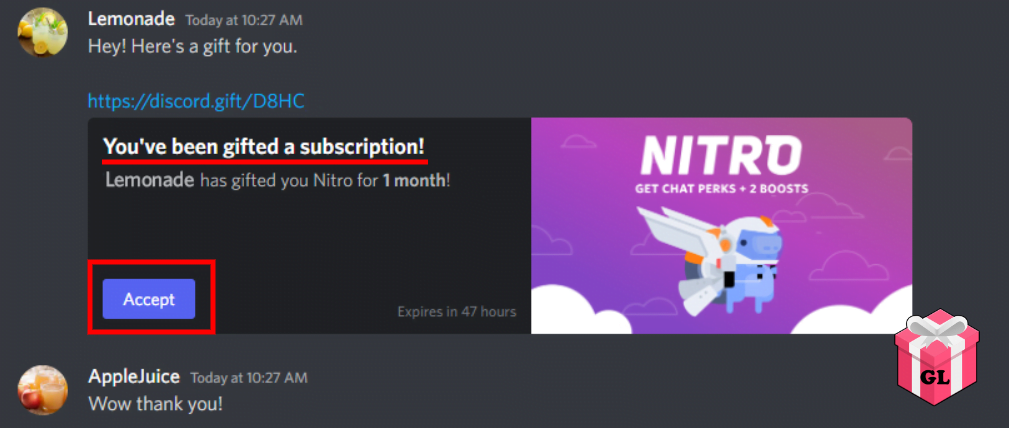 Official Discord giveaways
You will find that Discord will sometimes run its own giveaways too. For example, their most recent Five Year Anniversary Giveaway.
Discord held an official sweepstake on Twitter, giving 5 lucky fans a chance to win five years of a Nitro subscription.
No purchase was necessary to enter, and a total of five prizes were awarded to winners selected randomly, with a retail value of US$2,5000.
Participants had to like and reply to the sweepstakes post on Twitter or by emailing [email protected] with an email that includes the phrase "Enter me into Discord's five year anniversary Nitro sweepstakes." That's logged on Discord's website if you want to view the details.
That's just two examples for you above for covering how Nitro giveaways in 2023 work. What about other giveaway options and winning free Nitro? We recommend following our next steps.

Win free Nitro in 7 steps
Here are 7 steps we recommend you take right now to win free Nitro in 2023.
1. Nitro giveaways
Aside from hunting for official Discord giveaways, you may choose one of the many Discord servers that run Nitro/giveaways. Most of these servers are focused on promotion and advertisement, so they hold free Nitro giveaways to promote their services.
Try your hand at entering those giveaways to win Discord Nitro. You have to enter to win, while it's not a guaranteed freebie, it's one step closer to winning free Nitro.
Here are a handful of the best Discord servers you can check out right now: Disboard, Open Advertisements, Discords, Self-promotion central, Discordme, Sound's Spooky World, Dank's Dungen, Jet's Dream World, and Custom's Magical World. You might need to go through a verification process to join to stop bots from spoiling the fun.
You should also check out some gaming servers such as MrBeast Gaming, Roblox Unofficial Discord Server, Rust, and Terraria.
2. Promotional offers
You can find companies giving away months worth of Nitro subscriptions for all of their customers as a thank-you offer of appreciation or a welcome gift. Much like the Nitro giveaways on Discord servers, these giveaways are promotional tools for the giveaway holders.
For example, the company Backbone+ is offering 3 months worth of free Discord Nitro (we'll cover this later), and Epic Games used to dish out Discord Nitro for its subscribers. YouTube Premium was also free for a few months if you had Discord Nitro. Participants could buy Nitro for $10 and get a YouTube premium account for free for 3 months which is worth $33.
On the flip side, there was a previous offer to get 3 months' worth of Nitro if you subscribed to Youtube Premium. So you see, there are lots of ways to take advantage of various giveaway offers. You should check out giveawaylisting.com to find the current Nitro promotions on offer.
3. Discord program
If you're signed up to Partnered Discord servers, you can receive free Nitro upgrades. To apply for this, your server needs at least 500 members, at a minimum of 8 weeks old or it needs to be an active server. It has to be considered a good environment with no false claims or language used.
Join the partner program by opening the server settings in your Discord server and navigating to the Partner Program option. Here click on the Apply for Partnership button. You'll notice at this point if your server is eligible for the requirements mentioned above. Take note, the partner program is closed irregularly by Discord, so there may be a wait time before you can purchase the program.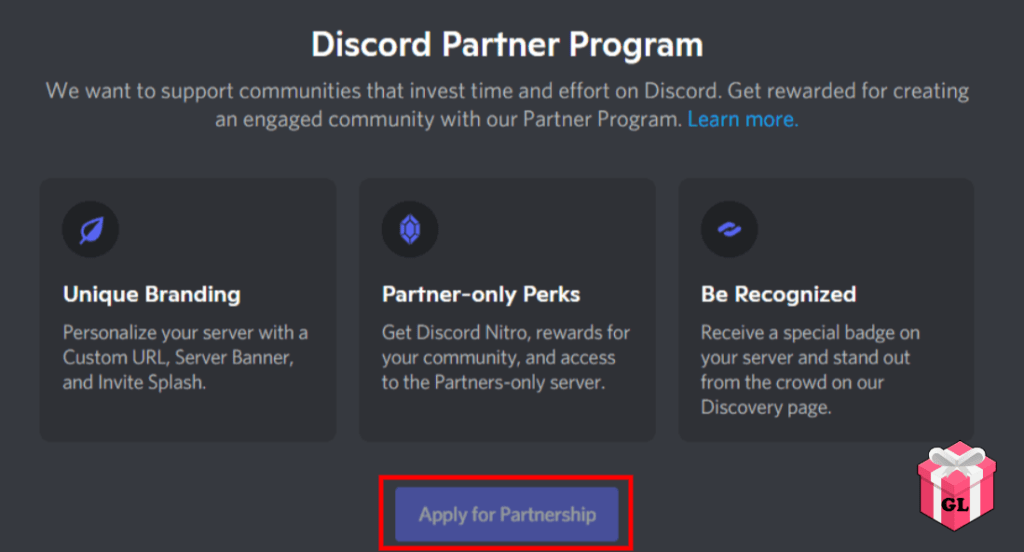 4. Discord app
This is for new Discord Nitro users. You're able to get a free month of Discord Nitro by downloading the Discord mobile app. This only works if this is the first time installing the Discord app on your mobile and when your account doesn't have any Nitro. Unfortunately, if you're already using Discord Nitro, this one's not for you.
When you're downloading the Discord app for the first time, you'll see a pop-up to proceed with your download. Discord will ask for your payment info even though you don't have to buy it now – that's for a future date should you choose to continue.
5. Salad
You can earn free Discord Nitro with the platform Salad. It's a crypto mining software you can install for free on Mac, Linux, and Windows, which then mines crypto for you using your computer resources.
Once you start making some cash, you can redeem that as crypto or use that to buy gift cards on Amazon, in-game currencies, for offers in services like Spotify and also Discord Nitro. You can check out Salad if you'd like to start up an account and find out how-to with their FAQs to help you get started. You earn more Nitro from your computer by how powerful it is.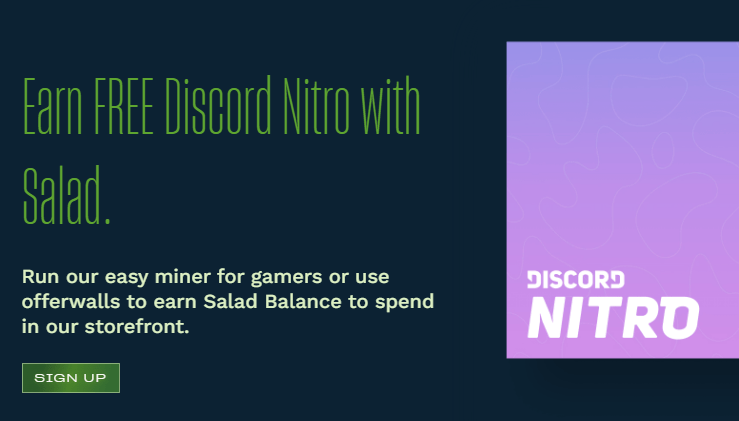 6. Level up
Many of the mentioned Discord servers have a system in place where each message you send helps you to increase your level and eventually level up and gets you an XP.
Some servers will provide gifts as you level up, including Discord Nitro as one option. As an example, Planet Roonie rewards you if you're the most active person on their platform. That can get you Nitro for free, as long as you play often.
7. Discord events
You can find events related to Discord often holding giveaways with Discord Nitro prizes, and you can earn Nitro easily for free this way. For example, Discord normally runs anniversary events, such as the one listed above, or for another example, they have been known to hold a giveaway called Snowsgiving at Christmas.

We recommend you check back with us as we share the latest giveaways and head over to Discord when possible. These themed events normally have awesome prizes like computer stations, games, and free Discord Nitro.
Bonus step: Giveaway Listing
With an online presence for over a decade, Giveaway Listing has been offering its users extensive lists of free giveaways.
Our site initially focused on Amazon Giveaways but has expanded to include many other popular giveaways such as Goodreads, Gleam, NFTs, and Nitro. There's more to come.
In Giveaway Listing, you will also find detailed guides on how to improve your chances of winning highly competitive giveaways and steps you can take to find the best ones around.
Key takeaways
To win free Nitro, you can benefit from using all of these ways to generate free Nitro from various sources. As you get involved with each way we've listed, you'll begin to build your Nitro empire.
Using Salad is one definite way to get Nitro consistently, and you can use all of these ways to get free Nitro without much effort.
Participating in the Nitro giveaways in 2023 is also so simple, some of the Discord Nitro/giveaways just require a sign-up and one click.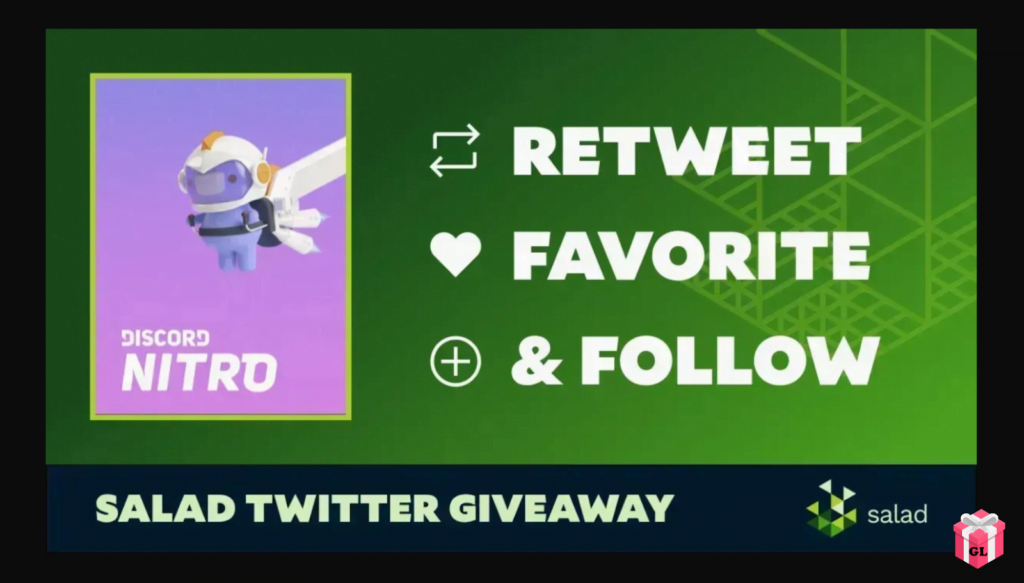 Nitro giveaway collaborations
Here's another previous giveaway example that is recurring. Discord partnered with YouTube to bring you three months of free Nitro to Discord users who subscribed to YouTube Premium.
Today, happening now until December, you can get 3 free months of Discord Nitro by subscribing to Backbone+. Just log in to the app, navigate to either Perks & Rewards or Getting Started, and click the giveaway.
See the Backbone x Discord press release here. You can find more new releases and giveaways on Discord's support page.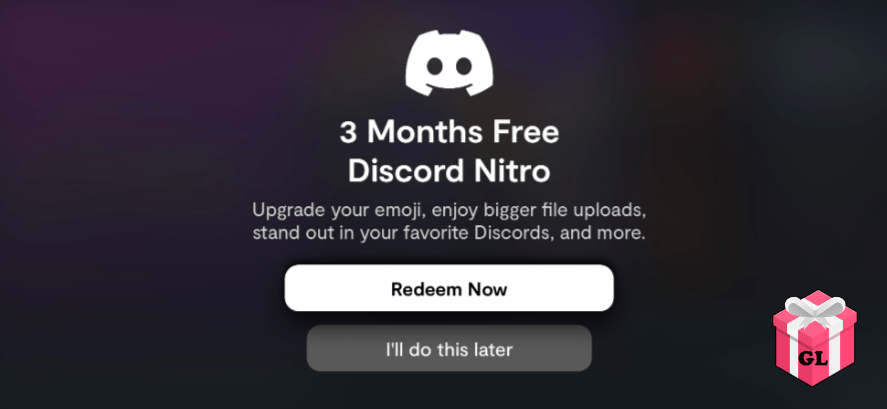 Nitro giveaway FAQs
Here are the most frequently asked questions about the Nitro giveaways and all of the answers you need to know.
Can you get Discord Nitro for free?
As mentioned earlier in our guide, you can get Nitro on Discord for free, but predominantly that's through gift-giving on their server. Discord assures us that Nitro gifts are real, just beware of scams claiming to be gifted (from bots usually).
You can buy a Nitro gift via the Nitro page on the site's desktop version or the Nitro Gifting tab on the mobile version.
For other creative ways to get free Nitro, you want to follow our guide above. And don't forget to see our latest homepage feed on Giveaway Listing, plus our social media, with all of the newest free Nitro giveaways on offer.

How do you enter Discord Nitro giveaways?
There are many different Discord Nitro giveaways in 2023, and with that come many different ways to enter. Take this current giveaway, for example, running until November offering 1 month of Discord Nitro.
This gives you 1 month of Discord Nitro for Tower of Fantasy players. But you have to be a first-time Discord Nitro subscriber. You can claim this promotion on Mobile or Web platforms.
Step 1.) Log into your account or create one in the Tower of Fantasy app on your PC or mobile device. Step 2.) Play Tower of Fantasy up until level 6 in order to receive your Nitro offer. Step 3.) Once the offer appears, click or tap "Get It Now" or "Claim Nitro Offer" and follow the steps to receive your promotional Nitro link.

How do people run Nitro giveaways?
There are many ways to run Nitro giveaways, from sharing gifts on Discord to the official themed sweepstakes mentioned in this guide.
You're welcome back to our step-by-step guides at any time, we'll share more updates about how Nitro giveaways are run and the best ones you can find.
Is the giveaway bot on Discord real?
The bot is a scam that shows the message "Claim your nitro bot: This is the official discord bot for nitro giveaways, please click on this link to claim yours. The gift expires in 35 hours."
Once you click on it, it will ask you to add the bot to your server. It's a scam. Don't fall for it.
How do I start a Discord giveaway?
You can give away Nitro on Discord as gifts.
If you want to gift Nitro on Discord, follow these steps.
Select your account avatar to open up User Settings
Select Nitro Gifting
Alternatively, open a direct message, or server text channel
Select the gift icon to the right of the chat entry bar
Simple & easy! Once the payment is complete, you'll be presented with the shareable, unique link that'll allow another user to claim this gift of Nitro. Provide this link with that lucky somebody & they'll be able to claim the gift!
How can I get a free Nitro?
Follow along with our steps above for your chance to get free Nitro. Other than that, while the core Discord experience is free, the company offers a Nitro subscription service.
You have to pay to unlock the ability to make custom emojis,v support servers, stream HD video, and upload larger files.
How do I claim my free Nitro?
How you claim your free Nitro depends on what giveaway you've entered. If you have signed up for a free Nitro promotion directly for the official Nitro app, then you will get an email with a redeem code that you can use to unlock your Nitro prize.
You then need to copy the redeem code from the email and then go to your Discord app settings, and select the "Gift inventory" section. From there, paste your redeem code into the text box, and click the "Redeem" button.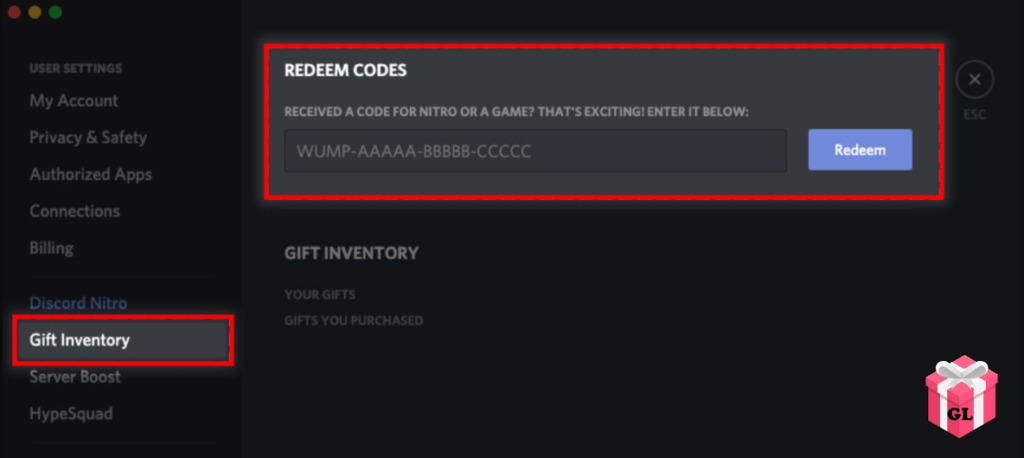 The subscription will be automatically added to your account if you're eligible. That's it – you can enjoy the perks of Discord Nitro immediately.
If you love Nitro and gaming giveaways, you should check out our NFT giveaway guide. 
What's next for Nitro and Discord giveaways?
Discord is growing its audience and is currently used by millions worldwide, from art communities to hiking clubs. Discord's website says these people talk for hours daily with family and friends on the platform.
Discord is fast becoming where the world talks and hangs out, and their giveaways are just one way they will build relationships worldwide.
You can get involved on Discord and find a space of your own there, just like gaming did for the founders, all while winning more free Nitro and building your servers.
Check out our live giveaway lists to find more Discord/giveaways as they happen, and don't forget to follow us on social media.