Golf sweepstakes and giveaways 2023
Avid golfers out there are in luck. We have found many golf giveaways running this year, and we're not keeping them to ourselves.
We have found the best golf giveaways 2023 with many unique prizes on offer. So we will cover exactly where you can find them in this giveaway guide.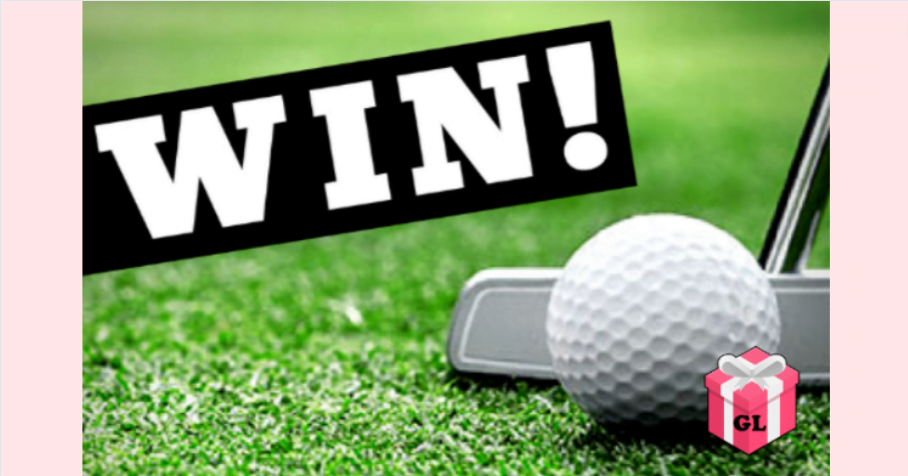 For that, we've included a 5 step guide for finding the best golf/giveaways on offer right now, with examples of what's being given away. So let's get going!
Gold Giveaways Live Feed (updates hourly)
How can I find free golf giveaways?
Because there are so many golf giveaways, it's wise to have a starting point for where to look.
We may be biased, but you should foremost check Giveaway Listing and this guide. We've pulled together what we've learned in our 10 years of experience to make it easier for you to find giveaways – golfing and otherwise.
That said, start your search on sites that host giveaways or showcase them, such as giveawaylisting.com. That way, you're getting the best pick of them all in one place.
Right now, two of the best places to find free golf giveaways are Golf Giveaways and Golf Gear Giveaways. We've detailed more about these golf giveaway sites in this guide.
Also included in this guide are ways you can get free golf clothes and where you can find golf cart sweepstakes. Read on to find out more.

Where can I find golf giveaways?
As noted, to help you find golf giveaways, we'll cover the places to begin searching for them.
Golf giveaways are held all over the internet, and you might even find some in-store in your favorite sporting stores.
5 steps to find golf giveaways
Here is a rundown of where you can find golf giveaways 2023.
1. Golf giveaway sites
In this guide, we've listed a whole host of golf giveaway sites. Here's one to wet your whistle!
Golf Gear Giveaways host free giveaways, and some you have to pay to enter. Have a look at the image below to see what we mean.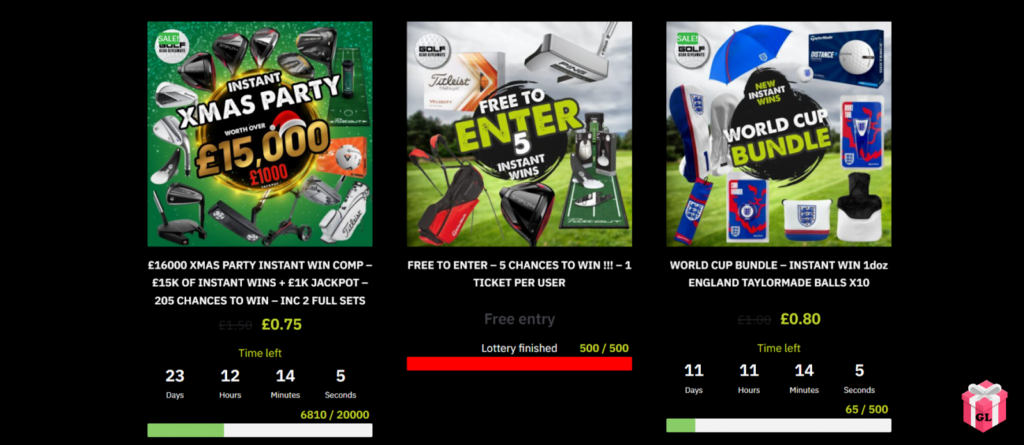 Pro tip: not only should you search for giveaway sites and the brands running the giveaways, but amalgamations of the two.
Pro tip 2: Check out Viral App Sweep posts on Twitter. They showcase giveaways for various giveaway-ers, including golfing brands and individuals running golf giveaways.
For one example, one lucky winner and their nominated friend are being given a chance to win a New Year golf by Callaway Golf, Odyssey, TravisMathew, and OGIO.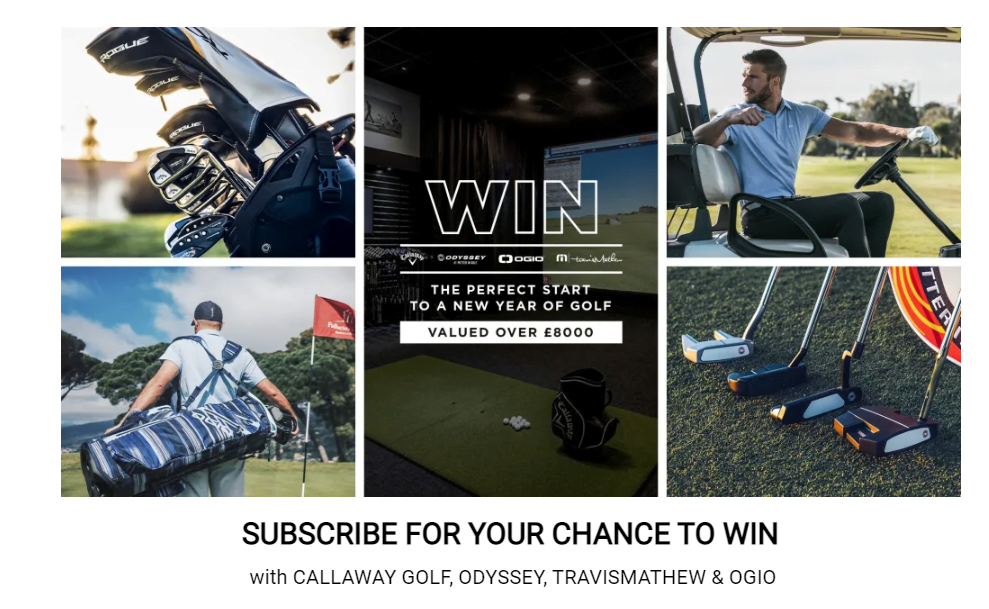 The prizes include
An Odyssey golf putter valued at up to £379.00
A TravisMathew golf apparel online gift voucher valued at £500.00
A complete set of Callaway golf clubs valued at up to £2,700.00
An OGIO golf luggage online gift voucher valued at £500.00
2. Third party hosts
As above, not only can you find golf/giveaways on specific golf giveaway sites. You want to think outside of the box to find golf giveaways.
Take for example, the kitchen/food blog Steamy Kitchen.
Steamy Kitchen hold giveaways, instant wins, and games on their food blog. They have been known to hold giveaways for gift cards up to $100 to spend in sporting goods stores.
You could use this gift card giveaway amount to spend on golf equipment. There's always Gleam to check out also, they host various amazing giveaways.

By searching for giveaways with "sporting goods" gift cards as the prize, you can choose to spend that gift card on golfing gear. Simple!
3. Social media
Social media is one of the biggest marketing tools around. Nearly every brand will have its own account/s. Due to that, there are plenty of top golf giveaways being held on social media.
Take a look at the following companies on social media for your golf giveaway needs.
Don't forget to check social community sites such as Reddit too. Check out r/golf and r/giveaways. Search for giveaways and golf within each of them, respectively.
Use the search terms such as golf giveaways 2023, golf/giveaways, top golf giveaways, free golf giveaways, golf sweeps, and golf sweepstakes.
We also recommend you use the search term "viralsweep" for unique golf giveaways on Reddit. For your convenience, access the direct viral sweep results here.
Click the image below to find just one example of a giveaway that was shared on Reddit.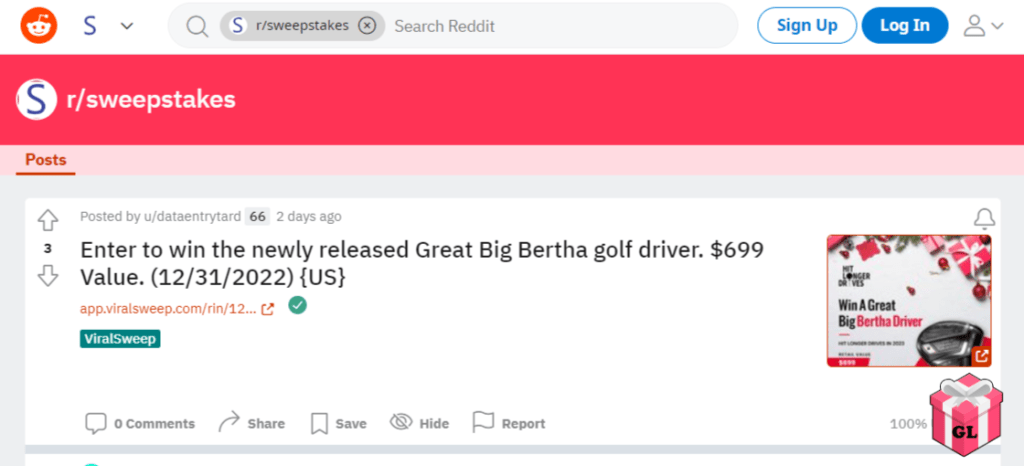 4. Your favorite golf brands
One way to find the best golf giveaways is to search for your favorite golf brands and find out if they're running giveaways.
We've found that some of the biggest names in golf are holding giveaways. Check out our shortlisted edit below.
The vodka and golfing gear brand, Tito's Golf
The clothing brand, Original Penguin
Women's golf clothing brand, Kinona
The golfing gear company, ICON
Another golfing gear company, Callaway
This guide will cover all of these brands and their giveaways in greater detail in the coming sections.
5. Giveaway Listing
Tip number 5 to round out this list, check out our lists! On our site, we list all of the current and active giveaways available, and those lists are updated every hour.
Giveaway Listing is dedicated to bringing you the top giveaways around. Not only that, we help you win these giveaways too.
Don't forget to check out our guides that cover how-tos and step-by-step guidelines for maximizing your chances of winning prizes.
As you'll see in this guide, we still have tons to share and have listed many unique golf giveaways for you.

How can I get free golf clothes?
Free golf clothes aren't difficult to come by – you just have to know where to look.
We've found some of the coolest new generation of golf clothing brands leading the way today. What's more, we've discovered they hold awesome giveaways.
Original Penguin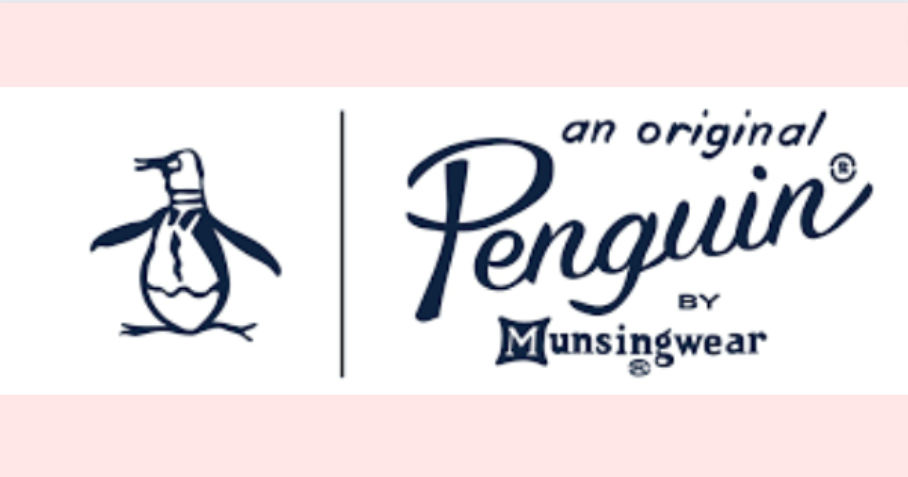 This brand has evolved throughout the years. These days, Original Penguin blends traditional American sportswear with modern styles stocking a range of clothing, including golf wear.
Original Penguin is celebrating Cameron Smith's big win at Kapalua by giving away 3-packs of Golf styles to 10 lucky winners! You can enter on their website.
Bad Birdie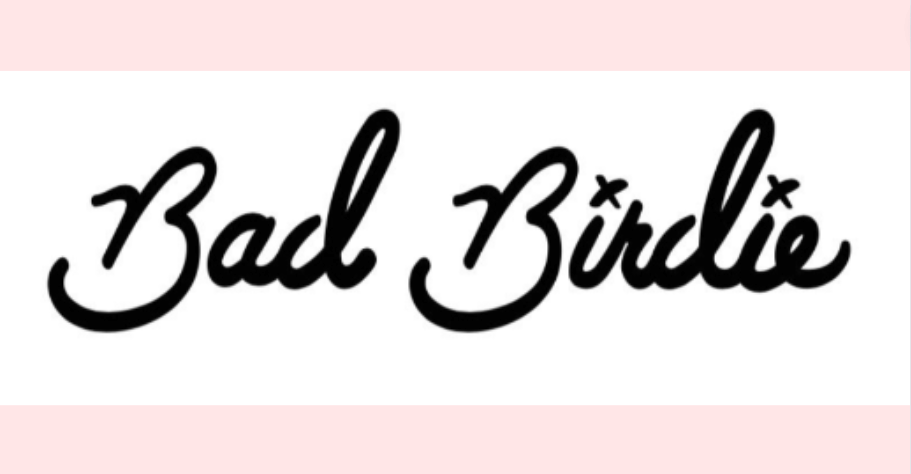 This golf clothing brand is on a mission to challenge the rigid traditions of golf. Bad Birdie wants to redefine the golfing culture.
Bad Birdie Golf was holding a top golf giveaway for a polo shirt. They run them often, so check back with them to find another one.
Tito's Golf
Tito's is a niche brand that runs unique golf giveaways. They sell and give away branded golf products from their vodka line.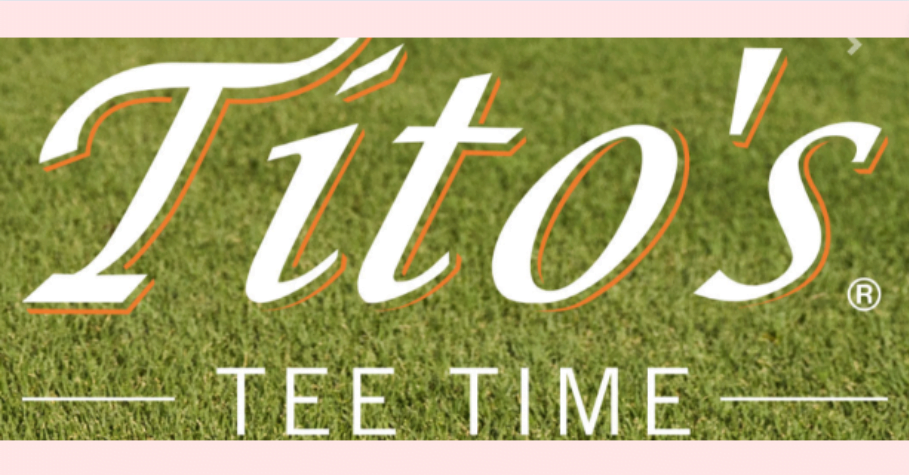 Tito's Golf giveaways run quarterly throughout the year. Right now, they're offering you the chance to win a golfing bag and golf polo.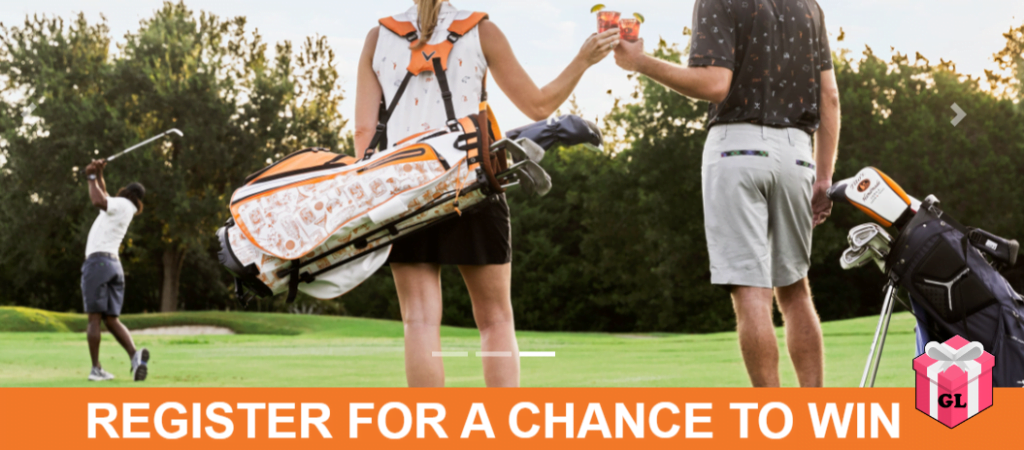 Kinona
Kinona is a golfing brand by women for women. They focus on unapologetically feminine functional cuts that flatter women's figures.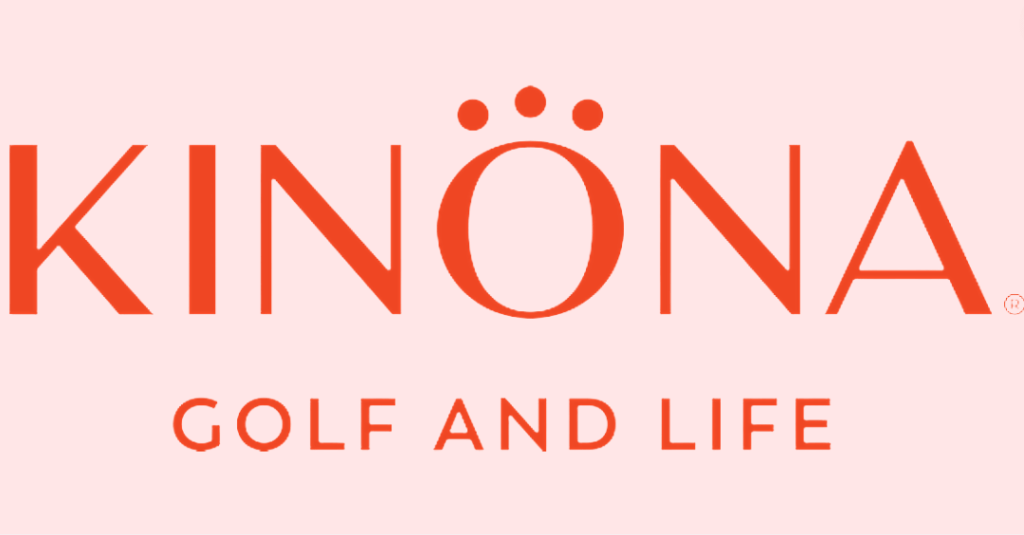 Kinona recently held a giveaway with a golf bag prize, personalized with up to 3 logos, a name, and one digital gift certificate worth $500.
You can register here to be the first to sign-up for their next giveaway.

Golf giveaways
Not only can you find golf clothes giveaways with clothing brands, but you can also find them on giveaway sites.
This company is posting and resharing golf giveaways on Twitter every day! You should check them out Golf Giveaways.
Is there a way to get free golf clubs?
There are many different ways to get free clubs. For one, check out Golf Gear Giveaways' website. They are holding free (and paid entry) golf club giveaways.
Also, check out the golfing gear company, Callaway Golf, and specifically their sister brand, Callaway Golf Pre-Owned.
Not only does Callaway have offers on pre-owned golf clubs and drivers, but they have been known to run giveaways.
Plus, you can trade in your old golf clubs for money off new golf clubs. Win-win!

Including the above, have a look at free and household recycling sites, such as
Gumtree
Freecycle
Craigslist
Gumtree, for example, is a reseller site but sometimes has free listings for golfing gear. All you have to do is pick them up. See below for some examples.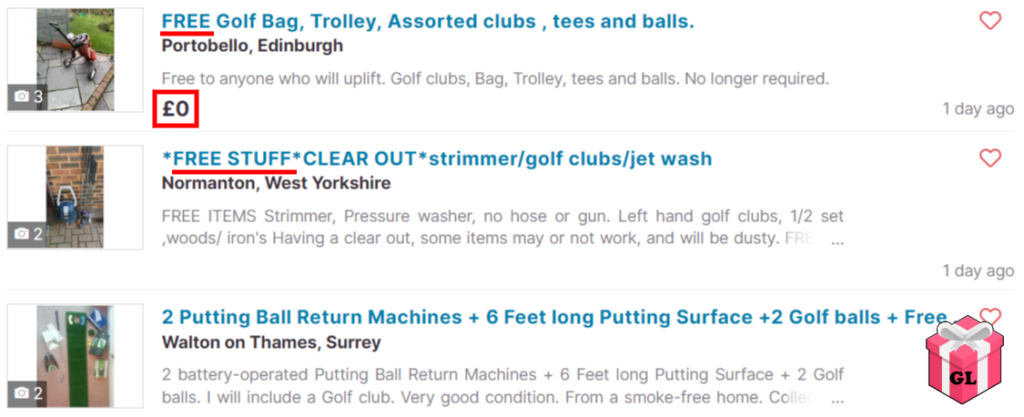 And why not search your local Buy Nothing groups?
Search The Buy Nothing Project, where people post free stuff. They have local groups worldwide, including in the US. Click the image below to see more
Additionally, search for local groups on Facebook, especially those set up for free donations.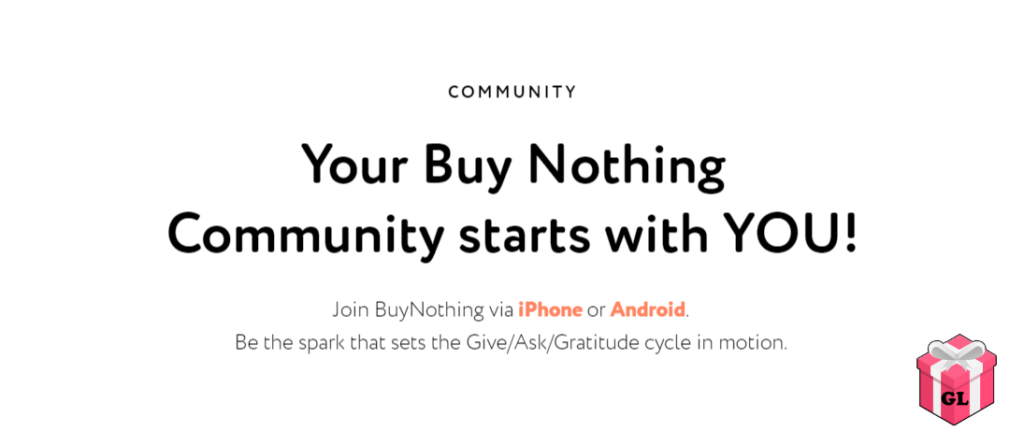 Including the ideas we've already listed for your free golf club needs, we'd like to suggest some unusual but equally promising ways to find free golf clubs.
Golf club donations
You could aim to find a golf club donation program if you're keen to go all-in. There are all sorts of programs that offer free golfing gear to golfers.
For one example, the ClubsForeYouth program by the Southern California PGA Foundation provides free golf clubs to local youth.
We recommend you do an online search for clubs and programs in your area. You could get golf clubs for free.
Credit card rewards
You already spend money, so why not use a credit card that offers rewards? Many credit cards these days offer some sort of cashback or reward, whether it's for daily groceries or travel purposes.
If you find a credit card that lets you redeem reward points towards purchases, you could get yourself some free golf clubs that way.
Test golf clubs
You should look into becoming a golf club tester if you're a die-hard golfer. There is a demand for golf club testers as new golf clubs hit the market, and brands need your approval.
By testing golf clubs, not only do you get clubs for free, but these will usually be exclusive new releases.
You have to do some legwork to find out if your favorite brands need testers, but the reward is worth it. Simply email who you're interested to work with.

Where can I find golf cart sweepstakes?
Golf cart sweepstakes are a bit like gold dust. It isn't impossible to find them, but they're trickier to come by than the rest.
Golf carts can cost upwards of a few thousand, so they're a rare win. Still, we've found a few places where you can find carts to journey around in!
Infinite Sweeps
This company lists an array of golf sweepstakes from different companies and brands. Some of their prizes include golf carts.
Their most recent golf cart sweepstake was held here on Infinite Sweeps. Check back on that page for the next one, and they still have more giveaways running there.
ICON
Check out the brand Icon for free golf carts. You should make a note of that brand.
ICON periodically holds giveaways on its website and social media channels. They're one to keep an eye on.
Golf giveaways
This company is posting and resharing golf giveaways on Twitter every day! You should check them out. Golf Giveaways

Free golf giveaways FAQ
Here are some of the most frequently asked questions about free golf giveaways. We have covered all you need to know in 2023.
How can I get free golf irons?
If you want to find free golf irons to get your shots to the green, you should check out the lists we provided above.
You'll find that most golf giveaway listing sites will host stacks of golf iron giveaways. Just be sure to check consistently.
If you need a free golf driver to get you off a tee in one smooth shot, check out the answer to our next question.
What is Callaway golf sweepstakes?
Callaway (or Topgolf Callaway Brands Corp.) is a designer, manufacturer, and seller of golf equipment. They specialize in golf clubs and balls, making accessories like gloves, bags, and caps.
Callaway Golf Sweepstakes gives you a chance to win their golfing goods! The most recent sweepstake prize was a Callaway driver. Check out Callaway for the next giveaway.
What is Tito's golf sweepstakes?
Tito's is a niche brand selling both branded vodka and golfing gear.
Tito's golf sweepstakes take place quarterly throughout the year, and over 600 winners will each receive a prize at one time.
Some of the prizes include Tito's golf shoes, golf bags, and copper ball markers, all handmade and branded with their vodka branding.
What are the best golf club giveaways?
Some of the best golf club giveaways are running right now on the platforms we've provided in this guide.
You will find some of the best golf giveaways listed in this guide, and you can also find more golf giveaways at Giveaway Listing's live giveaway feed. You can find this feed at the top of this guide.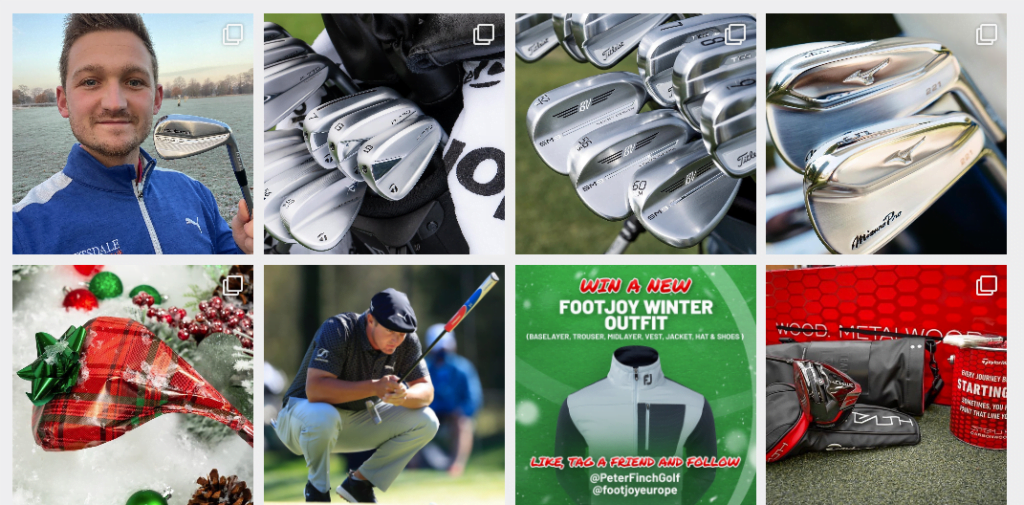 What's next for golf giveaways?
As you've seen in this jam-packed guide, there are many ways to get started with golf/giveaways.
Swinging our sight far into the future, we bet golf giveaways have better prizes yet to come.
From clubs and irons to caddies, there is something for every golfer in our current selection of top golf giveaways this year.
For more unique golf giveaways, don't forget to check back with us; we will update you with the latest on offer.
Enjoy entering some of these golf giveaways we have listed here, and good luck!