What are Car Sweepstakes?
That's an excellent question. We know that individually, neither word is particularly remarkable, but together? They spell the chance to win a free car just from winning giveaways!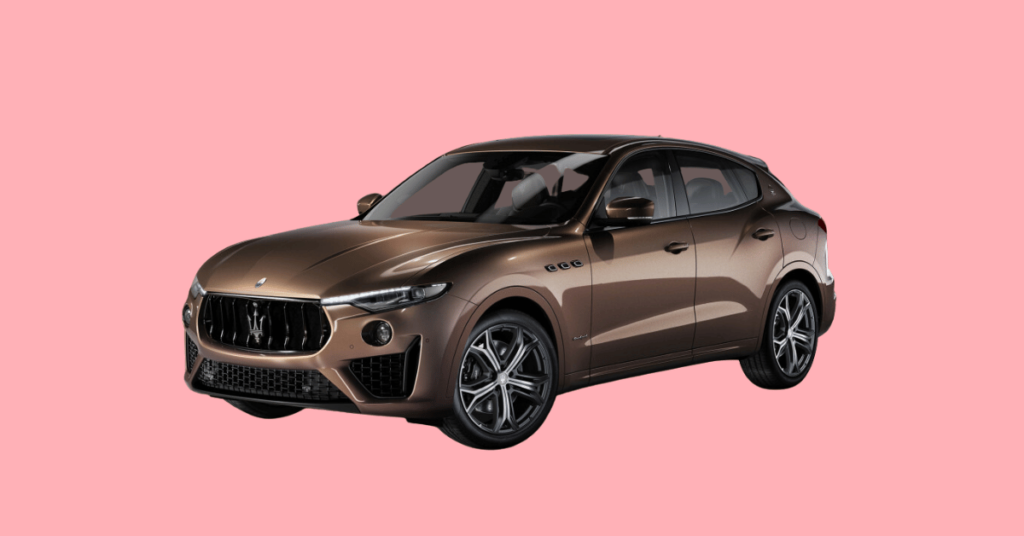 Car sweepstakes combine chance and opportunity most excitingly.
Originating within gambling circles sometime in the 14th century, the word "sweepstakes" was coined to describe how a winner "swept" up all the stakes at the end of a game. It's a true "winner takes it all" situation.
Sweepstakes are mostly a game of luck, with the winners chosen randomly by the organizers or legitimate third parties.
The fact that winning sweepstakes relies heavily on luck is worth emphasizing. The odds of actually winning these contests are usually tough, but it doesn't mean that winning is impossible, simply that it's not as straightforward as would be preferable.
Car Sweepstakes are, therefore, contests that offer their participants the chance to win free cars at no cost at all. They simply sign up for these competitions and enter the running to be selected randomly to win the grand prize: a Car!
Do Car Giveaways still exist?
The simple answer is yes, they still very much exist. In fact, the chances that you've randomly come across an ad offering these kinds of contests on the internet are pretty high.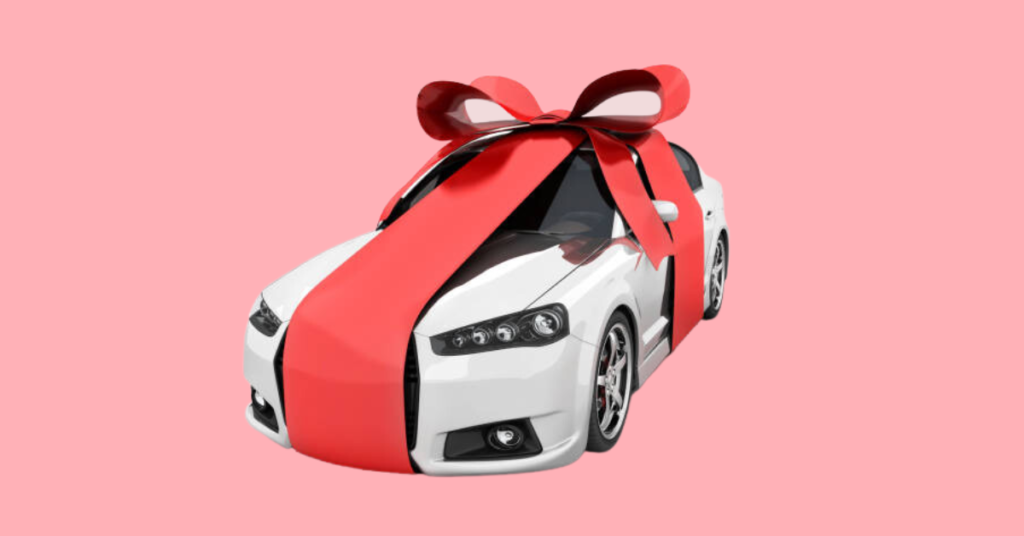 Car sweepstakes have been around for a long time. Giveaway hosts are always looking for fabulous prizes to offer their participants, and giving away cars would definitely fit the bill.
As such, multiple companies recognize the role giveaways play in improving marketing and advertising in a way that best appeals to their customers and also as a way to reward the customers who have been loyal to them.
Is trusting Online Car Giveaways a good idea?
We know this question has crossed your mind, and we understand. What are the odds of winning an entire vehicle for free? We're guessing it's not very high.
That's why it's essential to know which offers to trust and which ones to be wary of, primarily online. The internet makes it tricky to figure out who's genuine and who's being dishonest, so it's our responsibility to proceed with caution.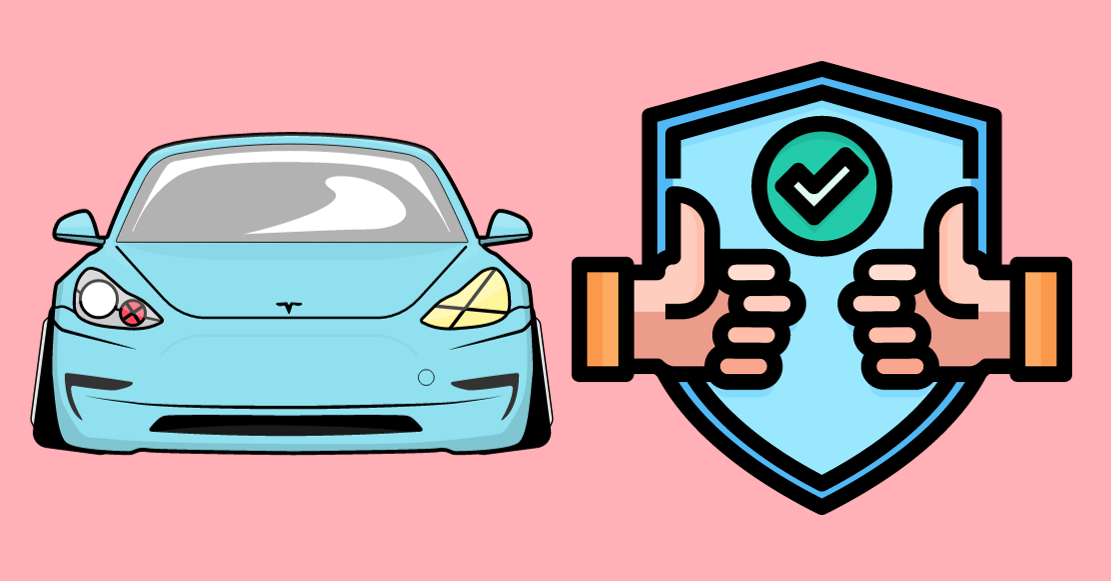 An excellent place to start would be running background checks on the giveaway hosts and their companies. It is important to know who the contest organizers are and how long they've been around. Generally, the longer a company has existed, the easier it is to trust them.
As such, companies that very recently sprung up and do not have a history of running successful and legitimate giveaways should expect to be met with skepticism.
Another thing to look out for would be the genuine experiences of people who have participated in those giveaways. So, keep an eye out for these websites' reviews, comments, and ratings to give you insight into what to expect and help you make informed decisions about whether or not they can be trusted.
Lastly, we recommend visiting only legitimate giveaway websites to find companies offering the contests you need. A great example is Giveaway Listing, a website that offers the most insightful guides on finding and winning the best giveaways and even currently has a detailed breakdown of everything you need to know about winning Dream Car giveaways.
Remember, you can never be too careful when determining who to trust online, so take your time and cover all the bases!
How to Spot Car Giveaway Scams
As mentioned earlier, finding who to trust online can be an uphill task, and Car Giveaways are no exception. Winning a car for free would naturally draw much attention, both good and bad.
It, therefore, is no surprise that scammers have found this to be a perfect cover to carry out their shady pursuits. From riddling your emails with spam messages to stealing your money, their schemes are often monotonous and easy to spot if you know what to look out for, and that's where we come in.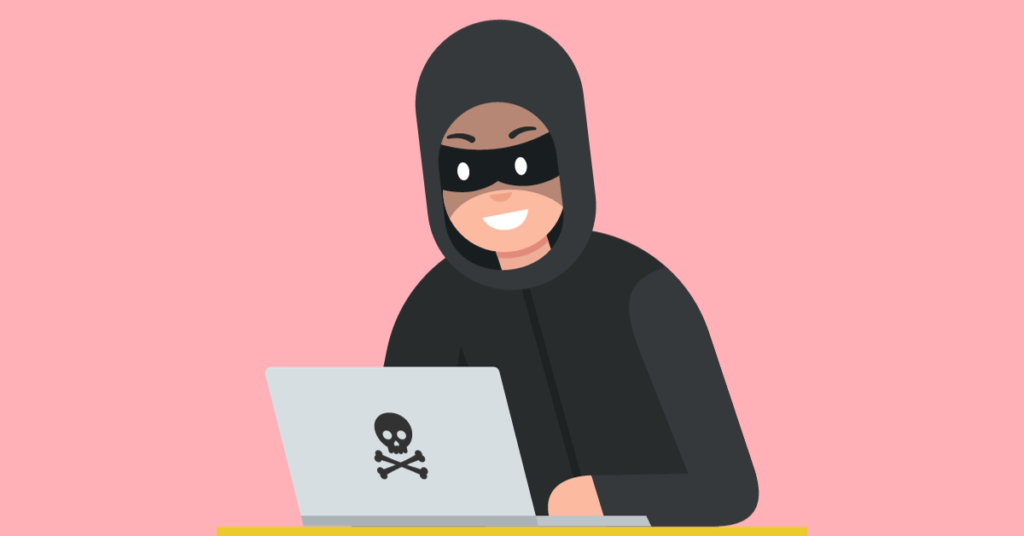 Below are some tips we'd like to share on how to spot Car giveaway scams:
Asking for Payments
The first red flag you should keep an eye out for would be contests that make you pay to participate or claim your prize.
If asked to pay tax on your winnings, shipping or processing fees should raise some eyebrows.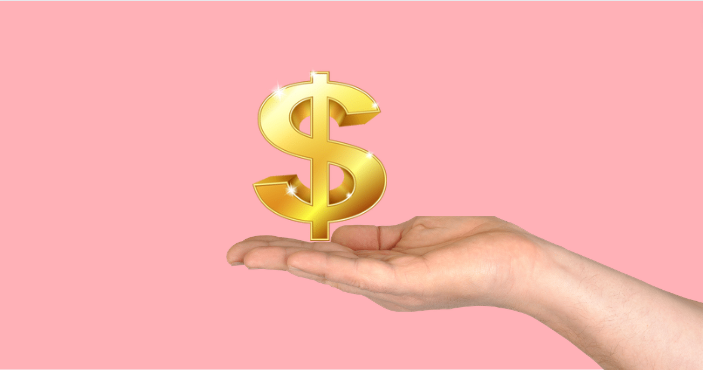 The organizers typically cover such costs unless stated otherwise in their terms. So when a giveaway asks you to pay to sign up or insists on a fee to receive your prize, consider that the first sign of suspicious behavior.
Complicated Payment Methods
As we just mentioned, car giveaways do not typically require any fees to be made by the participants. However, there are cases where it is clearly stated in the contest terms that an entry fee would be part of the sign-up process.
This isn't always shady behavior, but one quick way to know if it is is to pay attention to the payment method you're being asked to use.
Scammers often request payments via methods least easy to track. So, if you're asked to make payments through cryptocurrency or cash, that's a red flag.
Giving Away Private Information is a No-No
If you didn't already know this, we forgive you, but going forward, always remember that there's never a good reason to share your private information online.
From financial information like your bank account or credit card number to personal information like where you live or work, the internet is definitely not the place to share that willy-nilly.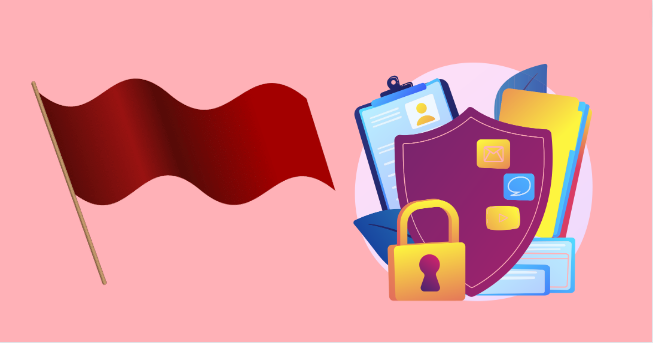 For more obvious reasons, like the fact that you could be robbed of your hard-earned money or even that your safety may be threatened, giving your private information away is never a good idea, and you should avoid giveaways that ask for those like the plague.
Clearly Stated Requirements
Giveaways can be many things, but they should never be ambiguous. The requirements for entering the contest, participating, and even claiming the prize when you win should be clearly spelled out from the beginning.
The language should be direct and easy to communicate so there is no room for misunderstandings or guessing. Where the terms and conditions of a giveaway are vague and indirect, it probably means that they are not to be trusted.
Overall, the prospect of winning a free car can be super exciting if done the right way. So take your time and do as much research as
The Best Car Sweepstakes you can win online
Now that you know what Car Sweepstakes are, here are the top ones you can win online!
1. Throtl sweepstakes – Throtl.com
The first giveaway on our list is Throtl Inc. Founded in 2015 by Rick Beckerman, Throtl boasts of being a major car parts distribution company today. Based in San Diego, California, the company caters to all US citizens from various states, including Canada and the District of Columbia.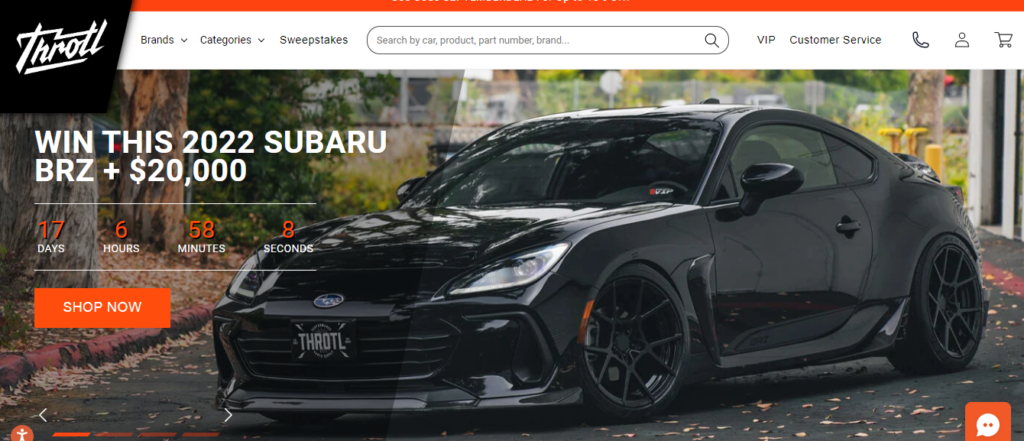 Focused on making the process of finding the perfect automotive parts available to those who need them when they need them, Throtl makes the retail market for car parts easy to maneuver.
Now, aside from being your one-stop shop concerning anything car-related, Throtl offers its customers the chance to win cash, a brand-new car, or both by simply participating in its sweepstakes!
Entry is pretty straightforward. The current sweepstakes will be advertised on their website along with details of the car's specs and the closing date for entry.
The first way you can enter is by making a purchase worth the value of entries you'd like to make, and youll be in the race to win. This also applies to purchases made via the company's affiliate website, Hoonigan.
This means that every dollar is equal to 1 entry, and so if you buy something worth $35 on their website, you would have made 35 entries. However, the rules differ for VIP members as each purchase would equal 5x the number of entries a regular participant would make. Buying something worth $35 means they'd created 175 entries.
Another way to enter the Throtl sweepstakes is simply being a VIP member. This is because they automatically get 50 entries per month into whatever sweepstakes is being held at the time, which increases their chances of winning.
Entering the sweepstake could also be via in-person purchase at the Hoonigan store or pop-up booth, but be sure to crosscheck with the Hoonigan representatives to be sure your purchase is eligible for entry.
You could also enter without having to purchase by sending a mail-in entry containing your required details and a short, handwritten note answering the given question. Bulk entries of this method will not be valid, so each entry must be mailed separately to constitute multiple entries.
All in all, it's essential to review the information on the website before participating to familiarize yourself with the requirements for entry. For instance, only persons 18 and above and residents of the US, the District of Columbia, or Canada can participate.
So, ensure you are eligible to participate and understand the sweepstakes' terms and conditions before proceeding. Remember, patience is key to winning, so make sure you don't give up easily!
Dream Car Giveaways was established in 2018 by a small group of car enthusiasts for fellow car enthusiasts like themselves.
The founders, Marcus Hickling, Michael Andrews, and David Andrews, set out to create an opportunity for car lovers like themselves to win the car of their dreams at a fraction of what it would ordinarily cost.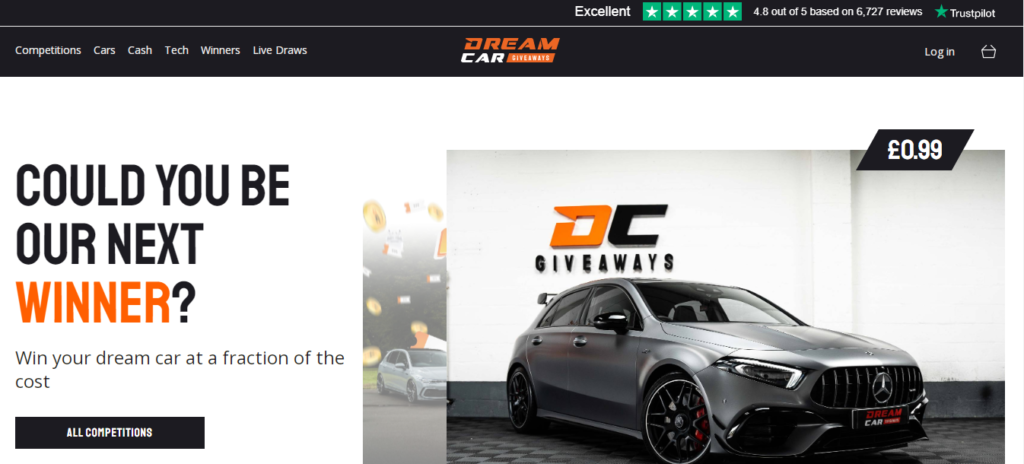 As such, contestants can enter competitions offering super cool prizes ranging from cash, tech gadgets, watches, and Cars!
There is also the option to trade in other prizes for cash alternatives. Entries are made via the website by simply answering a competition question set by the organizers and paying the required entry fee. Physical entries are also possible via post.
Dream Car Giveaways is an excellent website for anyone hoping to win a great car, amongst other fantastic prizes, and we definitely think it's worth checking out.
Founded in 2007 as a subset of Faithnet Funding Inc., Dream Giveaways links car companies willing to give away cars and people looking to pick draws for said vehicles.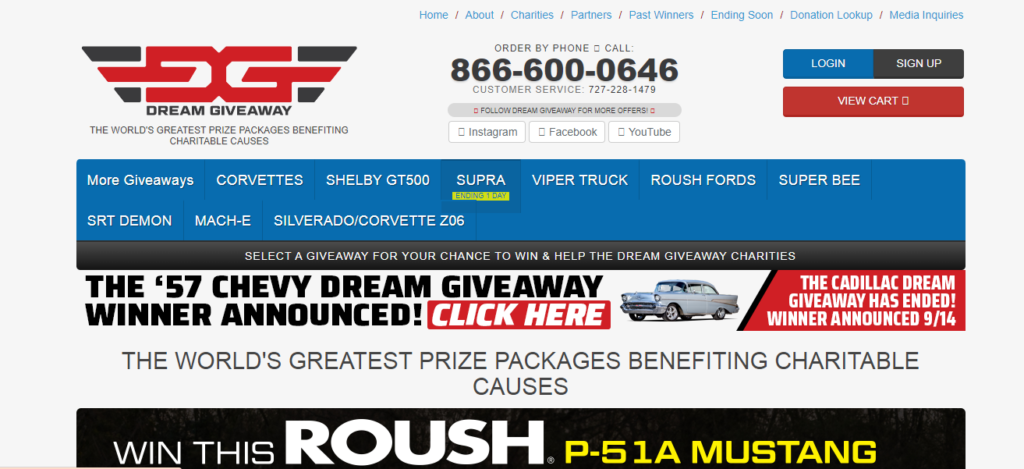 This helps create publicity for the car brand and themselves. Their giveaways are timed with a broad countdown timer featured on the website landing page. The company is based in Largo, Florida, and their giveaways are open to US (except Oregon) and Canadian Residents (except Quebec) legally above 18.
Dream Giveaways handles its giveaways, mostly in partnership with car companies. Charitable organizations licensed it to oversee funded promotions for soliciting finances. They consider themselves "The World's Greatest Prize Packages Benefitting Charitable Causes."
They are sponsored by and partner with many organizations and brands – including Toyota Racing, American Car Craft, Montana Silversmiths, and Skip Barber Racing School, to name a few.
Dream Giveaways is another excellent website that offers a unique chance to win a free car, and what's better, it's all for charity!
Primedriven Giveaways was founded by Justin Burnash in 2012. In over 10 years, it has successfully conducted giveaways totaling 7 figures!
The company typically offers the chance to win 2 cars for giveaways at once, with individuals who participate having access to both cars offered with only one application.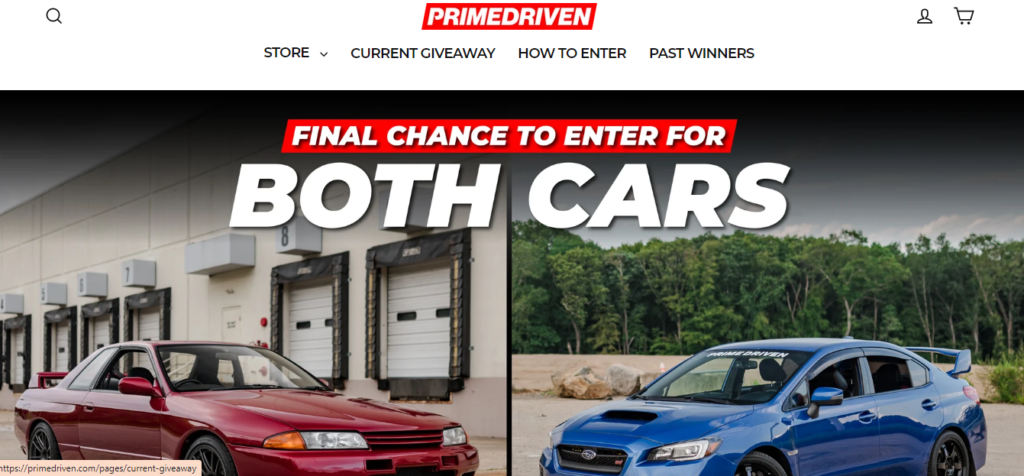 Shopping from the Primedriven website and adding products to one's cart serves as an automatic application for the ongoing raffle draw at that time.
Their website- Primedriven Daily, features smaller car giveaways, information about past winners, and other tidbits of information you might need to participate in their promotions fully, so make sure you check it out!
A community of people brought together by their passion for motorsport, 80eighty was founded in 2014 by Daniel Schmucker, Nick Mofford, and Justin Wallace. The company is located in Utah, USA.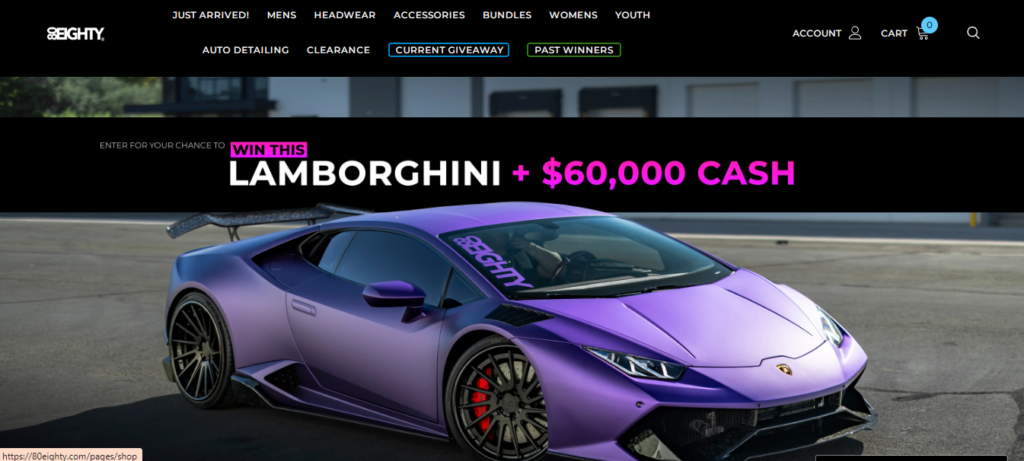 The competition is open to all residents of the 50 US states, Canada, and the District of Columbia who must have attained the age of majority according to where they reside and are licensed drivers.
Entries are straightforward as they could either be by purchasing an item from their website or by sending in your entry via post.
They aim to bring together individuals who hope to win their dream car at little to no cost and allow them to do so. They offer car and cash prizes for their winners and the option to receive the cash equivalent of the grand prize.
So, if you're in the market for car giveaways to join, 80eighty would be a great place to start.
Boasting the largest automotive enthusiast network in the world, Speed Society is a haven for car lovers worldwide, and one feature it's particularly appreciated for is its sweepstakes.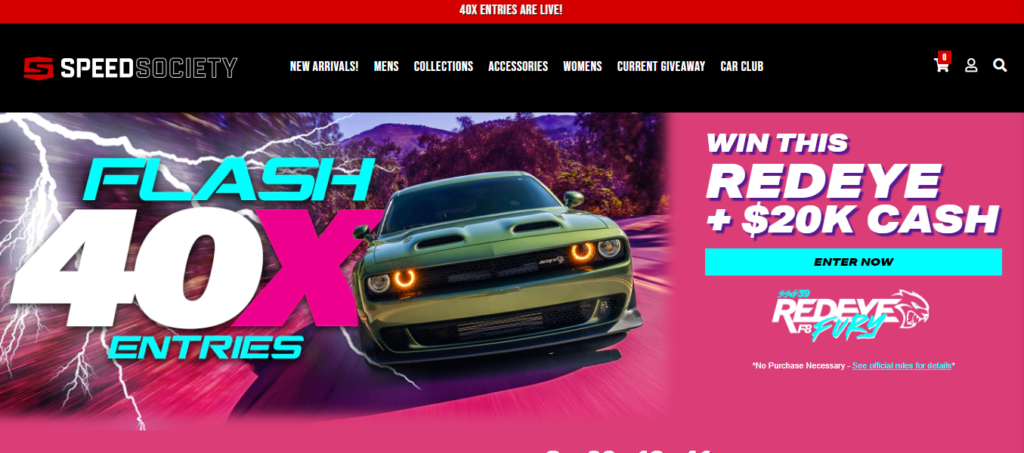 Founded by Charlie Rose in 2015 and based in San Diego, California, its competitions are open to all US and Canadian citizens with the age of majority where they reside.
The entry methods into this competition include purchasing from their online store, joining their car club membership, mobile registration via SMS, interacting with their social media, and mail-in entries.
Whichever method you employ, read the contest rules and regulations to ensure you stand a chance at winning the car of your dreams!
7. Turner Cult sweepstakes – Tunercult.com
Launched in 2005 with its headquarters in California, USA, Turner Cult was created by founder Lufti Mohammed as almost a side project.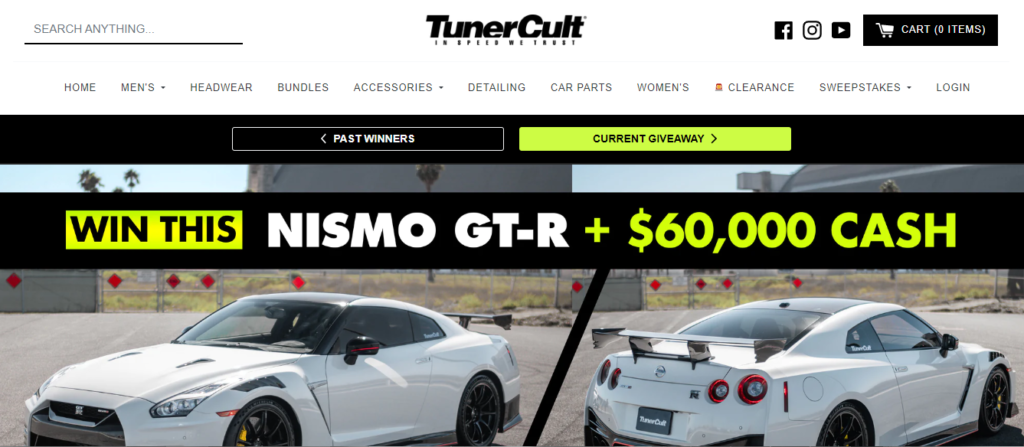 It eventually grew into this online community for like-minded automotive enthusiasts to bond and benefit from their interests. Giveaways are held on the website, allowing users to win actual cars or even cash prizes!
You simply need to be eligible to participate, and youll be in the race to win. So if you're a citizen of the US or Canada, above 18, have a valid driver's license, and want to win a car, Turner Cult is definitely for you.
8. Omaze giveaways – Omaze.com [currently on hold]
While this website is currently on hold and has been inactive for a while, Omaze is another company that offers terrific opportunities to its users to win big prizes via their sweepstakes, including the chance to win their very own car!

It was established in 2012 by Ryan Cummins and Matt Pohlson and is based in Los Angeles, California, USA.
At the core of this company, Omaze seeks to redefine charity by making dreams come true for those who wouldn't have had them come true otherwise.
They are working on improving their brand and the quality of their users' experience, but they promise to be up and running soon.
Founded in 2007 by John and Janiece Agnew created, this company offers the best automotive cleaning services in Northern Colorado and Southern Wyoming, USA. After several years of being in operation, their motivation remains the same.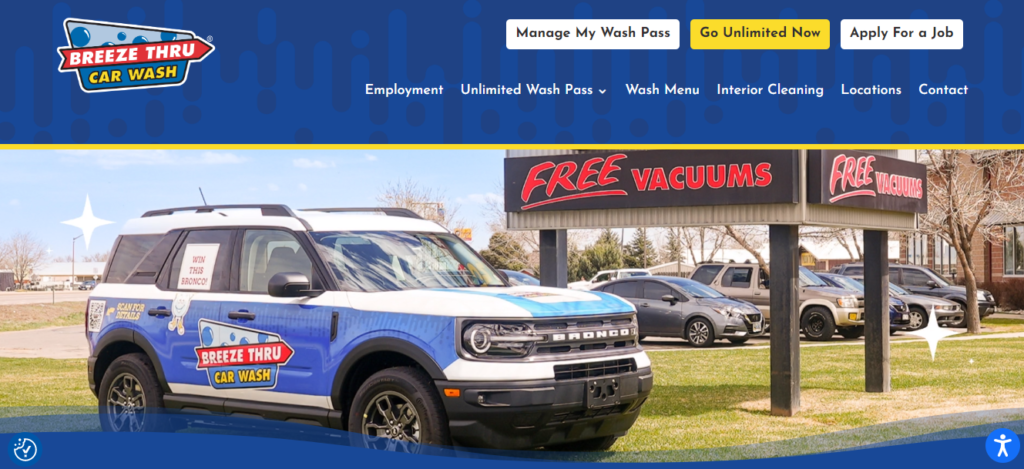 Outside their premium car cleaning services, there's also the opportunity to win a car of your own from their super cool car giveaways!
To participate, you must be a legal Colorado or Wyoming resident over 18 with a valid driver's license. Ensure you follow the rules guiding your entry and participation on their website, and you might stand a chance to win your dream car!
How to Participate in Online Car Sweepstakes
So you know what car sweepstakes are and where to find them; now let's help you know how to win them!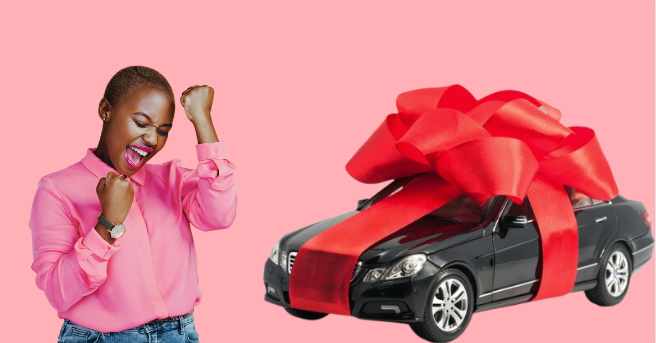 The first tip to winning car sweepstakes is joining the right ones. Knowing which giveaways would be a good fit for you is important. Whether this is based on the location or the means of entering the contest, knowing which giveaways would work best for you is the first step to winning.
Our second tip would be to familiarize yourself with the giveaway rules and regulations. This is super important as it helps you understand what the organizers expect from you and what role they'll be playing in the process.

It also saves you from misunderstandings that could cost you your chance to win the grand prize. So, make sure you follow the contest rules to secure your spot.
Third, enter as many as you can. One of the most important tips to pay attention to is to enter as many legitimate car giveaways as possible. This does an excellent job of increasing your chances of winning.
With car sweepstakes, increasing your odds should always be your focus. The more contests you can enter, the higher your chances of winning.
Finally, don't get carried away. We know that winning an entire car for little to no cost can be exciting, but remember what we told you earlier about scammers and their interest in car giveaways. So stay alert and use the points we mentioned above to avoid being a victim of their tricks.
Overall, Car sweepstakes are a great way to generate traffic for the organizers and reward their loyal users when done correctly. So have fun, but remember to stay safe while doing so!
Car Sweepstakes FAQ
Here are the answers to the most Frequently Asked Questions regarding Car Sweepstakes: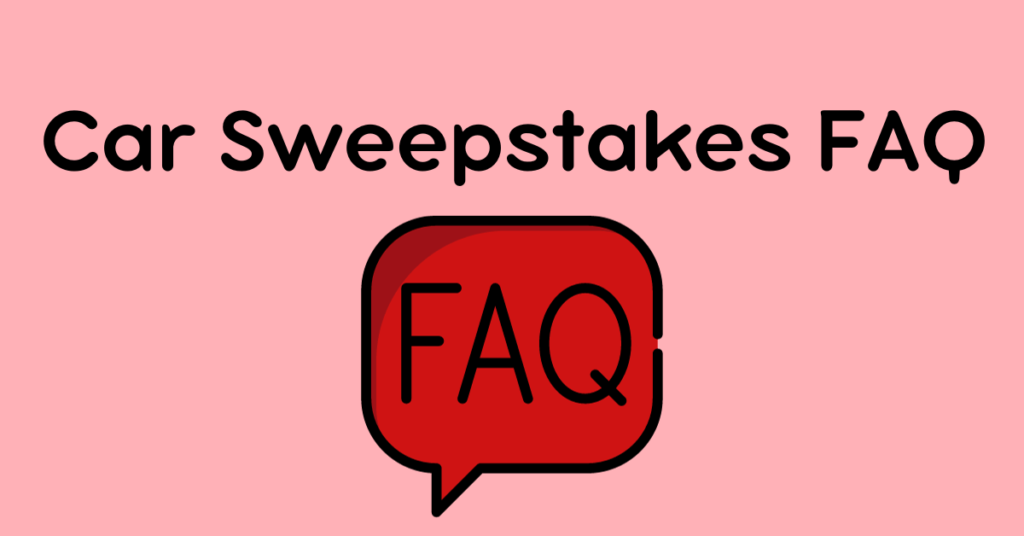 Is entering the Car Sweepstakes worth it?
We definitely think it is, and if you're a lover of cars or simply just a lover of free stuff, we think you'd agree.
It'll require some effort from you, though, as you'll have to research to find legitimate car sweepstakes you can trust that would suit you.
You may also need to spread your net and enter as many as possible to increase your winning odds.
However, while winning might take some time, we're confident the reward would be incredibly worth it.
Has anyone ever actually won a car through a sweepstakes?
We're happy to inform you that the answer to this question is a yes.
For starters, it's super helpful that most platforms hosted giveaways like the ones mentioned above feature reviews from their users who have participated in and won these giveaways.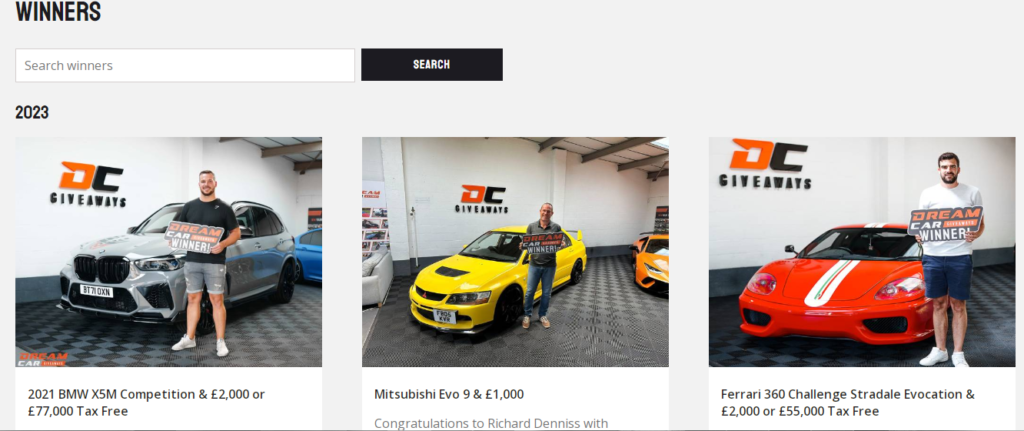 This way, you get to see real people share their experiences, which will help in your decision to trust them.
Websites like Trustpilot.com also help decide what to do next when deciding whether to move forward with car sweepstakes.
Featuring genuine reviews from people who have participated and some who've actually won, sites like this help confirm that these giveaways are what they say they are.
Which Car Giveaways are legit?
This is a super important question; we understand why you'd ask. As mentioned, car giveaways are super popular, making them prime scam material.
That's why we emphasize the need to do your research before trusting any sites or companies claiming to host them.
Lucky for you, we've done some heavy lifting and outlined a few of the websites running above-board giveaways, so if you haven't already gone through this article to find them, we suggest you do!
Remember, it's okay to keep your guard up, and if something seems too good to be true, it probably is.
Do I have to pay taxes if I win a car in a sweepstakes?
The answer to this would depend on the country where the sweepstakes is run.
In the US, the general rule of thumb is that sweepstakes winnings are considered taxable income. The amount of tax you pay also depends on the value of your prize.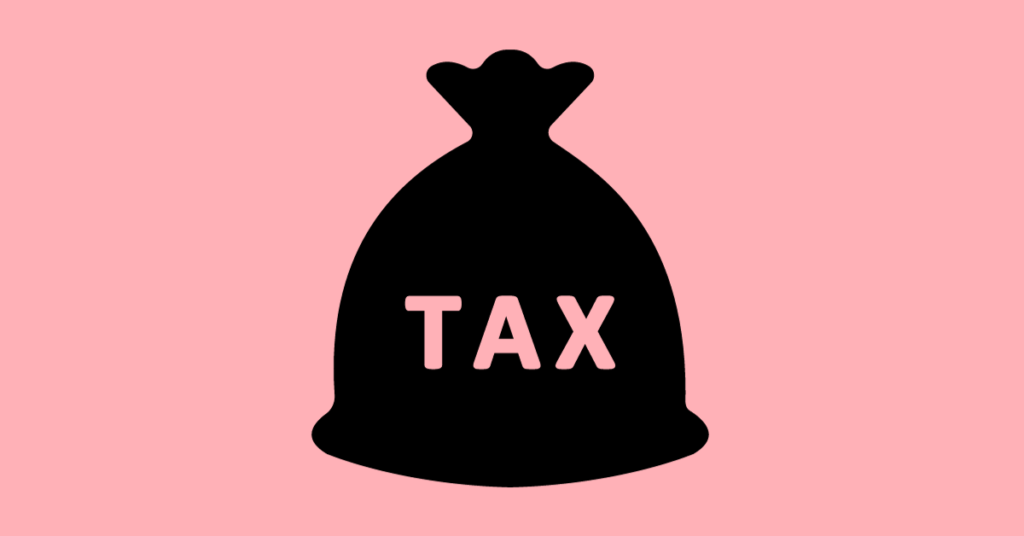 The federal income tax would be the first of your concerns. For winnings valued above $5,000, a mandatory federal income tax is payable to the IRS. You can be taxed between 10%-30% depending on your tax bracket.
Next is the state income tax, which could be an additional 9% tax, but this is only applicable in states where state income tax is payable, as states require this.
In the UK, however, giveaway prizes are mostly not chargeable to tax. There are instances where tax may be payable on a giveaway item, but even then, the agreement may have stated that the organizers would cover such payments.
So overall, whether or not you'd be required to pay taxes on your prize would be determined by the contest's terms and location.
The Final Word About Car Sweepstakes
Car sweepstakes are a fantastic and exciting concept for everyone involved. The chance to win an entire car for a fraction of its original cost will always be an interesting prospect to those who come across it.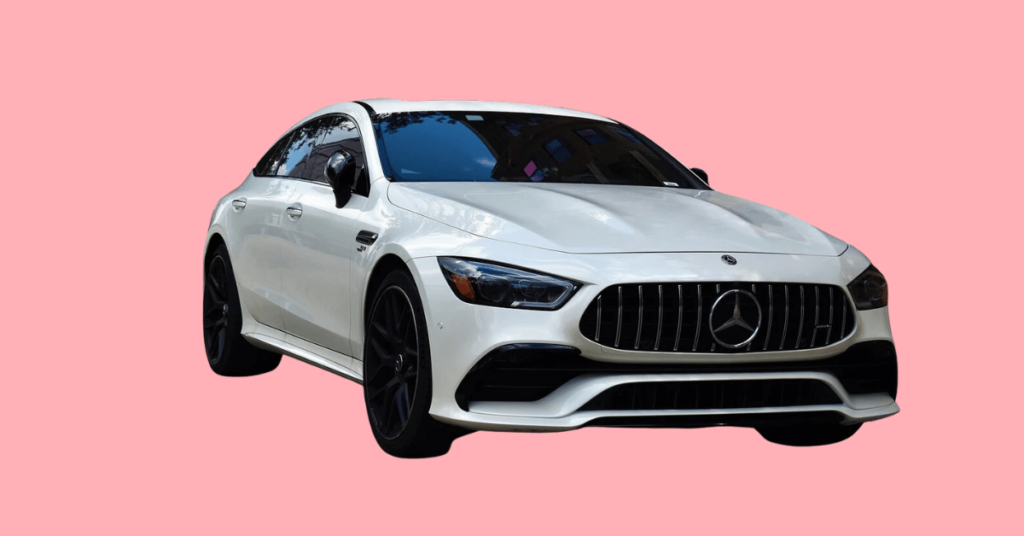 The entrants aren't the only ones who benefit from such contests. Organizers also enjoy the traffic such giveaways bring to their websites from curious giveaway enthusiasts.
That's why it's important to stay cautious when entering and participating in car sweepstakes. Make sure you apply all the tips outlined in this article and remember to trust your gut feeling. If something feels off about a giveaway being offered, it's best not to stick around to find out what.
So have fun on your journey to find the best car sweepstakes, and remember to let us know if you win big!
You're also welcome to stay updated on other cool giveaways you can enter by visiting our website, Giveawaylisting.com, often, where we offer the best guides on finding and winning the coolest giveaways out there!