San Diego Padres giveaways
The renowned Major League Baseball team, San Diego Padres play their home games in Petco Park, San Diego. Here's what Wikipedia has to say about the Padres.
Founded in 1969, the Padres have moved with the changing times to enhance their fans' experience by hosting giveaways.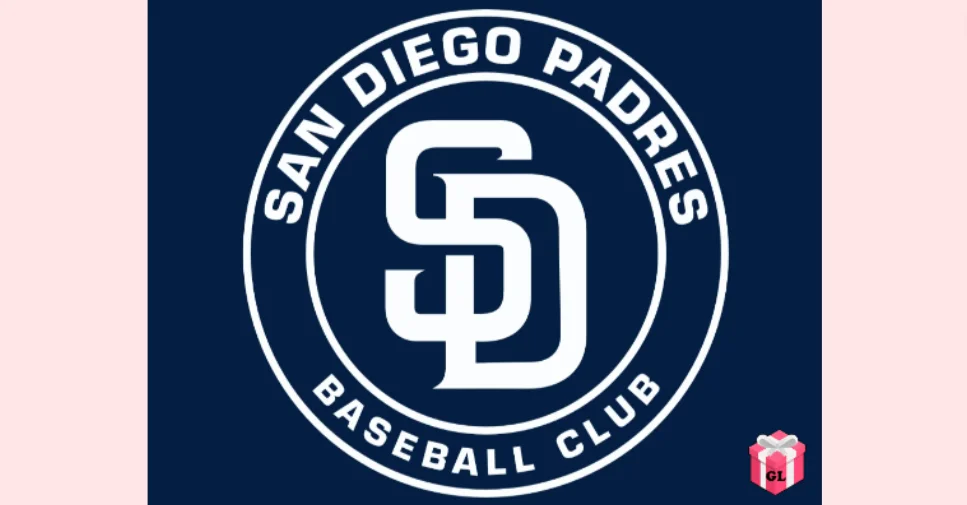 They have an exciting 2022 giveaway schedule lined up. What's more, we've included a sneak peek into the schedule for 2023.
We've covered all you need to know about the San Diego Padres giveaways in 2023, the free giveaway items, and the steps it takes to win them.
What is Padres all fan giveaway?
All fan giveaways are prized Padres game giveaways for all of the family.
The family-friendly and exciting giveaways are held at their home stadium, Petco Park.
At select games throughout the season, the San Diego Padres give away official branded merchandise ranging from bobbleheads and t-shirts to hoodies.
The first 35,000 fans in attendance are the lucky winners.
These giveaways begin when the gates open. The prizes are distributed on a first-come, first-served basis.
The giveaway schedule for the Padres all fan giveaways are announced when the season schedule is announced. That's a new Padres/giveaway schedule with each new season.
The Padres' prizes include official merchandise and collaborative memorabilia, such as the Padres' hoodies presented by Motorola, or their Manny Machado Bobblehead, thanks to Bally Sports San Diego. Check out their newest swoon-worthy jersey on Business Insider.
Since the beginning of the giveaways bonanza, The San Diego Padres have held so many awesome giveaways.
What's more exciting than that is bigger and better giveaways have been announced for the 2022 and 2023 seasons.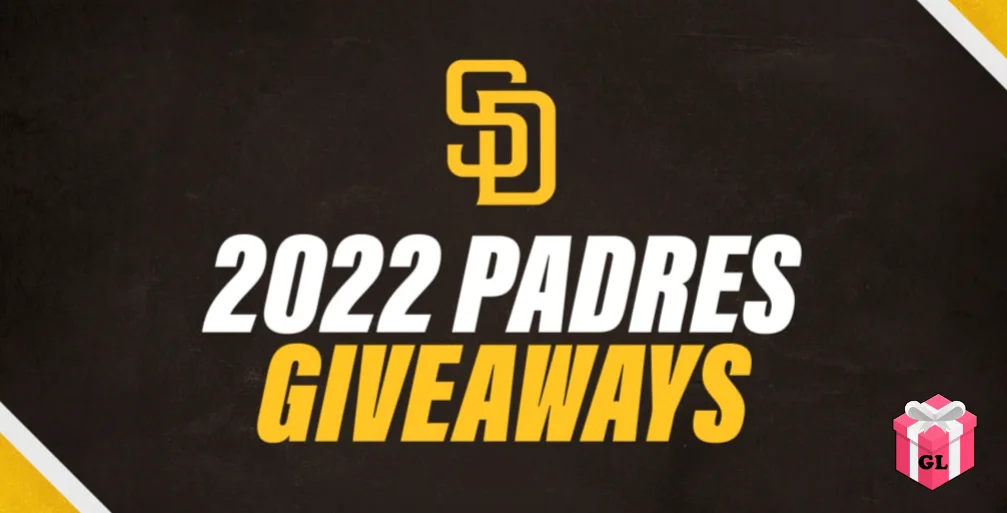 Padres ticket giveaway

Along with the advent of amazing Padres giveaways came the promise of ticket giveaways. But do Padres deliver the goods?
Understandably, we all love free tickets, but baseball games can be expensive. Plus, who doesn't want to win free tickets?
You can try your luck at winning Padres ticket giveaways, and thanks to coupons and specials, you might get lucky.
Currently, there are no ticket giveaways or coupons available at this time. But the official Padres site shares current discounts and coupons to help you score discounted tickets.
Specifically for Seniors, Military members, and all you Padres fans, this option helps you to save money and enjoy the game at a cheaper rate.
Here's our heads-up about military discounts. This one goes out to active duty, reservists, retirees, veterans, and their families. You all instantly save 25% off any available tickets. With the exception of Lexus Home Plate Club, Opening Day, and others.
Military discounted tickets are available for purchase at Petco Park ticket windows and ticket offices. That generous discount doubles to half price on all home games on Sunday in the regular season.
Let's not forget Petco Park tickets aren't completely unaffordable.
Tickets to see the San Diego Padres can cost as little as $20. The price goes up from twenty bucks to one hundred, with some seats selling for a price of more than that.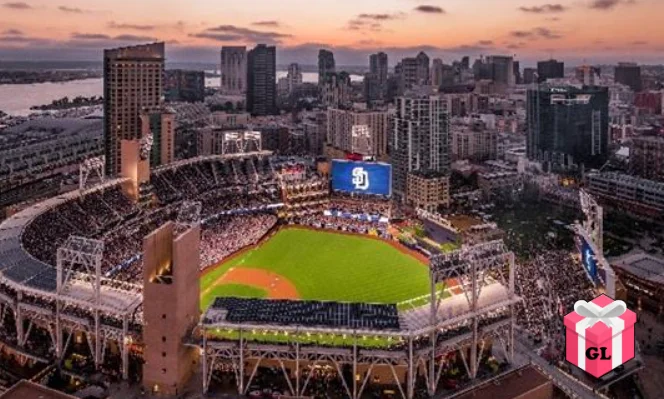 Save money on tickets
Ok, the Padres have a confession to make. There are no free ticket giveaways on offer right now, but let's not forget you can try to get in for less.
Luckily, there's one page that you can check frequently to get informed when a new giveaway is available. You can the next Padres ticket giveaways here.
Let's not just rely on luck and save you some money: The coupons for San Diego Padres tickets and admission prices vary depending on factors like who the opponent is and the day of the week.
Bare that in mind the next time you want to see the Padres play. You can save cash by choosing a game against a less in-demand opponent and one that's scheduled mid-week.
On the flip side, weekend games against rivals and playoff contenders are more expensive. Save those for the days you're feeling flush.
You can also save more bucks by buying in advance rather than waiting until the day of the match and Padres game giveaway.
Here are some other top tips to help you save money:
Children under 36 inches get into Padres games for free (if they sit on your lap)
Hotels close to Petco Park may run discounts for Padres fans
Check out Groupon for Petco Park and related discounts
Become a season ticket member
Keep an eye out for monthly Padres/giveaways and promotions.
The rules of each can be found on Petco Park Insider, Padres Coupons.
If you love baseball, and saving money on tickets, check out our Dodgers guide.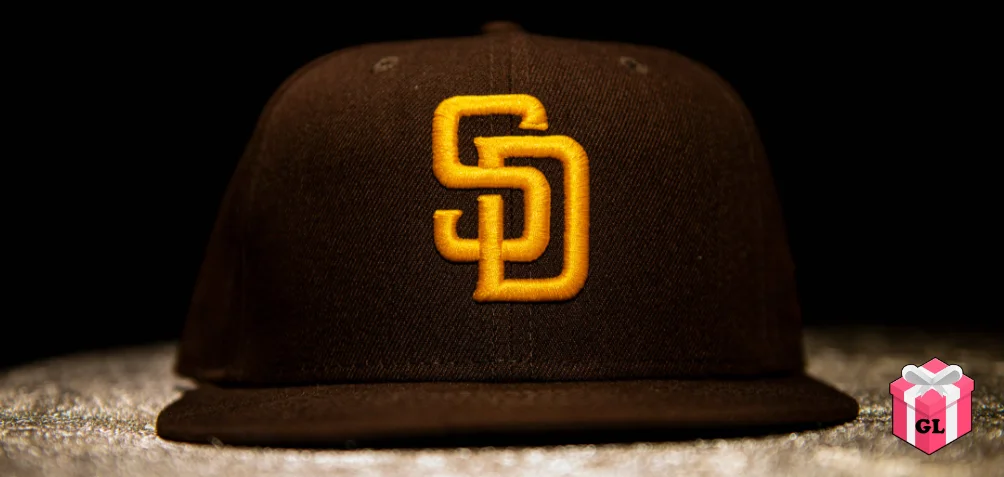 Padres promotional giveaways
As if spectacular views at Petco Park and top-tier baseball weren't enough for you, the Padres love giving their loyal fans free stuff.
You would have gone to a game regardless, right? Well, now you get to attend a game and win giveaways at the same time!
You can take advantage of the upcoming schedule of Padres promotional giveaways simply by attending. What's more, you get to be part of community-feel theme nights and special events.
For example, every Sunday game at home is Padres KidsFest! As part of that, all kids 14 years old and below receive one giveaway item each.
There are also loads of concerts to attend, not to mention great baseball.
Here's the lowdown of some of the past Padres promotional giveaways to give you a taste of what they're like. At a glance, they're full of free prizes.
August saw the return of hoodies, bobbleheads, thundersticks, and free souvenir giveaways for lucky fans.
September saw the famous Padres BeerFest return when they played against LA. With another pregame party Fiesta In The Park when they played against Chicago White Sox. While the popular Hispanic Heritage Night was also held in September.
The regular slot for Military Appreciation was held from April through to the current day, during each Sunday home game (and one Monday) at the stadium.
Select Tuesday games last season were scheduled as First Responder Appreciation Nights.
You want to keep reading for the current-day promotions and the upcoming 2023 schedule – we've included those later in this guide.
And now, drumroll please, it's time for our guide to winning the Padres/giveaways.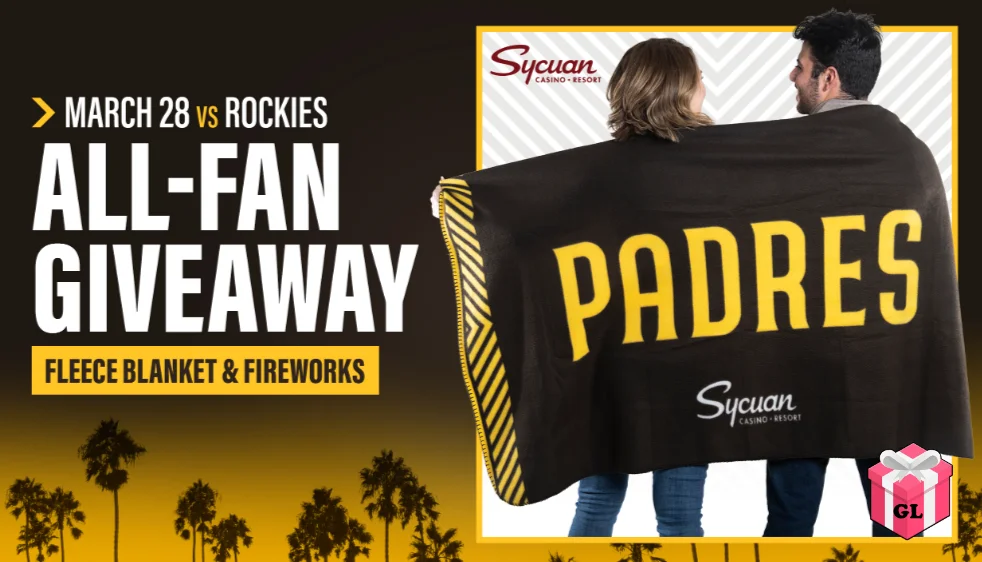 Win big with our 5 Tips
It's simple to enter an official Padres giveaway in 2023, but with that said, you might have overlooked some of the tricks to win. Here are our top 5 tips.
1. Peep the new Season Schedule
The giveaway schedule for the Padres all fan giveaways are announced when the season schedule is announced.
That's a new giveaway schedule with each new season.
By following step number 1, you will be the first to know about what games are scheduled and what giveaways are running.
2. Be an early bird
As mentioned up top in "What is Padres all fan giveaways?", the first 35,000 fans in attendance to a game will be rewarded with giveaway prizes.
That's close to all of you in attendance – maybe all, if the seats didn't sell out! Petco Park stadium has a capacity of 42,445 seats. Still, you want to be sure you're a lucky winner.
All you need to do to win a giveaway is to get there early. It pays to be an early bird.
3. Get to your gate
Nobody likes to queue. And can you imagine lining up to find out you're in the wrong one? Exactly. Don't do that! The staff at Petco Park should be able to help you get to your gate. There will be a correct point of entry for your seat number, usually, that's also specified on your ticket.
Remember, the Padres game giveaways begin when the gates open, and the prizes are distributed on a first-come, first-served basis. Make sure you get there first.
Those top 3 mentioned tips will take you far, that's when you're ready to get going to a game.
Further to this, you want to be the first in line for the giveaway announcements to guarantee you'll arrive at that place. Our next steps you can take right now will ensure this!
4. Text Padres
That's right, you can send The San Diego Padres a text message to get exclusive offers sent directly to your inbox.
This is an exciting way to stay informed – your favorite team will text you messages about prize giveaways. What's not to love about this step?
Text "Padres" to 78469 for exclusive Padres news, giveaway announcements, ticket offers, presales, and more.

5. Become a Padres Insider
Signing up to be an Insider gets you video highlights, up-to-date news, features, ticket specials, and giveaway announcements.
All of this and more will be delivered free to your inbox, wherever you are in the world. See Padres Newsletters for more.
You can also manage your account to tick the boxes for the kinds of newsletters you want to receive. Don't forget to add Padres' email addresses to your account otherwise, the emails might end up in spam.

Padres current schedule
As promised, here's an overview of some of the current Padres schedule and a few of the upcoming 2023 listings.
October 2022
Final Home Game – Padres vs. San Fran
October 5, 2022 — Petco Park, San Diego, CA
A Day To Remember concert
October 7, 2022 — Sycuan Stage in Gallagher Square
November 2022
Marc Rebillet concert
November 3, 2022 — Petco Park, San Diego, CA
Elton John concert
November 9, 2022 — Petco Park, San Diego, CA
December 2022
Holiday Market 2022
December 1 – 23, 2022 — Gallagher Square
January 2023
Monster Jam at Petco Park
January 2023 — Petco Park, San Diego, CA
February 2023
Spring Training
Begins February 2023 — Peoria, AZ
March 2023
Padres Spring Training
Through March 2023 — Peoria, AZ
April 2023
Mexico City Series
April 29 & 30, 2023 — Mexico City, Mexico
May 2023
Tequila & Tacos
April 30 – May 1, 202 — Petco Park, San Diego, CA
You can see the full Padres schedule here. In addition to that, head over to Padres Giveaways and Promotions for more.
Padres hoodie giveaway
Further to the above giveaway schedule, you might want to get your hands on Padres hoodie giveaways.
In the past season, Team hoodie giveaways were held on August 3.
Currently, the hoodie dates for 2023 haven't yet been announced, but they're coming soon. The next season dates are on their way, and with that will come the giveaway listings.
Take a look at Giveaways and Promotions on Padres' site for more. And don't forget – use our tips above to stay in the loop about all of the latest from the Padres.
Now that's covered, we'll cover some of the most frequently asked questions when it comes to Padres game giveaways.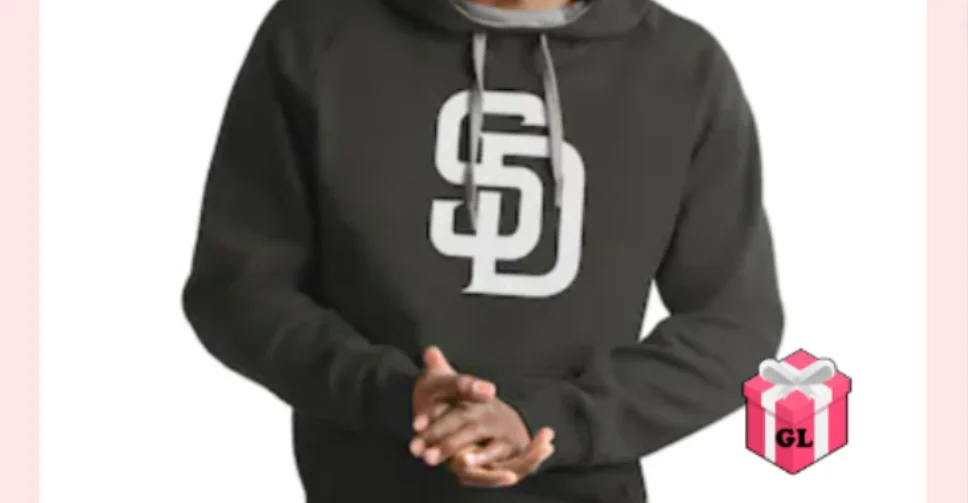 Padres giveaways FAQ
Here are some of the most frequently asked questions about the Padres and all of the answers you need to know!
What is the average price for a Padres ticket?
You can find Padres tickets starting as low as $15, with an average ticket price of $75 – $80.
The day of the game, plus theme nights, affects the price of the tickets.
Also, remember, as noted above, buying your tickets in advance means they'll be cheaper than if you purchase them nearer the game.
How do I redeem my jumbo jack Padres for free?
It's simple. When the San Diego Padres hit a home run, you win! The day after the Padres hit a home run, you can redeem your freebie.
Visit Jack in the Box the next day to receive a free Jumbo Jack with the purchase of a large drink.
Also, FYI, every time the Padres steal a base at Petco Park, you get a free taco with any purchase at Rubio's.
What can you bring to a Padres game?
Here's the lowdown. Bags are prohibited, except single compartment bags measuring 7" x 10" or smaller, infant and medical bags.
Service animals are welcomed at Petco Park, and a limited number of pets are permitted on select promotional dates (such as Dog Days of Summer).
You're welcome to bring banners and signs, smartphones, cameras, and camcorders with lenses smaller than 6 inches, and you're allowed to bring food too.
Sorry to say, you can't bring beach balls, bats, or brooms. Don't shoot the messenger, that's all as specified on Padres' website!
What are the Padres theme nights?
The San Diego Padres run a unique variety of themed games to enhance their fan experience at Petco Park.
Themed games celebrate the diverse community throughout San Diego while providing an opportunity to access limited-edition Padres items! From pop culture to heritage nights, all theme game items are available while supplies last.
Padres Season Ticket Members with tickets for the corresponding theme night game can also purchase these items through their accounts.
This year, a popular promotional night in July was a Star Wars-themed game.
What is faith and family night?
The Padres' faith and family nights are annual events dedicated to families and the Christian faith.
Padres host the event with churches from around Southern California during game days, plus they often have another event taking place on the same night.
This year, fans got to attend Gallagher Square after the game for a Q&A.
There was a testimonials event with players and a post-game music concert featuring contemporary Christian musician Phil Wickham.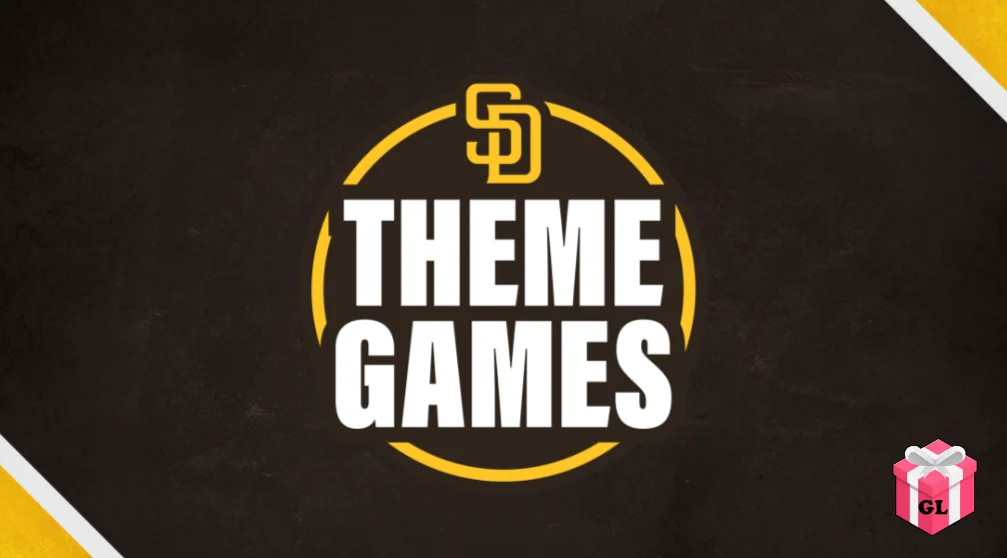 What's next for Padres giveaways?
The giveaway schedule for the Padres is still going strong. You can bet for as long as the Padres are playing, and you can win big with official giveaways.
As one of our top tips highlighted, sign up for their exclusive news to be the first to know what the next Padres giveaways will include.
Since the giveaways bonanza began, we have seen the San Diego Padres play an impressive round of giveaways.
Here at Giveaway Listing, we have our finger on the pulse. You can be sure to see more from us as more Padres giveaways arise.
Mark your calendars, new Padres giveaways are announced at the start of a new season, but you're welcome to check back with us anytime.
If you love giveaways, check out our Amazon guide for more. We look forward to sharing their bigger and better giveaways with you!