The White Sox
White Sox are based in Chicago. The American professional baseball team competes in Major League Baseball as a member of the Central division. 
The Chicago White Sox home stadium is called Guaranteed Rate Field. The renowned team runs promotional giveaways and theme nights which are held there.
This article will cover what the White Sox giveaways are and our top tips to win White Sox/giveaways.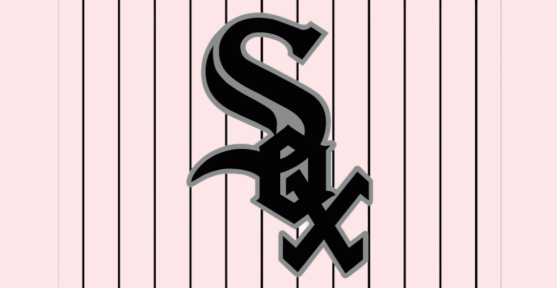 What are the White Sox giveaways?
The White Sox announces a promotional schedule every season, and the White Sox giveaways are just one part of that schedule.
Also included in the promotional schedule are fun theme nights. All these events are held at the ballpark stadium, from the giveaways to theme nights.
At the start of each season, each game listing includes a promotional activity. Each game will host a different giveaway or theme.
What can you win? Some of the most recent White Sox free giveaway items included player bobbleheads, official merchandise baseball caps, and t-shirts. White Sox also collaborated with designers to create a series of official Summer T-Shirts.
The prizes are limited to most of the eligible fans. Usually, 15,000 items are given away at a time. Depending on the item, between 10,000 and 20,000 lucky fans will receive a prize.
The White Sox generously gives away items to approximately half of the audience. These free promotional items are handed out at Guaranteed Rate Field giveaway games.
You can find their giveaways and promotional nights listed on their official site. Last season's promotional nights included Postgame Fireworks and Family Sundays.
Hot Dog Wednesdays have yet to return. However, some promotional dates and giveaways are subject to change. Even so, their schedule is usually jam-packed.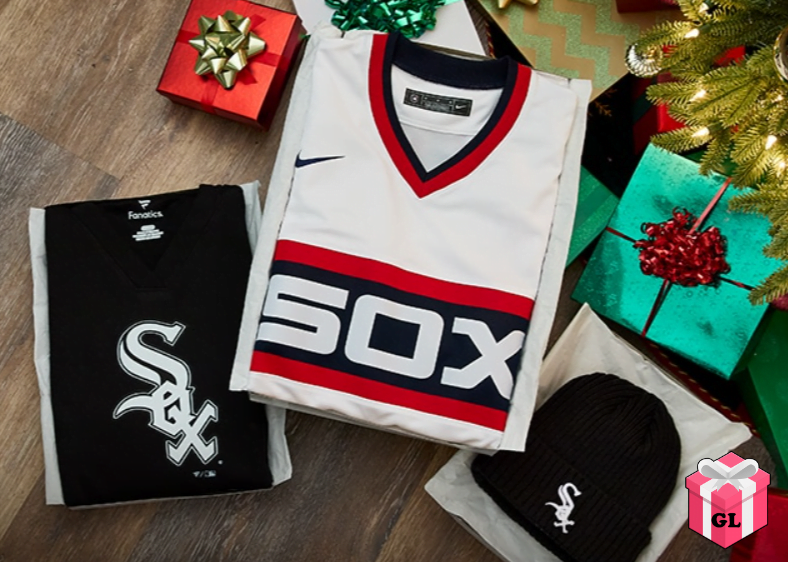 What is the White Sox giveaway schedule?
The White Sox giveaway schedule changes every season. You can catch all of the latest on their official website.
In the previous schedule, the White Sox announced a number of fan giveaways. This included a Summer T-Shirt series scheduled on Thursdays from May 26 to September 1.
White Sox gave away free bobbleheads, t-shirts, and caps as part of their recent giveaways.
Other items which were on offer:
April 30: White Sox South Side hockey jersey
June 11: White Sox Hawaiian shirt
August 2: White Sox tote bag
September 4: Los White Sox soccer jersey
The shirt and tote bag giveaways were for the first 10,000 fans, and the other items were reserved for 20,000 fans.
After the season is announced, the team might reveal additional White Sox-themed giveaways.
The initial schedule always includes bobblehead dates and theme nights.
The themed games included the following:
April 17 through September 25: Family Sundays
Fridays, inc. Fourth of July: Postgame fireworks
May 13: Rock' n' Roll Night
July 8: Country Music Night
August 17: Police and Fire Night
August 26: Elvis Night
September 3: Halfway to St. Patrick's Day
September 23: Hispanic Heritage Night
To find out what the current White Sox schedule is, make sure to check out their current season dates. The regular games season runs from late March to early April to late September and early October. The postseason can run to early November.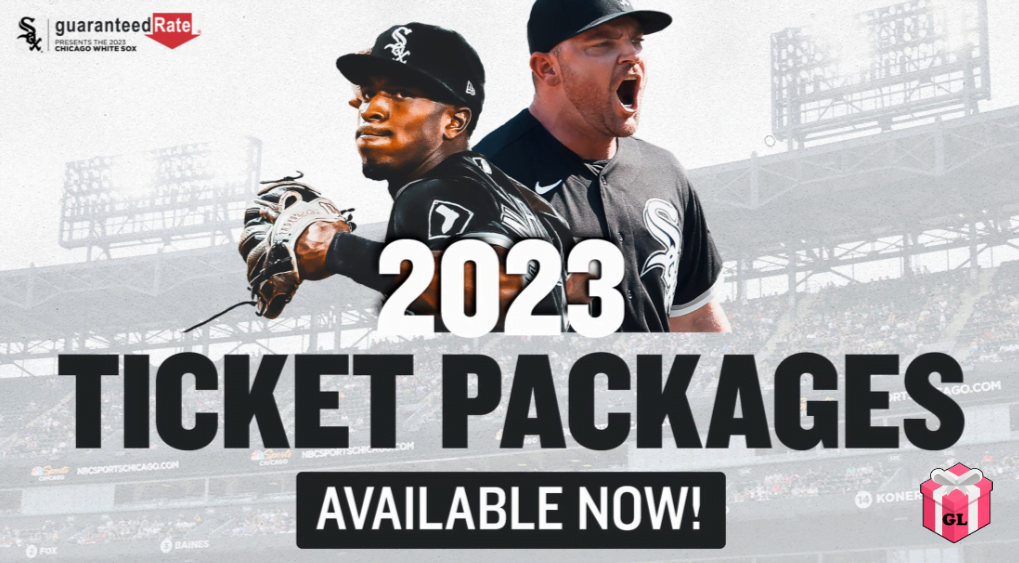 How do I enter a White Sox giveaway?
All you have to do is show up at the gate to enter a White Sox official giveaway. That's it. You enter the giveaway by being a ticketed guest to watch a game.
Your ticket allows you access to both the game and the giveaway. Being a ticket holder guarantees your entry into the giveaway.
When there is a White Sox free giveaway, the first lucky fans in attendance will receive a giveaway item. As we covered above, up to half of the attendees have the chance to win a free prize.
Thousands of White Sox fans attend a game at once, and their ballpark has a limited capacity. The Guaranteed Rate Field has 40,615 seats.
Giveaway numbers are limited between 10,000 to 20,000 items. How many items are given away is dependent on the giveaway.
You have to be early to get lucky, as the giveaway is while supplies last. Only one item per person will be given away upon entering the stadium.
Giveaway items will be handed out at the entry gates, and your ticket must be valid for the game to receive a giveaway item.
There are always White Sox giveaways to take part in during season time. The White Sox announced a promotional schedule every season.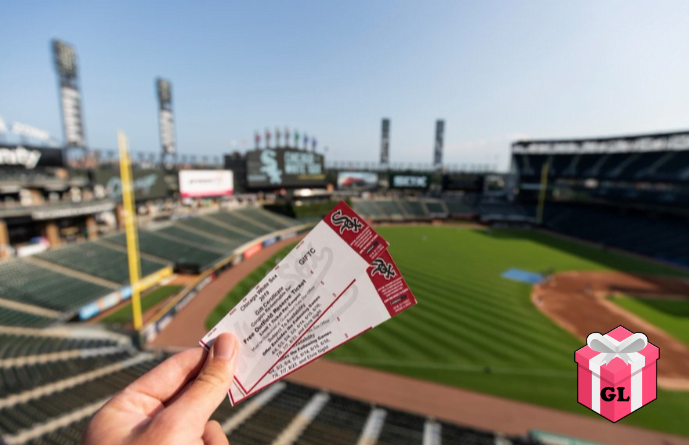 These are our 5 tips for winning the White Sox giveaways
1. Check out the games and giveaway schedule
We recommend you check out the games and giveaway schedule before the season starts.
The White Sox games and promotional schedule are listed on their official website. As mentioned, the White Sox reveal their theme nights and giveaways before a season starts.
By checking out the listings before the start of the season, you will find the games and giveaways you want to enter. The promotional schedule is found here. Stay tuned for more.
2. Stay updated with official news on social media
You will find the White Sox on social media platforms sharing all of the latest news. Don't forget to stay updated via their website too.
When White Sox giveaways are being held, you will find updated information being announced on their platforms.
Another top tip. Follow your favorite players and team members for more White Sox/giveaways news. On Twitter (@whitesox), share giveaway highlights. You should check that out.
3. Check the rules before attending
Don't jeopardize your chance to claim your giveaway item. Check the rules before attending the game.
After you've purchased your ticket, we recommend you check the eligibility rules. The giveaway rules will tell you what to do and where to go when you attend the match.
Some of the giveaway items are age sensitive. Children and teenagers might not be eligible for certain prizes. Take note of this before attending to ensure you're not disappointed.
4. Arrive early to the game
It's first come, first served for the giveaways. It would help if you were early to secure your chance of receiving a giveaway prize.
Remember, only half of the audience will receive a prize. Only approximately ten to twenty thousand giveaway items are handed out at once.
White Sox state you can arrive up to 90 minutes early. Attend the game ahead of time if you want to score a White Sox free giveaway prize.
5. Line up at the correct distribution gate
You can collect your game promotions giveaway item at your entry gate. Upon entering Guaranteed Rate Field, that's the gate according to your particular seat.
Make sure you go to the correct entry gate. You want to find the best gate to enter. For example, Gate 2 is best for sections and seats 106-120.
All relevant information will be provided on your ticket, and you can find help at the ballpark. But if you want to know this beforehand, you can find this information on the White Sox site.

That's it. It's simple to join an official White Sox giveaway.
Those are our 5 tips for success for the official White Sox giveaways. If you haven't already got your ticket, you might wonder how to go for free.
There is the option to enter an unofficial White Sox giveaway for free tickets. Just be careful to check what you're entering is legit.
Read on to find out how you can get free White Sox tickets the official way. We have some tips for entering a giveaway cheaply or for free.
How can I get free White Sox tickets?
There are a few ways you can get free White Sox tickets. Did you know that active military members get a free ticket?
Active military members go free. But they must show their ID at the Guaranteed Rate Field Box Office on match day. There are some exceptions, for example, Opening Day and Elvis Night are omitted.
What if you're not a military member? It isn't easy to come by free White Sox ticket giveaways. As above, you might try your hand at an unofficial giveaway. Or, stay tuned to official White Sox Promotions for more.
White Sox doesn't often give away free tickets, but they're always running promotional offers. You may find a discounted ticket on their promotional page.
For cheaper tickets, here are some tips. Read on for ways to get cheap White Sox tickets.
Go to the box office
Use the box office if you're buying multiple tickets. Unnecessary online fees per ticket add up.
It's not expensive to get in the ballpark. It's a cheaper alternative to buy tickets at the box office on game day.
Get notified about tickets
The White Sox offers some of the best deals to their e-mail subscribers. Become a subscriber to find out what deals are on offer.
They offer flash sales of around 200 tickets at a discounted rate. There's also the "Sox Save of The Week." If you're flexible about when you go, there are ways not to pay the face price.
Use an online ticketing service
Services such as SeatGeek usually have great deals on White Sox tickets.
You can also buy tickets without online processing fees through FeeFreeTicket.com. During season time, you can find no-fee MLB tickets for the Chicago White Sox games.
Everyone likes to find cheaper tickets to a game. Next up, we cover frequently asked questions about the White Sox and White Sox-themed giveaways.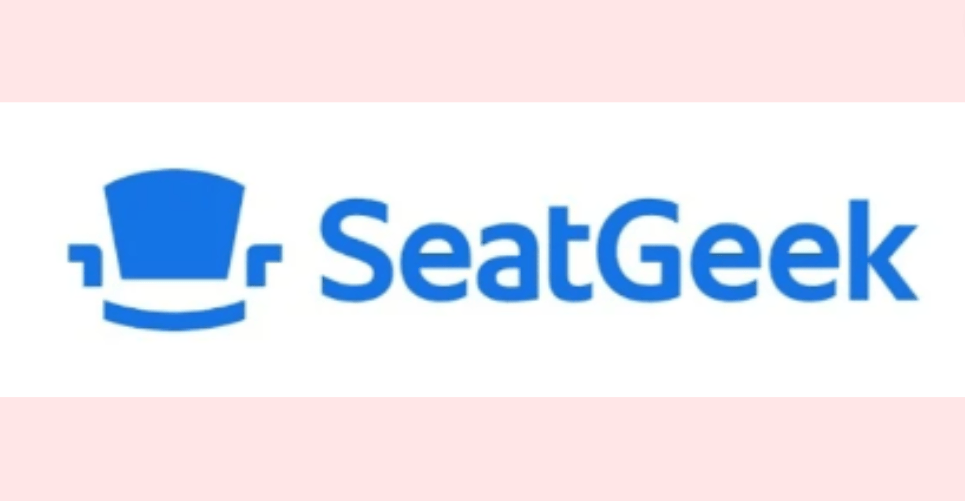 White Sox giveaways frequently asked questions
What time do the White Sox gates open?
White Sox home games are held at the Guaranteed Rate Field. For the home opener, gates will open two hours before the first pitch at 13:10.
For the rest of the regular season, gates to the ballpark normally open 90 minutes prior to all games. We recommend getting to a giveaway game that early.
Where do the Chicago White Sox play?
The Chicago White Sox play at the Guaranteed Rate Field for home games. That's the home stadium of the Chicago White Sox, which the state of Illinois owns.
Guaranteed Rate Field is located in the South Side of Chicago, Illinois, at this address: 333 W 35th Street, Chicago, IL 60616.
What is White Sox family Sunday?
White Sox family Sunday is one of the White Sox's much-loved promotional theme nights.
Family Sundays are held during Sunday home games. The ticket prices start at $5 on the upper and $15 on the lower levels. Additionally, family-focused activities are run throughout the concourse, with the opportunity to run bases after games.
Do kids get in free at the White Sox game?
Children under 3 feet tall can get in for free to White Sox games. But there's an exception to this rule. Children get in for free if they share a seat with an accompanying adult.
Children can also get free gifts! The White Sox Kids Club is a free rewards program for fans aged 13 and younger. The young Sox fans are rewarded with giveaway prizes for attending games. You can register for that at Guaranteed Rate Field at the Kids Club Registration Area.
Do the White Sox have dog days?
Yes. White Sox have dog days when dogs are welcomed into the ballpark. This theme night is held once a year, usually in April.
White Sox Dog Days are popular. This event usually sells out. Make sure to purchase tickets early to enjoy the event with your whole family. Check out Dog Days on White Sox official site to find out the current schedule.
What day is Elvis Night at Sox Park?
Elvis Night is held on different days of the year, once annually. Elvis Night is a popular hit as part of the White Sox's fun promotional nights and White Sox-themed giveaways.
The most recent White Sox Elvis Night was held on August 26. That also happened to be the birthday of the White Sox player Elvis Andrus.

How to stay updated with the White Sox giveaways
We hope that covered everything you wanted about the White Sox giveaways.
There's more to come. Check back with us as we update our website about the best White Sox free giveaways. We also have more sports teams giveaway guides, such as the Dodger's giveaways.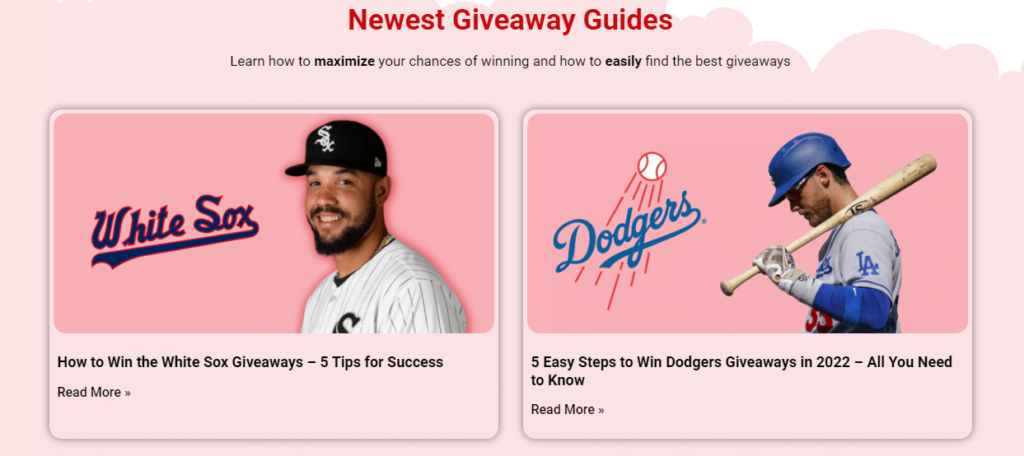 For more, stay tuned to the White Sox official site for more White Sox/giveaways news.
Remember, there may be unofficial White Sox ticket giveaways. Just make sure to check what you're entering is legit.
Have fun at the White Sox games if you go. Don't forget to arrive early, and good luck taking part in the giveaways!